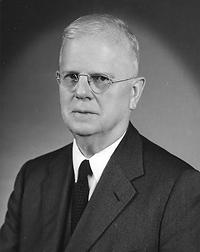 Lifetime
Born:
24.06.1892
Passed away:
22.04.1975
About
W(illiam) Norman Brown, founder of the first academic department of South Asian Studies, spent the early part of his life in India at Harda and Jubbulpore, Central Provinces. He was sent back to the United States for an education in 1905. Brown attended Hiram College Preparatory School, 1905-1907 and Hiram College, 1908; he transferred to Johns Hopkins, majoring in Greek, and received his Ph.D. in 1916 for his work on Sanskrit under Maurice Bloomfield.
From 1916 to 1919 Brown held the position of the Harrison Research Fellow at the University of Pennsylvania. From 1919 to 1922 Brown held the Johnston Fellowship at Johns Hopkins and from 1922 to 1924 professorship of English at the Prince of Wales College in Jammu, India. Unable to secure a permanent position, Brown filled several fellowships and teaching posts until 1926 when he was awarded the chair of Sanskrit at the University of Pennsylvania. From this point forward Brown worked tirelessly to enhance study of the South Asia subcontinent.
Brown organized the American Oriental Society in 1926 (which was absorbed by the American Council of Learned Societies in 1930). By 1936, he was successful in obtaining funding from this group to support the Chanhu-Daro excavation. World War II provided Brown with the unique opportunity to establish a center at Penn to train soldiers in the language and culture of the India area. By the summer of 1947 Brown's summer program, "India: A Program of Regional Studies" was being offered at Penn. Offerings continued to be expanded until a full program was available in the 1949-1950 academic year. After building an extensive program he became emeritus professor in 1966 (but engaged in teaching in a partial affiliation through to the 1969-1970 academic year.
Brown held honorary degrees from the West Bengal Government Sanskrit College, the University of Madras, India, the University of Michigan, and the University of Pennsylvania. He was curator of Indian art at the Philadelphia Museum of Art, a member of London's Ceylon Society, a member of the American Philosophical Society, and advisory editor for the Encyclopedia Americana, and editor of the journal for and past president of the American Oriental Society.