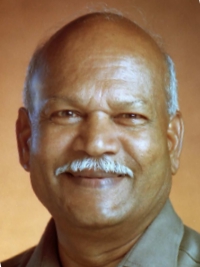 Lifetime
Born:
07.10.1936, Hampasandra, Cikkaballapur District, Kar
Address
1C79, 18A Main, 5th Block
560 010 Rajajinagar, Bangalore, India
Contact
Phone:
080 65991350
Mobile:
99643 71596, 93412 13979
Fax:
080 23207133
E-Mail:
About
Professor Emeritus

Past President : Kannada Sahitya Parishat
Prof. Nagarajaiah was born on 7th October 1936 in the village of Hampasandra, Cikkaballapur District, Karnataka.
After obtaining his M.A. degree in 1959 from Mysore University with specialization in Literature, Poetics, Linguistics, Old Kannada Texts, he got his PhD from Bangalore University for A Comprehensive study of Vaḍḍārādhane.
He first served as Lecturer in Kannada in Government Colleges (1959-1969).
He then joined Bangalore University in 1970, where he was Lecturer, Reader and Professor until retirement in 1997.
---
Mahaprajna Jain Sahitya Award For Dr. Hampa Nagarajaiah
Bangalore, June 20, 2008
The 'Acharya Sri Mahaprajna Jain Sahitya' award, newly constituted by Jain Shwetambar Terapanth Sabha, will be presented to litterateur Dr. Hampa Nagarajaiah. The award, consisting of a cash of Rs. 51,000 and a memento, will be conferred on him on July 13. A meeting of the committee held under the Chairmanship of Prof. Radhakrishna selected Hampana for the award. he Committee comprising journalists E.V. Satyanarayana and Vishweswara Bhat, Prof. Mallepuram Venkatesh, Rajendrakumar Jain, Nandkishore Tewary, Heeralal Maloo, Bhupendra Mutha, Mahendrakumar Dak, Vimala Bai and Siddartha Sharma selected Hampana for this award.
---
"Jewels of Jain World" Award 2012
It gives Jain World team immense pleasure to inform you that Jain World Foundation USA has bestowed upon you the honor by awarding the prestigious 'Jewel of JainWorld' award which was announced by the prominent members of the Jain World Awards Committee on Mahaveer Nirvana day of 2013.

This award is given to selected few who have dedicated their life to serve the cause of Jainism and made significant contribution to propagate Jainism globally and enhance visibility of Jainism worldwide.
---
SRAVANABELAGOLA THROUGH AGES: A BRIEF NOTE
By Prof. Dr. Hampa Nagarajaiah (English), 2008
155 x 115 mm 24 pp on Art paper in full colour Paperback Rs. 50.
---