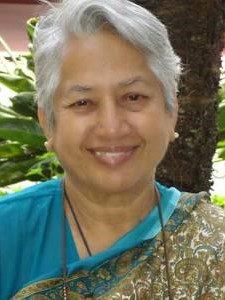 Lifetime
Born:
29.04.1944, Chennai
Passed away:
05.02.2017, Udaipur
About
CPI (ML) leader Srilata Swaminathan, who played a big part in the founding of the Rajasthan chapter of the People's Union for Civil Liberties, passed away at Udaipur on Sunday. She was 73.
She had suffered a brain stroke on January 28, and had been in hospital for a few days. She suffered cardiac arrest on Sunday. Swaminathan was born in Chennai on 29 April 1944. She studied at the National School of Drama in New Delhi and also pursued higher studies in drama in London.

Back in Delhi in 1972, she plunged into politics, organizing the farm workers of Mehrauli and hotel workers in the national capital. During the Emergency, she spent 10 months in Tihar Jail and also in Chennai jail. While in Chennai, she began to organize the port and dock workers.

After the Emergency, she returned to the national capital and shifted to Rajasthan in 1978 to work among the adivasis, women and bonded labourers. She also took up the cause of mine workers.

Swaminathan descended of a family of freedom fighters with their roots in Palakkad, Kerala. Among relatives was Dr Lakshmi Sehgal, who led the Rani Jhansi Regiment of Subash Chandra Bose's Indian National Army.