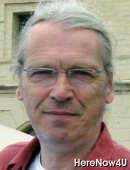 Dear Reader,

HereNow4U.net
is online since
15.08.2008
19:00 MET


The site is databased and will become faster everyday.
Some parts are unfinished e.g. [MEDIA] and others have to be cleaned up [e.g. GLOSSARY]. The move of the content of Edition 2 left some problems in the layout of a lot of articles - some articles lost their author's informations or pictures, etc. So there is still a lot to do in the next weeks.
At the moment it is a "basic version" - open for many nice extentions to come... [ check top menu |Calendar|:other views ]
We are happy about:
No more double work on 2 sites simultanous.
Holidays the next 2 days to relaxe....
Thanks to:
Raoul Huebner - software development
Marten Lietz - software development
Nora Steybe - moving big parts of the content
What's new?
Navigation:

Use BACK button of your browser to go back to previous view, if necessary.
See Help on bottom line of pages how to learn more about navigation features inside the magazine
[under construction, of course ]




The Top Menus
Top menu |magazine|:

The new concept is

Displaying the new content of the last 8 days in a structured overview


The Headlines are according to the left menus

Click on article name and you enter the article.
Click on the Headline and you enter the menu, where the article is filed under.

On Fridays this page is exactly our Newsletter content

At the moment the newsletter is text only.


Menus on the left can contain submenus to some level down.
Enjoy exploring the depths....
For the rules of content displays of each level see Help.


Top menu |books online|:



Books have got a table of content which is directly accessible from each page.
Forward/backward navigation from page to page.



Top menu |archive|:

Offers chronological & alphabetic access: Chronological 0-9 A B C D E F G H I J K L M N O P Q R S T U V W X Y Z

use Chronological
e.g. if you want to see articles older than 8 days (no longer displayed in top menu |magazine| )

Top menu |glossary|:

Extended Link Concept:

As the number of articles raised over 9000 we became aware that we lost the overview on the content. This became deficient for linking information.

So the new software generates automatically:

Glossar Links inside each article for existing glossar terms.



The |Glossary| is accessible also by menus, which execute preselections by their terms.

Glossary terms
show a list of



Related Articles
sorted by relevance

(Terms from edition 2 still have their handmade link listing - will be cleanup by and by)


Authors
show 2 lists



Publications by author
list of articles/books


Related Articles
listing sorted by relevance

Workflow during research on a glossay term inside the magazine:

Click on a Related Article to enter it.

Check the [article glossary] on the right side (extended informations)


►= 3 clicks to get at the relevant spot inside a text.


Top menu |calendar|:

Shows a 1 year overview in list form (similar to Edition 2):

Upcoming events
Period: 17.08.2008 - 16.08.2009 (view the whole calendar)

When you click on view the whole calendar, you enter a monthly view of calender.

in the top line you can change the year

= month view

Top menu |media|:

will contain

pdf
videos
pps
audios
etc...

probably end of august 2008 finished. meanwhile use the media listed in HereNow4U.de: MEDIA
Last not least:
Fulltext Search (top right, available on all pages)

To search inside this magazine.
New articles enter the search database within 24 hours (nextday availability)