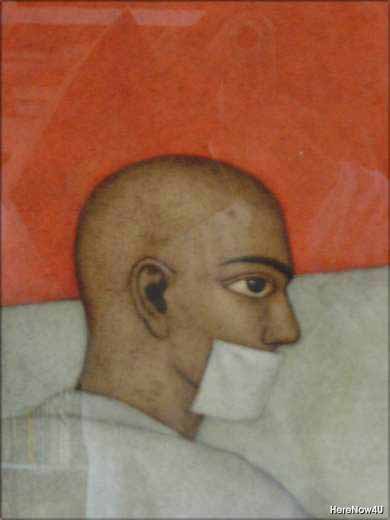 from "Diksha"
(behind glasscover - sorry for reflections)
When we met Shanti Panchal in his studio, there were two dominant impressions. The first was his name, meaning peace, mirroing his vibrations. The second was his only recently completed painting 'Diksha', which immediately became source of a fruitful discussion on his art. The inspiration to this painting came to him when he witnessed a Jain Diksha ceremony in India, some time ago. His paintings are dealing with events he had witnessed or experienced in his life. For him, the spiritual dimension in human life has become more and more real, and his way to express the inner reality in his paintings has become clearer and clearer in the course of time. Spirituality is like the culminating point of a process that can be followed through his paintings, as we invite you to do with those we have selected.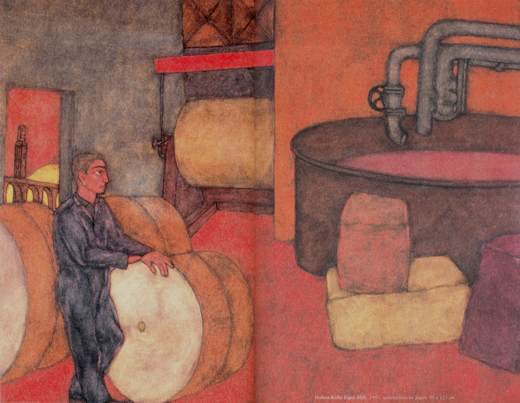 Papermill, 1991
The spiritual theme behind is the well-known 'Man and Machine'. Different to other paintiings dealing with this theme, his version is dominated by smooth and vivid colours, adding a kind of joy to the subject, depicted more gloomily and menacing by other artists. The colours are full of productive energies, providing the means for recognition and strength. The door on the left is opened to spirituality, backing the worker in the middle, giving him power, materially provided by the energetic colours. It is the light of spirituality, that makes the things radiate in lively colours. The worker is as motionless as the machine, but contrary to it, he is living and facing it as his non-living counterpart. The machine is not threadening the worker, but is rather useful to him. The worker is painted with short, bright hair, not belonging to a particular culture, he is 'universal'.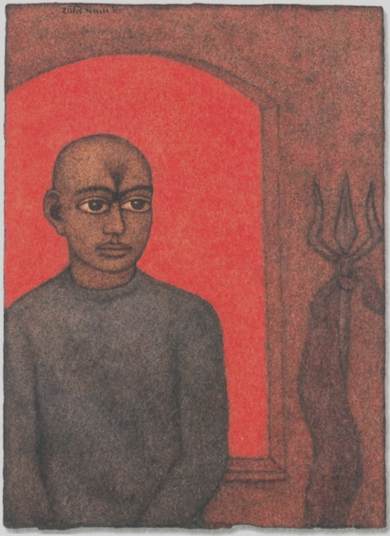 The Trident, 1999
Eight years later, man again backed by spirituality, shining on him through a window in his back, is facing the trident, a symbol of spirituality as well. Man has spirituality in his back - his immaterial roots - as well as in front of himself - his immaterial future, with his eyes wide open under the 'fountain of consciousness' known as 'third eye' as well as 'centre of enlightenment' in Preksha Meditation. As a sign of having left behind the animal roots, man is painted with shaven head.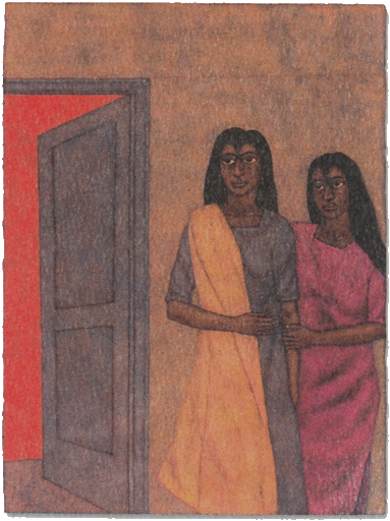 The Southall Sisters, 2001
The women on this painting are approaching the door to spirituality. Their attitude toward spirituality is expressed by the language of their bodies and their faces. They are calm, balanced, open-minded, self-aware and sisters, appealing to the spiritual 'brother' and 'sister', where all of us are nearly the same, but individuals, as these sisters are. They are not seeking for something, that might be behind the open door, they KNOW.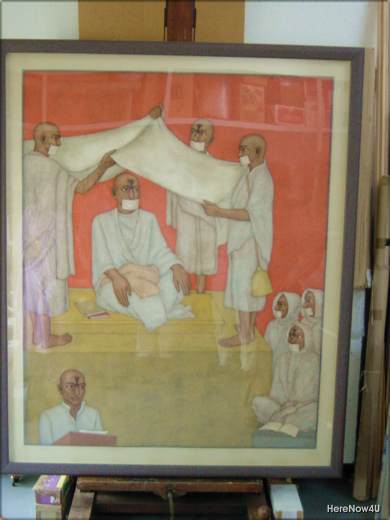 Diksha, 2006, 185 x 145 cm (behind glass cover)
This Jain muni Diksha ceremony is witnessed by Sadhvishrees and a lay follower, giving a speech at the Diksha function. All of them are shown as spiritually awake (seen by the eyes) and surrounded by energetic spirituality, the colour of the background. The saints are not acting in a coloured world, they are all white-clad and united in going their spiritual path.
Speech at Diksha Function, 2006, 85 x 50 cm
This painting Shanti is actually working at, is a partial scene from the 'Diksha' painting above.