18th Indira Gandhi Award for National Integration 2002
presented to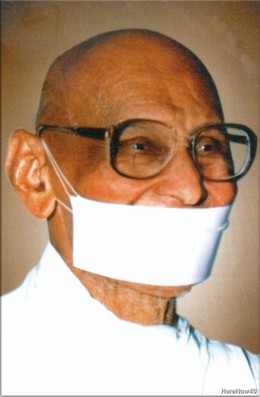 Acharya Mahaprajna
on 31. October 2003
at Jawahar Bhawan, New Delhi.
CITATION
Shrimati Indira Gandhi strove passionately to build an India which was strong and humane, proud of its multi-religious, multi-lingual heritage and active in promoting a peaceful and just world order. The Indira Gandhi Award for National Integration has been instituted with the aim of expressing the nation's gratitude and admiration for individuals and institutions who have made a conspicuous contribution towards this objective.
The Advisory Committee for the Award feels privileged to name Acharya Mahaprajna the eminent spiritual leader, thinker, educationist and exponent of non-violence, as this year's recipient of the high honour.
Head of the Terapanth sect of Jains since 1994 and of the Anuvrat Movement, Acharya Mahaprajna represents a wonderful amalgam of thought and action. His experiments in methods of contemplation, his thoughts on reconciling science and spirituality and his innovative ideas on education point to his intellectual achievements. He has written more than two hundred books including several on Preksha Meditation, whose very titles bring out his approach, like The Science of Living, New Man New World,, Democracy and Social Revolution Through Individual Transformation, etc.
He is not a monk who is detached from the problems of the people and unconcerned about national crises. He has led peace marches along with his disciples whenever there have been communal riots. When communal frenzy gripped Gujarat last year, he went on foot from village to village and town to town to comfort the people and to carry the message of Hindu-Muslim unity. Reconciliation conferences were held in Ahmedabad, Baroda, Patan, Palanpur, Siddhpur, Bharuch, Ankleshwar, Surat and elsewhere. In earlier years he had similarly undertaken "Prem and Sadbhavana" marches in other States. It has been estimated that Acharya Mahaprajna has covered one lakh kilometres on foot as an ambassador of peace. Often he has had to face mob hostility and even stone throwing, but he has taken it all with philosophical calm.
He was born in Tamkor in Rajasthan in 1920 and was initiated into monkhood at the tender age of eleven and given the name Muni Nath Mal. He made a deep study of the Jain agamas. Lord Mahavira's message of non-violence became the bedrock of his thought. He was also profoundly influenced by the teachings of Swami Vivekananda and Mahatma Gandhi, and in later life, Vinoba Bhave. He had the good fortune of having Acharya Tulsi as his guru. It was a life-long association. A notable event was the founding of the Anuvrat movement in 1949. Muni Nath Mal distinguished himself with his deep scholarship of classical Indian philosophy and literature as also of modern science, history and social sciences. In recognition of this the title of Mahaprajna was conferred on him in 1968. In 1979 he was designated as the Yuvacharya of the Terapanth and became Acharya in 1994 in succession to Acharya Tulsi.
Acharya Mahaprajna is the guide and moving spirit of more than fifty important institutions besides being connected with several international organisations working for peace and human rights.
It is appropriate that the Indira Gandhi Award for National Integration, which was awarded to Acharya Tulsi in 1993, should now be conferred upon Acharya Mahaprajna. This is a token acknowledgment of the manifold services that he has rendered to the nation and its well-being.