Tara Sethia, Ph. D.
Director, Ahimsa Center
Professor, Department of History
Address:
Department of History
California State Polytechnic University
3801 W. Temple Ave.
Pomona, CA 91768
Phone: 909.869.3868
E-mail:

Mission
Ahimsa is nonviolence rooted in courage and compassion, fearlessness and forgiveness. It connotes reverence for all life. It evokes civility and promotes lasting peace in society.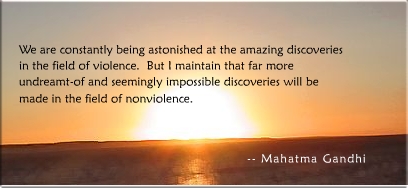 The Ahimsa Center in the College of Letters, Arts and Social Sciences at Cal Poly Pomona will focus on interdisciplinary teaching and learning about nonviolence and its practical applications at various levels: personal, familial, communal, national and international. The educational and outreach initiatives of the Center will facilitate an understanding of ahimsa as a positive force informing the ways of thinking as well as the ways of living among students, educators, policymakers and the community at large.
Goals
The Center is envisioned as an institutional forum to innovatively serve many important stakeholders. Educational initiative of the Center will help students in our colleges and schools acquire an appreciation of nonviolence at intellectual as well as practical level. To achieve this goal, we will strive to create interest among faculty members from universities and community colleges, and K-12 school teachers for the teaching of ahimsa, and will also assist in the development of instructional resources to facilitate their teaching. For instance, a new course on Nonviolence in Modern World will be offered on our campus starting Spring 2004. We will design and offer a variety of programs for college faculty and school teachers to encourage and prepare them to teach about ahimsa in appropriate curricular contexts. We will also serve the community at large by having our students undertake projects to study and ameliorate violence in society, and will offer a variety of public programs in which community members will be invited to participate. Via its outreach activities, the Center will foster synergistic interactions among students, scholars, educators and the community.
Approach
The Center initiatives will be characterized by an approach that encompass both the domain of "thought"—drawing upon philosophical, religious and cultural traditions from around the world, and the domain of "action"—the political and social movements genuinely committed to nonviolence. Rich lessons in non-violence are offered in all religious traditions such as Jainism, Buddhism and Hinduism, Christianity, Islam, Judaism, and Sufism. There are also successful movements led by contemporary figures such as Mahatma Gandhi, Badshah Khan (Frontier Gandhi) Martin Luther King, Jr., Dalai Lama, Nelson Mandela, Aung San Suu Kyi, and Caesar Chavez that demonstrate the power of nonviolence in bringing about social and political change.

Role
The Center will play a pioneering role in the domain of education by promoting the incorporation of nonviolence as a proper theme of study in universities and schools. There are a number of organizations dedicated to idea of nonviolence, but they exist and operate outside the mainstream educational institutions, and are devoted mainly to community oriented activities or political action.
The Center is also rather unique due to its focus on nonviolence at the individual level. There are many university-based program in Peace Studies, Peace and Justice, Peace and Conflict, or Conflict Resolution, which usually focus on large scale violent actions associated with wars or other regional or international conflicts. And as solutions to such problems, these programs typically emphasize strategies like third-party mediation, disarmament, demilitarization, etc. But needless to say, enduring peace can become a reality only when human beings embrace nonviolence both as a philosophy and as a way of life. The Center will play a role complementary to these existing programs by fostering a vision in which each individual is an important player in building and sustaining a culture of nonviolence. It is a vision for cooperation and collaboration among fellow human beings on the basis of mutual respect, trust and self-restraint. It is a vision where one sees that any violence inflicted on others is a violence inflicted on oneself.