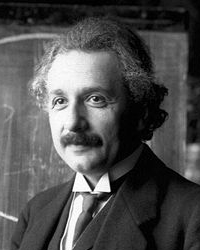 Lifetime
Born:
14.03.1879, Ulm, Germany
Passed away:
18.04.1955, Princetown,NJ,USA
About
Einstein is best known for his theories of special relativity and general relativity. He received the 1921 Nobel Prize in Physics for his services to Theoretical Physics, and especially for his discovery of the law of the photoelectric effect.
Einstein published more than 300 scientific and over 150 non-scientific works.
Relativity, as understood by Einstein, is a passport to overcome efficiently single-sided, absolute views.

See: Anekantvada in Jainism.