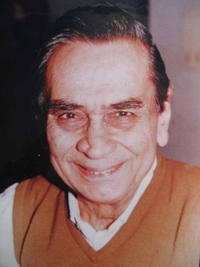 Lifetime
Born:
17 April 1911
Passed away:
17 November 1993
About
Founder and Managing Director of Bharat Bijlee Ltd., for 33 years.

Past Chairman, IEEMA. Member Institute of Standards.

His contribution to Electrical Industry as a great industrialist of his time is remembered even today. He was described as Bhisma Pitamaha of the Indian Electrical Industry in India. He was one of the first industrialist in India to have foreign collaboration with Siemens (Germany) in 1959.


He has contributed to the community by way of conducting numerous Preksha Dhyan Shibirs (Preksha Meditation Camps) all over India.


Medals & Awards: 'Jain Ratnam', 'Preksha Prashikshak', 'Preksha Pravakta', 'Samaj Bhushan', 'Shrawak Shiromani'.


He has written many books and translated many Jain scriptures into English.