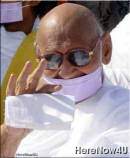 Saturday, February 23, 2008
The problem of falling moral values is a global phenomenon. Every thoughtful human being is concerned about it. Every man wants to live with dignity. Why then are moral values falling down? How can we re-establish these values? Extreme preoccupation with economic advancement, along with a hedonistic approach towards life, is responsible for the decline of moral values.
The mentality to procure amenities by fair or foul means and the establishment of moral values do not go hand-in-hand. The more the purity of means is neglected, the greater is the fall in moral standards. Both moral and spiritual values are inevitably linked with the purity of means. In the absence of moral and spiritual values, it is not possible to clearly define humane values.
Non-possessiveness and non-violence are spiritual values; integrity or honesty is a moral one. Only with the development of a pure outlook can these values be established.
In this context it may be said that anekanta, or the relative point of view, is important. The groundwork of training in non-violence is the right vision. Without a change of outlook, the attempt to establish non-violence is similar to a person expecting to raise a crop without sowing seeds. This, however, raises a few questions: Is our approach to money and accumulation of wealth factual? Is our approach to material objects realistic? If it is realistic, through training in non-violence, the seed of non-violence can be sown.
Today's world is afflicted with the problem of a partial viewpoint. A biased one-sided view of economic and material development has only encouraged violent behaviour. Without changing this point of view, there is little possibility of promoting non-violence in the world.
During the last few decades, interest in non-violence has grown because of the problems created by violence. Murder, terrorism, development of weapons of mass destruction, fierce conflict and war -- these problems, originating from violence, breach the peace of society. No wonder the world has become a dangerous place to live.
It is, therefore, not surprising that there is a universal feeling that non-violence is the most appropriate method of resolving the present-day unrest in the world.