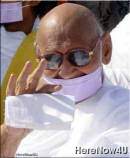 Thursday, May 31, 2008
The first task of philosophy is to release super-mental consciousness capable of perceiving subtle truths. That is also the task of meditation. The second task of philosophy is to train the mind. Subtle truths can be perceived by the subtle mind alone.
There are various methods of training the mind. Bhavakriya is one of them. It means a balanced co-ordination between action and mind or a synthesis between the two. They should be made to run parallel to each other. If they run in different directions, there can be no synthesis. Our mind should be concentrated on what we are doing. It should not be estranged from action.
The anecdote about a philosopher who fell into a ditch while his mind was soaring high into the sky is well known. An old woman who rescued the philosopher from the ditch remarked, "You should sometimes see the earth also." What happened to the philosopher is a common experience.
We often wander in the wilderness and fail to see what lies immediately before us. The moments in which we try to yoke the mind to action are rare. Meditation is the only means of yoking the mind. Mental discipline grows with the maturing of the process of meditation.
Bhavakriya makes meditation a way of life, rather than an exercise for an hour or two. One who has accomplished Bhavakriya will do every act of his life with a meditative mind. Bhavakriya does not divide the mind. It does not split the personality. It is not absentmindedness. It is a perfect integration of personality. It makes the mind subtle and capable of perceiving subtle truths.
The second aspect of the training of the mind is the development of imagination and will power. The purpose of this training is to enable the mind to see things clearly. Imagination gives a definite and clear form to our ideals.
Concentration is the third aspect of the training of the mind. Fickleness is the natural tendency of the mind. A stable mind is more or less an unnatural entity. Concentration fixes the mind at a definite point. This releases enormous mental energies. But concentration needs a lot of exertion. It is difficult to concentrate the mind even for a few hours. After all, an hour's concentration accumulates a lot of energy.