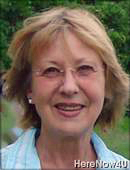 06.- 10.07.2008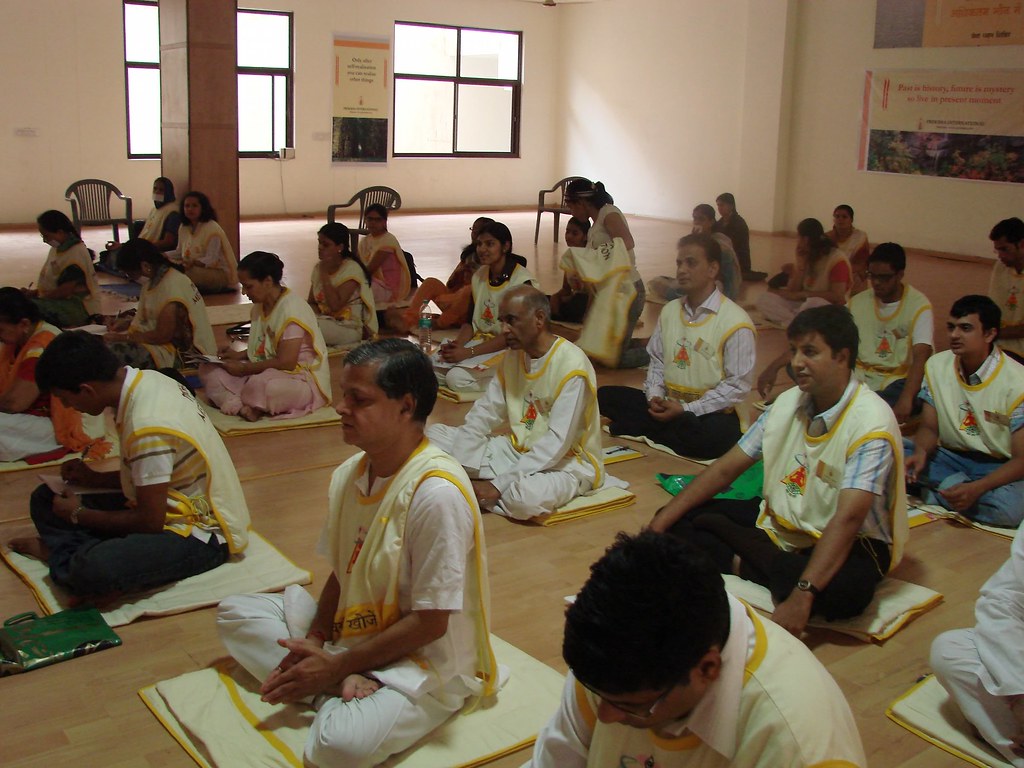 Last day of Preksha Meditation Camp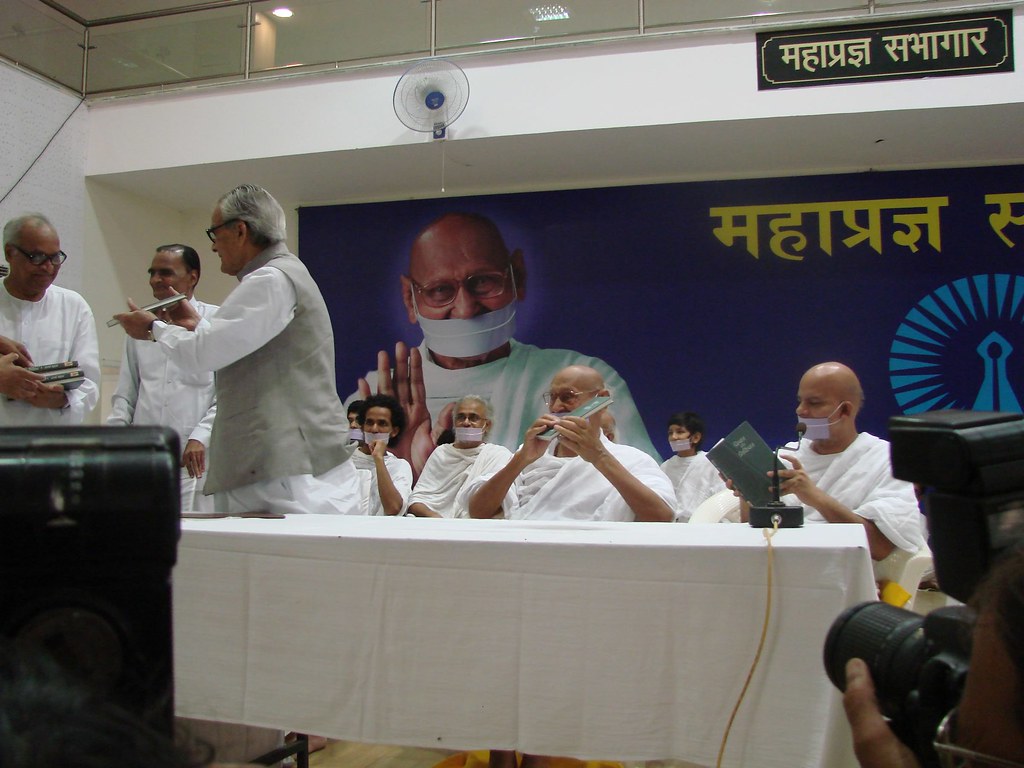 ... in presence of former Vice-President of India
Sunday 6th July was the last day of Preksha Meditation Camp. Participation Certificates were handed over, and after lunch the participants left. In the morning lecture Acharyashree's book was launched in presence of former Vice-President of India, Shri Bhairon Singh Shekhawat in Anuvibha's Assembly Hall.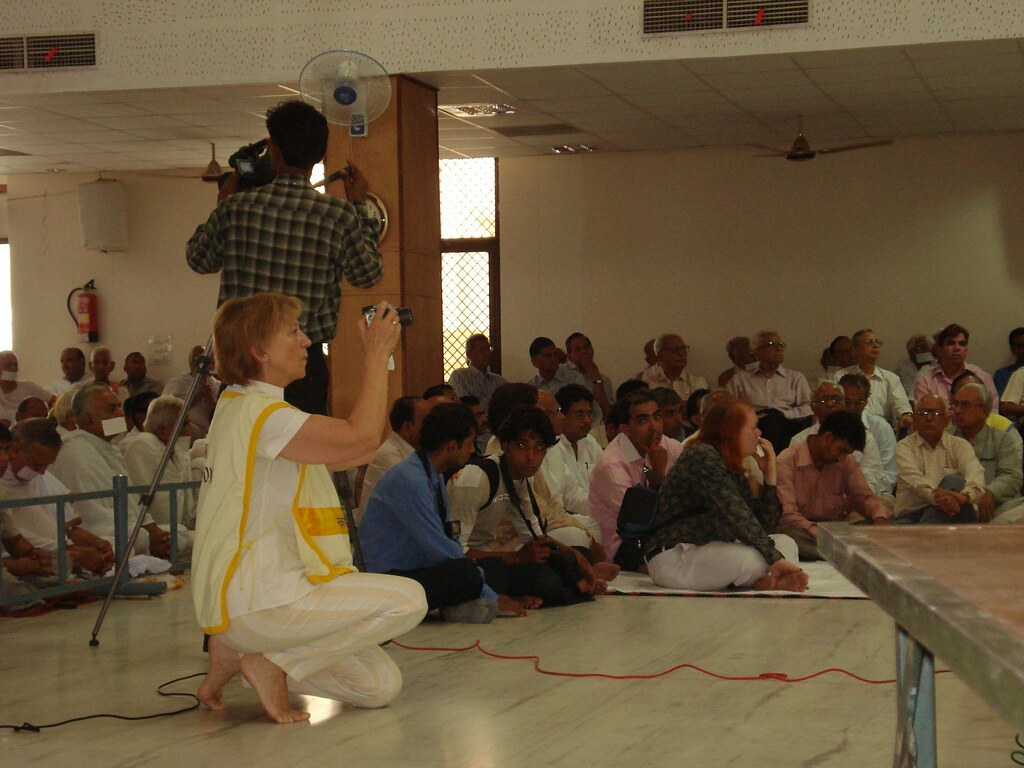 Karuna Jain taking photos
Before the start of this morning's Kayotsarga session I was called upstairs. There was the intention to honour me, and I therefore was asked to be present in the Assembly Hall. The whole ceremony I enjoyed being seated in the first row & taking photos.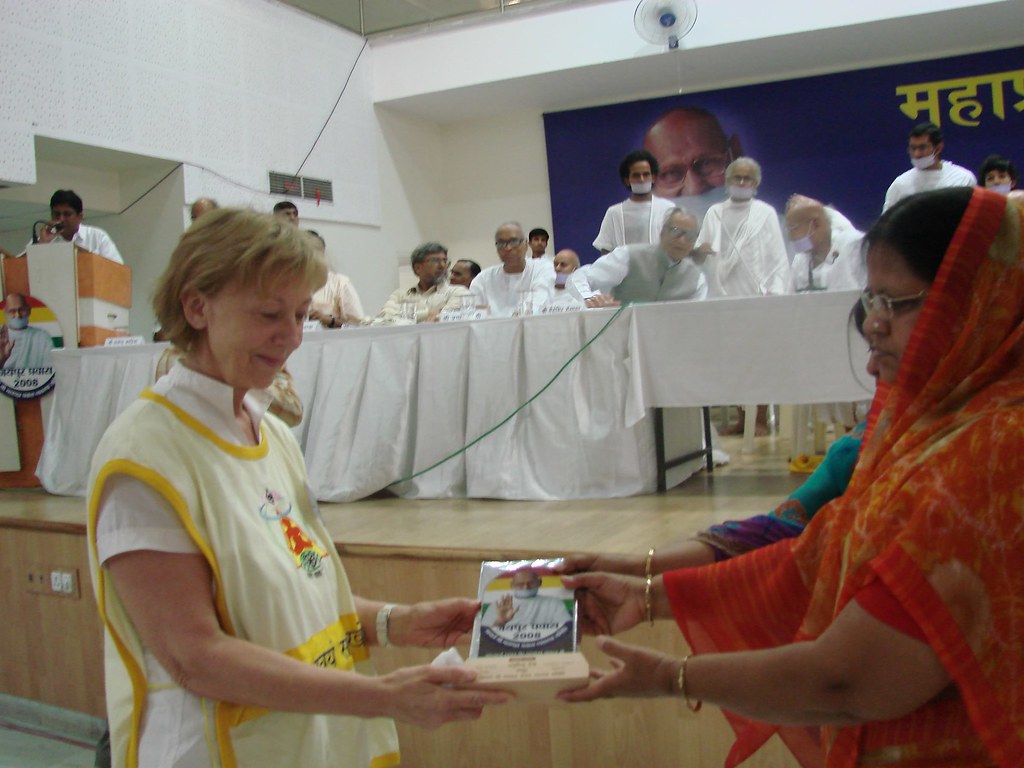 Karuna Jain honoured in presence of Acharyashree, Yuvacharyashree & Shri Bhairon Singh Shekhawath
At the end of the session a lady handed over a wooden award with Acharyashree's photo to me. To be honoured directly after the launch of Acharyashree's book was a source of joy for me. Sorry for not giving detailed description, there was a language problem.
| | |
| --- | --- |
| | |
| Rudi Jansma | Karuna Jain meeting Dr. S. L. Gandhi & people working with him |
The camp being over, there was only one week left for visits & meetings. This hardly was enough, but the big support from the Bothra family made it a success. First meeting on Sunday afternoon was with Dr. Rudi Jansma & Dr. S.L. Gandhi. Dr. Jansma handed over a photo CD to me documenting VI International Conference On Peace And Nonviolent Action in December 2007 in Rajsamand's Children's Palace.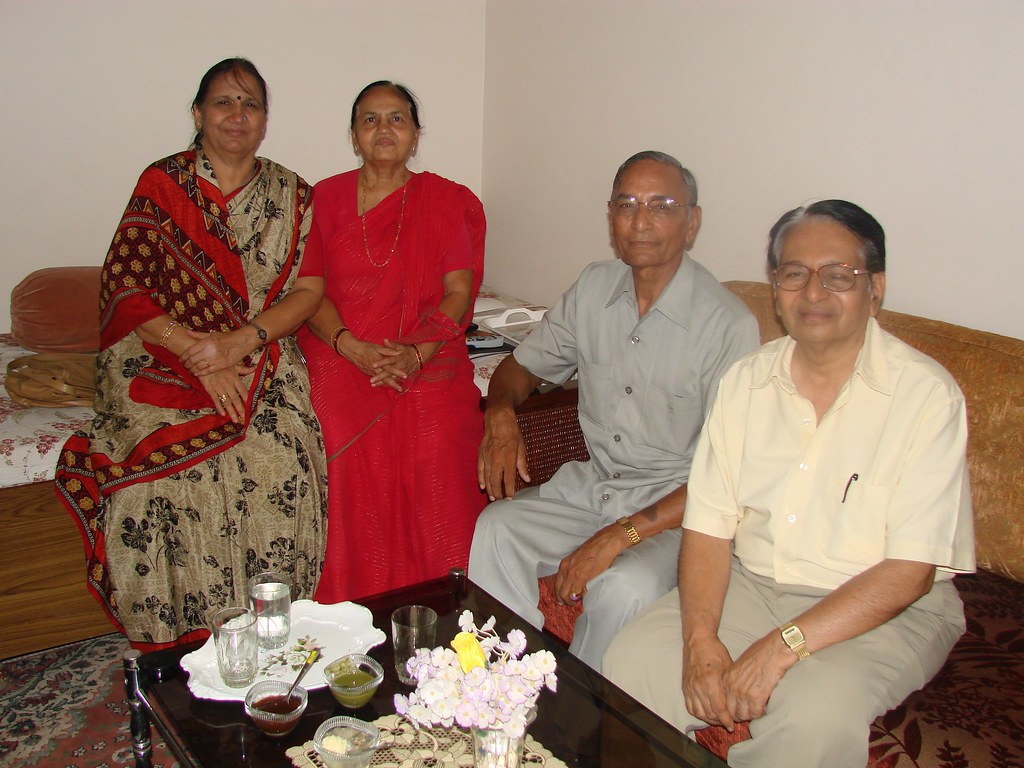 Karuna Jain visited prof. Gelra the birthday of his wife!
Next visit was to Prof. Gelra's home. It was the day of Mrs. Gelra's birthday on Tuesday 9th July. Prof. Gelra expressed his long-time wish to make possible a regular German language course at JVB University Ladnun. Perhaps those to whom it concerns feel like thinking over how to realise such a project. In the archives of the Jain University in Ladnun still the original manuscripts are preserved which Prof. Hermann Jacobi of Humboldt University Berlin almost hundred years ago had translated from Prakrit into German language.
For more details on conditions under which his wish might be realised, Prof. Gelra proposed a meeting with H.H. Acharyashree & Yuvacharyashree. It was fixed for next morning thanks to the efforts of Mr. Balwant Mehta. Prof. Gelra would have liked to be present, but had to leave for Jodhpur.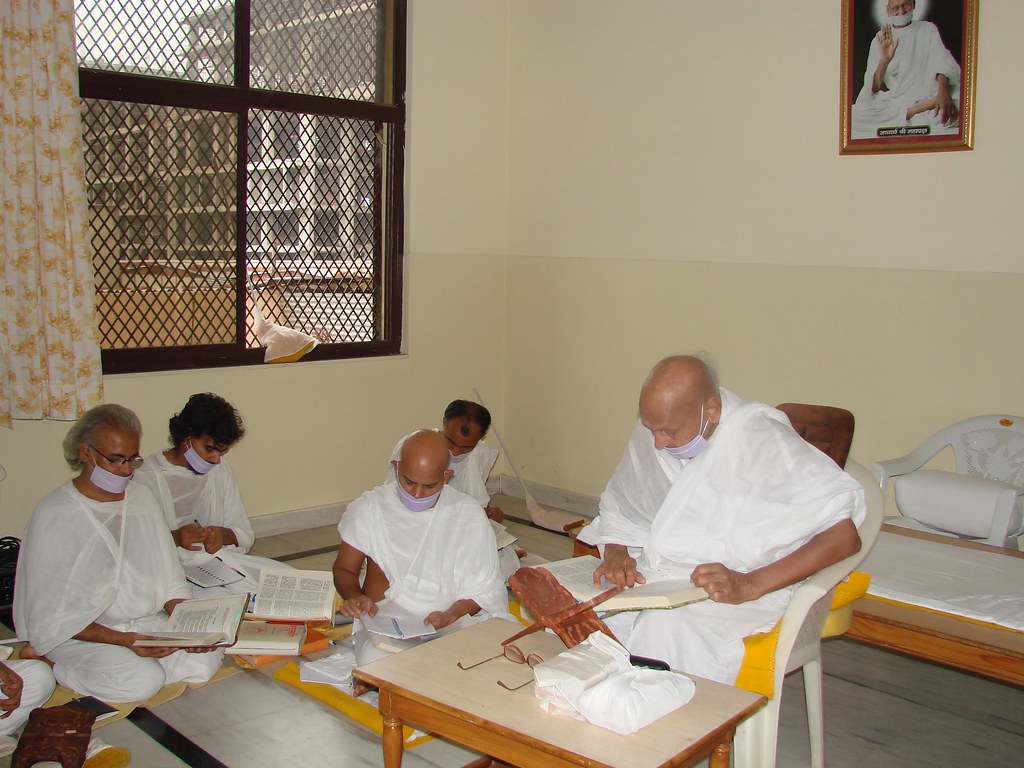 Acharyashree working with Yuvacharyashree & monks on volume 1 on Bhagavati Sutra.
When next morning I arrived for the meeting, H.H. Acharyashree & Yuvacharyashree with a team of monks were working on Bhagavati Sutra. They were absorbed in deep concentration. No word was exchanged. When one of the young monks needed clearance, he softly approached & waited until Acharyashree's attention was focused on him.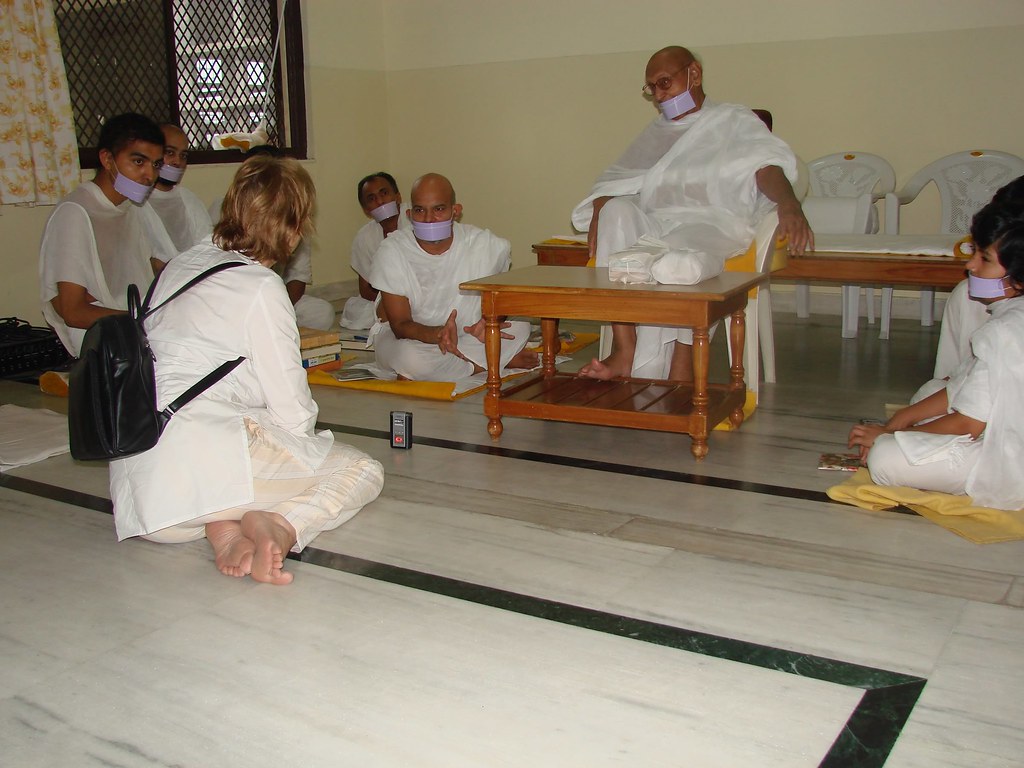 H.H. Acharyashree & Yuvacharyashree talking with Karuna Jain.
H.H. Acharyashree & Yuvacharyashree kindly granted more than half an hour of their valuable time to me. They would support a German language course at JVB University Ladnun if the situation is properly evaluated & project description presented to them.
Proper evaluation has to regard all conditions determining the situation. JVB University is in a remote area with poor communication skills, restricted funds & rural environment. At the university's side efforts are made to change the situation for better. They inside the institution try to create awareness on the increasing interest among the international public for deeper knowledge on Jain teachings. There are efforts to open the institution for international standards, especially in terms of language. Most universities are communicating in English language on the international scientific level, important research projects by now are documented in English language. It is possible to realise such an international project like a systematic German language course when JVB University succeeds in increasing the efforts. The institution should get more and more ready for reception of international scholars & reliable communication.
Asked about his focus, Acharyashree mentioned two main aspects to spread the message of Ahimsa, the metaphysical philosophic & the physical economic aspect. Meditation is the method to directly experience the metaphysic-philosophic aspect individually. That is the aim of Preksha Meditation. Non-violent economy is the need of the hour & the key for harmony in the society.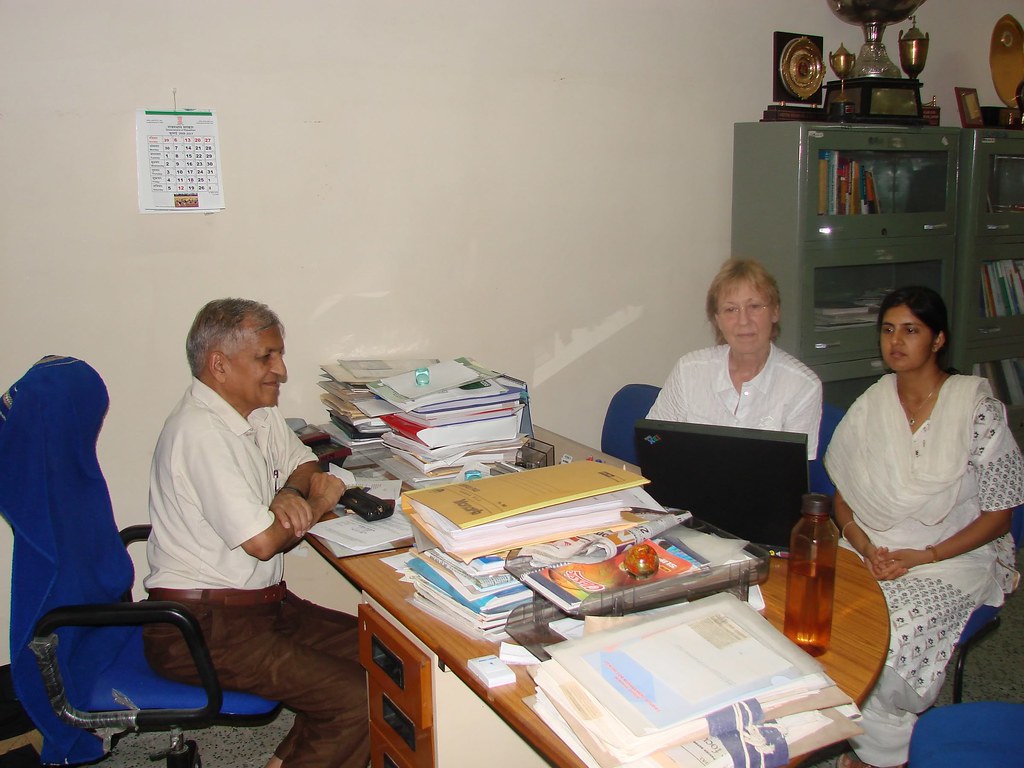 Dr. Ashok Bapna showing DVD to Karuna Jain & Shivani Bothra documenting the two conferences "International Dialogue on non-violent economy" arranged & organised by him.
Dr. Ashok Bapna founder and director of "Institute For Integrated Learning & Management" is very busy on this behalf & already has arranged & organised two conferences titled "International Dialogue on Non-violent Economy". We personally met in November 2007 in Udaipur where "Second International Dialogue on Non-violent Economy" took place. Actually he is preparing the 3rd conference scheduled for November 2008 in Jaipur. Dr. Bapna had invited Shivani & me to visit his academy of higher learning & at this occasion gifted a DVD "Journey to Non-violence" to us.
Charged with spiritual experiences hence unknown I went to Delhi on Sunday, 13th July and from there continued my trip back to Germany on 14th July. On my way back home I remembered that someone had asked me about the difference of Preksha Meditation Camp in Hindi & International Preksha Meditation Camp in English language. The Preksha Meditation Camp in Hindi seemed more authentic to me, as all guidance & interaction was given in the original language. Interaction between guided and being guided was more intense, as they communicated not only in their native language, but also in the native language of the meditation method.
Personally I highly enjoyed how I was integrated into the group, not feeling different than all other participants. Language was not so important, as I had studied the subject since quite some years & was happy to be a part of a camp where so many dignified meditation guides were sharing their deep spiritual vibrations with the participants. For me it resulted in a definite & intense upliftment of my own vibrations. Perhaps because it directly was experienced instead of being conveyed through language serving as intellectual filter.
Asked if I would do it again, my answer is, YES. Besides the spiritual upliftment it immensely has increased my tolerance power and trained my nonverbal communication. Moreover my ability of perception has refined.
THANKS TO ALL FOR MAKING POSSIBLE THIS UNFORGETTABLE EXPERIENCE!