The Pioneer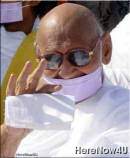 The world inside us is a world of pure consciousness. The world outside us is full of diversities; it contains several kinds of substances, which are essentially a conglomeration of atoms. Thus, there are two worlds for us - the world of material objects and the world of pure consciousness. Spiritual life is life in consciousness. When we withdraw from it we enter into the world of material objects. The search for truth implies delving into the depths of our own being. This search is sometimes accomplished with the help of instrumental causes and at other times through a sudden discovery or intuitive flashes of knowledge. You might have heard of several incidents connected with the search for the mysteries of the universe. I shall narrate one.
Somebody once saw a deer come to a spring of water on a hill. It used to thrust one of its legs into the water and keep it there for some time. It would come to the spring daily and do so. This continued for quite a few days. The man who saw this noticed the deer's crippled leg and thought that it was lame. One day the deer was seen walking normally as if nothing had happened to it. The man examined its leg and found that the bone was broken. The man thought over the matter and framed a hypothesis. With this began the development of naturopathy. The system of curing diseases with the help of clay came into being. The system of curing diseases with the help of sound also developed in the same way.
The human body is essentially composed of electricity. Mutually unbalanced electric waves produce various diseases. Deformities in the taijasa body produce deformities in the overall body. We may invent cures for various kinds of diseases by manipulating the electrical waves emanating from the taijasa by bringing about a harmony in them.
What I have mentioned above is to show that our progress depends on many forces of nature and that we have been able to know and harness only a few of them. Our ancient acharyas had made several discoveries and had propounded a number of theories that have been recorded. But their application in day-to-day life has disappeared. That is why we find it difficult to understand them and take practical advantage of them. Thus, in our search for spiritual awakening we need to harness our inner consciousness.