According to the Jain tradition, dinner was taken before sunset. Quality, preparation and rich choice of the vegan buffet meals were really remarkable. The nutritious food supported the participants in withstanding the hardship of unheated rooms during the cold Rajasthani January nights.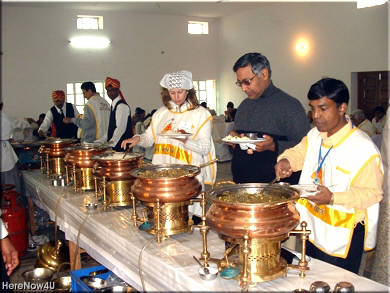 Dinner united people in serving themselves. Food in the many terrines was kept warm by heated pots.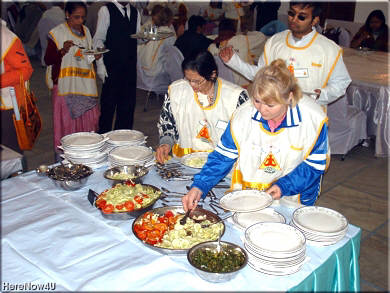 Salad and rough vegetables were available for lunch and dinner, every flavor was satisfied.
Karuna (3rd right) was sitting with the so-called 'Russian group', headed by Emil Bagirov (first left), founder of an own school for cosmo-energetic healers in Moscow, Russia. Swetlana Kapoustina (2nd right) is - like the other members of the Russian group - a student of Emil Bagirov. Originating from a German-Russian family, she moved from Sibiria to Germany in 1992. Karuna and her talked in German.
Emil Bagirov and some other members of the 'Russian group' had already met with Karuna in Surat 2003 at the occasion of the 2nd IMPC.
There were enough seats for every hungry person, taking the meals together at huge tables. There was not much energy left for discussions at table among the participants, time was minutely organised.
M.D. Jain from California, USA, appreciated very much the salads and rough vegetables. Preksha Meditation is recommanded in her surgery to the patients, specially as prophylaxis against or reverseal of heart disease, high blood pressure and diabetes.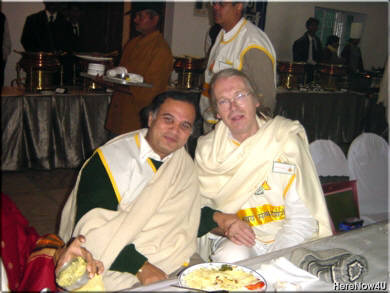 The Indian based chairperson of the International Vegetarians Association talked with HereNow4U's editor Christian Geerdes (Aparigraha Jain) on the benefits of vegan meals for human body. Both agreed how health improving is vegan diet and that Preksha Meditation is an universal method for individual solutions.