About 15:00h we took farewell from our gentle host in Ostra Parshvanath thinking how nice it would be to come here again. Over Bhopalgarh we reached Gangani and then continued to Banar. Banar is about 21km away from Jodhpur. We again observed how gradually the landscape changed alternately from barren steppe to more green areas, and vice-versa. The heat of the day worked like a warm shawl on the landscape dispersing like a natural still life in front of us. Yet nothing of the late afternoon's coolness was to perceive. I wondered what it would be like to drive through this landscape in summer when the temperatures climbed until 50°C. Probably all greenery would have withered already long ago.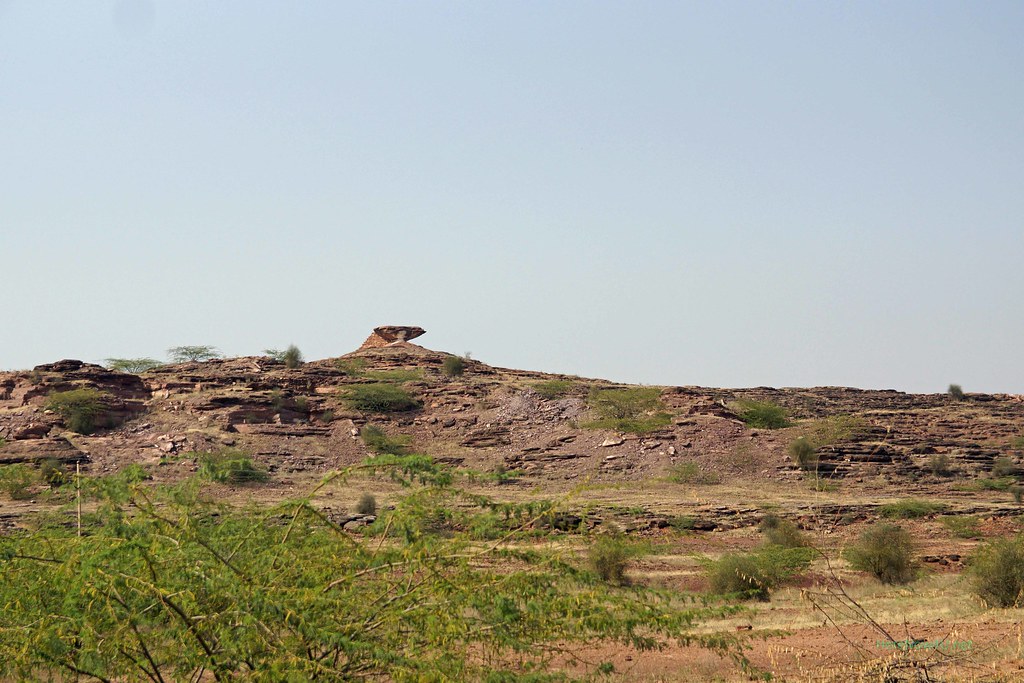 Again we saw one of those weird rock formations created through a combination of human impact and weather conditions.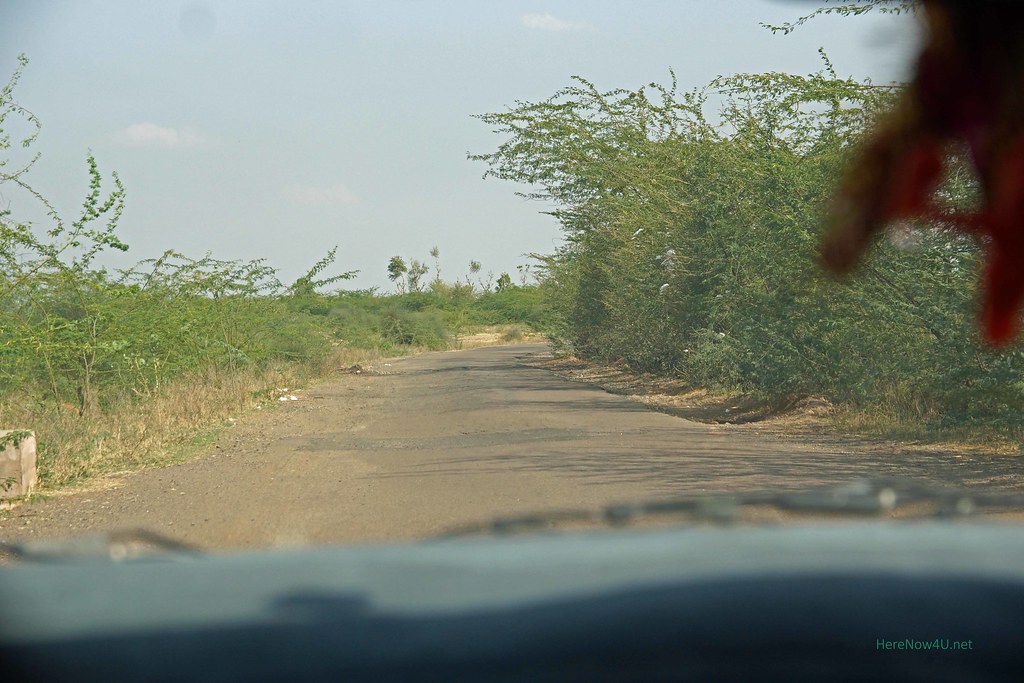 The plants at both sides of the road are supposed to stop the process of increasing desertification.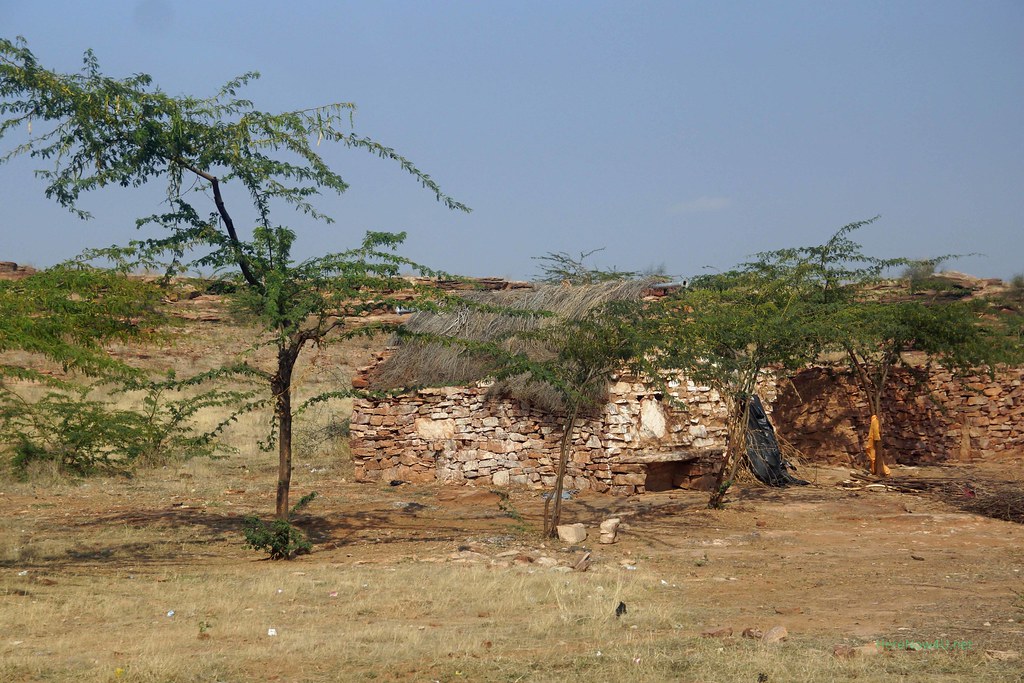 From a distance this accommodation does not look manmade, so perfect it adapts to the environment.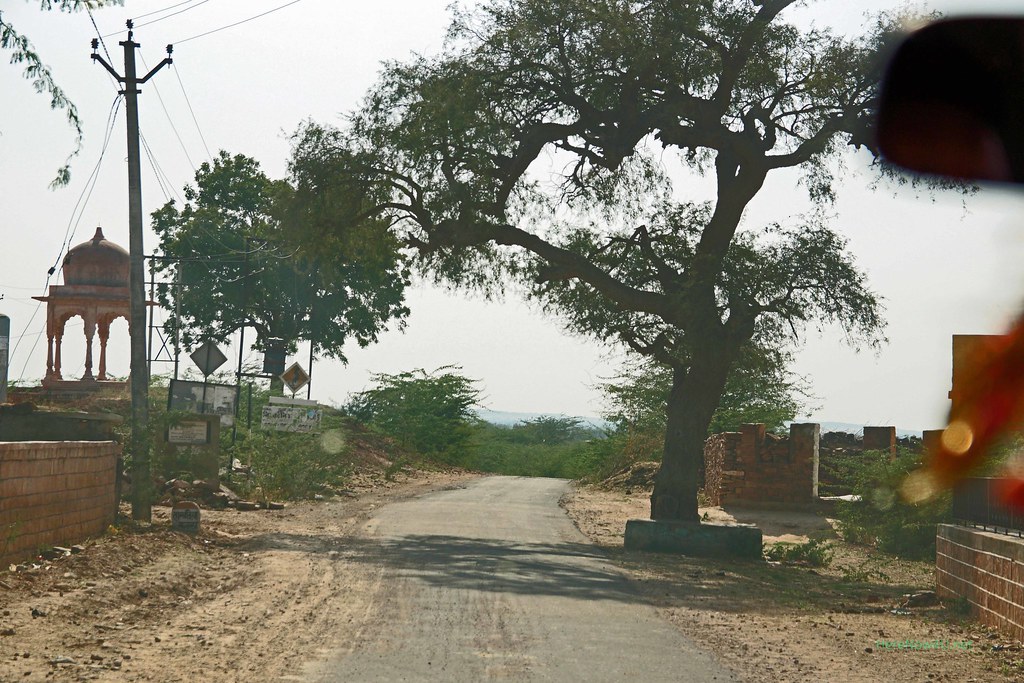 That's why trees are an especially protected species.
From Banar we did not continue in direction to Jodhpur, but turned to the opposite direction. Before we did so, there was a talk among our hosts, where time took a special part, as we understood from their gestures. Meanwhile it was 16:30h, but obviously not as late as thought. Before the plans for this temple tour were completed, Shri Surana had proposed a more extended tour to us, a tour taking 2 or even more days. The recommended temples were real treasures with exceptional Dharmshalas, he said. Under the time aspect this was perfectly fitting, as on the afternoon of our arrival in Jodhpur we still had 4 days ahead. But unfortunately we were not prepared to accept because of the partly rather exhausting sections of our India tour from which we still felt some fatigue. That's why we requested to Shri Surana to postpone such project until our next visit. Just to give an impression of an exceptional temple to us he quickly took us to Kaparda..
Shri Kaparda Tirth
Consulting the watch was so important because Jain temples in Rajasthan mostly are open for visitors between sunrise and sunset. Before sunset and after sunrise the temple can be entered only to participate in religious rites, and most imperative, in from head to toe unworn clothes. When we left the car Shri Surana promised that there will be something very special to admire. When his son Saurabh translated his father's words to us, he added that there certainly might be something special when his father expresses himself as he did. Full of expectations we climbed up the stairs to the temple.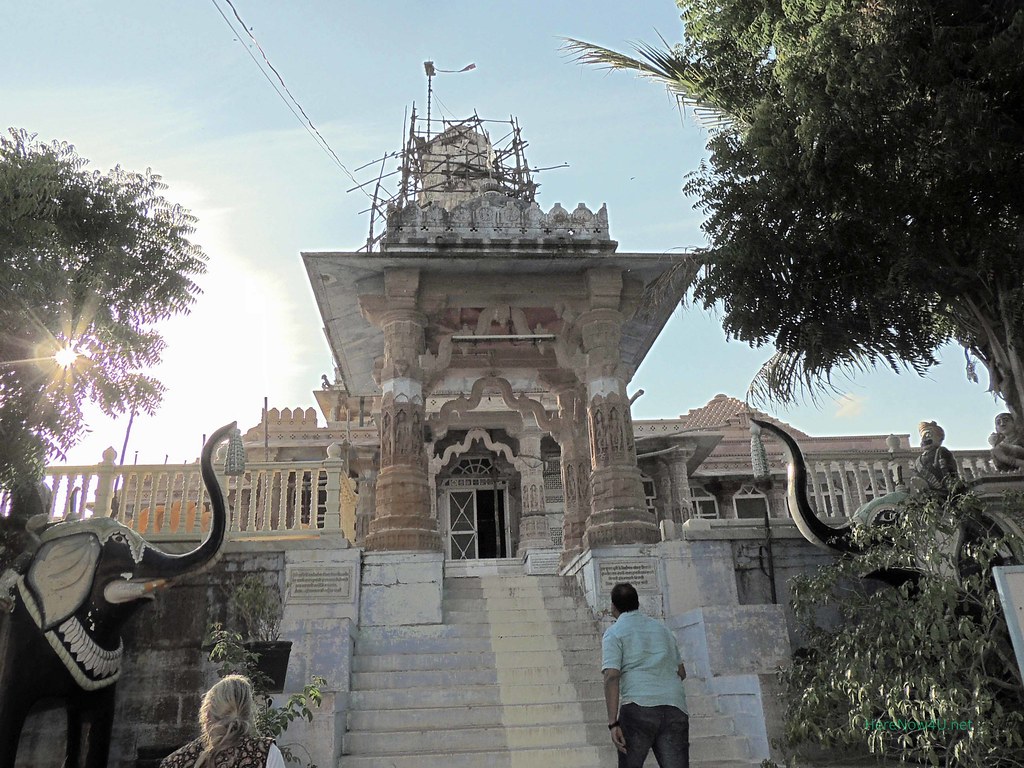 Stairs to Shri Kaparda Teerth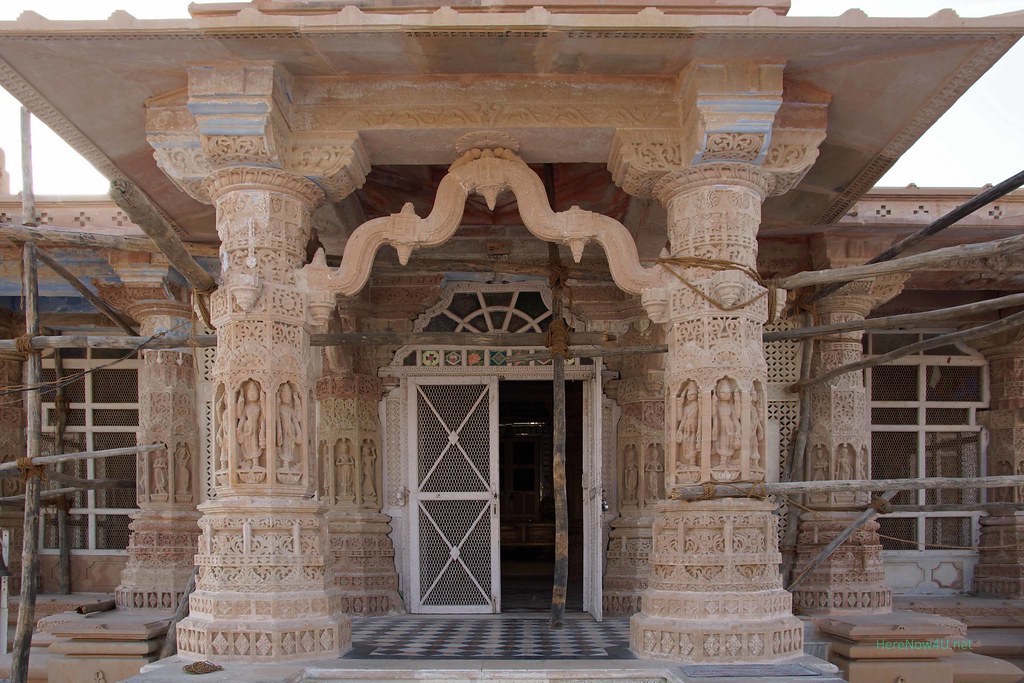 Eastern entry of Shri Kaparda Teerth
Hall of Shri Kaparda Teerth, one has to pass for Garbhagriha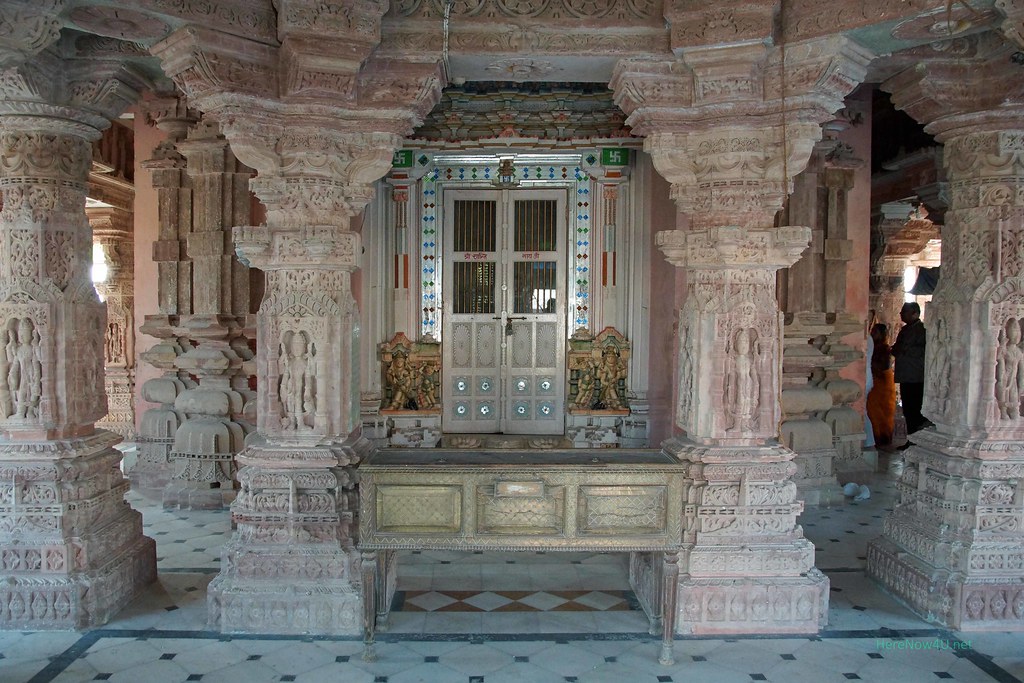 Garbhagriha of Shri Kaparda Teerth
Even outside the temple it was visible that restoring work was in progress. Outside and inside the temple gantries were installed. Nevertheless the temple was open for visitors. The temple is situated on a hill and has four entries. Its Shikhara is perceptible even from far. Shri Surana brought to our attention that some art historical particularity can be admired in the Garbhagriha, a jade sculpture of 23. Tirthankara Parshvanath. Legends and miracles still are told of this statue and the construction of the temple.
According to legend in the beginning of 17th century the sculpture suddenly appeared on the day of 23. Tirthankara solemnly celebrated anniversary in the ground beneath a babool (Acacia) tree at the outskirts of Kaparda. Inspired by a Yati the temple in Kaparda was constructed, and the fourth Dada Guru Acharya Jinchandra Suri installed the statue as Mulnayak at the Kaparda Jain community's request. Among the 108 names of 23. Tirthankara Parshvanath this sculpture is known as Svayambhu Parshvanath.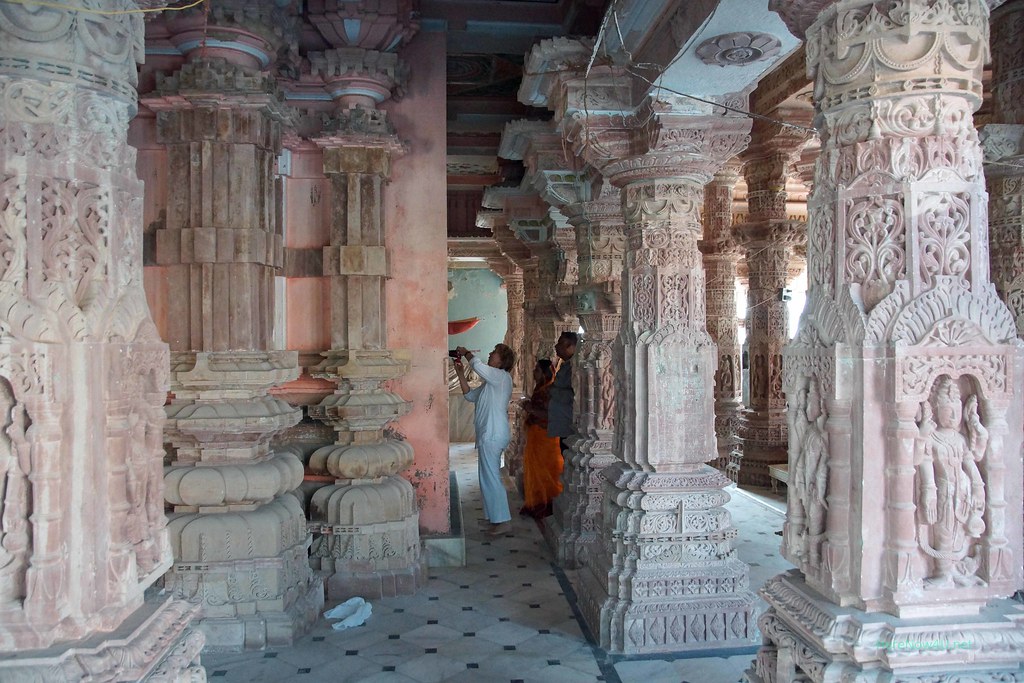 Round tour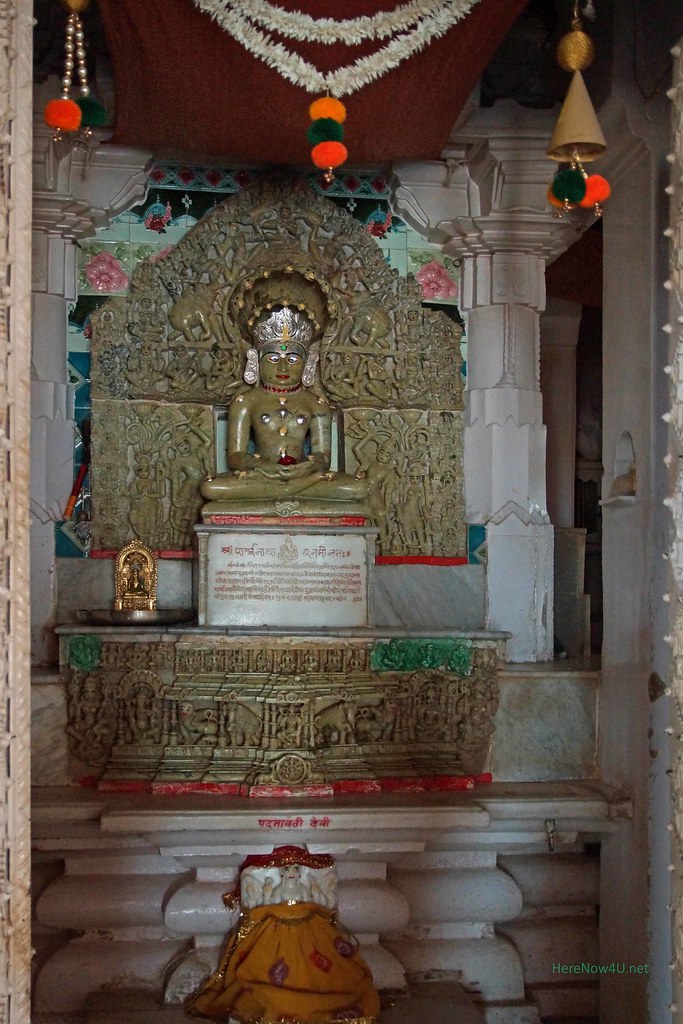 Mulnayak:
Svayambhu Parshvanath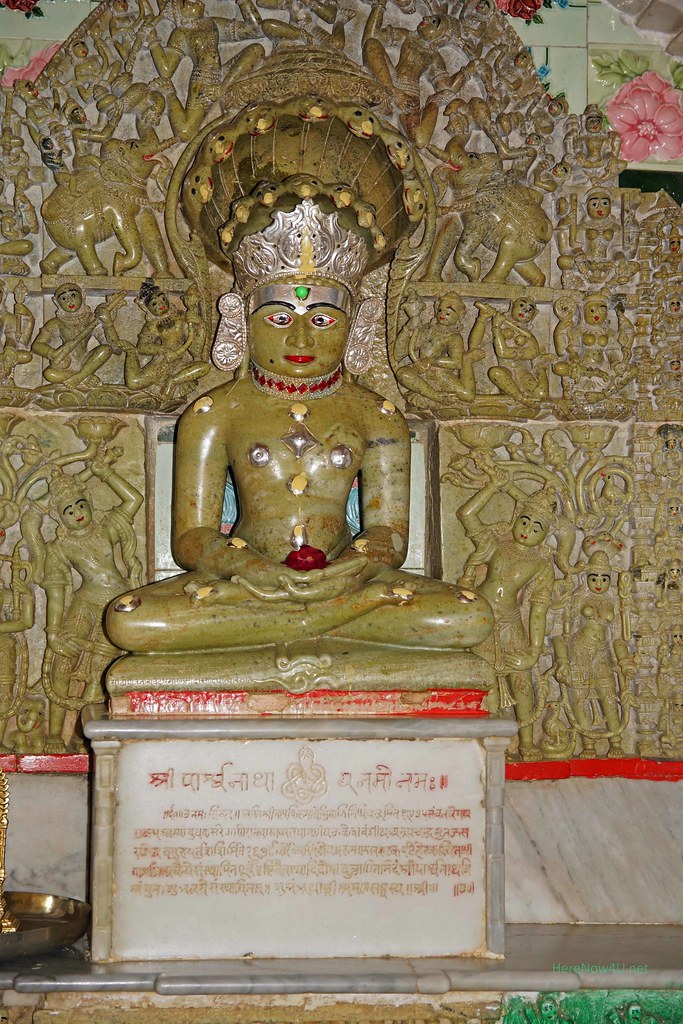 No discoveries of jade in India, neither at present, nor in the past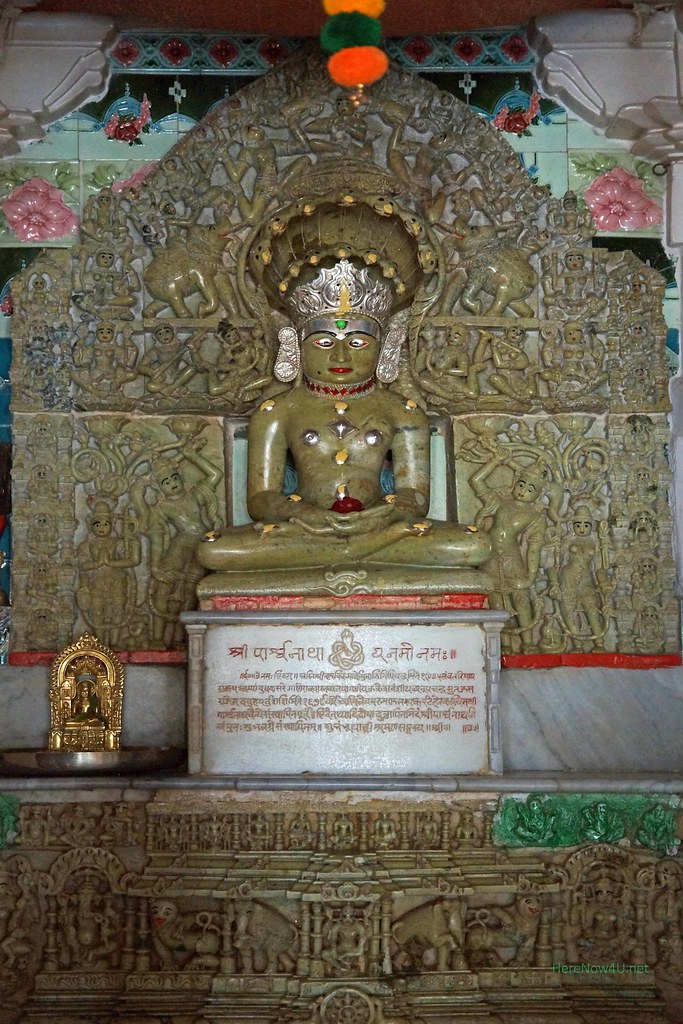 The sculpture has been chiseled meticulously of a big jade block.
One of the four Garbhagriha doors was open, so that the jade sculpture directly was in sight. A very artful work from the time when jade just was about to arrive in India via trade connections. Conformed by several mineral atlases, there has been and is no discoveries of jade in India, although even in the past there were remarkable jade art works, especially in Jain iconography. Svayambhu Parshvanath is emanating the complete harmony of the displayed subject and the material chosen for presentation, bestowing a breathtaking sacral charm on it, seeming clearly not to belong to this world. Standing in front of it, there is no more wondering about any miraculous story in context with this sculpture.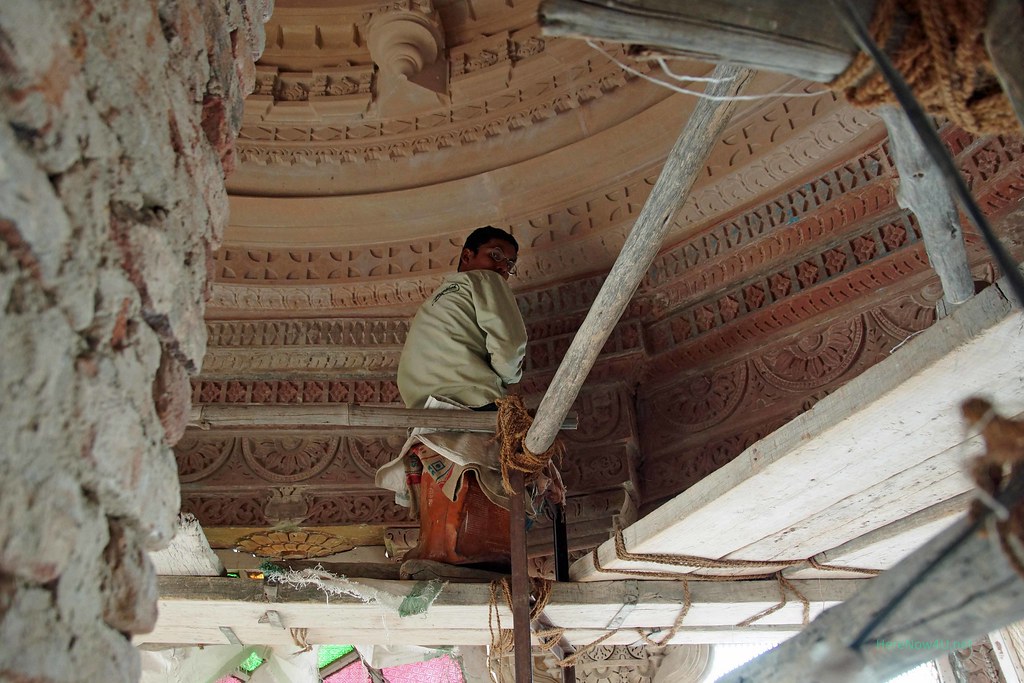 The ceiling behind the Garbhagriha was restored in the traditional way when we were there.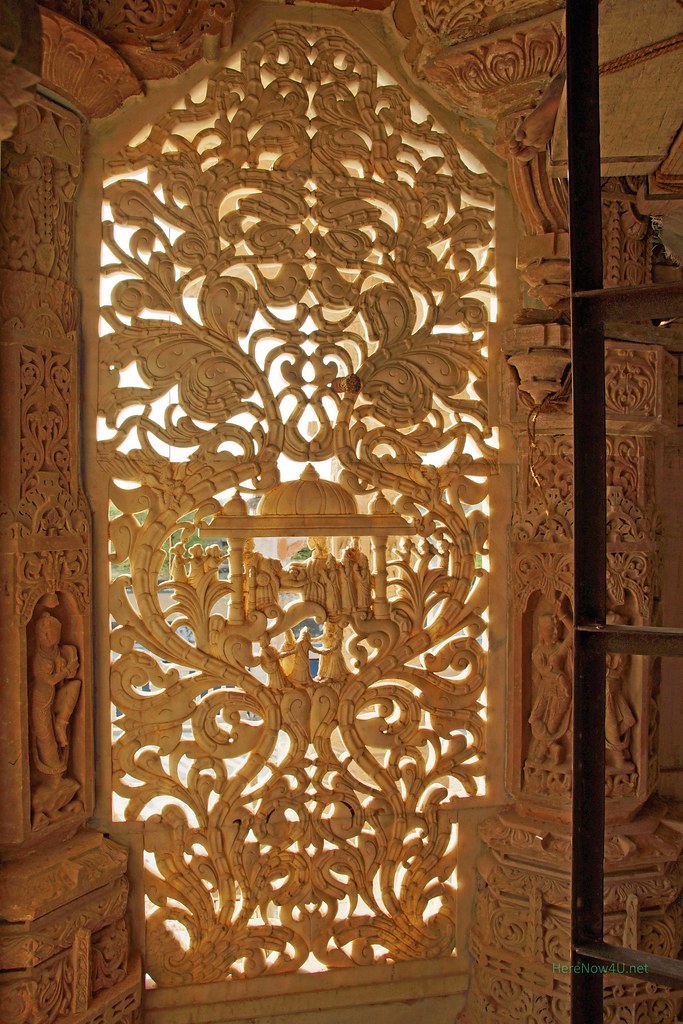 This work is practically completed.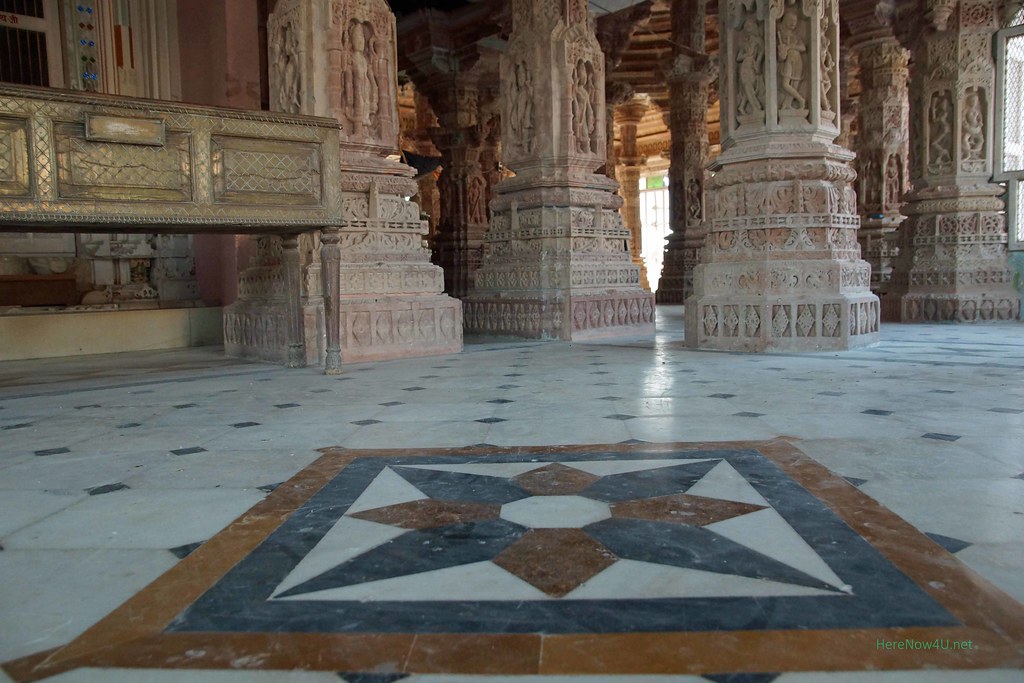 Marble floor with tessellations and artful stonemasonryon pedestals and shafts of columns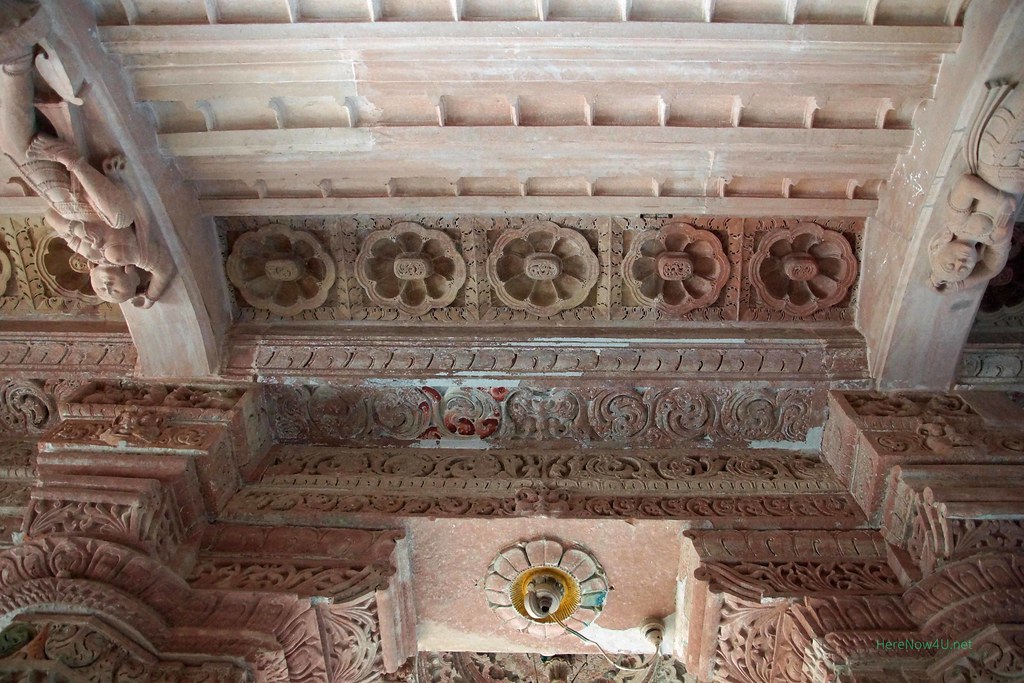 Detailed view on half-restored ceiling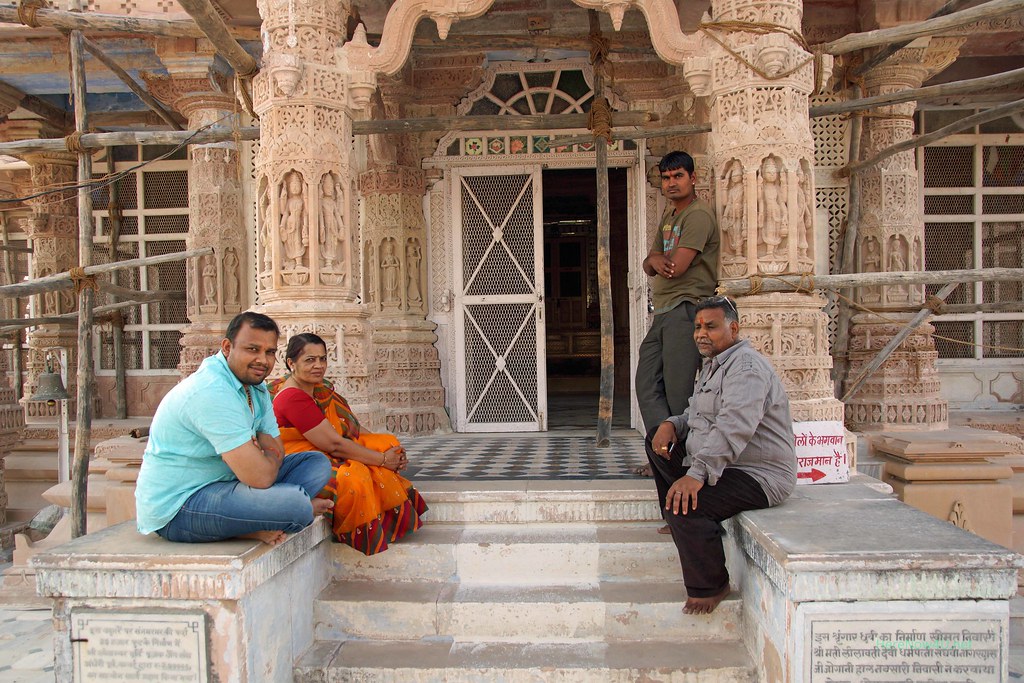 The Surana family at the end of a gorgeous temple tour
How many beauties we have been shown this day! Not only for the eyes, but also for the sense of beauty including that for transcendency so much was to perceive. It was a beautiful, unforgettable day. From the bottoms of our hearts we thank our dear Jain friends in Jodhpur, the Surana family.