After a fretful night we woke up rather early in the guesthouse of Mysore University. Christian Geerdes still had a temperature of 37,9°C, after it had stopped raising about midnight. So antibiotic had started to be effective, but we nevertheless planned to decide after breakfast if and how we would be able to follow our schedule. In the kitchen opposite the dining hall the friendly lady was about to prepare breakfast.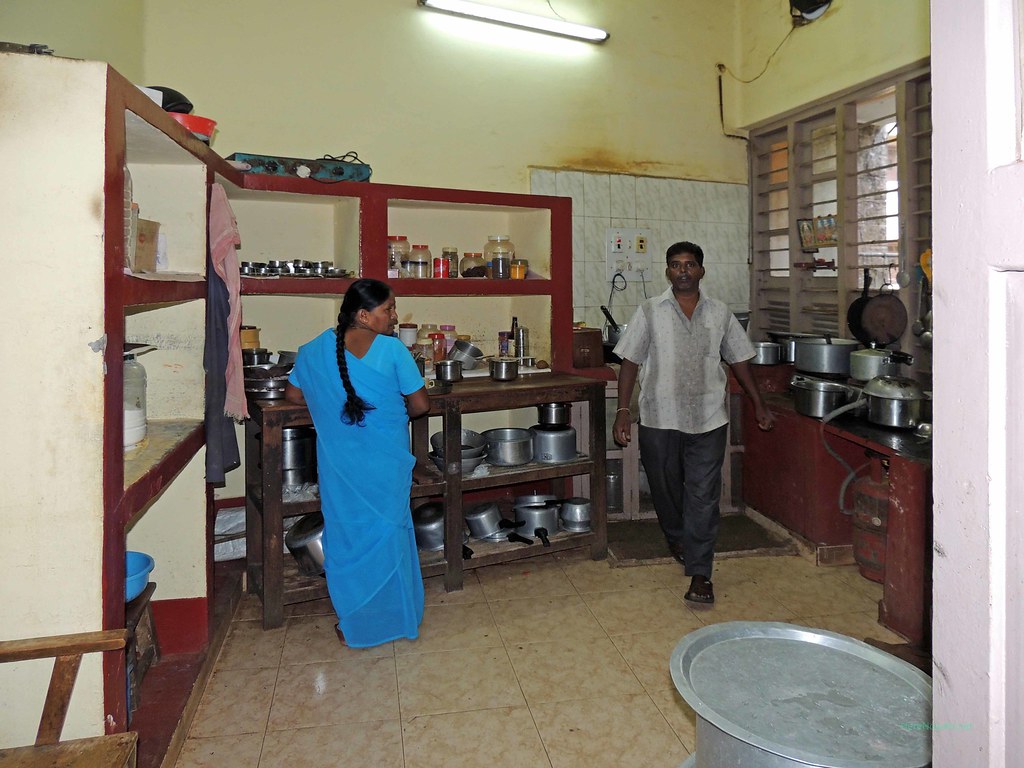 The lady's intense luminescent blue Sari brought colourto the kitchen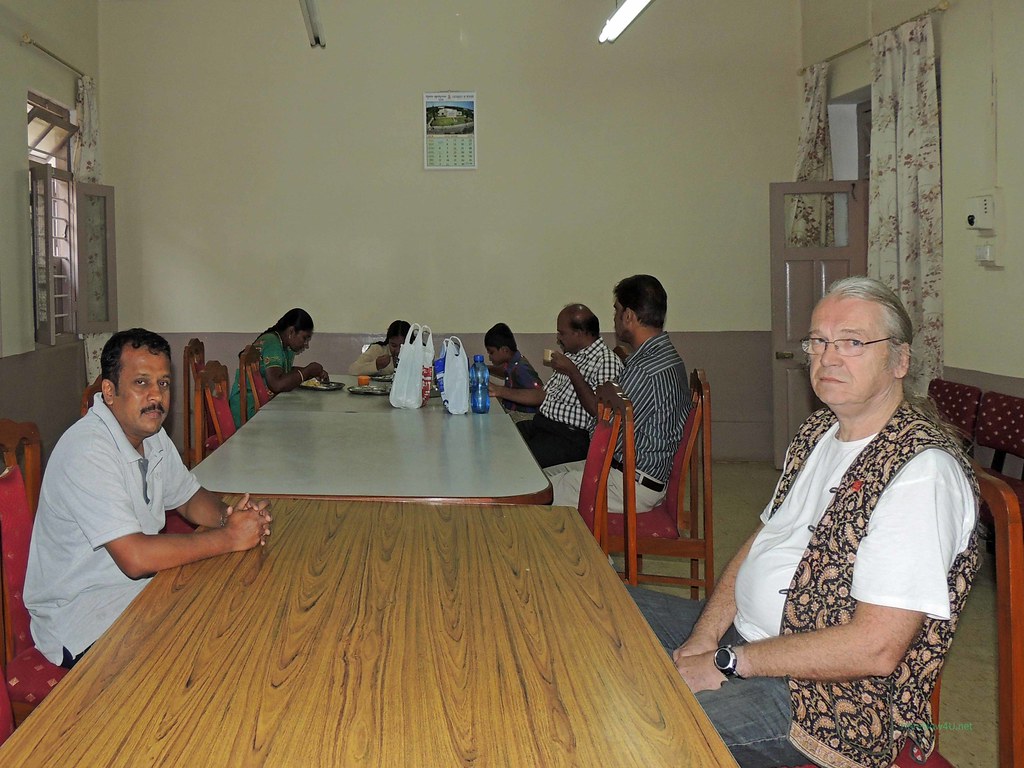 Prof. Narayana Prasad (l) also was taking his breakfast here.
While we were waiting for our food Prof. Prasad told us that he had done quite many video blogs and that he really would like to make one with us. He - and he assumed the same for his followers - was interested in knowing how we as Germans had found to the path of Jain philosophy. This was one of the subjects he proposed for the video. We were not prepared for this, it was early morning, and we did not feel on top of our energies. But Prof. Prasad tried hard to convince us by underlining that his small project would not absorb too much time as he himself had to be at 10:00h at his Sanskrit course. After a short discussion he accepted that one who was suffering from flu was not in the mood for a video interview, but asked me not to cancel the project as well. I had not the heart to do so, as his attitude was so kind. After taking some deep breaths I spoke directly and without repeating the take on how we had discovered Jain philosophy, how we try to realise it in Germany and on aspects of Ahimsa:
Video: Inspiration to Jainism by Carla Geerdes (Karuna Jain)
Published on 29 Jan 2014 by Prof. A. Narayana Prasad Carla Geerdes also known as Karuna Jain, has been inspired by Jainism. She hails from Germany. Here she speaks on how she got inspired to Jainism.
Video: Jainism in Germany by Carla Geerdes
Published on 29 Jan 2014 by Prof. A. Narayana Prasad
Carla Geerdes also known as Karuna Jain, has been inspired by Jainism. She hails from Germany. Here she speaks on how she is translating Jainism in Germany.
Video: Non Violence or Ahimsa by Karuna Jain
Published on 29 Jan 2014 by Prof. A. Narayana Prasad
Carla Geerdes also known as Karuna Jain, has been inspired by Jainism. She hails from Germany. Here she speaks on Non-Violence or Ahimsa
Video: Journalism of Christian Geerdes (publisher HN4U)
After the videos were taken we consulted how to continue. According to the schedule there were two overnight journeys in a bus, which we worried about because of our weakened health condition. We had to be back to Bangalore on 19th January to take our gifts from Shravanabelagola with us and to reach in due time our early morning flight to Trivandrum, Kerala, on 20th January. The overnight journey seemed not possible to us in that situation. So we decided to change the schedule and checked into centre situated Parklane Hotel near the bus station, recommended to us. So we got an unexpected short break in Mysore we like very much to remember. After excellent lunch on the roof terrace of the hotel we took some rest. In the afternoon we wanted to visit one of the most famous Indian palaces. Amba Vilas Palace (or Mysore Palace) of the nearly 550 years Mysore ruling dynasty was completed in 1912.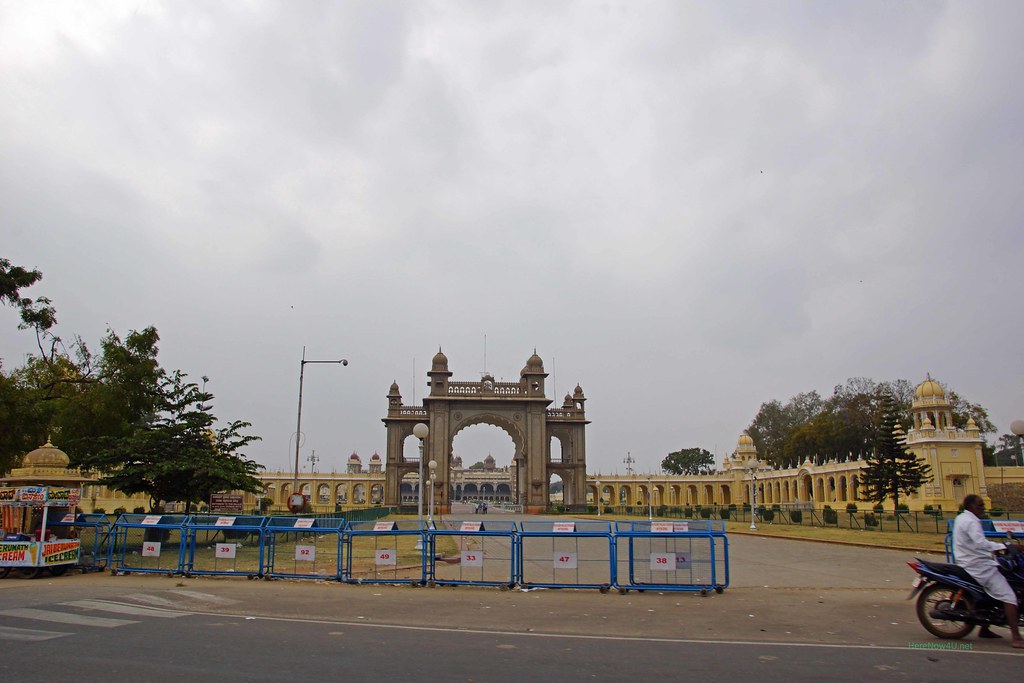 East entry of Mysore Palace seen from the road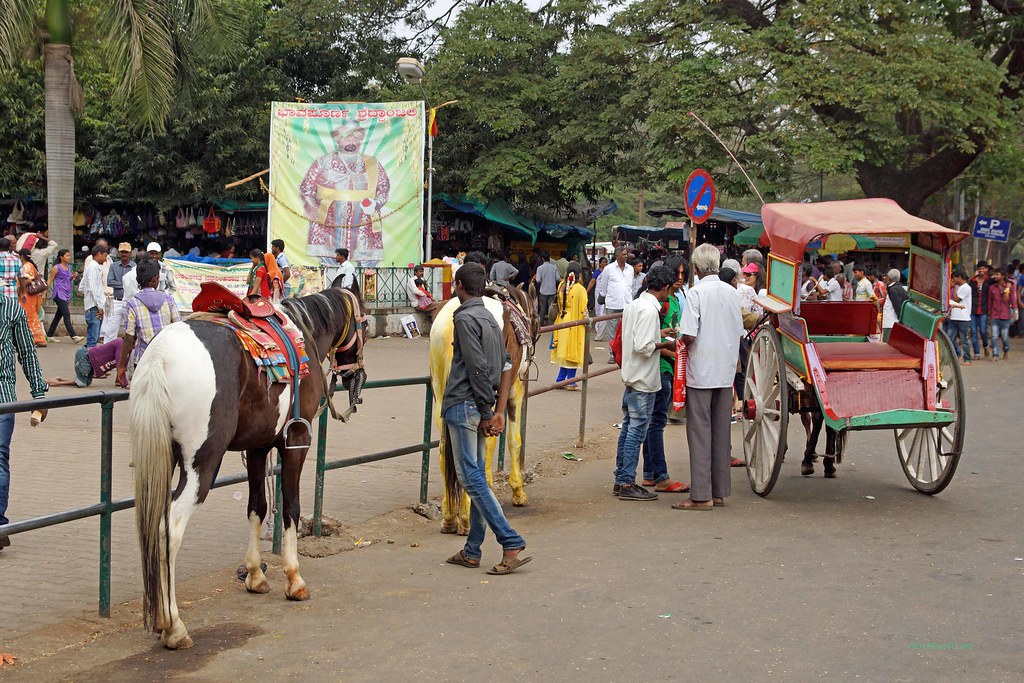 Here taxis and Tongas (light horse carts) let their passengers get off or in.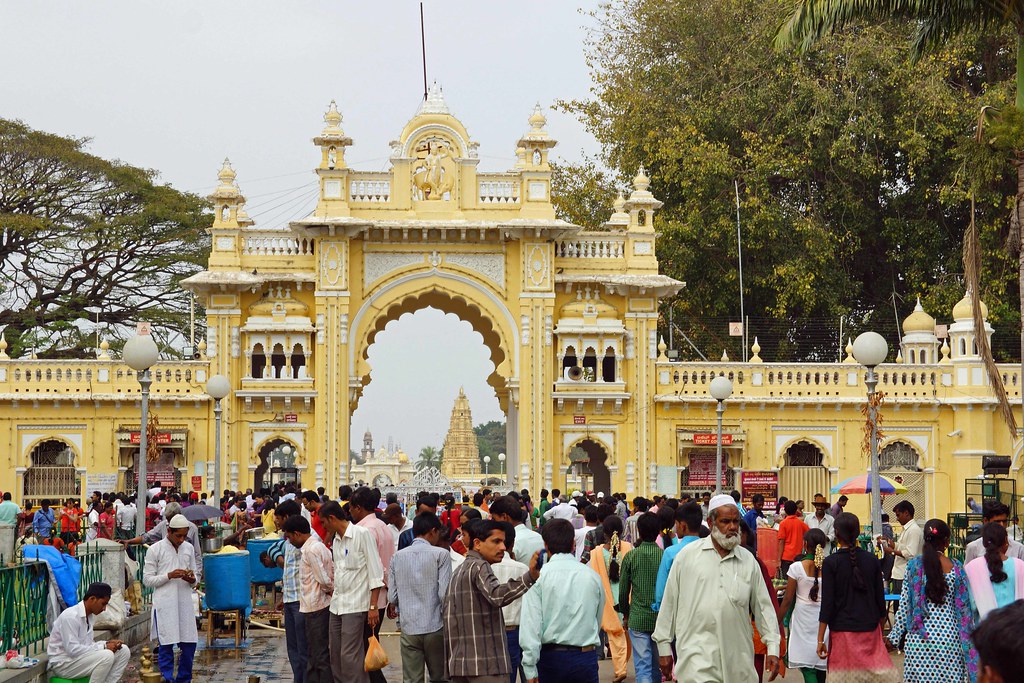 South entry of Amba Vilas Park and Palace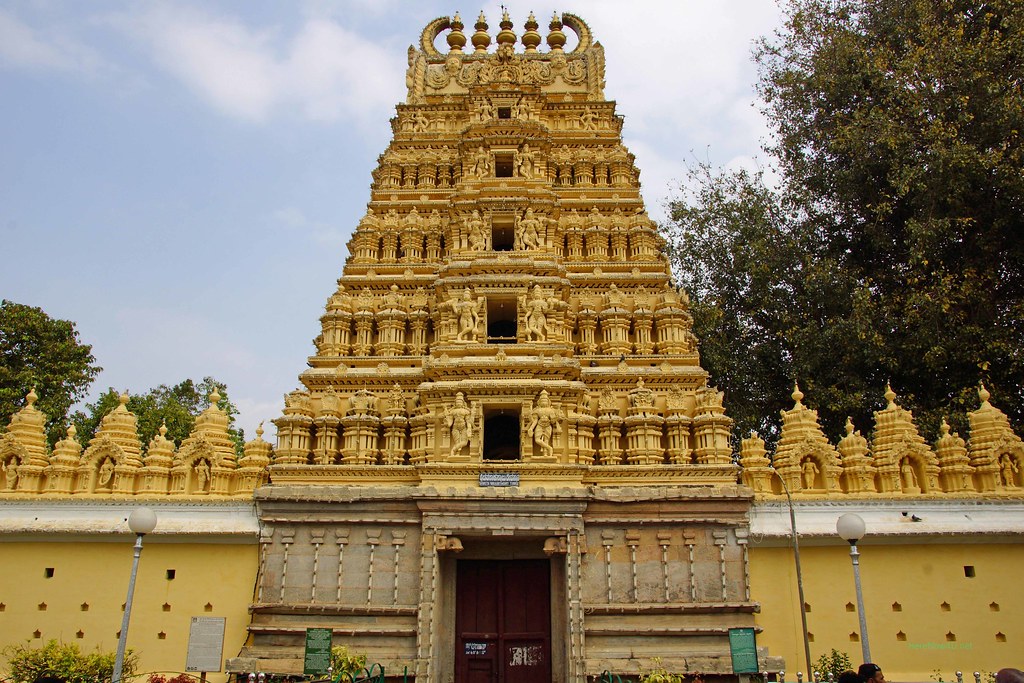 Shri Shveta Varahaswami Temple in the park of the palace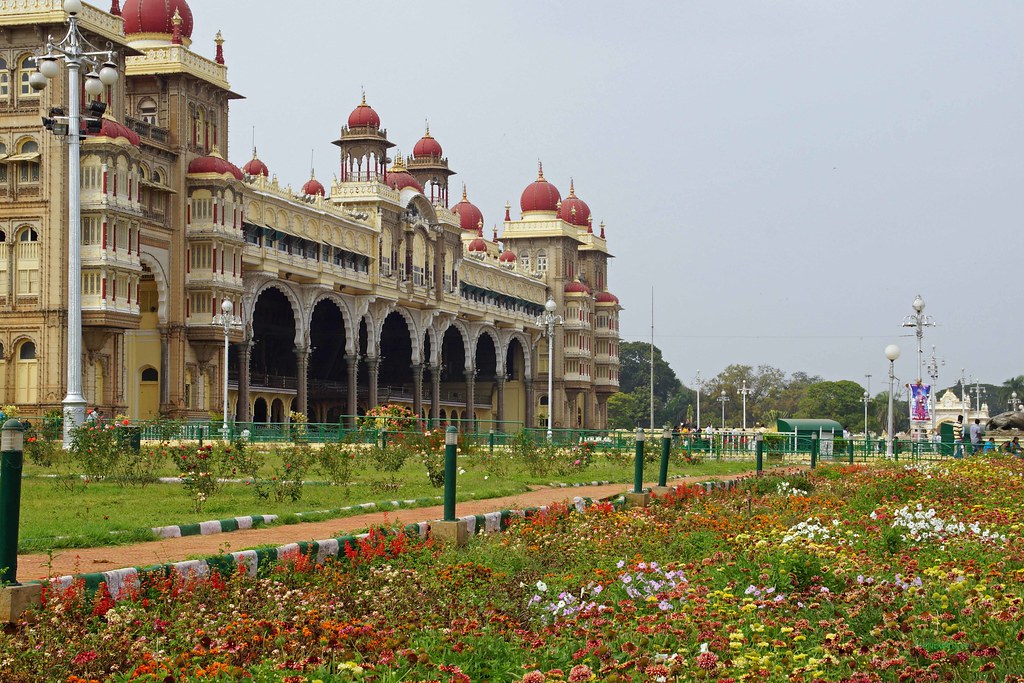 Rose Garden in front of the palace complex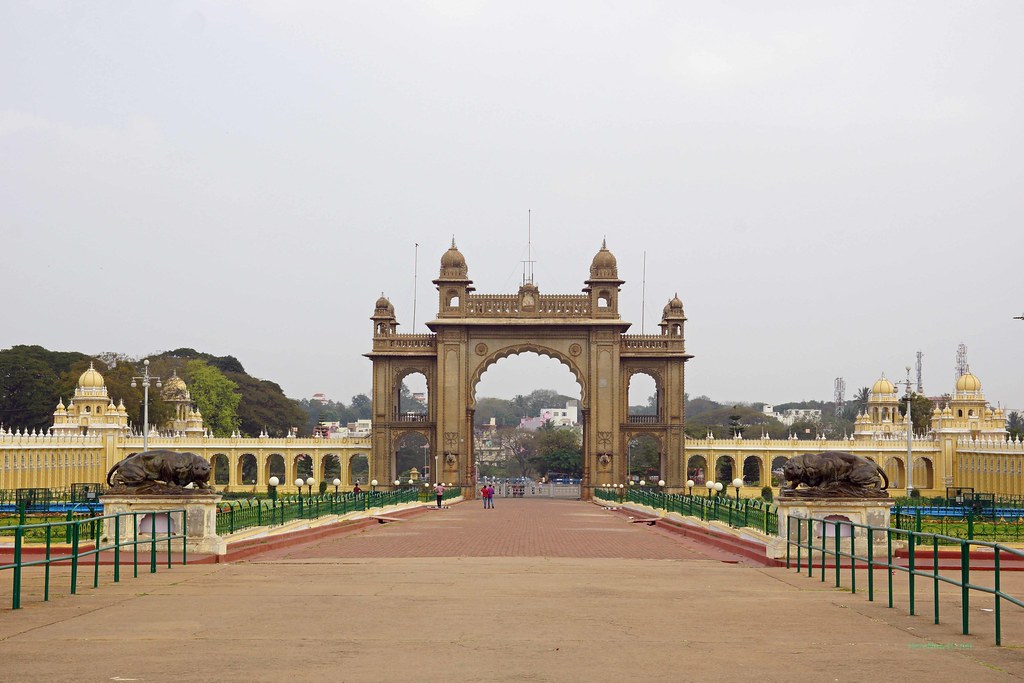 East entry of the palace seen from the park, flanked by two bronze sculptures of leopards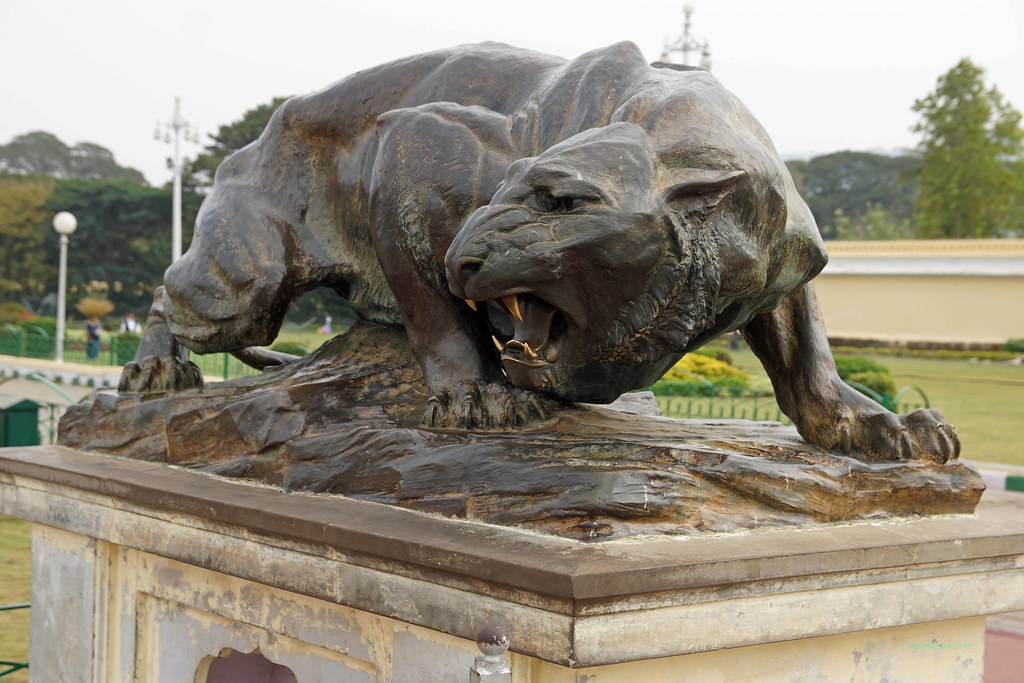 Leopard sculpture in detail
Not far from our hotel - according to our impression only three corners away - the driver of the three-wheeler-taxi dropped us at the southern entry of Mysore Palace. Apparently Amba Vilas Palace on this Friday afternoon was a frequented destination by school children, joint families and traders. In some distance at the right from the entry Shri Shveta Varahaswami Temple in Hoysala style, completed in the 19th century CE, can be admired. After the temple the path leads to a very well maintained rose garden just showing its first blossoms in front of the palace when we reached it. Opposite to the palace complex is the east entry of the palace with a broad paved road. The road is flanked by two leopard sculptures symbolizing audacity, braveness and strength.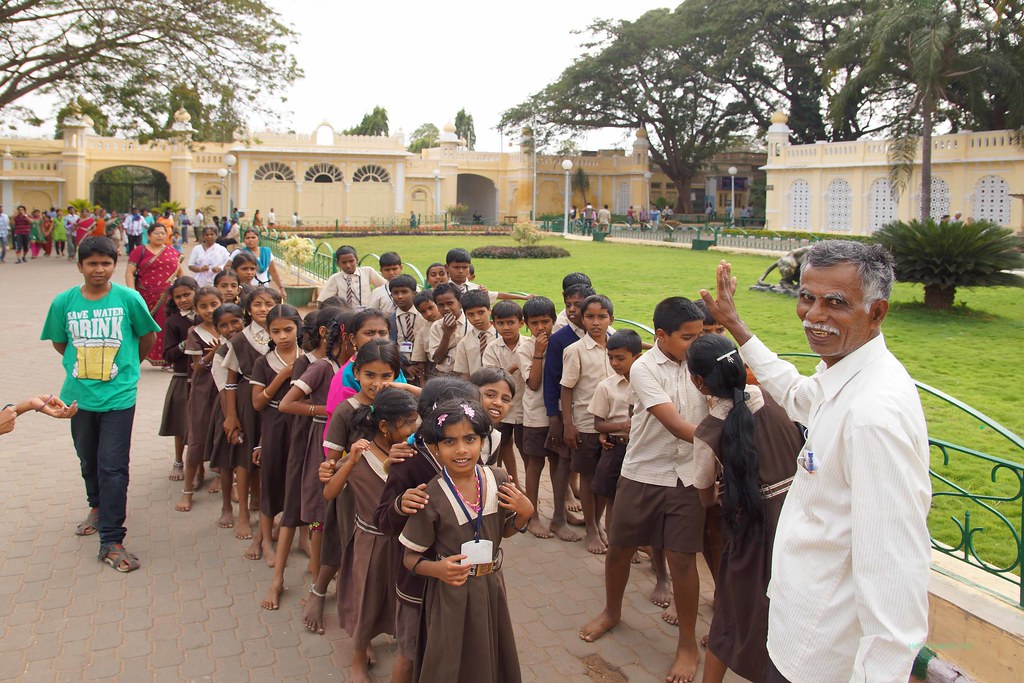 Girls and boys of a class are queuing up in different rows before visiting the palace.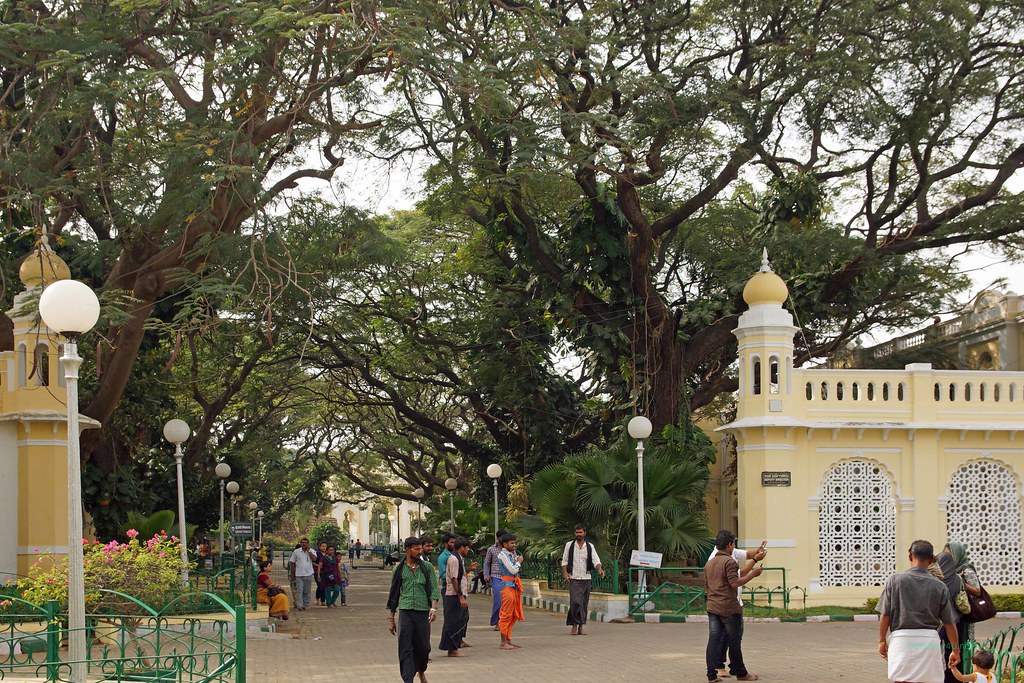 Shady neem trees in the park
After this eventful afternoon we again needed a break. In the evening there was life-music with excellent musicians at dinner time. All seats on the terrace were taken already, but as the evening was rather fresh we enjoyed sitting in the circle formed restaurant inside. We went to sleep early to recharge our energies for the next day.
Next morning, 18.01.2014, we wanted to visit Chamundi Hill at a distance of 13 km from the centre around Mysore Palace. A road is ascending up to Chamundeshwari Temple, one of the famous Mysore landmarks. On our way to Chamundi Hill we noticed a colourful gathering.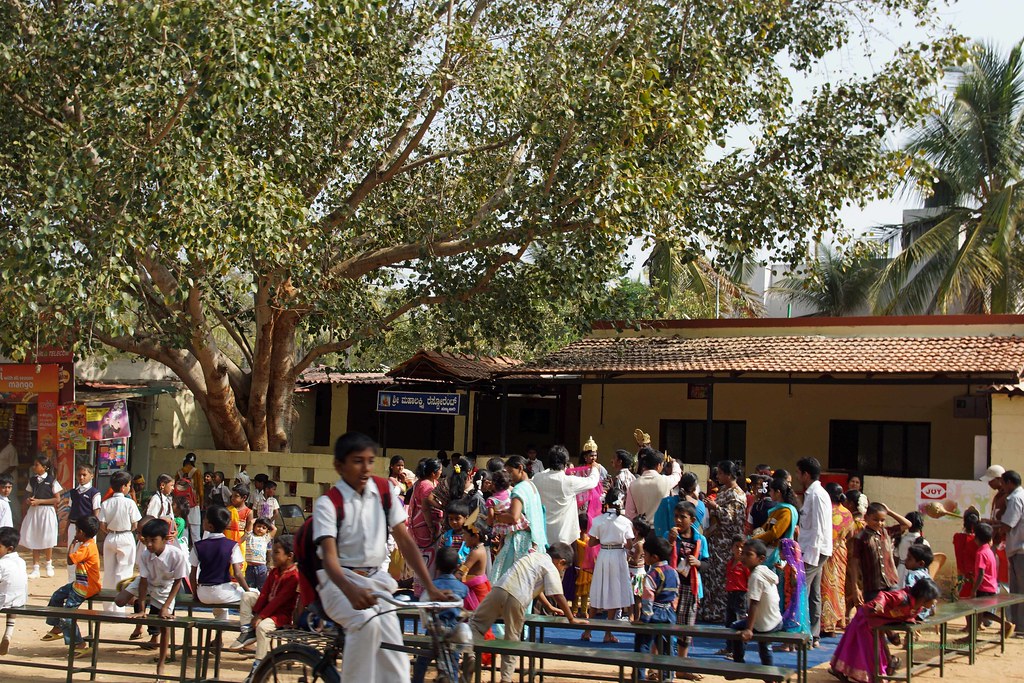 Students, their parents and teachers had come together for a celebration we failed to know the motive due to language problems.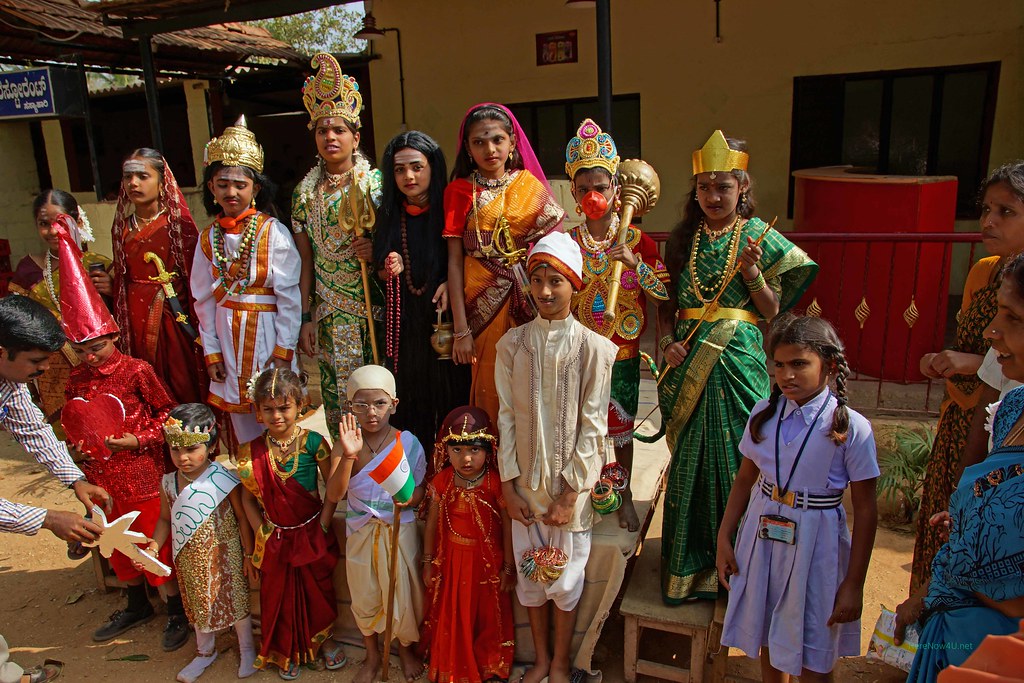 The children were dressed up as Saints, Gods and Goddesses, as well as prominent persons of Indian culture.
On the top of Chamundi Hill one has to put off shoes at the parking place already. Gratefully we accepted the offer of the taxi driver to leave our shoes with him while he was waiting for us.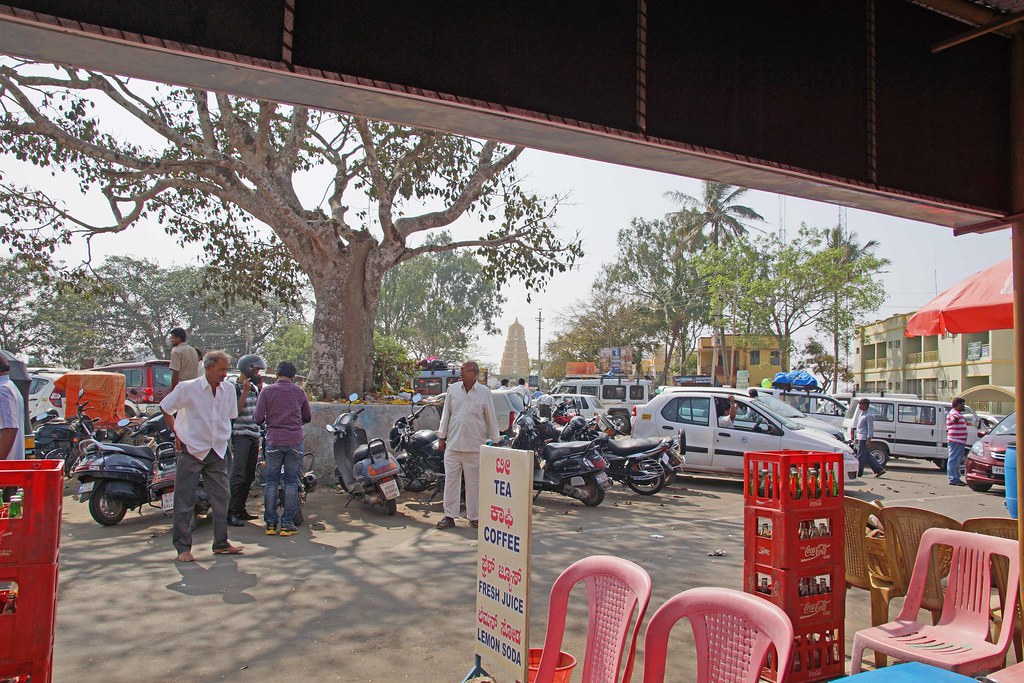 At the parking place all arriving visitors are received by a variety of food and drink stalls.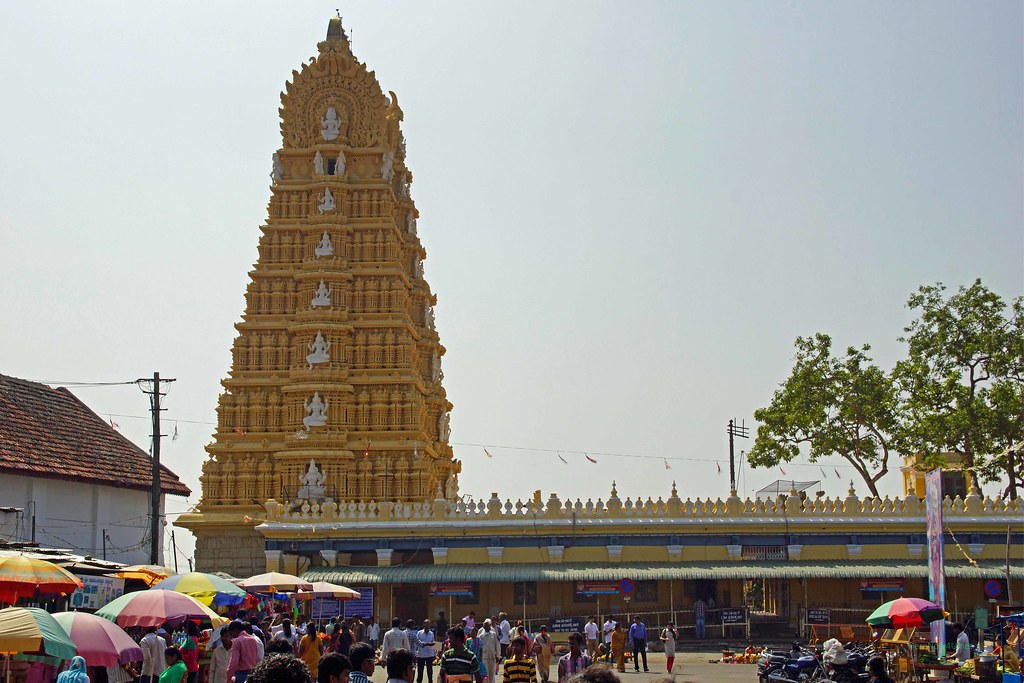 Chamundeshwari Tempel Mysore on Chamundi Hill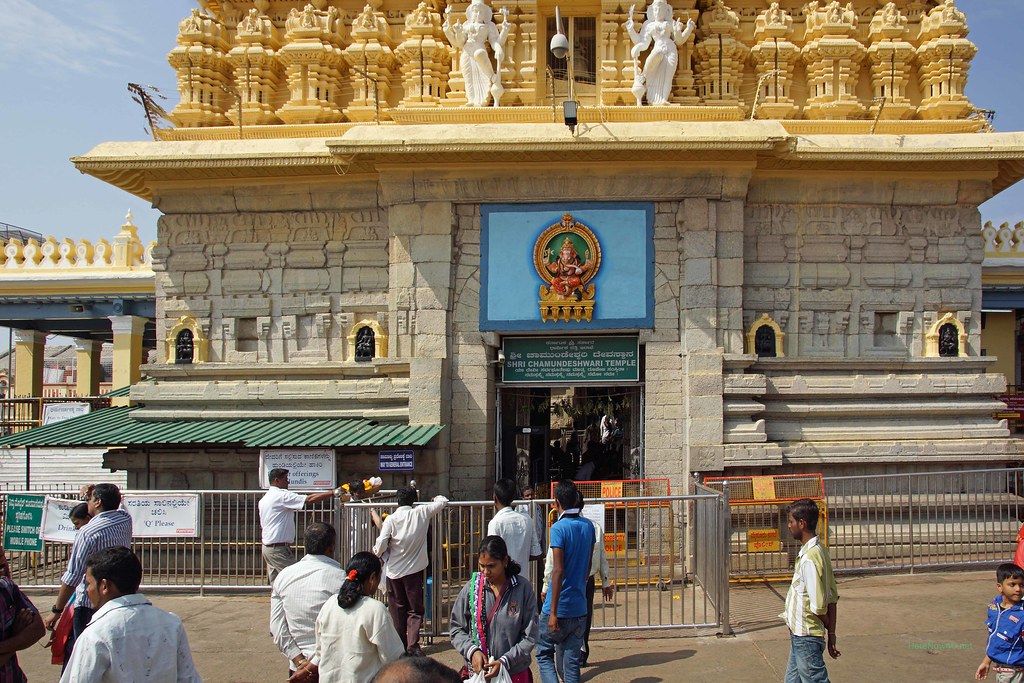 Entry to the temple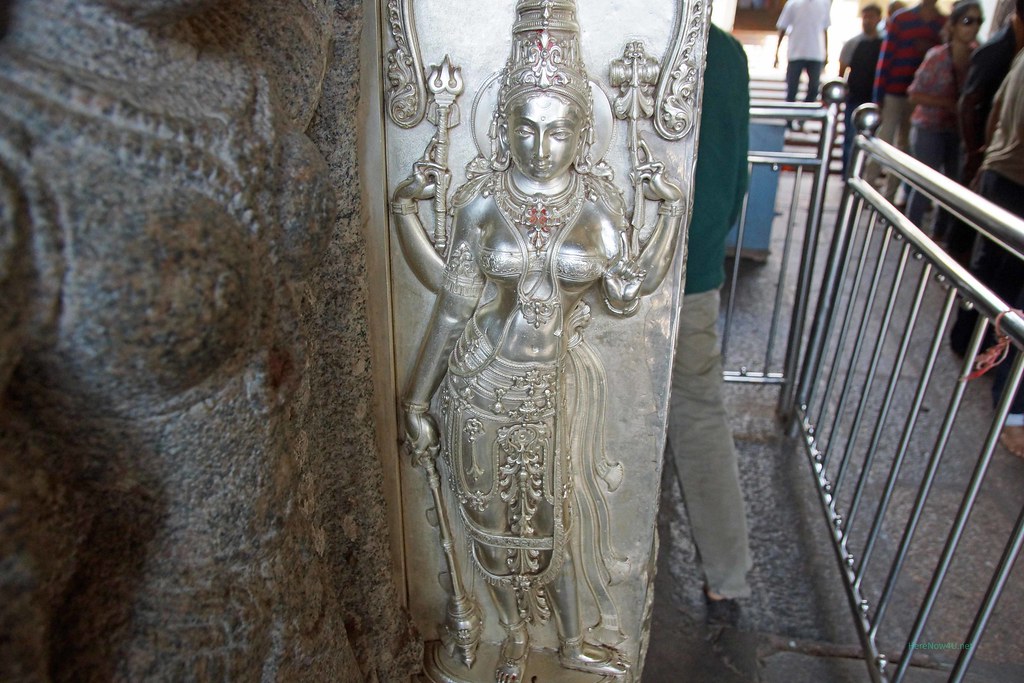 Statue of Goddess Chamunda made of silver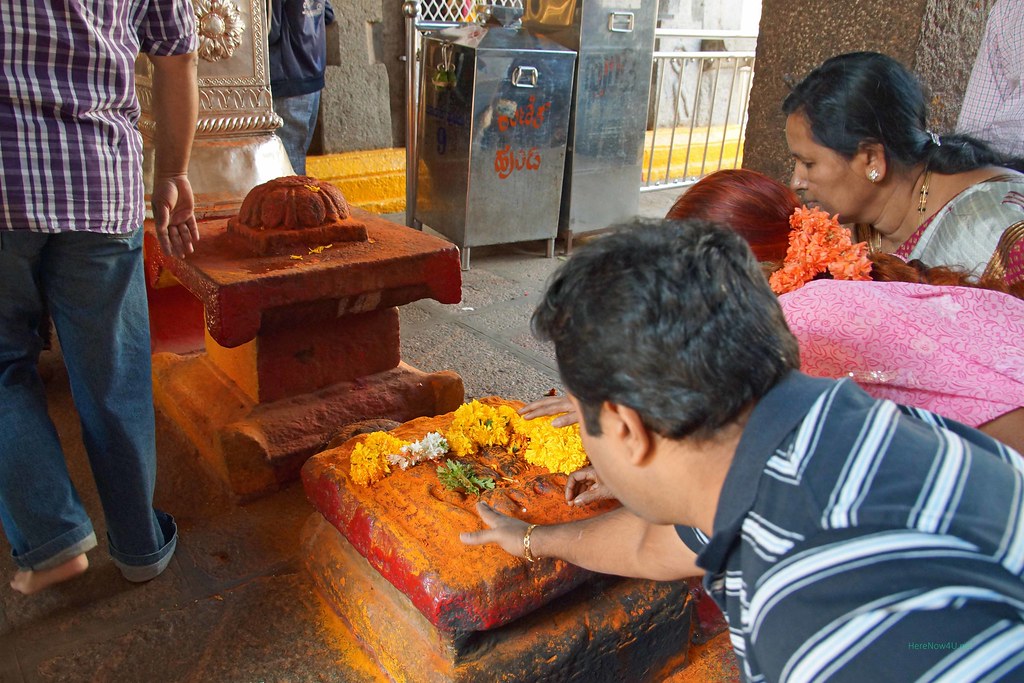 Followers of the Goddess are bowing down and touching the stone decorated with saffron paste and fresh flowers to honour her.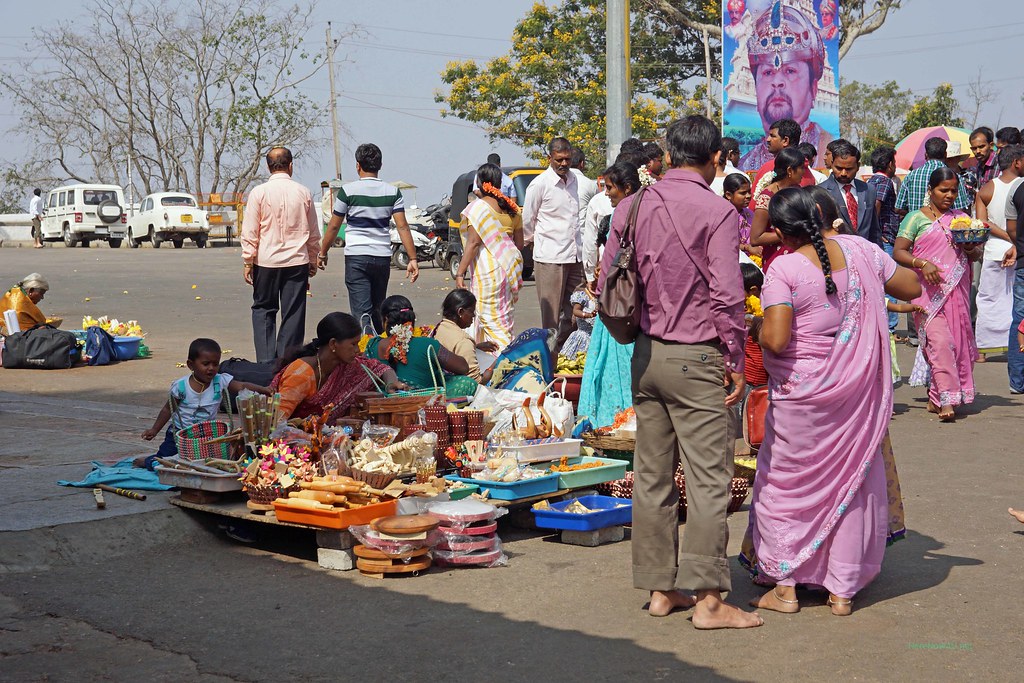 The forecourt is a huge market place, where among other also household goods can be achieved.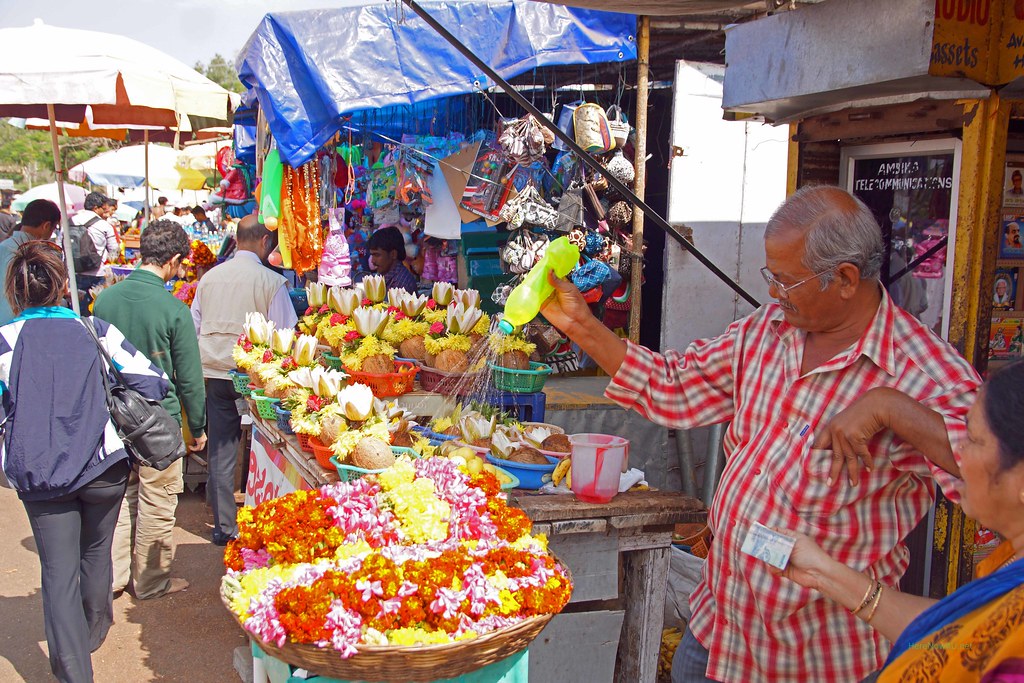 The flower offerings for the Goddess are sprinkled with water.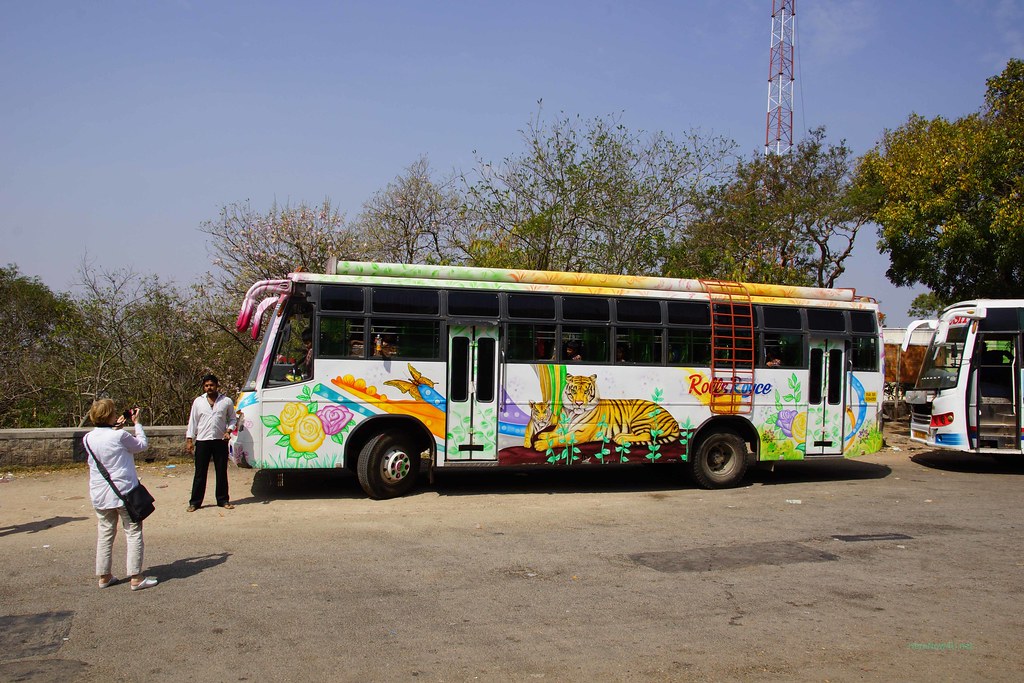 The bus driver of this "Rolls Royce" proudly posed in front of his artfully decorated vehicle with mirrors in form of stylized horns flanking the front shield.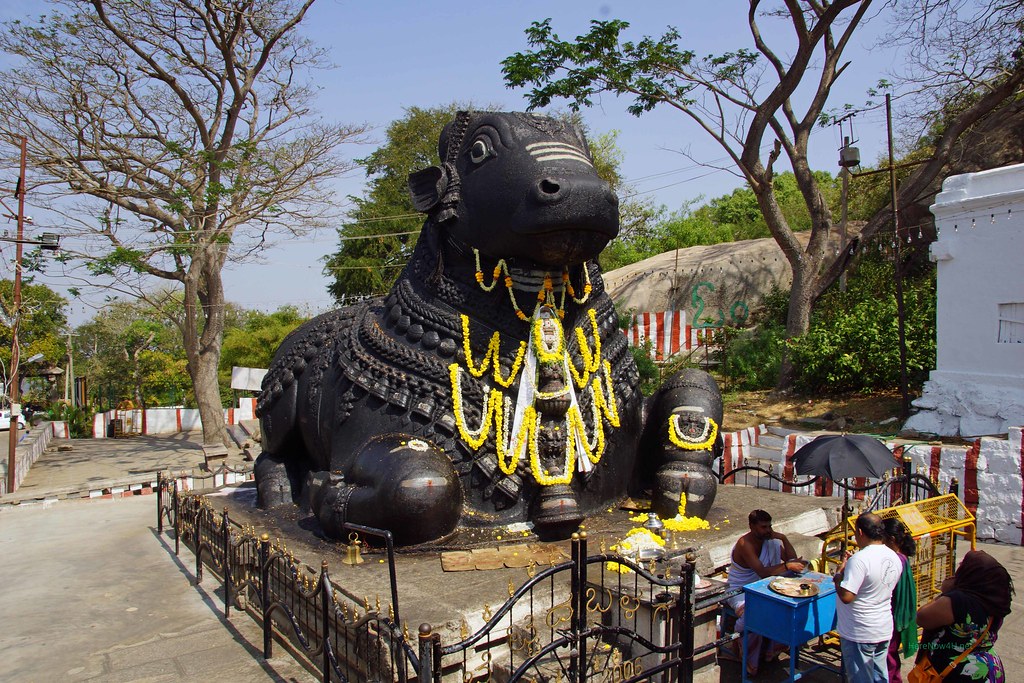 The more than 350 years old Nandi (on which Shiva is travelling) on Chamundi Hill
After these experiences we again needed a creative break. For lunch we returned to the hotel and then took a nip. In the afternoon we wanted to visit Karanji Lake Nature Park beside Mysore Zoological Garden. Obviously we shared this plan with many others, as it was Saturday. On Lalitha Mahal Road we drove in direction of Shri Chamarajendra Zoological Gardens Mysore. Karanji Lake Nature Park has become a showcase for ecological restoration in Mysore. Karanji Lake had been a water body spoiled by diverse contaminations, but when 10 years ago reinstating started, successful and sustainable conversion took place. Now it is a biotope again for plants and animals a decade ago condemned to extinction. Further the lake contributes to the ground water level, and even the zoo is taking water for its animals and plants from there.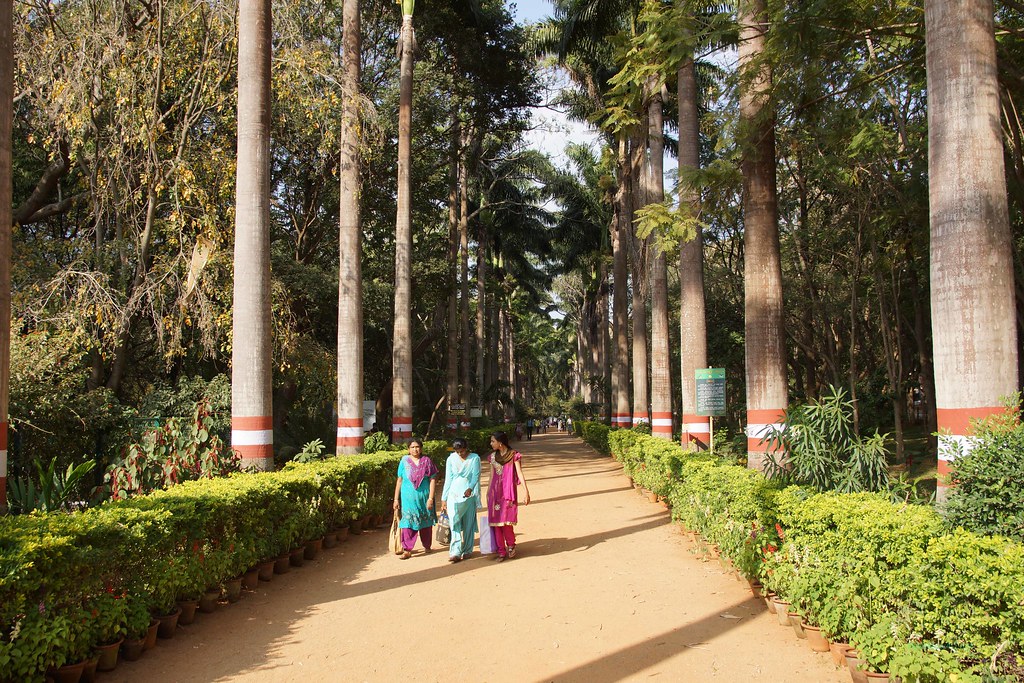 This alley of palm trees directly leads to Karanji Lake…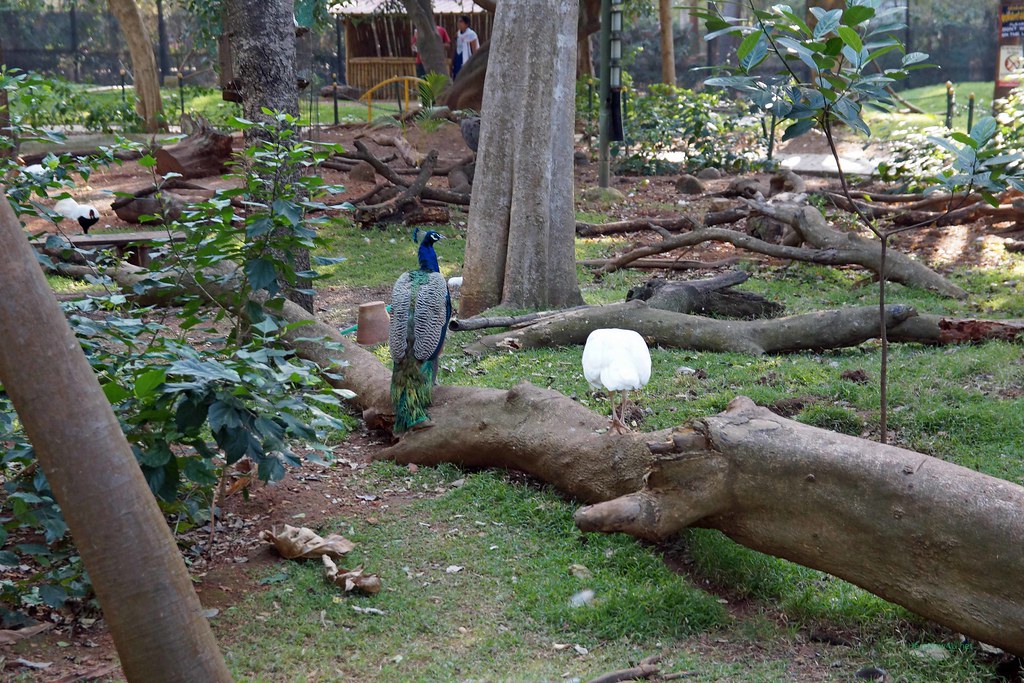 … passing a big aviary where birds and humans can come near to each other without disturbance.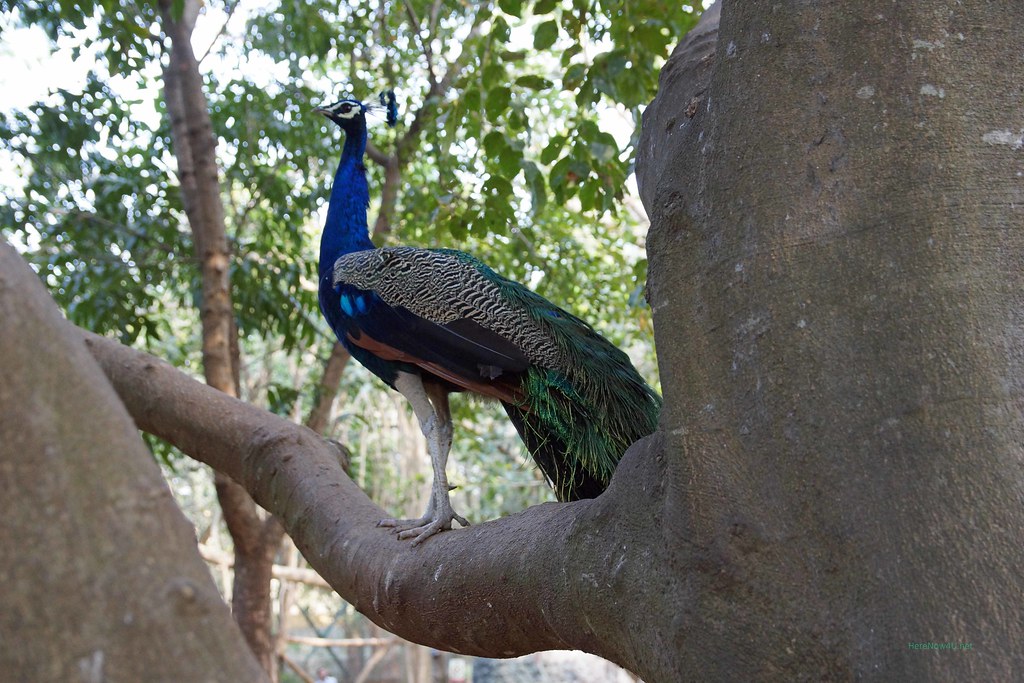 This peacock had jumped on the tree directly in front of us.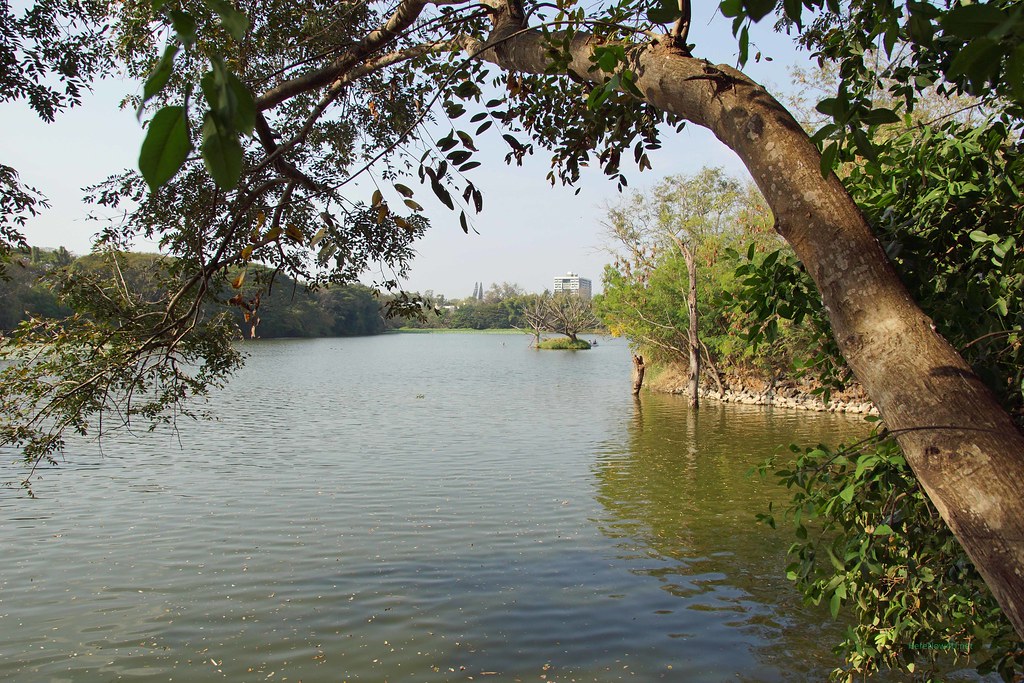 The path ended with this beautiful view on Karanji Lake.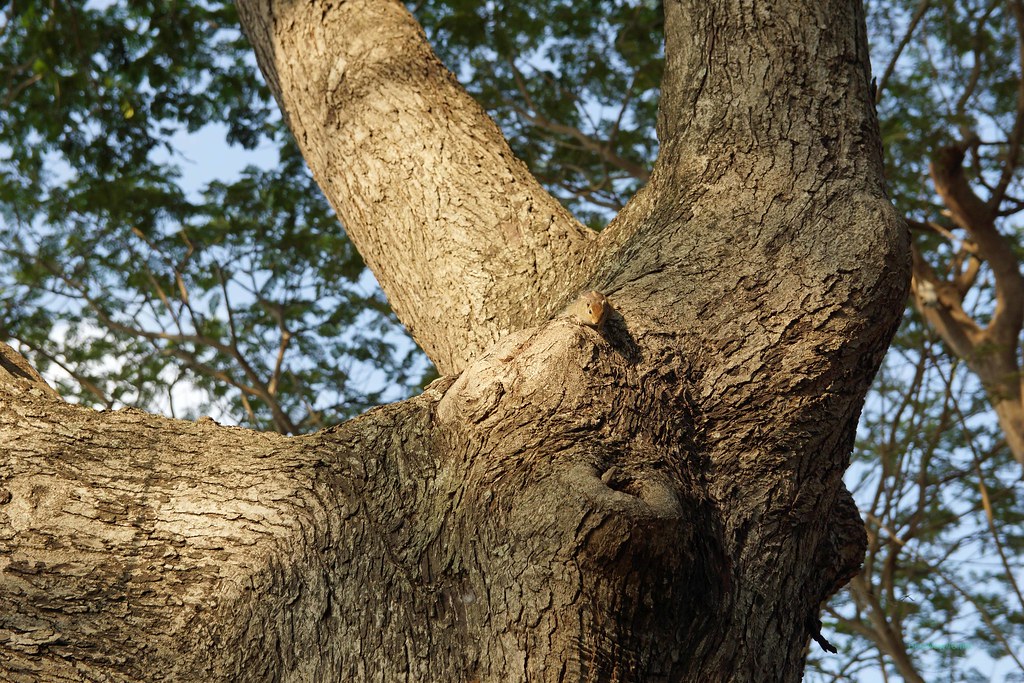 Wild inhabitants are also residing in the beautiful old trees of the park.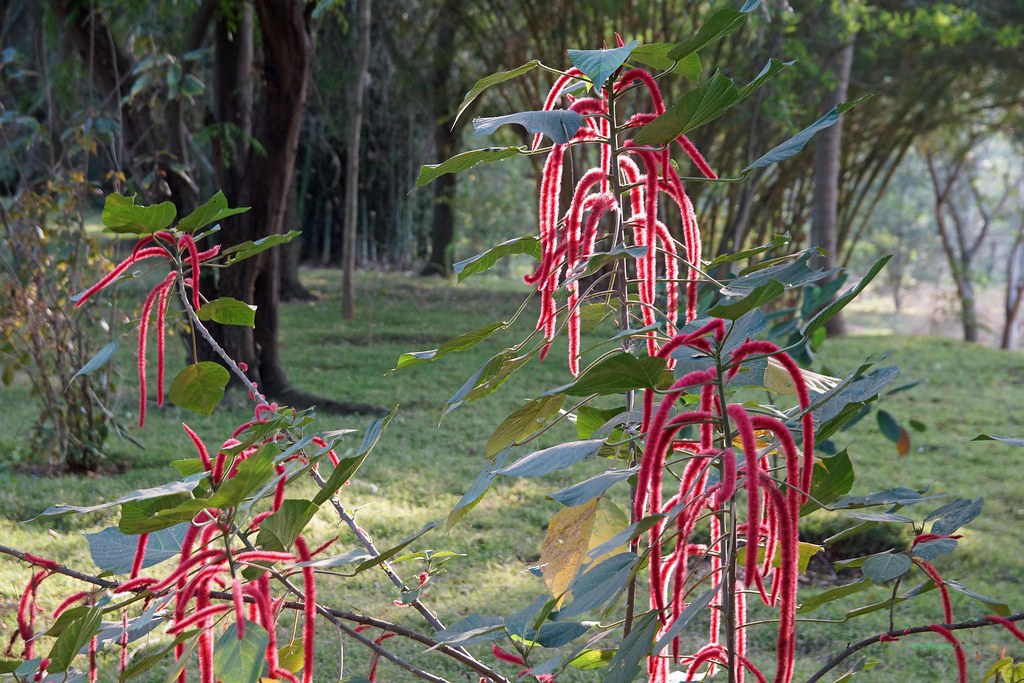 Farewell in the evening sun
Next morning, 19.01.2014, we went by bus back to Bangalore, and continued by three-wheeler-taxi to Karnataka Jain Bhawan, which we reached early in the afternoon. Early next morning we had to leave for the airport to catch our flight to Kerala.