Centre of Jaina Studies Newsletter: SOAS - University of London
---
From October 2010 to the end of April 2011, Jain manuscripts are in evidence with a special display in the Sir John Ritblatt Gallery of the British Library, otherwise known as the Treasures Gallery. They are shown to the public for the first time and include a selection of pages reflecting the diversity and wealth of Jain manuscripts that the British Library has been able to acquire over the last hundred and fifty years.
A rare palmleaf manuscript from Western India dated 1201 was added to the collection in 1876. It contains the text of the Jītakalpasūtra, a technical treatise dealing with monastic atonements (British Library shelfmark: Or. 1385). Another manuscript of historical importance is the Kalpasūtra copied in 1437 that belonged to Hermann Jacobi (1850-1937) and was used by him for his seminal edition of the text (1879). It is represented in the exhibit by two pages illustrating the Enlightenment of a Jina (Figure 1) and one of Mahāvīra's disciples.
The majority of the British Library's illustrated manuscripts, however, were acquired in the 1970s. Jeremiah P. Losty, a specialist in the history of Indian art who was then in charge of Indian illustrated manuscripts, was instrumental in acquiring them. The present display is an attempt to show the variety of themes and styles found in Jain manuscript paintings.
The Library holds a good number of Kalpasūtra manuscripts of high quality. Most of them are in the classical Western Indian style, but one is noteworthy for its more popular or naïve style: viewers can thus compare how the famous theme of the fourteen auspicious dreams is depicted in two strikingly different ways (Or. 13959 and Or. 13701). The eventful story of Kālaka is often a supplement in Kalpasūtra manuscripts, as in the instance of manuscript Or. 13475. The British Library's illustrated manuscript of the Uttarādhyayanasūtra (Or. 13362) has several unusual scenes, as noted by Losty (1975), because it draws added inspiration from anecdotes narrated in the commentaries which are not so well-known. No exhibition of Jain manuscripts would be complete without cosmological paintings; the present display has a large size Aḍhāīdvīpa together with two visually arresting pages of a Saṃgrahaṇīsūtra.
Jain authors are well known story-tellers who have created a vast repertoire of tales of heroes and heroines; Śālibhadra is one of them. His adventures as told by Matisāra in Old Gujarati have produced a rich tradition of manuscript painting. The British Library specimen (Or. 13524) goes back to the 18th century. The story of the 'Sunday Vow' (Ādityavāravratakathā, Figure 2) was popular in several versions among Digambaras in Northern and Central India. The London manuscript is the only one extant outside of India. It is colourful with lively scenes and shows Jinas in Digambara style, and Digambara monks in their specific gesture of receiving alms. The moving love-story of Prince Ḍholā and the young girl Māru (Figure 3) is a folk ballad from Western India known in many oral and written versions. The lovers are separated and finally reunited after many adventures. Jain monks, such as Kuśalalābha, who are fond of all types of stories, have told it many times and are therefore partly responsible for the dissemination of this story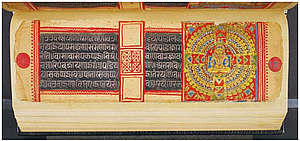 Figure 1. Enlightenment of a Jina, Kalpasūtra. Prakrit (Ardhamāgadhī), Patan, Gujarat,1437. Collection of the British Library: I.O. San. 3177, f. 112r
Images of worship are another significant area of the present display. Pārśvanātha is shown in a lively pūjā scene where devotees actively carry the required implements (Figure 4), while Śāntinātha (Or. 13623) is depicted facing the devotional poem written in homage to him by the famous monk and writer Yaśovijaya in the 17th century, as part of his Caturviṃśatijinastavana. Sarasvatī, the goddess of arts, often features either at the beginning or at the end of Jain manuscripts. For this exhibition the final page of the Līlāvatī (Or. 13457) has been selected, along with the decorated cover of the manuscript. Jain monks were not only versed in religious scriptures but also widely read in subjects such as mathematics, medicine and grammar. The monks mentioned in the colophon of this manuscript (dated 1640 AD) belong to the Śvetāmbara monastic order known as Vidhipakṣa or, more commonly, A(ñ)calagaccha.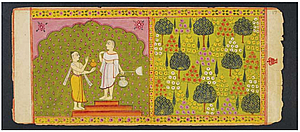 Figure 2. Folio from the Ādityavāravratakathā, a Digambara Jain story. Old Rajasthani, probably Rajasthan, 1792. Collection of the British Library, Or. 14290, f. 17r.
This display of Jain materials at the Library was curated by Nalini Balbir under the auspices of the JAINpedia project and is part of a co-operation between the Library and the Institute of Jainology, in partnership with the Centre for Computing in the Humanities at King's College.[1] The exhibit, which runs until April 2011, is free and open to the public.
References
Balbir, Nalini, Kalpana K. Sheth, Kanhaiyalal Sheth and Candrabhāl Tripāṭhī. Catalogue of the Jaina Manuscripts of the British Library, Including the Victoria and Albert Museum and the British Museum. London: The British Library and Institute of Jainology, 2006.
Balbir, Nalini.'The "Sunday Vow" A Digambara Narrative of North India and its London Illustrated Manuscript'. In Sūrya-Prabhā. Studies in Jainology. A Commemoration Volume in Honour of Ācārya 1008 Śrī Sumatisāgara jī Mahārāja. Edited by S.K. Dwivedi, Shiva Kant and Navneet Kumar Jain, 150-70. Budhana, Muzaffar Nagar: Acharya Shanti Sagar Chhani Smriti Granthamala, 2007.
Bender, Ernst. The Śālibhadra-Dhanna Carita. American Oriental Series Vol. 75. New Haven: American Oriental Society, 1992.
Brown, W. Norman. The Story of Kālaka. Texts, History, Legends and Miniature Paintings of the Śvetāmbara Jain Hagiographical Work, the Kālakācāryakathā. Freer Gallery of Art, Oriental Series No. 1. Washington: Smithsonian Institution, 1933.
A Descriptive and Illustrated Catalogue of Miniature Paintings of the Jaina Kalpasūtra as Executed in the Early Western Indian Style. Freer Gallery of Art, Oriental Series, No. 2. Washington: Smithsonian Institution, 1934.
Manuscript Illustrations of the Uttarādhyayana Sūtra. New Haven: American Oriental Society, 1941.
Bossche, Frank van den. Elements of Jaina Geography. The Jambūdvīpasaṃgrahaṇī of Haribhadra Sūri. Delhi: Motilal Banarsidas, 2007.
Caillat, Colette and Ravi Kumar. The Jain Cosmology. English Rendering by R. Norman. Basel: Lilakala, 1981.
Jacobi, Hermann. The Kalpasūtra of Bhadrabāhu. Edited with an Introduction, Notes and a Prākrit-Sanskrit Glossary. Leipzig: F. A. Brockhaus, 1879 (English Translation: Sacred Books of the East Vol. 22. Jaina Sutras Part II. Edited by Max Müller. Oxford: Oxford University Press, 1884).
Jinavijaya, Muni. Jītakalpasūtram. Ahmedabad: Jaina Sāhitya Saṃśodhaka Samiti, 1926.
Losty, Jeremiah P. 'Some Illustrated Jain Manuscripts'. British Library Journal 1, 2 (1975) 145-162.
Vaudeville, Charlotte. Les duhā de Ḍhola-Mārū. Pondichéry: l'Institut Français d'Indologie, 1962.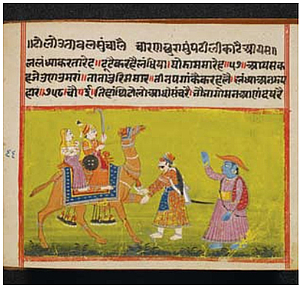 Figure 3. An Episode from the love story of Ḍholā and Māru, Ḍholāmārucopaī by Kuśalalābha Upādhyāya Rajasthani, no place, perhaps 18th century Collection of the British Library Or.14687, f. 69r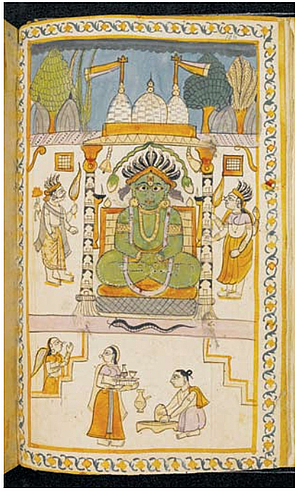 Figure 4. Worship of the Jina Pārśvanātha, from a set of paintings of five Jinas. Western India, probably 18th century. Collection of the British Library Add. MS 26519, f. 106r.
Footnotes
See: Jaina Studies, Newsletter of the Centre of Jaina Studies, SOAS, Vol. 5, (March 2010), 47.