Centre of Jaina Studies Newsletter: SOAS - University of London
---
The vast region corresponding to today's Tamil Nadu had an enduring presence of Jain communities from the first centuries before the beginning of the common era until now. Tamil Brāhmī inscriptions (Figure 1), rock-beds, sculptured rocks, temples (Figure 2), loose Jain images are some important manifestations of this historical presence. Worship and festivals being conducted today are the signs of a living presence. Jains have never been alone in the Tamil region, which has a complex religious history. They have been one of the communities of the region, with ups and downs, along with Buddhists, for a time, and with Hindus, especially Śaivas, for a very long time. Like Buddhism, Jainism was never the tradition of a majority. But it is clear from the availability of epigraphical records that Jainism is much older than Buddhism in the region, and was well established in the pre-Pallava period. These communities have been competing, sometimes fiercely, for patronage and for recognition. Buddhism and Jainism adopted different strategies. While Buddhism finally disappeared, Jainism could survive over the centuries. Yet, to some extent, the prevalence of Śaivism in the region has led to the suppression of Jain identity and to the removal of its presence: Jain temples or Jain images being converted to Hindu deities or local deities are cases in point. But, in practice, the situation is much more complex: these images may be fully worshipped by the local population who does not care about any sectarian label.
Today, the Jains in Tamil Nadu mainly belong to two groups. Tamil Jains or Samanars constitute a micro Jain community of around 35,000 to 40,000 members, representing less than 0.1% of the population of Tamil Nadu. They are Digambaras and traditionally live in rural areas, depending on agriculture and allied activities. But more and more tend to shift to cities for professional prospects. The second group of Jains in Tamil Nadu are those who migrated from other parts of India, mainly Rajasthan and Gujarat, for business purposes. They are either Digambaras or Śvetāmbaras, and tend to live in cities. In general, interactions between these two groups are rather limited. Jain monks and nuns are a less common sight in today's Tamil Nadu than in Rajasthan or Gujarat for instance. Yet, small groups of Śvetāmbara ascetics do occasionally stay in Chennai for their rainy season and Digambara ascetics with their entourage do the same in Chennai, Puducherry, when they are invited by prominent community leaders.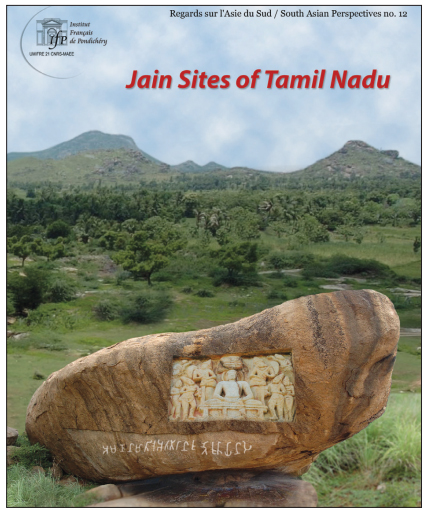 Cover of the CD Jain sites of Tamil Nadu.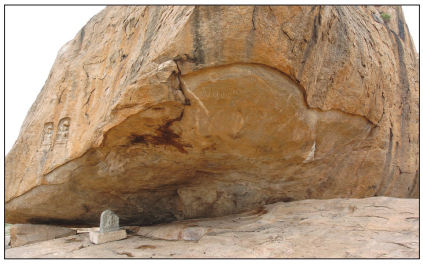 Figure 1. Rock-shelter in Muttupatti, district Madurai.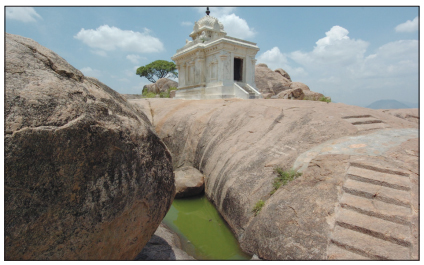 Figure 2. Pārśvanātha temple and spring on Tirumalai hill, district Tiruvannamalai.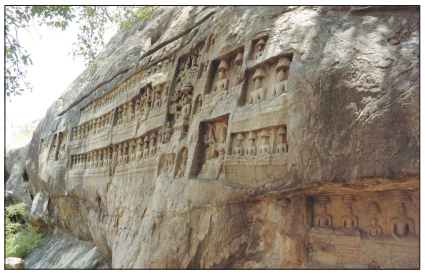 Figure 3. Rock-cut images on a rock-shelter site in Kalugumalai, district Tuticorin.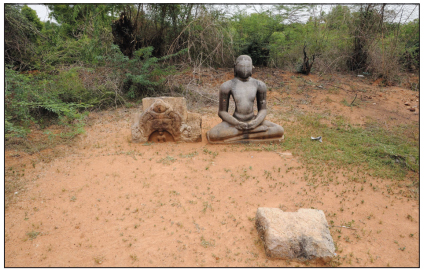 Figure 4. Jina image and remains of a ruined temple in Puthambur, district Pudukottai.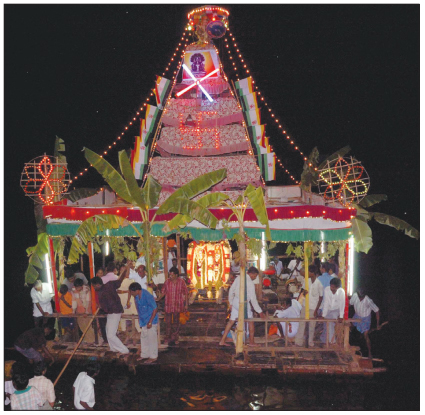 Figure 5. The culminating point of the Theppal festival with the images of Dharaṇendra and Padmāvatī being taken on a floating platform.
In addition, the Jain landscape in Tamil Nadu is strongly marked by the presence and action of two leading figures: Svasti śrī Lakṣmīsena Bhaṭṭāraka Bhaṭṭācārya Varya Mahāsvāmigal is the head of the Digambara Jain Math at Melsittamur and Svasti śrī Dhavalakīrti Bhaṭṭāraka is the head of the Tirumalai Math. Both of them, efficient managers and learned scholars, preside over the destinies of Jain temples, lands and local Jain festivals in the region.
Despite existing studies, it was felt that the Jain sites of Tamil Nadu needed to be documented afresh with precise location and adequate descriptions, and that the living aspects of Jains' religious life as illustrated in Tamil Nadu should be better known. Jain Sites of Tamil Nadu is a new interactive CD (working on internet with Mozilla Firefox) including comprehensive material on about 400 sites. It has just been published by the French Institute of Pondicherry (IFP) which was the main institution behind this collective project (authored by Nalini Balbir, Karine Ladrech, N. Murugesan and K. Ramesh Kumar) as no. 12 in the series Regards sur l'Asie du Sud / South Asian Perspectives and is available from this Institute. The project has been supported in particular by the Jain community of Pondicherry and the Bhāratvarṣīya Digambar Jain Tīrthakṣetra Komeṭī.
The first aim of this CD has been to present a full photographic documentation of all the Jain sites of the region with their monuments or remains. The bulk of it was done from 2007 onwards by K. Ramesh Kumar from the IFP. It grew over the years as more sites came to light. Tamil Nadu has some Jain sites that are well known, such as Kalugumalai (Figure 3), Mel Sittamur, etc. Some are under the protection of the Archaeological Survey of India. But there is also a myriad of small places located far away from today's main roads, not easily accessible, quietly awaiting the visitor in remote and green countryside, or perched on top of hills. Further, in recent years, more and more loose Jain images, earlier ignored because they are not in a Jain environment or proper shrine, have come to light as well. On the other hand, temples and sculptures that were in good condition some decades ago have deteriorated, were removed or stolen. The photographic archives of the IFP which document a few Jain sites from 1956 onwards are therefore invaluable. Not least because some sites have been repainted colourfully.
About 400 sites have been documented. The team has done its best to provide all possible information for the precise location of the sites. This is a necessity as confusions are not rare in existing literature. The maps elaborated by the GIS of the IFP, following the lines of the Historical Atlas of South India produced by the same institution, are adequate tools allowing an understanding of the area, its topography and history beyond the surface of today's routes. Some sites are small, represented by one loose Jain sculpture (Figure 4), for instance; some are large and have been divided into sub-sites. Each site and sub-site is treated as a separate entry containing its description. These descriptions and the related photographic documentation are accessed through the map or by selecting district, taluk and site name. A search engine also allows to find photographs matching criteria defined by the user (keyword search).
Further, we have tried to document the actual practice of Jain rituals in Tamil Nadu and the ways in which Jains in the region celebrate some important festivals, such as the Mel Sittamur car festival or the less famous Theppal festival in Thirupanamur (Figure 5). All the material has been contextualized through additional texts describing specific aspects of Tamil religious and literary culture.
All illustrations are courtesy of the French Institute of Pondicherry.
Nalini Balbir is Professor of Indology at SorbonneNouvelle University, Paris and member of UMR 7528 "Mondes iranien et indien"; Karine Ladrech is Lecturer in Indian Art at Sorbonne University, Paris.