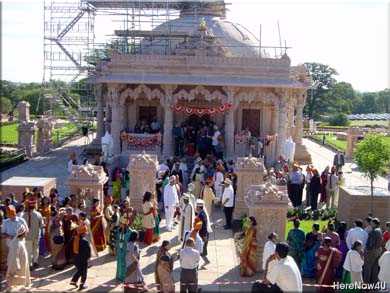 The last ceremony for Pratishta Mahotsav 2005 was the opening of outside and Sanctum doors. For this celebration, Sunday before Bank Holiday, 28th August 2005, was chosen. If, due to any unforeseen circumstances, the ceremonies could eventually not be finalised on Sunday, they might have been completed on Bank Holiday, in England traditionally celebrated on that Monday, following the last Sunday in August.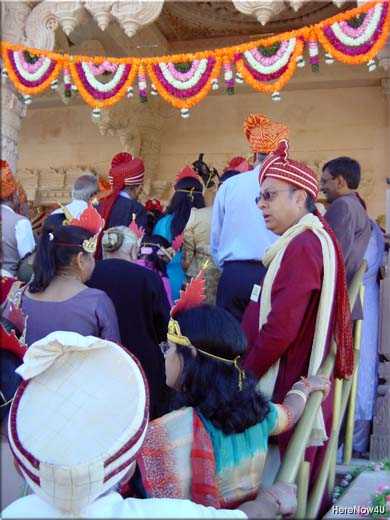 The lucky ones who were admitted to participate directly, had paid huge amounts of money to be present in this function. The money was meant to pay back temple construction loans. As weather was beautiful on Sunday, an unexpected huge number of people was following either behind a fence, or through video screen in the main tent.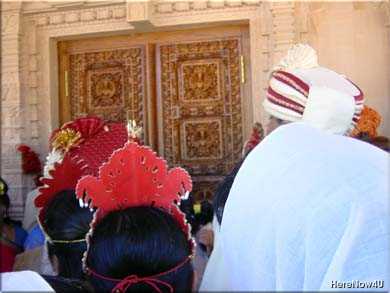 About 10 a.m. the ceremonies were supposed to start. Everybody was concentrated on the doors, not to miss the moment of their opening. Samanijis Pratibha and Punya Pragyaji (on the right, one of them is seen from behind) silently recited auspicious Mantras.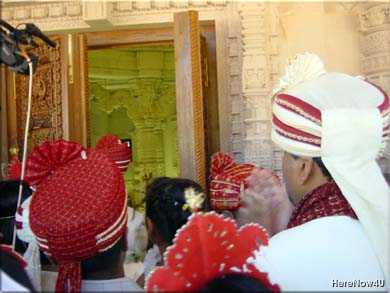 Slowly the doors were opened, while it seemed as if all in the gathering held the breath...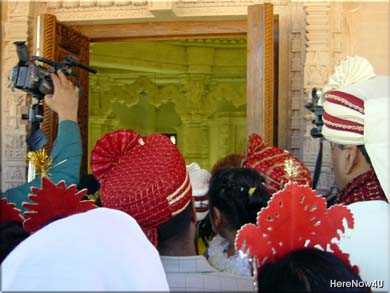 When the doors were completely open, everybody could feel the high vibrations from inside; all entered disciplined and with awareness of this unique opportunity.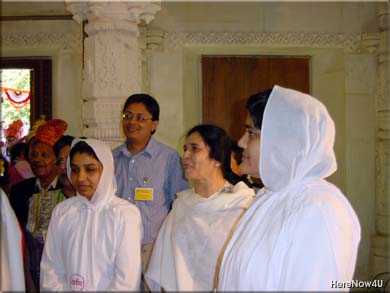 Samanijis Pratibha (right) and Punya Pragya (left) blessed the event with their auspicious presence; Pramodhaji Chitrabhanu (middle) had just arrived with Shree Chitrabhanu.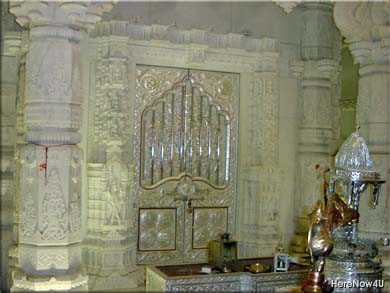 The silverware doors to the Sanctum still remained closed; the devotional object on the right symbolises the appeal for presence of enlighted and liberated spirits.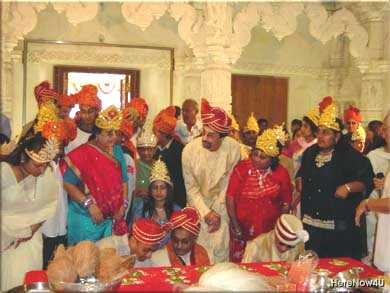 People in traditional new temple costumes were ready to celebrate Puja.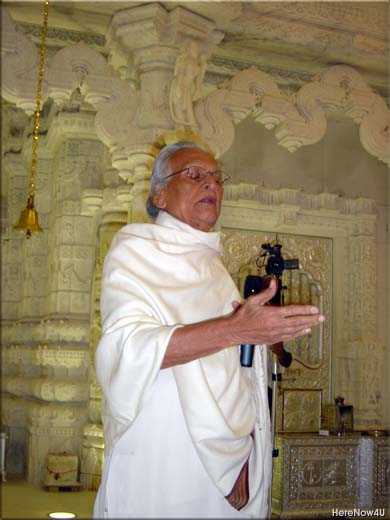 Shree Chitrabhanu spoke Mantras and recited Slokas from the scriptures, traditionally used since thousand years for the door opening ceremony of a Pratishta Mahotsav. They are expressing the spirit of Ahimsa in which a temple is erected, to gather peaceful people in devotion and brotherhood.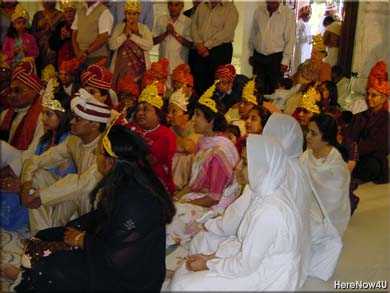 Samanijis Pratibha & Punya Pragya were in deep meditation, and so was Pramodhaji Chitrabhanu.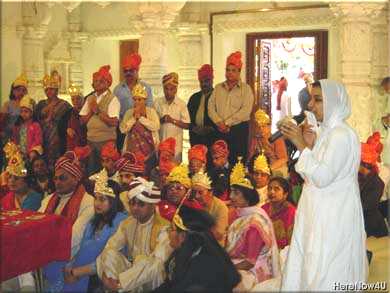 Samani Punya Pragyaji chanted Bhavanas; people were deeply moved.
The ceremony of opening the Sanctum doors was celebrated for a selected circle of attendants.