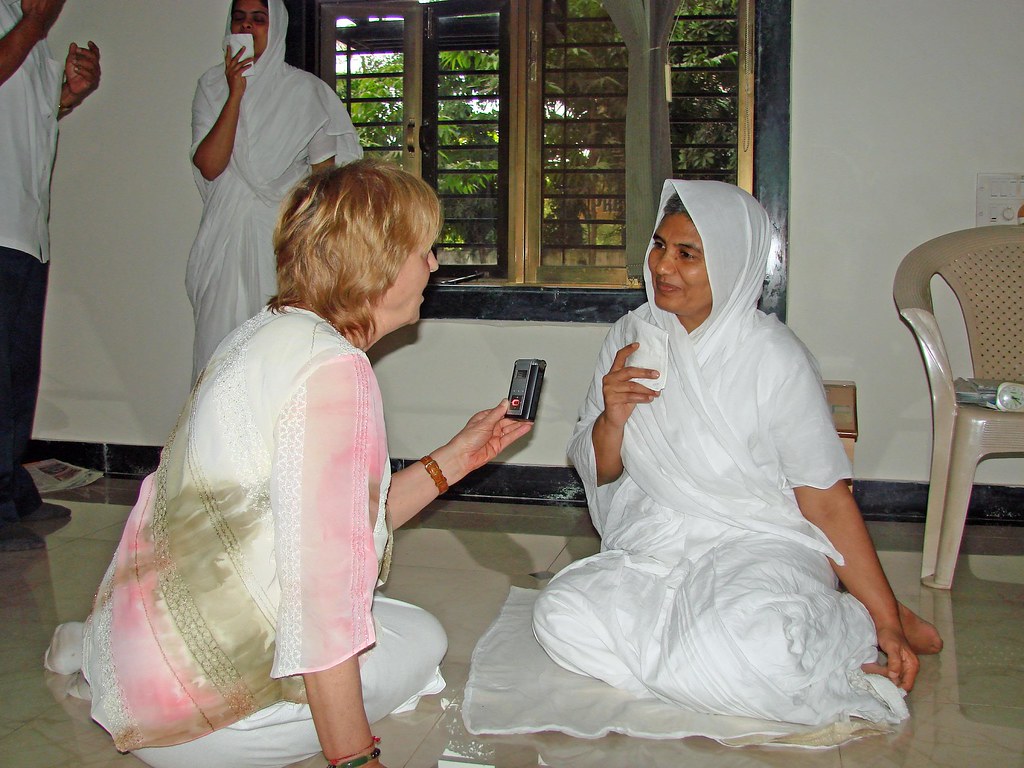 Samani Madhur Pragyaji, Karuna
Samani Madhur Pragyaji every day was busy across Mumbai with lectures, camps, and functions, what means uncountable hours lost in traffic with a straight schedule. Fortunately for us, the day of our meeting, she also was on her way through mega city. Therefore, she conveyed a message to us via Sudanshu Jain to stay at Terapanth Bhawan and wait for her arrival, acknowledged around 15:00. In spite of the especially heavy traffic this day, she arrived in time.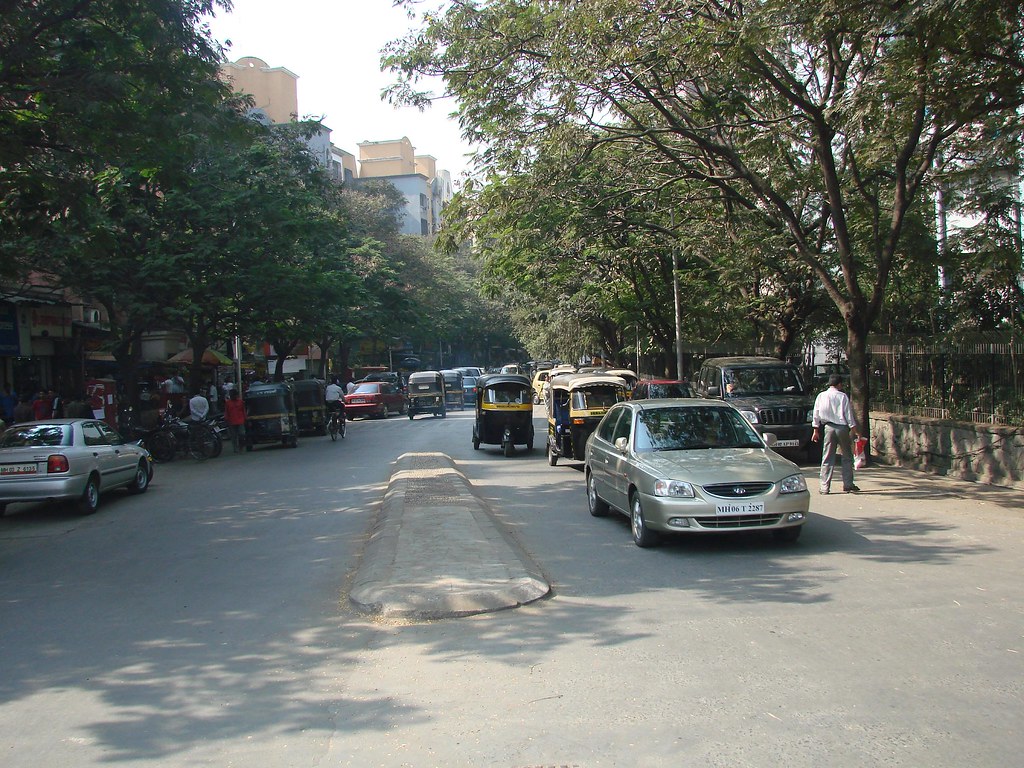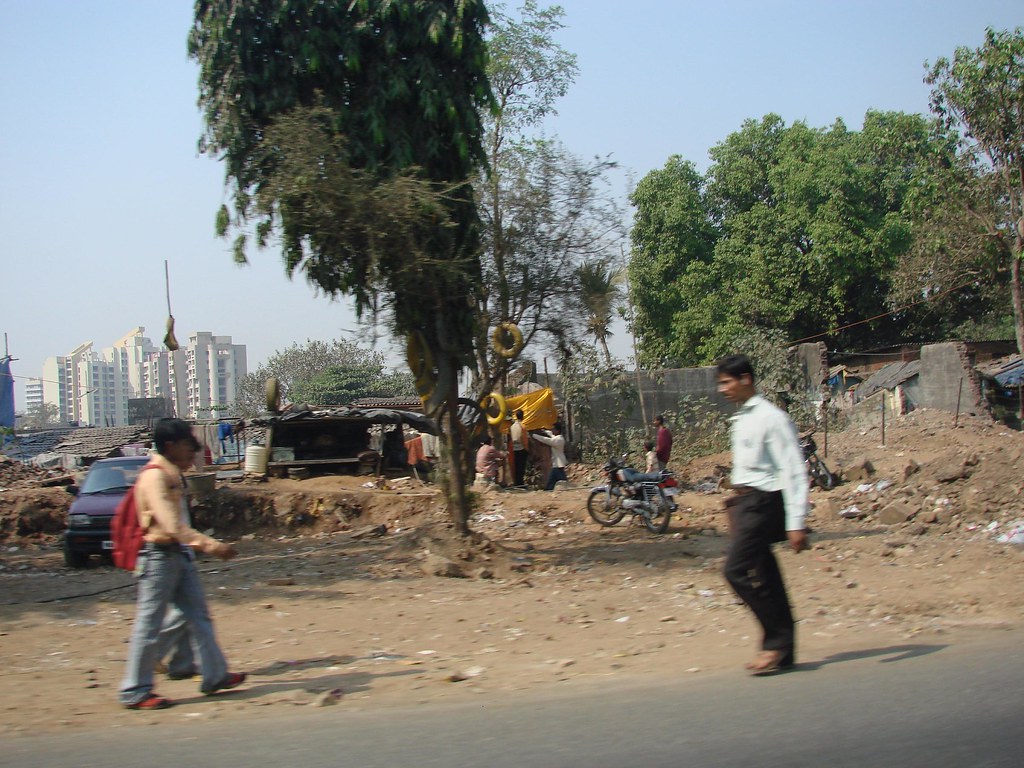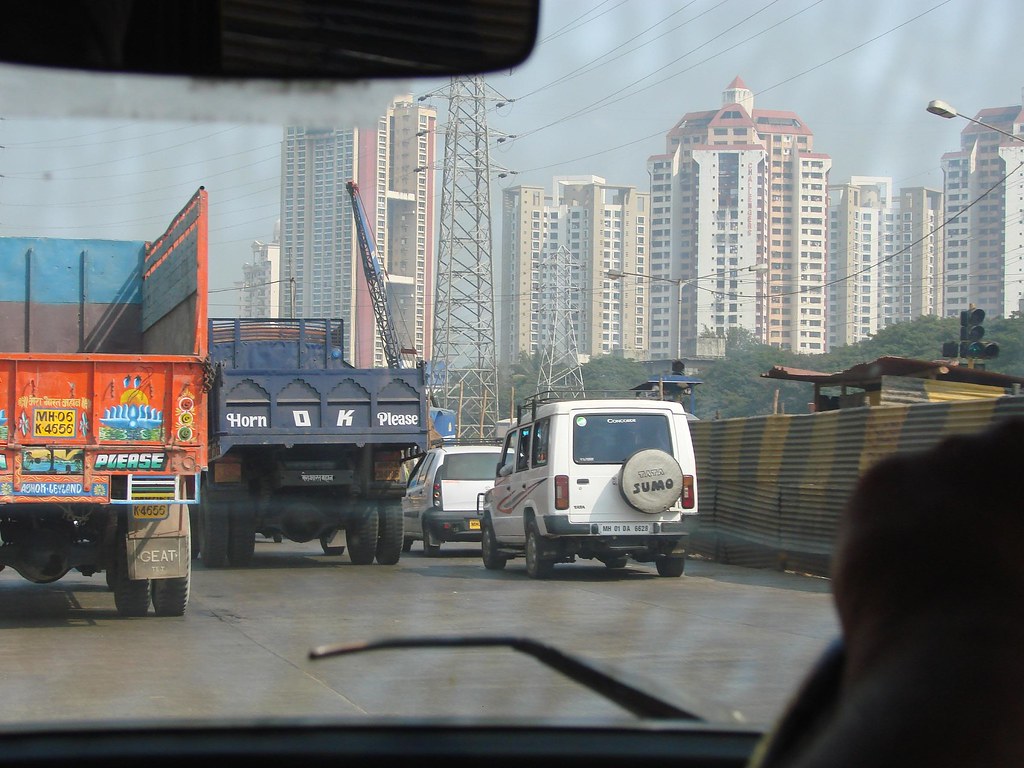 We had reached Terapanth Bhawan about 14:00 after an impressing ride through the outskirts of Mumbai, approaching slowly the skyscrapers of the mega city, passing amazing construction works. The taxi driver wondered about the length of time it took to reach our destination. We yet did not know what special traffic situation mega city was offering to us and all other road users on this December day.
After lunch in the restaurant around the corner, we took some rest, cradled into catnap by the laborious ongoing of preparations for the mega wedding.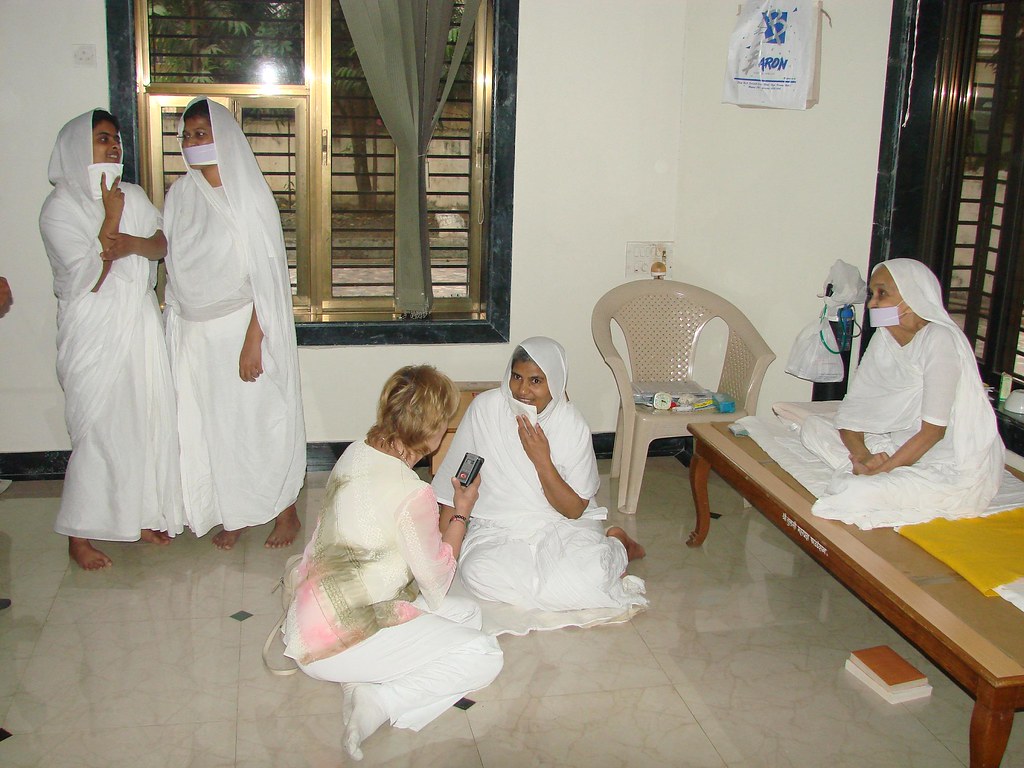 Samani Madhur Pragyaji meeting with Karuna at Terapanth Bhawan Mumbai in presence of Sadhvishree Suraj Kumarji, Sadhvishree Bimal Prabhaji talking with Samani Vinambha Pragyaji in the background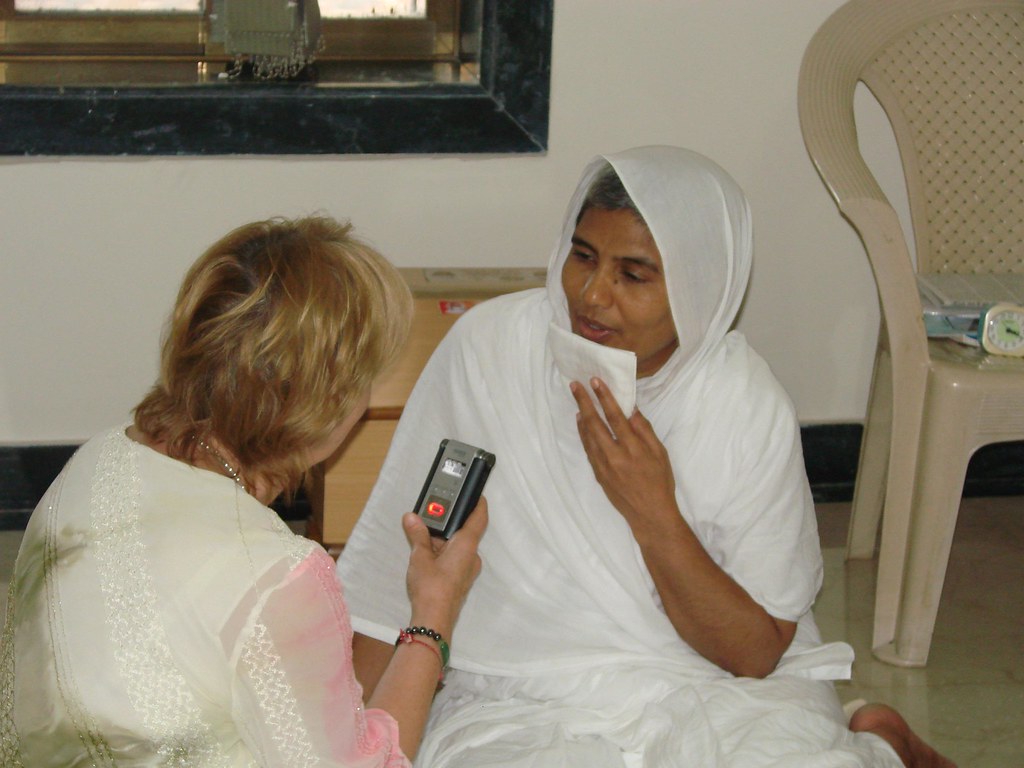 Samani Madhur Pragyaji, Karuna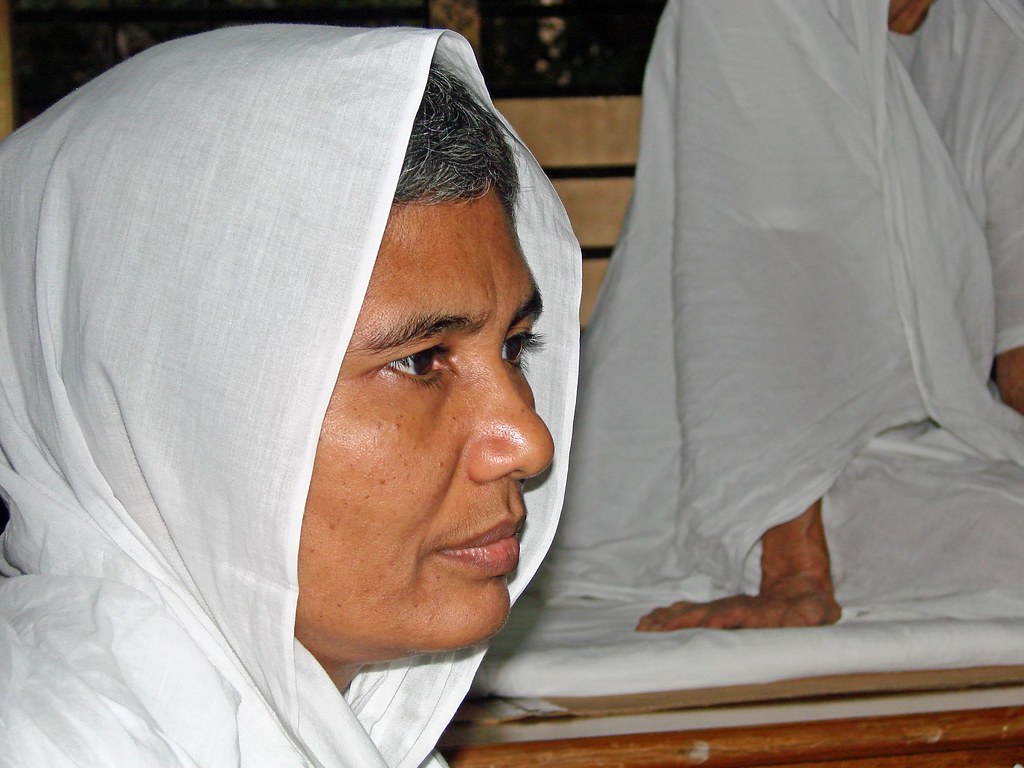 Samani Madhur Pragyaji
The caretaker had sent someone to announce the arrival of Samani Madhur Pragyaji, and we met her in the room where the Sadhvishrees were accommodated. Especially Karuna enjoyed the meeting with her, as Samani Madhur Pragyaji was the first Samani who brought Preksha Meditation near to her during her short stay in Berlin, 1997. Samani Madhur Pragyaji then had also given some books authored by H.H. Acharyashree to her. After deeply studying them, Karuna tried to practice on her own, but after some time felt the need for guidance and further instruction. In 2000, she went to India and encountered with H.H. Acharyashree for the first time.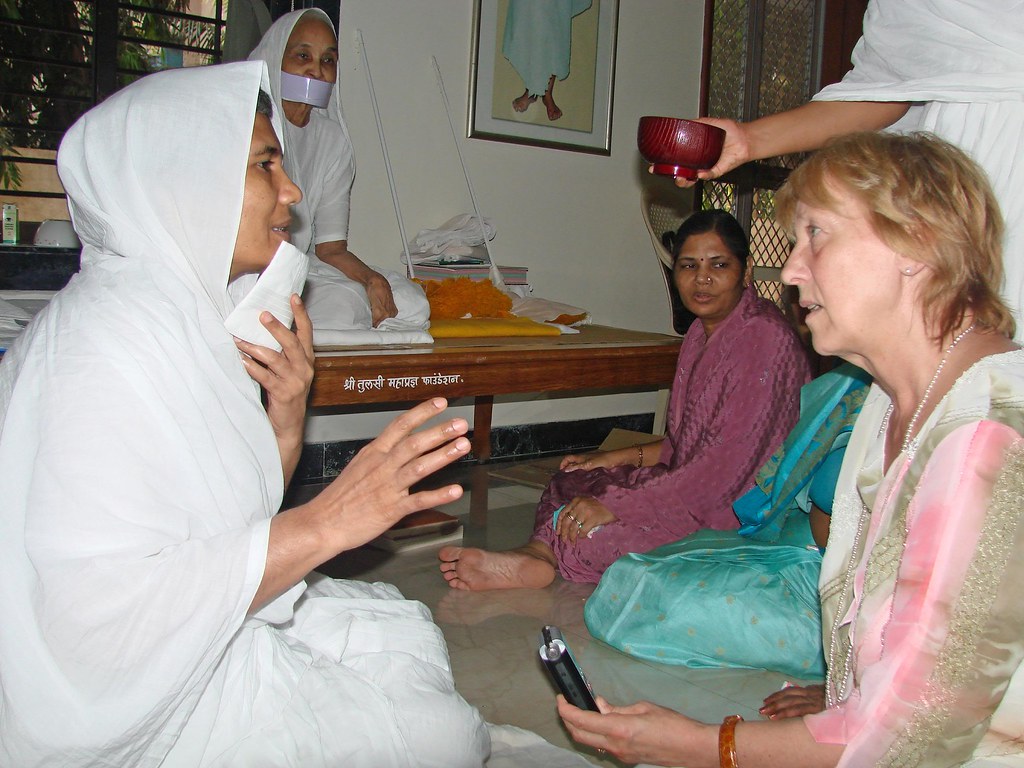 Samani Madhur Pragyaji, Karuna; Samani Vinambha Pragyaji bringing water for her group leader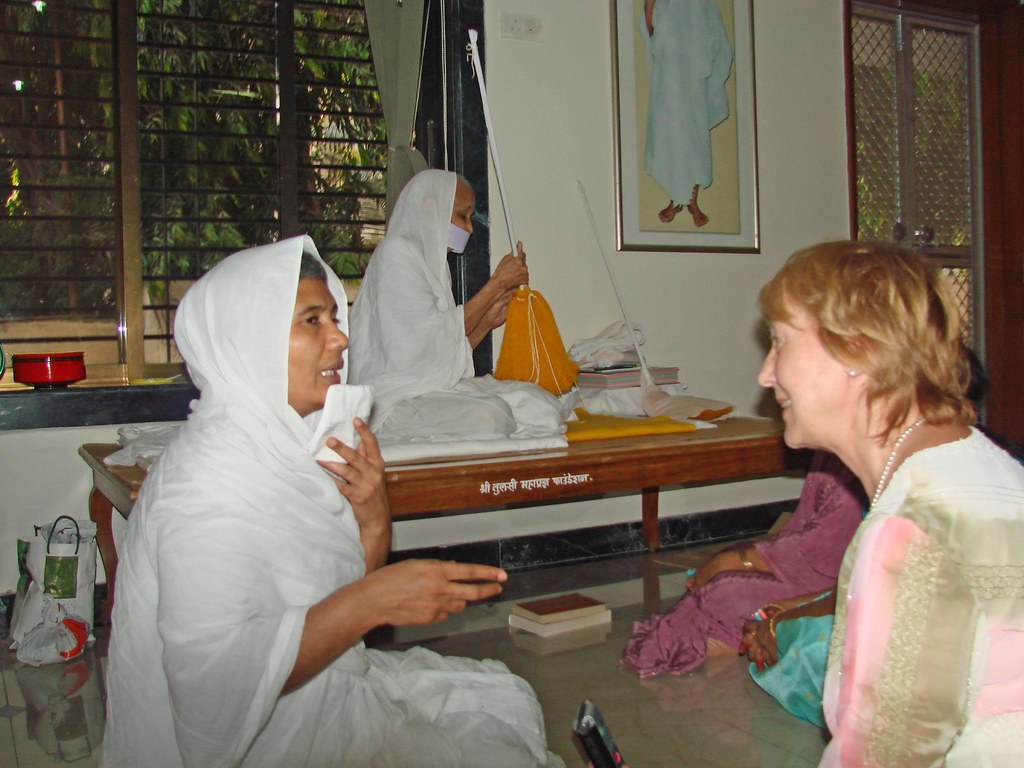 Samani Madhur Pragyaji, Karuna, Sadhvishree Suraj Kumarji & visitors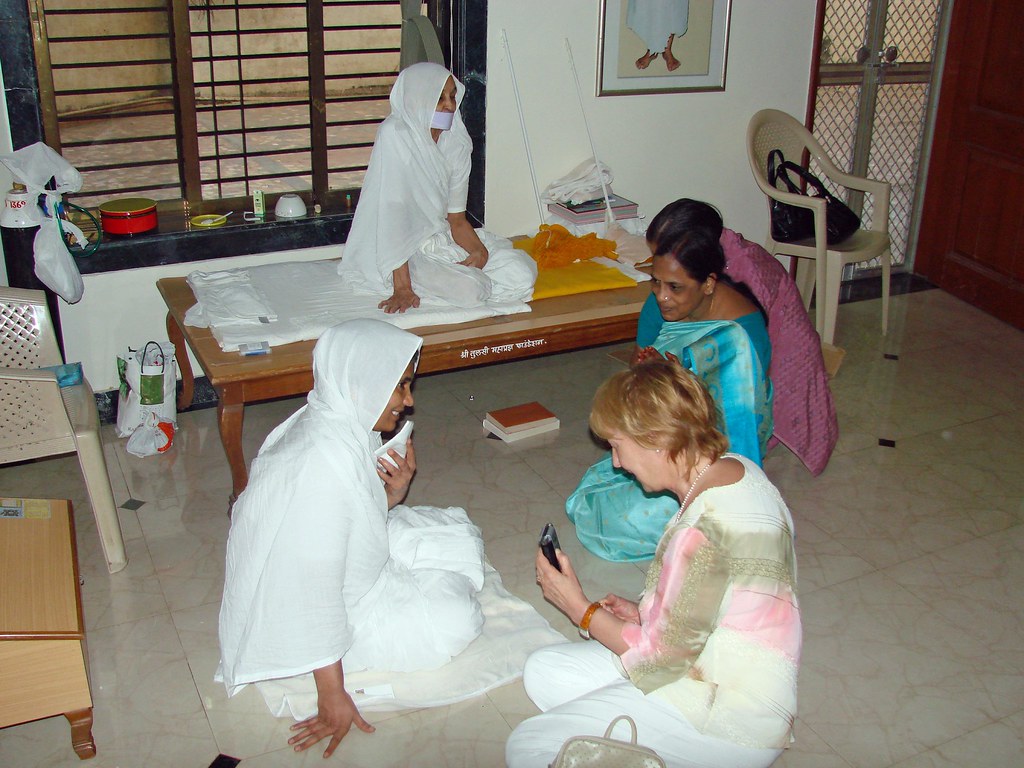 Samani Madhur Pragyaji, Karuna, Sadhvishree Suraj Kumarji & visitors
Samani Madhur Pragyaji reported on her many activities and how she transforms the time lost in heavy Mumbai traffic into spiritual advancement. Her secret: she meditates during the rides. This gives her the energy she needs to fulfil her straight schedule. During the past nine month, she had travelled a lot in Mumbai and its many outskirts.
Young people are most important for her. She had observed that young people only rarely meet with monks and nuns. When they are under 5 years old, they are brought in contact with the latter by their parents. But after 5, they are busy with education and formation, and very often lost in entertainment, TV and the like. Samani Madhur Pragyaji therefore started to organise camps for different age groups, she holds the view that children are interested in different things than youngsters or young adults. Further, she noticed that the changements in contemporary Indian society are increasingly nourishing conflicts in families. This way, she aims to answer the need for family management.
One Sunday, she had organised a two-hours camp for youngsters between 16 and 21, where they got the opportunity to talk on their concerns. The next two hours, she presented the results to the parents and inspired discussions about the subjects their children brought up. Among other things, the youngsters told her that they did not like the competitive materialism their parents were practising in organising their marriages, spending immensely high amounts of money for this purpose. Samani Madhur Pragyaji noticed that the youngsters were less materially oriented than their parents who were practising material showing-off in the eyes of their children.
Further, the youngsters complained of the rigid instructions their parents gave to them, as to behave according to the traditions their parents had adopted, without any sense, in the eyes of their children. Many of these traditions, Samani Madhur Pragyaji said, indeed do not make much sense nowadays. Therefore, she inspired the parents to listen better to their children and to think over their attitude towards them.
The expected number of participants to the camp was 200, the number of attendants 700!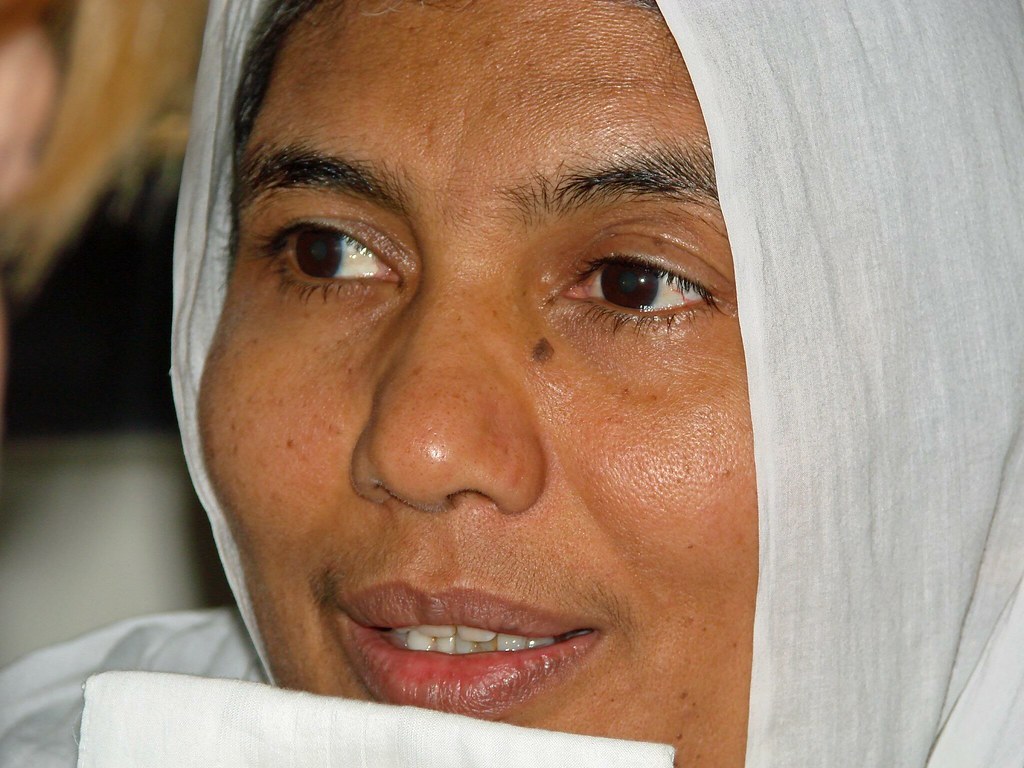 Samani Madhur Pragyaji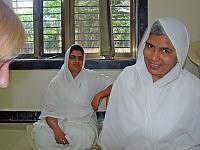 Samani Madhur Pragyaji, Samani Vinambha Pragyaji
Samani Madhur Pragyaji was in the company of Samani Vinamra Pragyaji, cousin sister of Samani Charitra Pragyaji. Samani Vinambha Pragyaji was initiated 9 years ago, and travels since one year with Samani Madhur Pragyaji. Originating from Karnataka, she before had travelled in the South of India.
Someone came in, talked to her, and Samani Madhur Pragyaji had to leave for next destination. We sat down, watched the ongoing marriage celebration, and wondered why the young couple looked so stressed.