28th November 2006, 14:30 – 17:00

Next destination was Bhagwan Mahavir Viklang Sahayata Samiti, Limb Centre, S.M.S. Hospital/Medical College, Jaipur, standing up since more than 30 years for long-term human welfare projects. In the beautifully shaped library of the institution, we met Shri D.R. Mehta, founder and chief patron of Jaipur Foot who kindly spent his precious time with us. Not only he did show the factory of Jaipur Foot and explain the way it works, but also provided deep insights what human beings can do for each other.
Shri D.R. Mehta was Indian Administrative Service Officer, became Deputy Governor of Reserve Bank of India, India's Central bank, and thereafter chairperson of an organisation controlling the operation activities on the corporate sector. Since 35 years, he is devoted to his work for the poor. He set up Jaipur Foot NGO 1975 on 2500th celebration of Mahavir Jayanti, and since then after office hours and on weekends worked and after his retirement fully works for the organisation, which has become worldwide one of the most specialised places for production and adaptation of artificial limbs. All those who are suffering from loss of a limb because of landmines or accidents get the chance here to reintegrate in society by regaining motivity and participate in social life.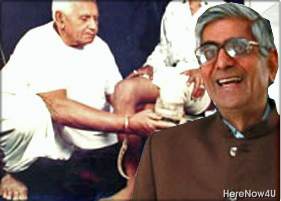 It was an incident in his own life, which made him compassionate for all poor people who have to suffer from loss of limbs and are excluded from social life since this occurred to them. In the time he still was in his formation, he had an accident, which badly hurt his foot. Question arose if the foot can be saved or if he has to continue his life without it. In this situation, he understandably was worrying about his future, imagining what it would be like with an artificial foot. In this situation, the saying 'I worried that I have no shoes, still I saw one without a foot' came in his mind, and he thought of those in a similar situation without the possibility to get an artificial limb. He immediately became full of compassion and decided to work further on for their relief. He chose the auspicious occasion of Mahavir Jayanti for setting up Jaipur Foot NGO, as realisation of compassion is one of the highest goals in human life according to the teachings of Lord Mahavira.
He was lucky in getting donations and support from the beginning on, and he told us that the work made him feel happiness and satisfaction from deep inside. With the growing number of patients and the organisation's capacity, his happiness equally increased. When he showed the factory to us, we watched the silent, but blazing happiness of a patient trying his new lower leg for the first time and understood.
Jaipur Foot meanwhile is not only known all over India, but all over Asia and Africa, continents with the largest number of persons concerned. In India, it is no more necessary to know the address of Jaipur Foot; employees at bus and railway stations are familiar with the way it works and help those who desire to get there. After arrival in Jaipur, Jaipur Food provides accommodation, food, medical necessities, and departure. Many camps have been arranged in Asia and Africa to help the needy locally.
Their speciality is fabrication and individual adjustment of artificial limbs. They make a special sand socket, facilitating individual adjustment of the artificial limb to the body. Patients do not suffer from inflammations where the artificial limb is connected to the body, because the sand socket is produced individually and fits perfectly to the patient's body. It takes one extra-hour and highly proficient work to produce the sand socket. Otto Bock, Germany, to get perfect consistence and fit, has constructed special machines seen below.
For Shri D.R. Mehta the most important is to give back self-confidence and trust in life to those who had to suffer from its lack. For detailed informations please visit their website. http://www.jaipurfoot.org/