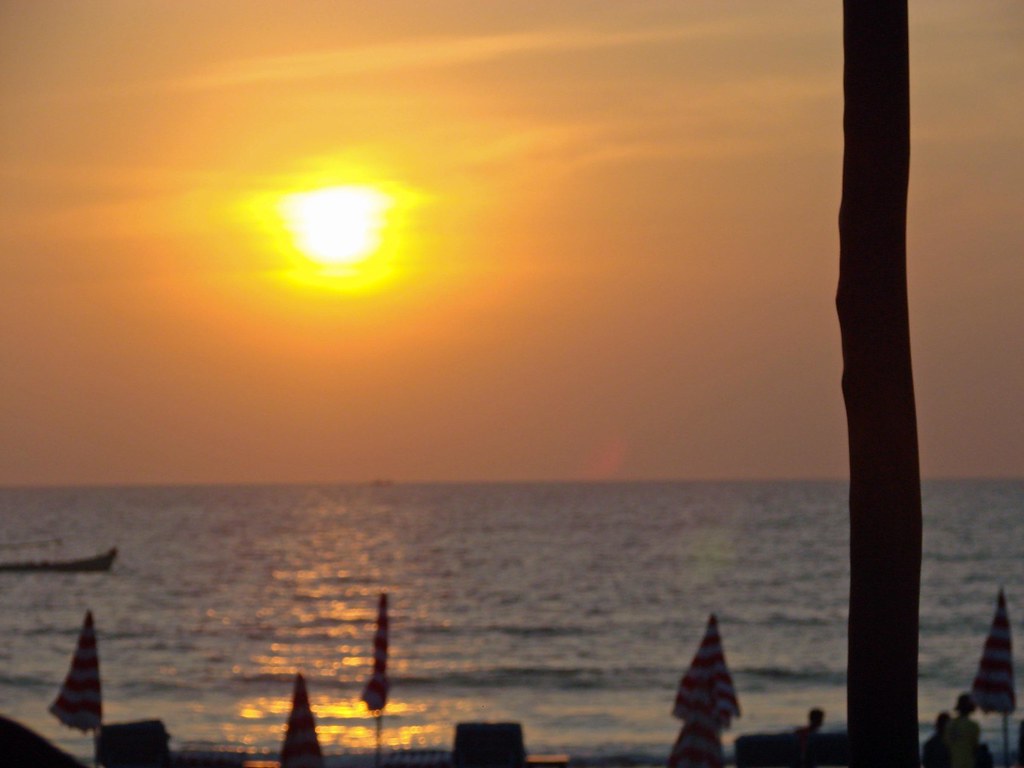 When we queued up at Mumbai National Airport the late morning of 3rd December on our way to Goa, we had mixed feelings. Continuously pampered by our hosts and friends during the last three weeks, we had to adjust. When we took farewell from Sudanshu Jain and his father, Mr. S. M. Jain we felt as if leaving home for quite some time, exited and sad.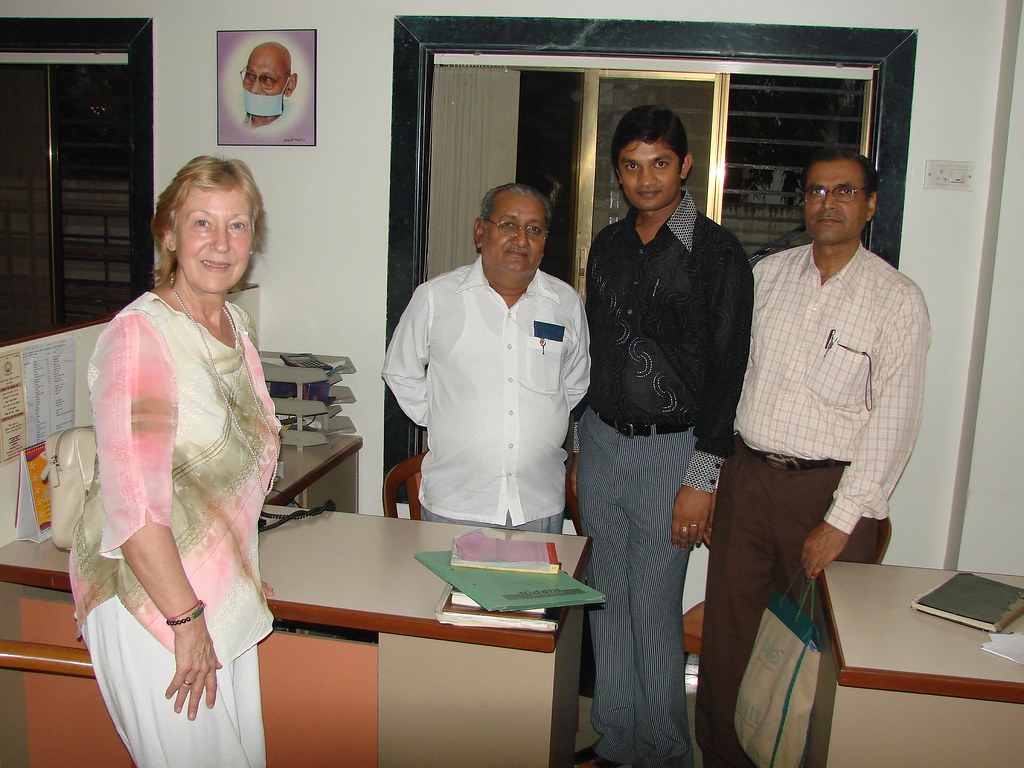 (F.r.) Mr. S. M. Jain, a young helper of the caretaker, the caretaker of Terapanth Bhawan, Karuna. All were very helpful & kind to us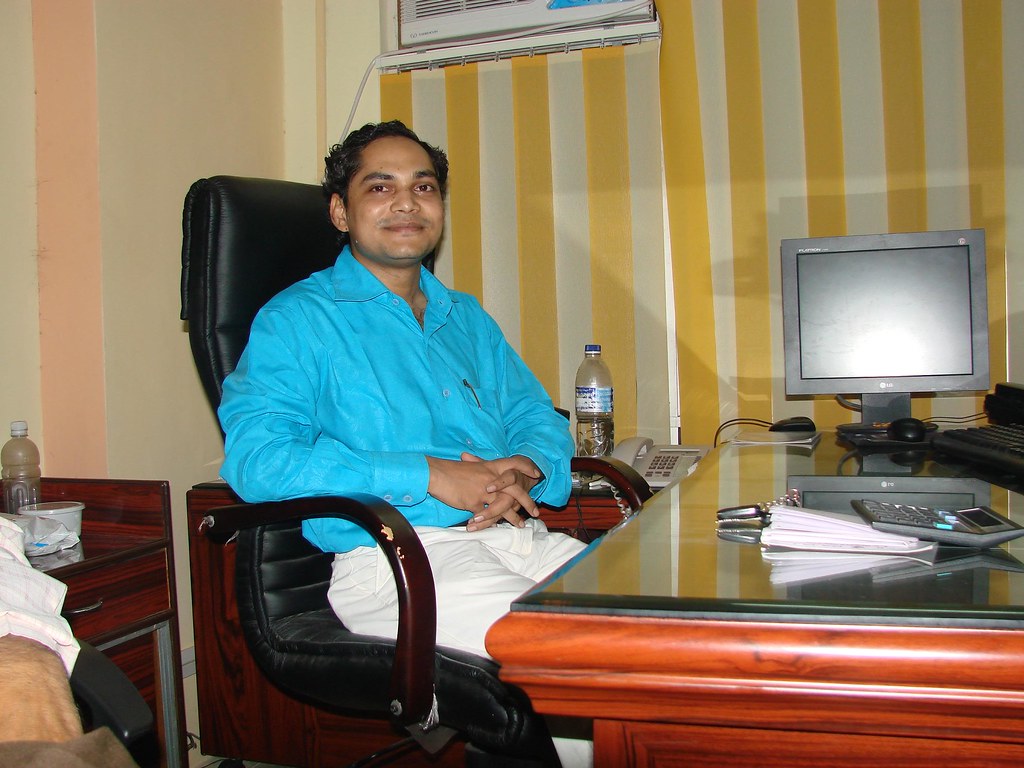 Sudhanshu Jain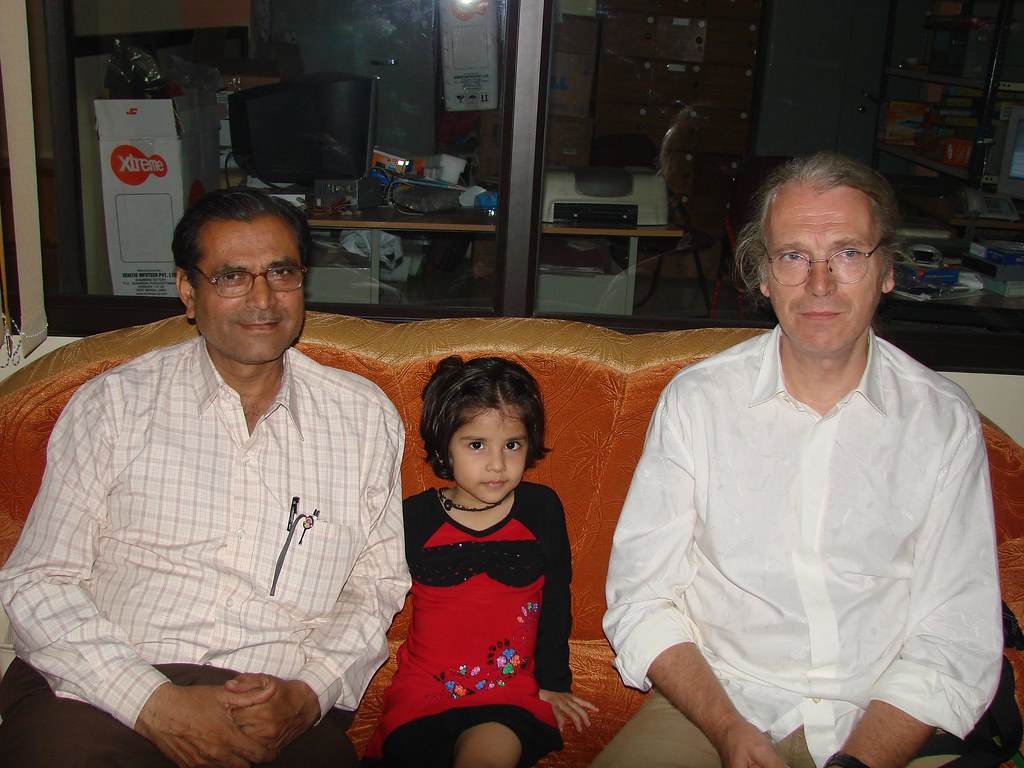 Mr. S.M. Jain with his charming granddaughter, Aparigraha
Sudanshu Jain and his father had announced their arrival about 16:00; they due to extraordinary heavy traffic did arrive at 17:30. More than unusual for them. We hurried into the car and headed towards New Mumbai. Sudanshu and his father told us that usually it would take max. two hours; we wondered why they accentuated the word 'usually'. At 20:30, we did not wonder anymore. We were trapped in the worst traffic jam ever, together with thousands of cars and trucks and busses in a fancy like dark landscape. Karuna in the midst of nowhere shyly asked for bathroom. Sudanshu Jain and his father had a short communication, and then responded to wait for 10 minutes.
We thought it kind of them, as we could not imagine what in 10 minutes would have changed. Suddenly Sudanshu turned the car, honked and blinked, and slowly succeeded to move in another direction. We recognised buildings, and ten minutes after the demand, our hosts moved their thumbs in the direction of a beautiful Pizza Hut offering all we needed. Wow!
Later we read in the newspaper that two events had paralysed mega city's mobility: one spiritual gathering at one end of the city, and one jazz concert on the other. Both events started traffic caravans, which met in the middle from and to opposed directions. They had caused the worst chaos even Mumbai ever had seen! It had started in the afternoon from the middle where all had to trespass. Like an explosion, chaos spread over the whole area of 153 to 165 km! The simple reason was that all people had started at the same time to be in time for the event.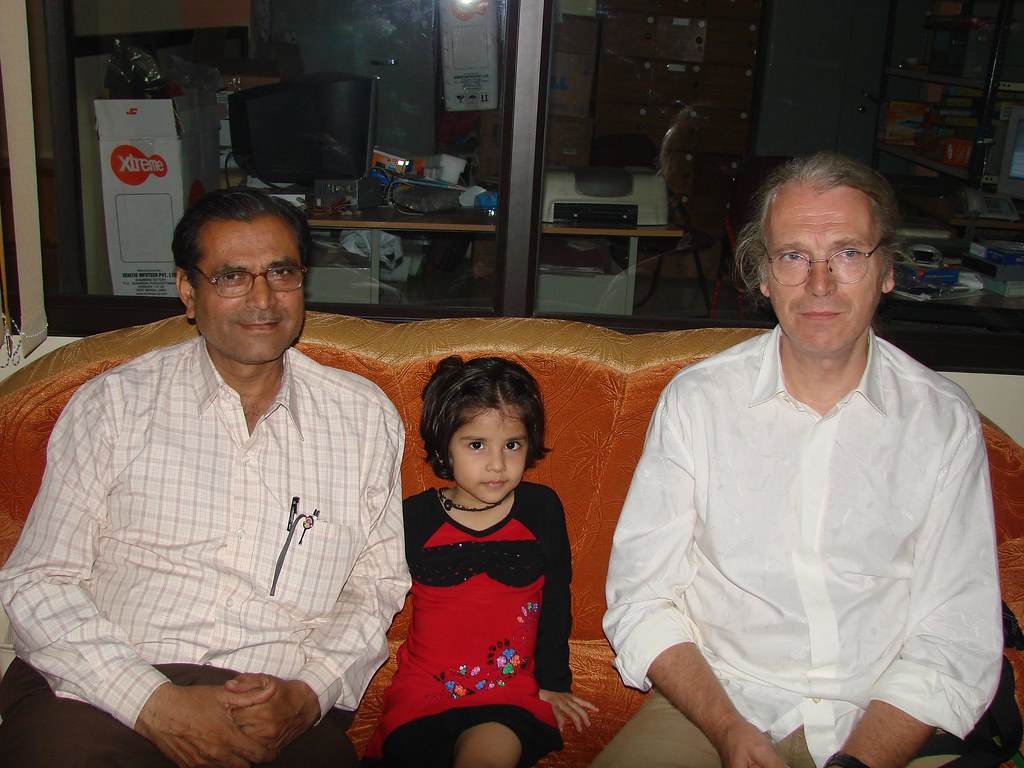 Mr. S.M. Jain with his charming granddaughter, Aparigraha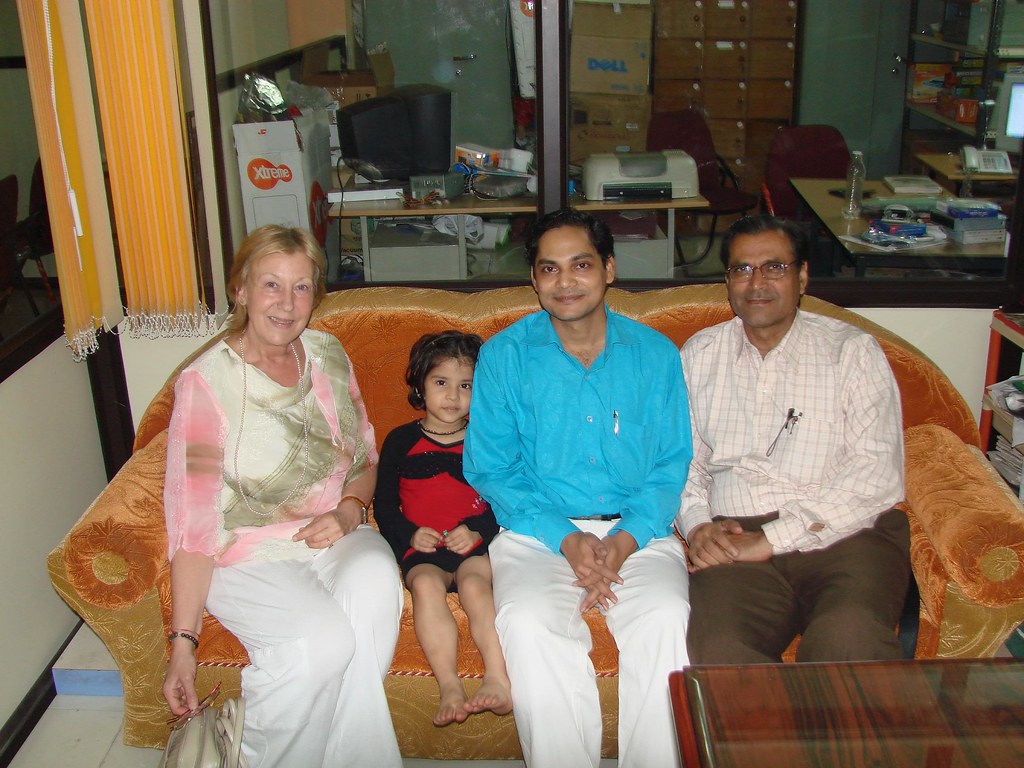 Mr. S. M. jain, Sudanshu Jain, his lovely daughter, Karuna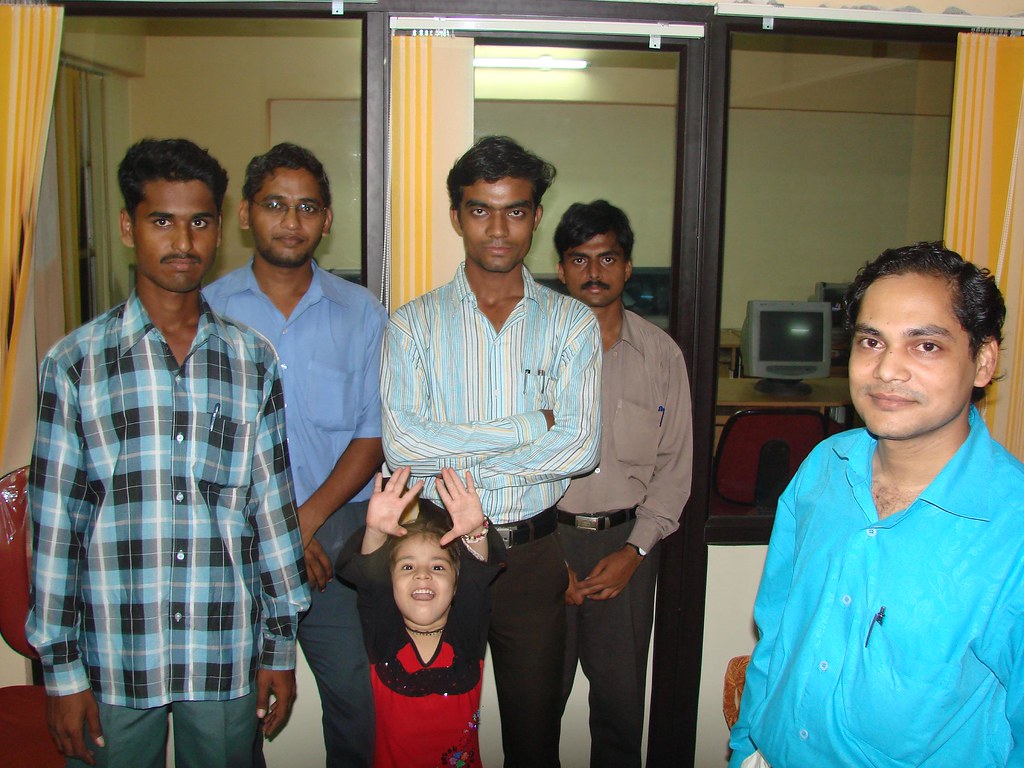 Sudanshu Jain with his staff and his daughter
We all reached Sudanshu Jain's office at 09:30, happy to reach it at all. His staff and his charming little daughter were waiting for him. We relaxed with juice and water, and Mr. S. M. Jain asked us to follow him.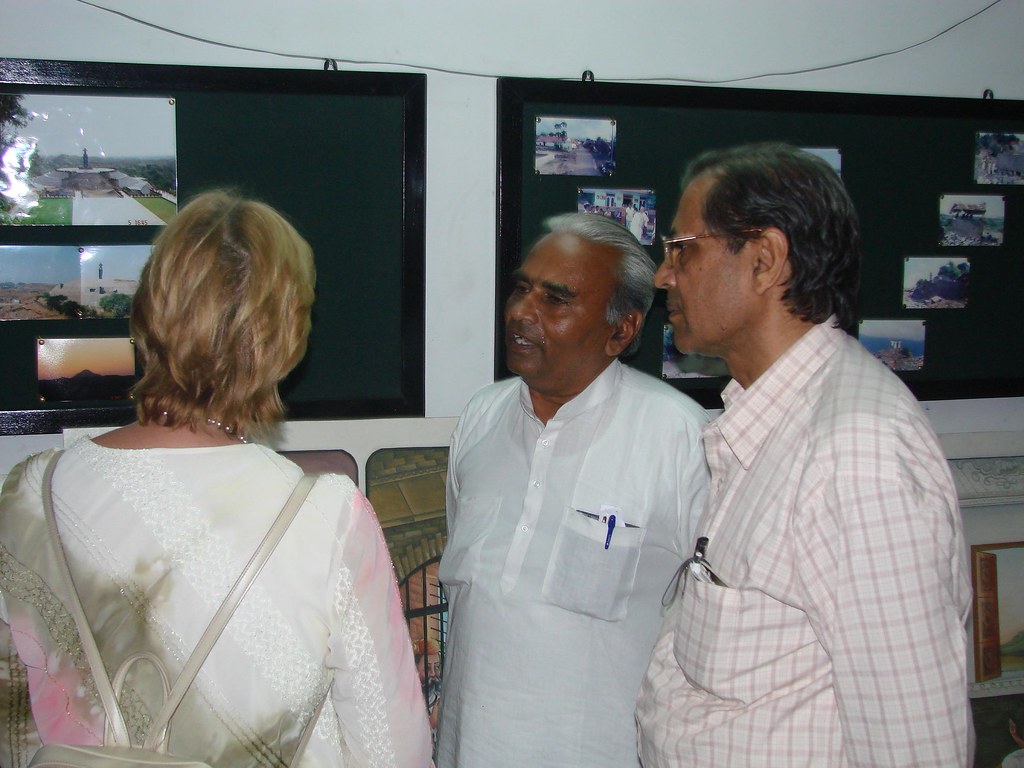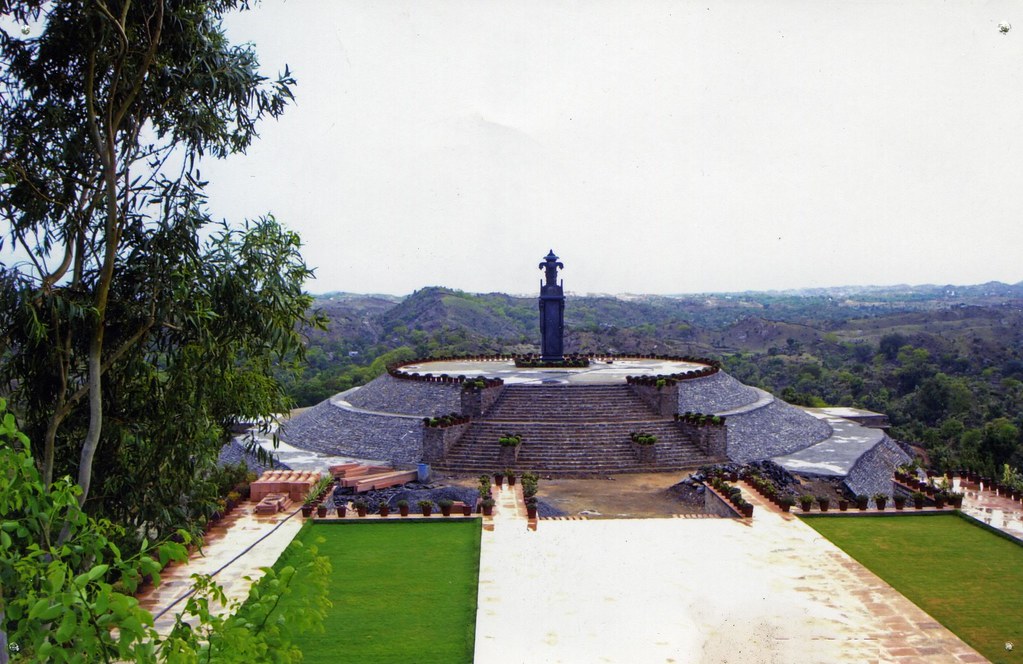 Photo of Pragya Shikar in Tadgarh, Rajasthan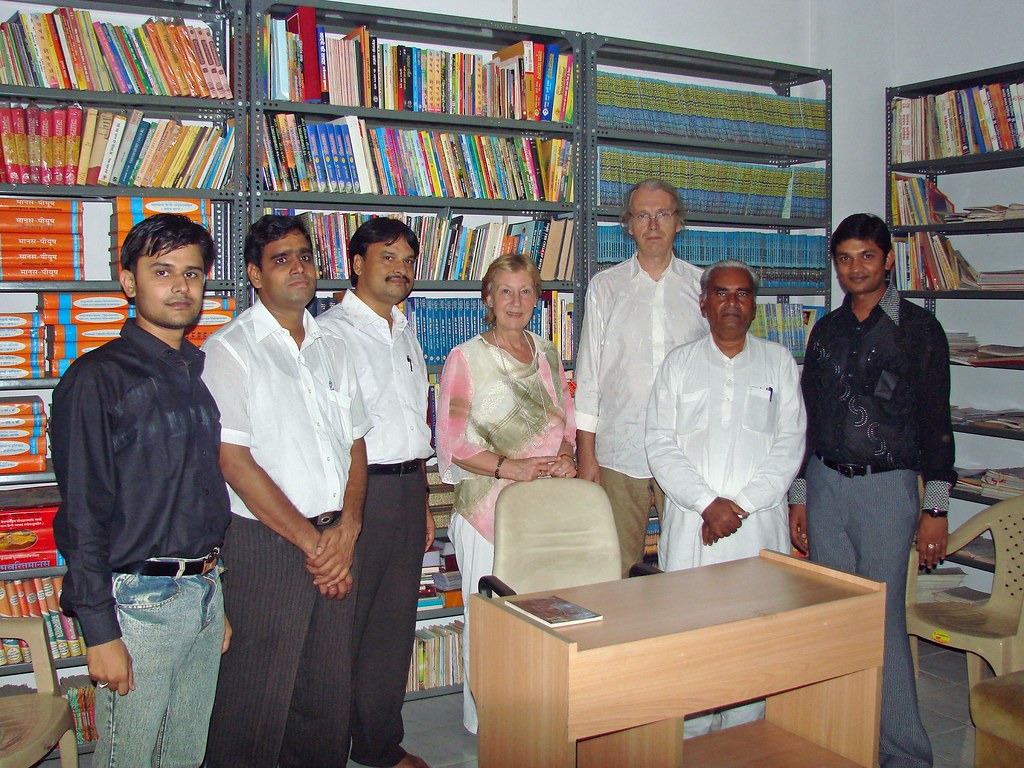 Aparigraha & Karuna with dignitaries doing service in the library
We visited Anuvrat Library at New Mumbai and had very nice talks with the dignitaries who usually are doing service at the library, and had come to meet us there on Saturday evening. They had to wait quite some time. They did not worry and told us that they always have some tasks to do at the library.
At Sudanshu Jain's home, we met his wife, his little son, his mother, and had delicious dinner. Sudanshu Jain then brought us to his cousin's home, where we immediately fell asleep.
3rd December 2006
Next morning, we had tea and breakfast there and headed towards national airport.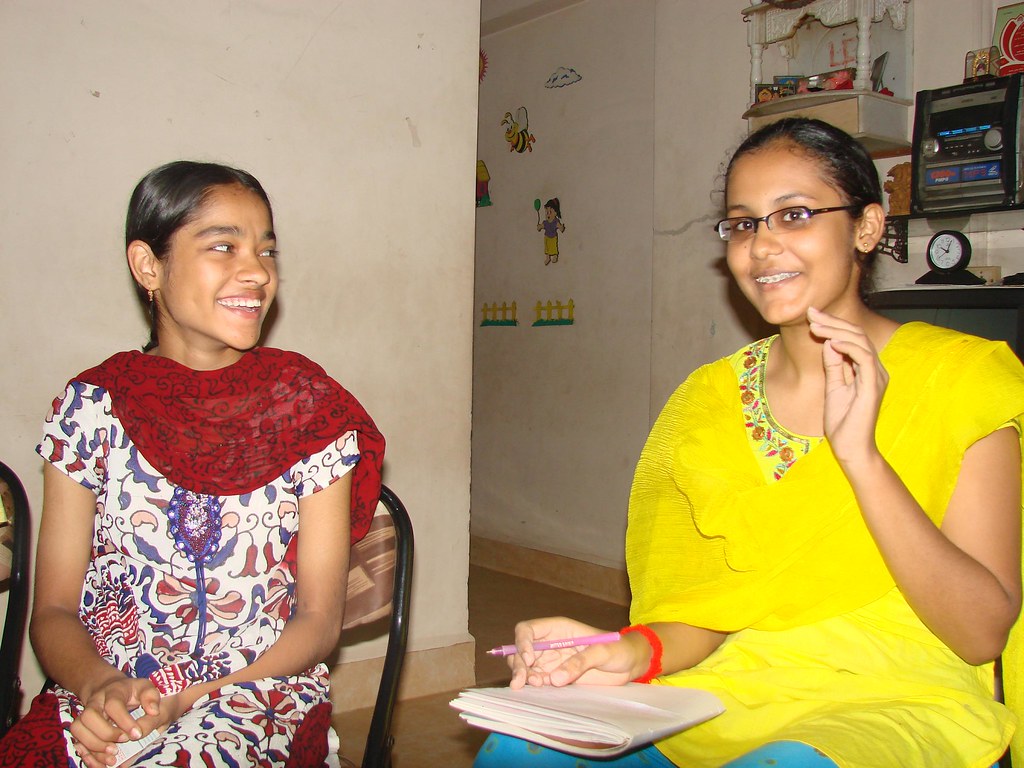 Sudanshu Jain's niece and her girl friend at Sudanshu Jain's sister's house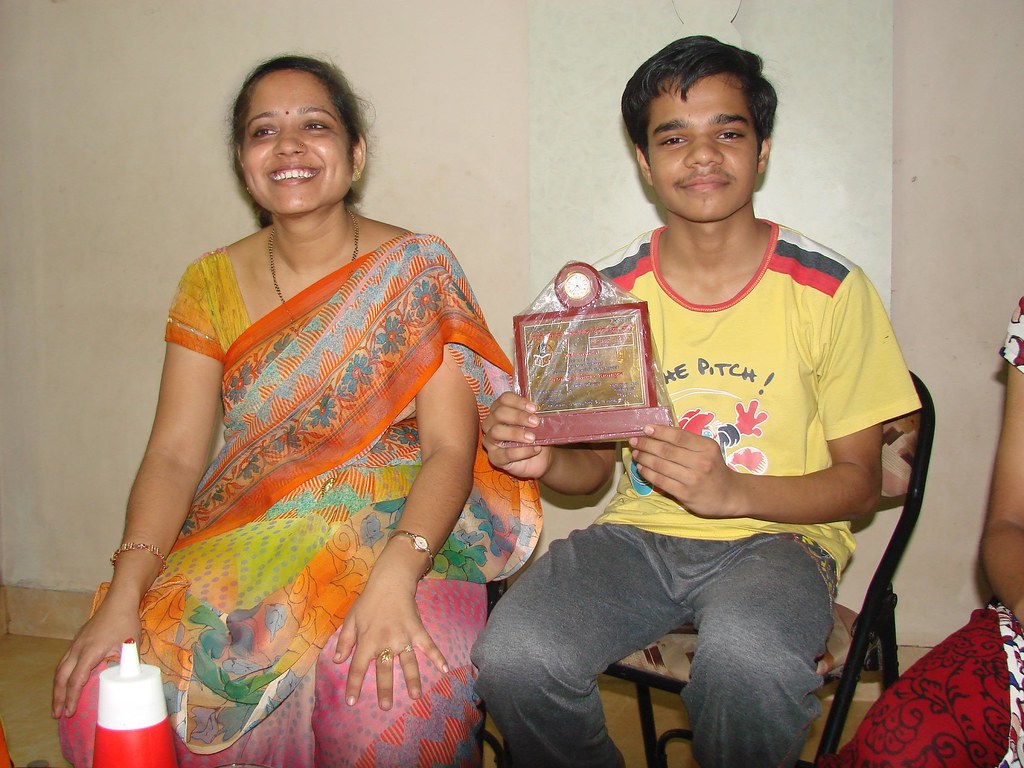 Sudanshu Jain's sister and her son, showing an award he received for outstanding Gyanshala performance
On the way to airport, which was at a distance of 150 km (!), we stopped for a visit to Sudanshu's sister who lives near to it. We there met her daughter with a classmate. Both are learning German at school; the girls took our interview on German customs. Her son who received a Gyanshala Award for his outstanding performance was also present. Before we left, Sudanshu's sister bestowed a beautiful bracelet upon Karuna and said with a smile on her face, "Please, come back!"
At Mumbai National Airport our Living Jainism Tour 2006 nearly was finished. Guess who had given recommendation which beach in Goa is good for holydays? Right, one friend called Sumit. His wife has a best friend who has a beautiful resort at Candolim Beach, and whose mother is German! And guess whom we met there? Right, we made friends with two couples from Germany, one of them from Berlin!
Remembering the beautiful Living Jainism Tour 2006, the SMS our friend Sushil Bafana got one morning from our friend Mahima Bokariya came to our mind:
Time can make us forget some memories but there will be some memories where we forget time and those memories will make life sweeter.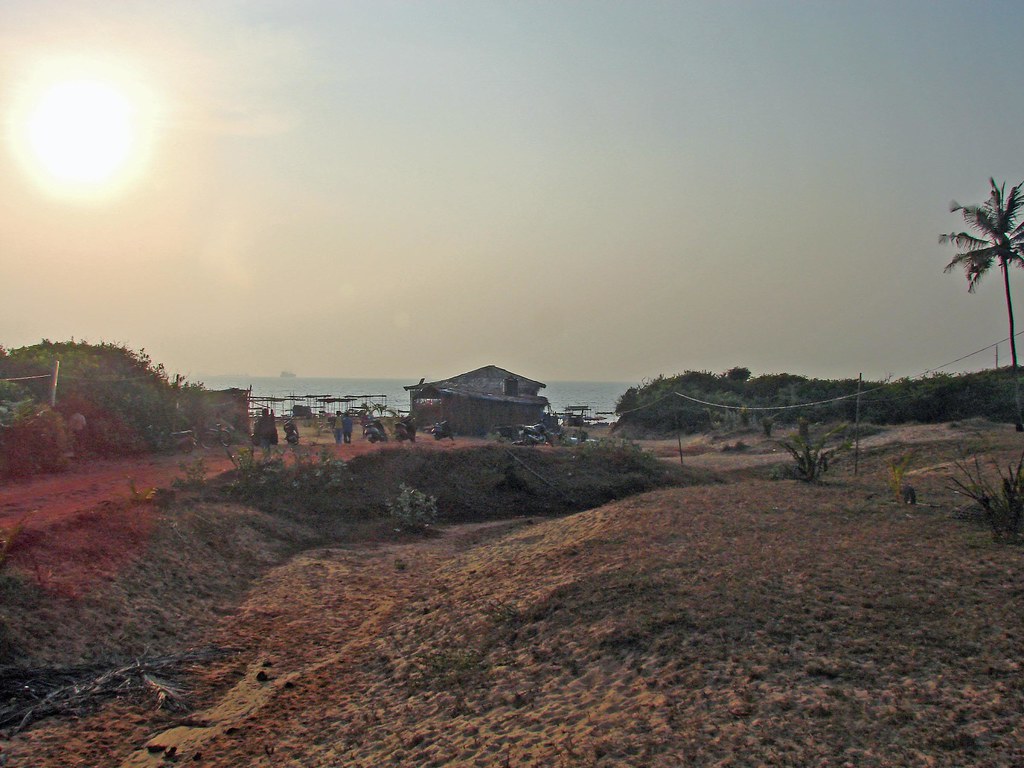 Beginning sunset in Goa Candolim, a very nice beach recommanded by our friend Sumit. Thank you, Sumit.
Thanks to all our friends for memories that made our life sweeter.