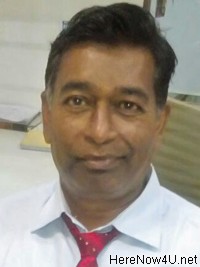 Lifetime
Born:
02.11.1962, Sri Dungargarh, Rajasthan, India
Address
Tara Bhawan, South Howrah
711102 Howrah, West Bengal, India
Contact
Mobile:
+91-9673987792
E-Mail:
About
Father:

Late Jethmal Bafana

Mother:

Dhani Devi Bafana

Married to

Supyar Bafana

Education:

B.Com (Calcutta University)1982, B.A. & M.A. (Jain Vishva Bharti, 2003 & 2005 Ladnun)
Jain Vidhya Vigya (the title Vigya is given by Saman Sanskriti Sankaya in 1997 after passing Jain Vidya Exams for all 9 Classes).
Tatva Gyan Exam. Part 6 (Conducted by Akhil Bharatiya Terapanth Mahila Mandal)

Occupation:

Job in company

Religious Activities

Area Co-ordinator for Gyanshala, West Bengal, for the year - 2003 to 2007.
Area Co-ordinator, Sanam Sanskriti Sankaya, West Bengal, for the year - 2006 to 2010.
Secretary, Terapanth Yuvak Parishad, South Howrah for the year 1987
Joint Secretary of Terapanth Yuvak Parishad, Kolkata - 1995 to 1999.
Secretary, Terapanth Yuvak Parishad, Kolkata for the tenure - 1999 to 2000.
Secretary, Terapanth Yuvak Parishad, Kolkata for the tenure - 2000 to 2001.
Honoured as (Shreshth Karyakarta) The Best Functionary awarded by Akhil Bhartiya Terapanth Yuvak Parishad under the auspicious presence of Acharya Mahapragya at Udaipur in the year 2007.
Amrit Sansad – For the year 2001, Bidasar to 2011 Kelwa.
Completed 13 successful journeys as Upasak - Keshkal, Agartala, Vizianagaram, Rajamundary, Dalkhola, Katihar, Cooch Behar, Tirupur.Tezpur, Jalana, Palghar, Virar. Gulabbagh.
1st Indian Correspondent of German Online Magazine Herenow4U since the year 2004 & manager of HN4U Team & Content India.
At present – Coordinator of Online Swadhyay in Saman Sanskriti Sankay.

Prabndh Board member of Sangh Samvad.

Social media incharge of ABTMM tatva gyan course.

An active role as Jain Sanskarak - rituals reformer to accomplish Wedding, Naming ceremony of new born and many more by Jain rituals.
Fortunate to avail adoration opportunity with better half Supyar Bafana in the Vihar (Journey on Foot) of Honourable Mantri Muni Sumermal, Sadhvi Madhusmita, Sadhvi Som Lata and Sadhvi Jatan Kumari.