28th November 2006, 09:30 - 11:00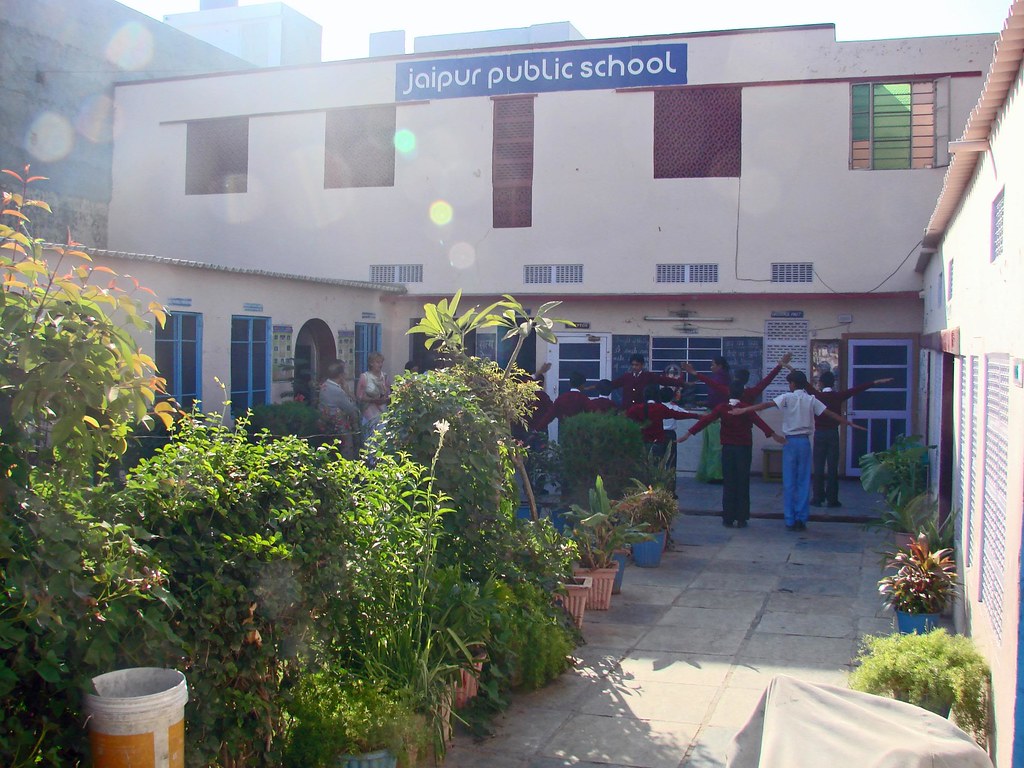 Courtyard of Jaipur Public School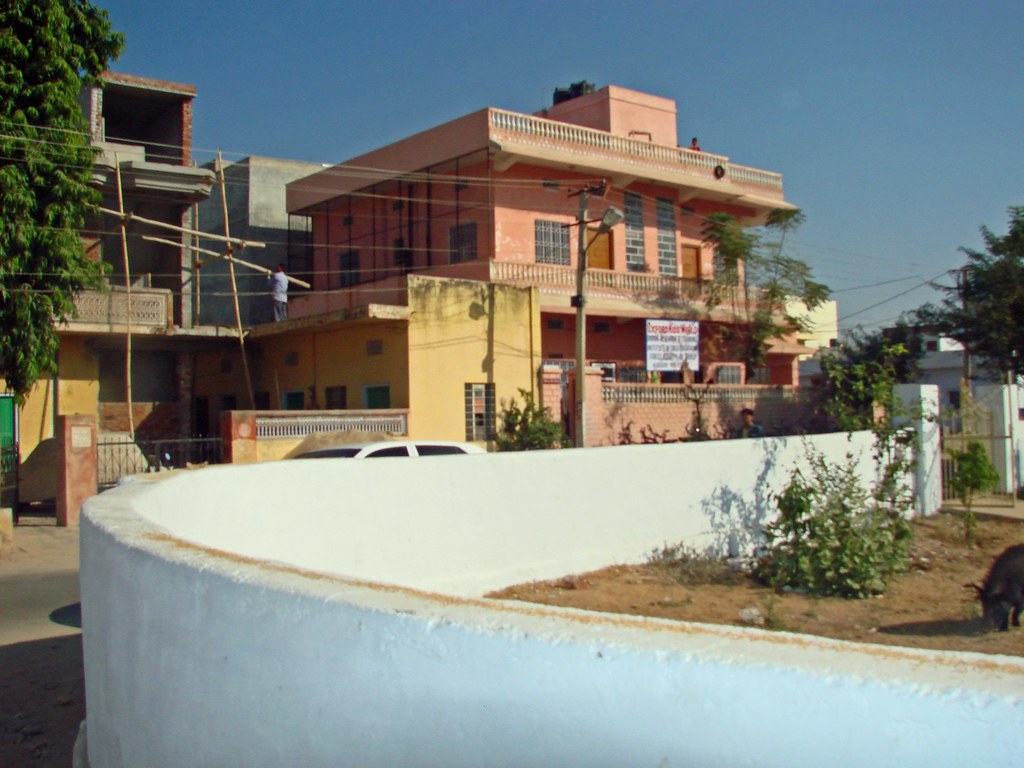 Building of Jaipur Oxford Kids World
Next morning, we were invited to visit the education institutions Jaipur Public School & Jaipur Oxford Kids World, headed by Dr. Jaishree Sidha, whom we had met the day before in Chulgiri Jain Temple. She then told us that she has the blood for education, as her father already was a dedicated educationalist.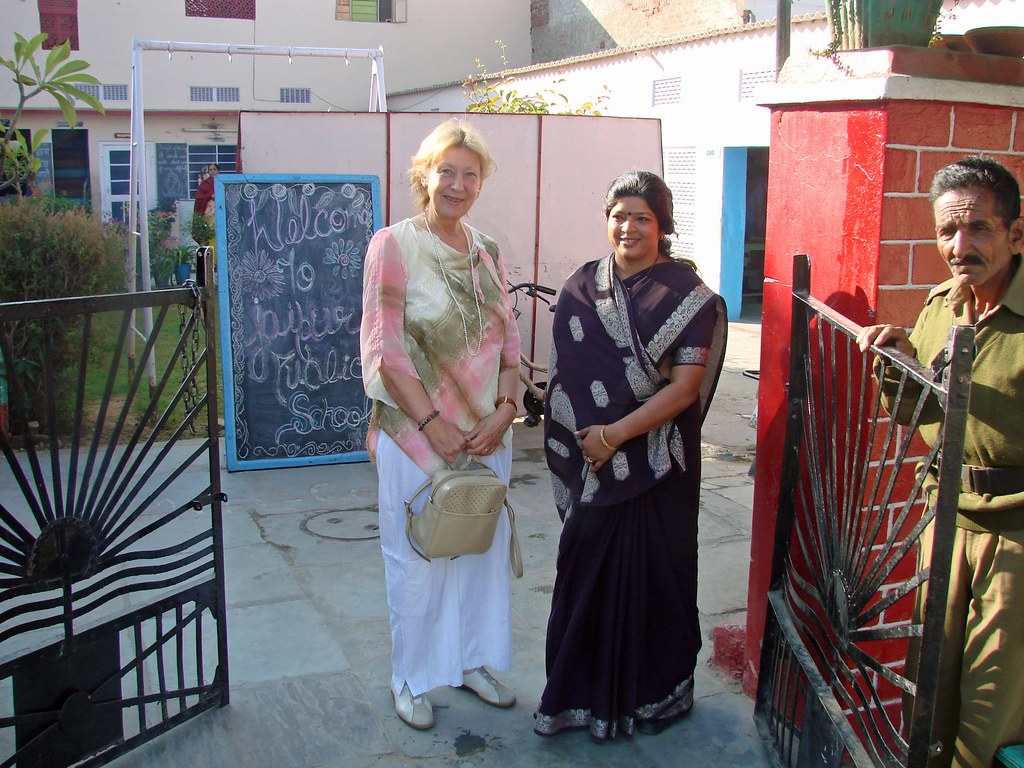 Dr. Jaishree Sidha, principal of Jaipur Public School, welcoming us at the entry of her institution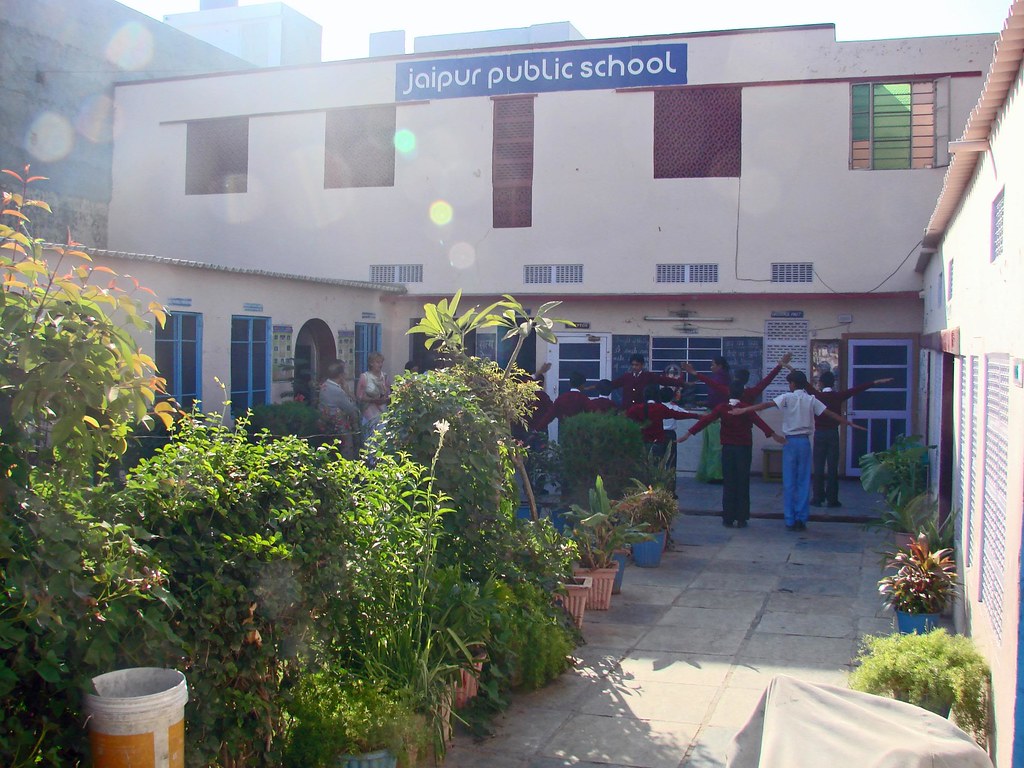 Courtyard of Jaipur Public School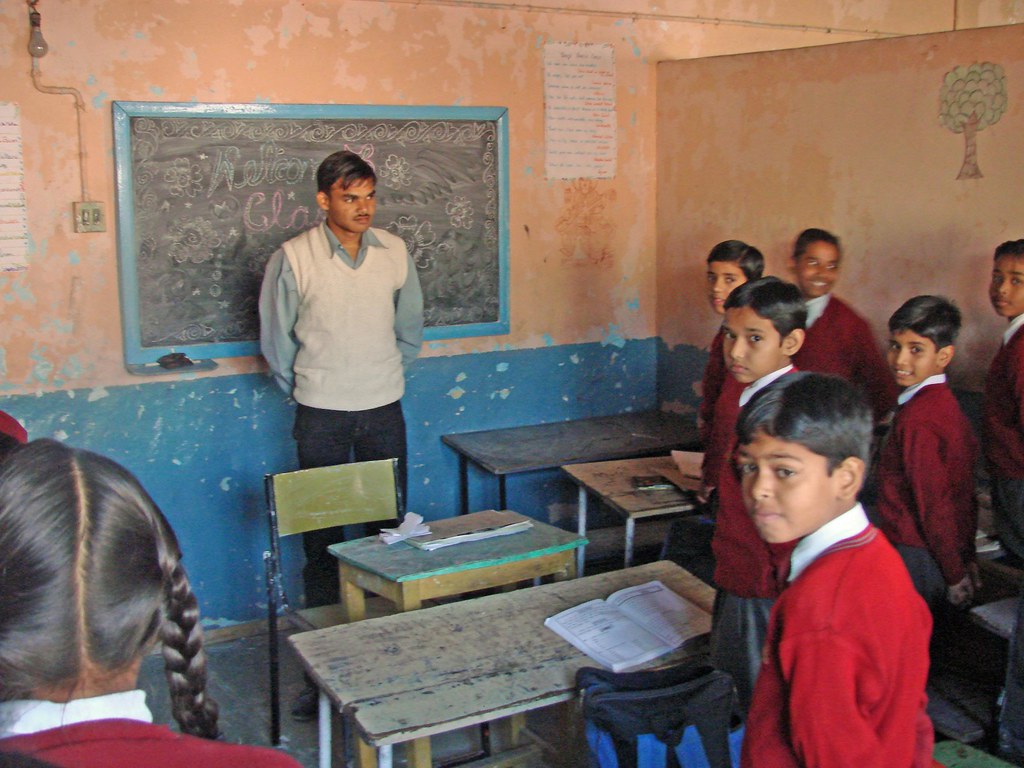 Teacher & students welcoming us
Dr. Jaishree Sidha was Shivani Bothra's colleague during their studies at JVBI Ladnun, where they both received MA in Preksha Meditation and Science of Living. Dr. Jaishree Sidha's father had started his own education institution in 1954. When his daughter Jaishree was born, she from the beginning developed a vivid interest in the matters in which her father was involved. This was the reason why Karuna who met with similar conditions in her life had great interest to see realisation of the principles Dr. Jaishreeji and she had agreed on the day before in their discussions. Our gentle hosts Balwantji and Premji Mehta, together with our friends Shivani and Sanjeev Bothra really had organised a program matching with our fields of interest!
Dr. Jaishreeji received us at the entrance of Jaipur Public School and welcomed us heartily in the name of all institution members, teachers and students. How true were her words, we experienced during this impressive morning! All classes had beautiful welcome drawings on the blackboards, and the senior students even gave their welcome in German language. The team of dedicated educationalists really understood how to change an event into unforgettable celebration for all participants.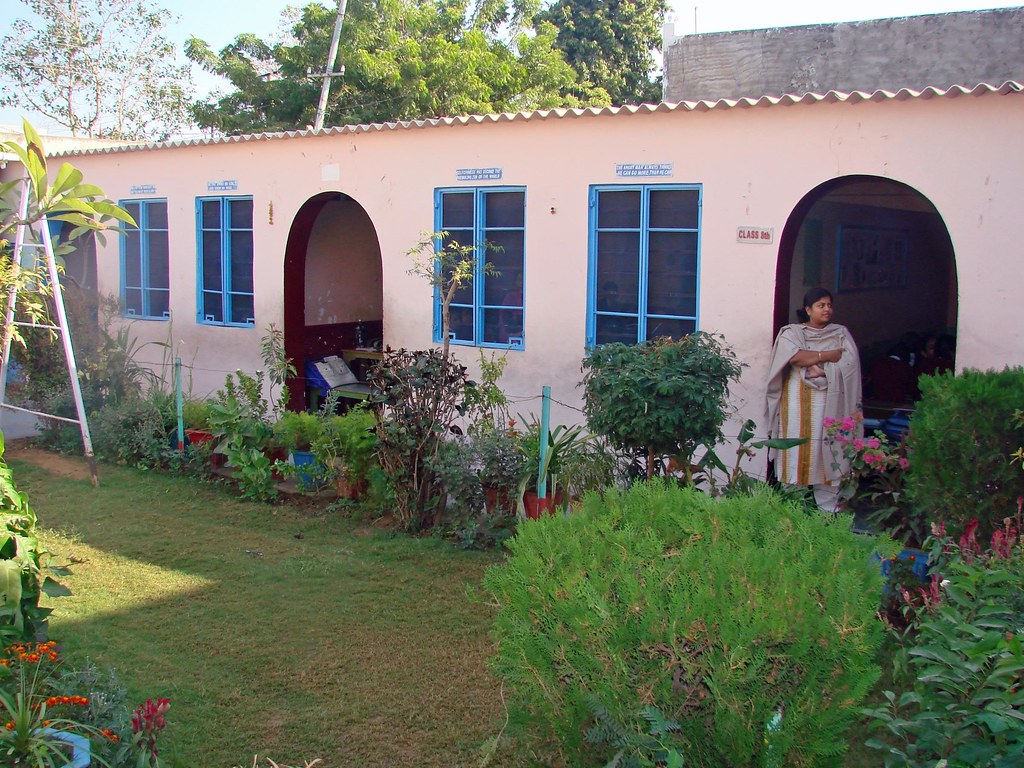 Courtyard of Jaipur Public School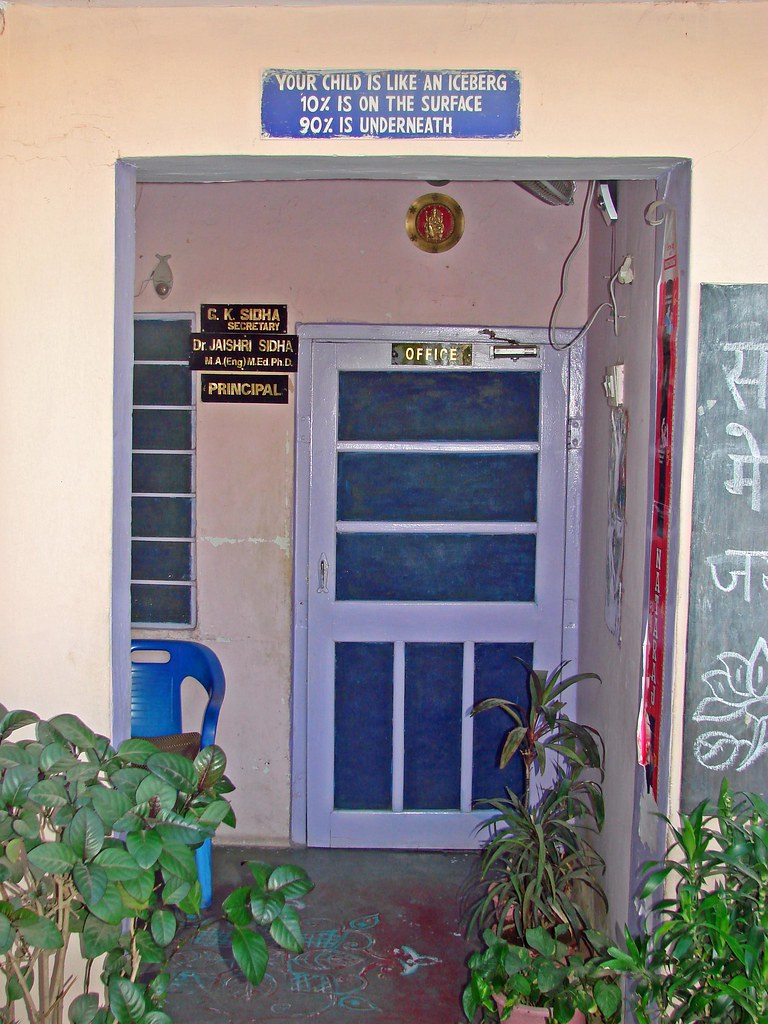 Placard at the entry to administration office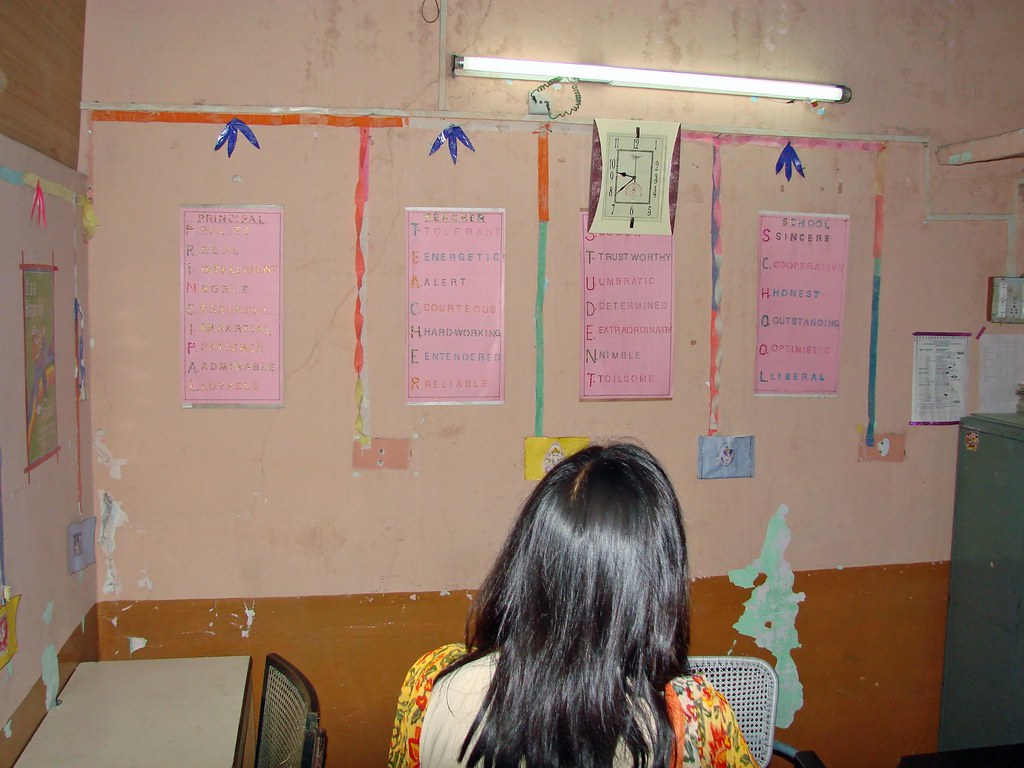 Posters with spellings of the words principal, teacher, student, school
'Your child is an iceberg, 10% is on the surface, 90% is underneath' was noted on a poster on the doorframe to principal's office. Not difficult to conclude that this education institution aims at developing the 90% underneath. The appealing design of building and courtyard (photo) contribute to the parents' and students' feeling to be in good hands. Interpretation of the English terms principal (polite, real, intelligent, noble, cheerful, impartial, patient, admirable, loveable), teacher (tolerant, energetic, alert, courteous, hardworking, entendered, reliable), student (sober, trustworthy, umbratic, determined, extraordinary, nimble, toilsome), school (sincere, cooperative, honest, outstanding, optimistic, liberal) are defined benchmarks for the institution and all who are working here together. These definitions aim to inspire a child to compare the terms with own experience as well as own conduct.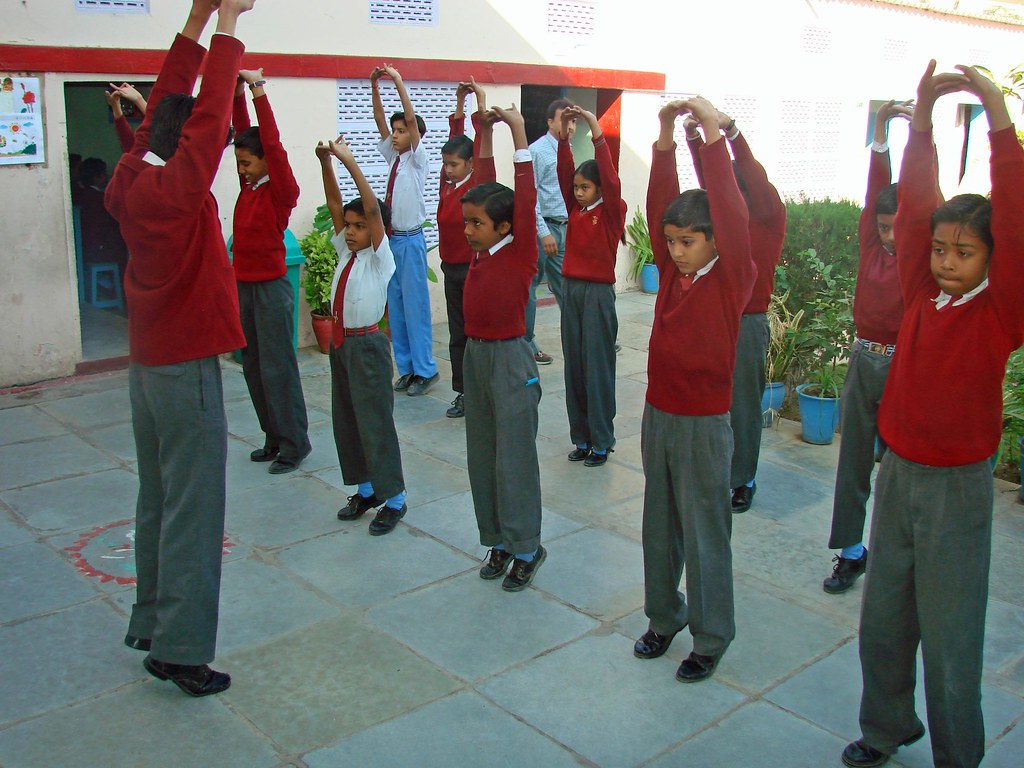 Morning exercises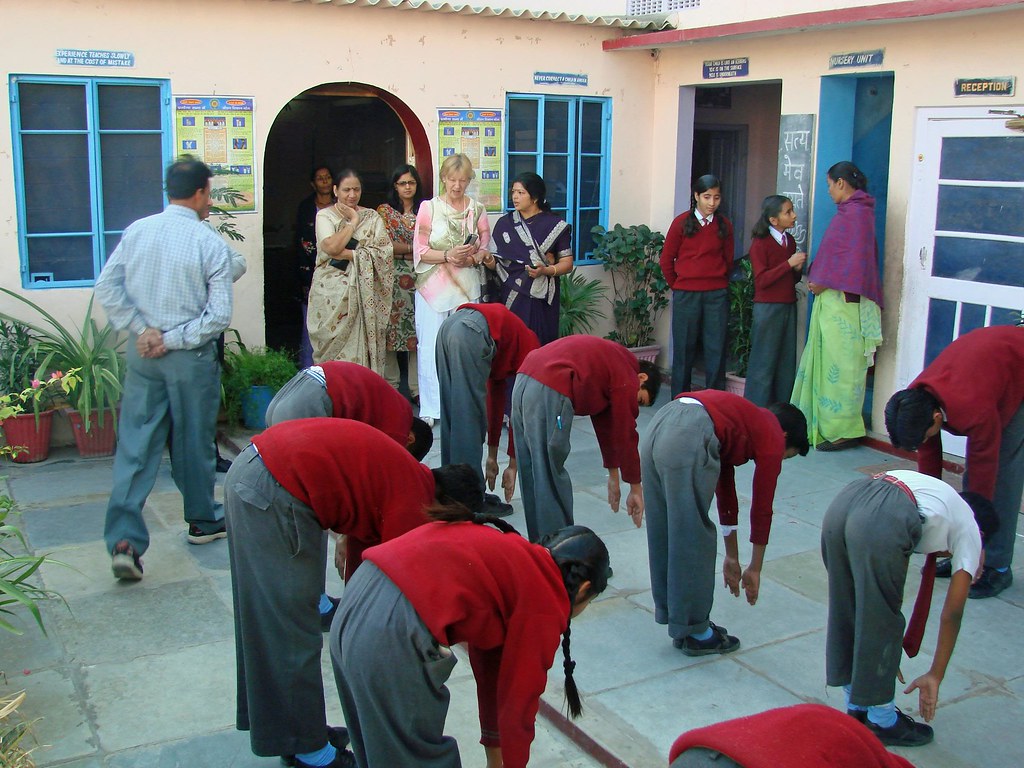 Morning exercises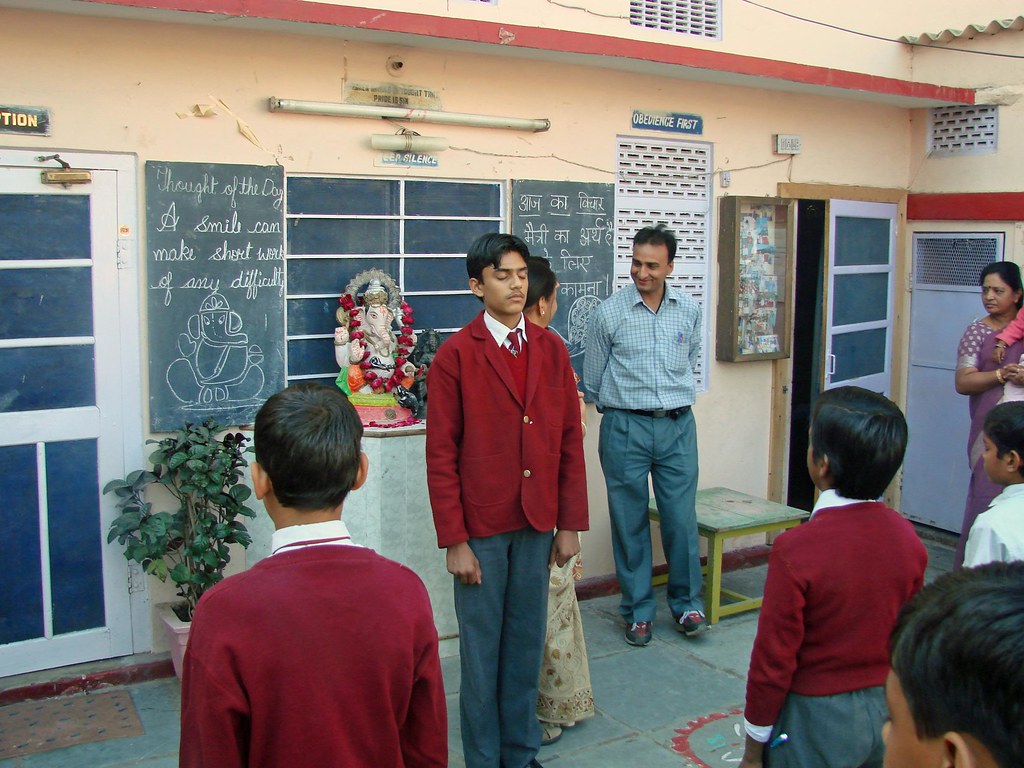 Teacher & student in meditation
Meanwhile in the courtyard, one class was starting with daily Yoga and meditation, instructed by a teacher who got his MA from JVBI Ladnun in Science of Living and Preksha Meditation as well.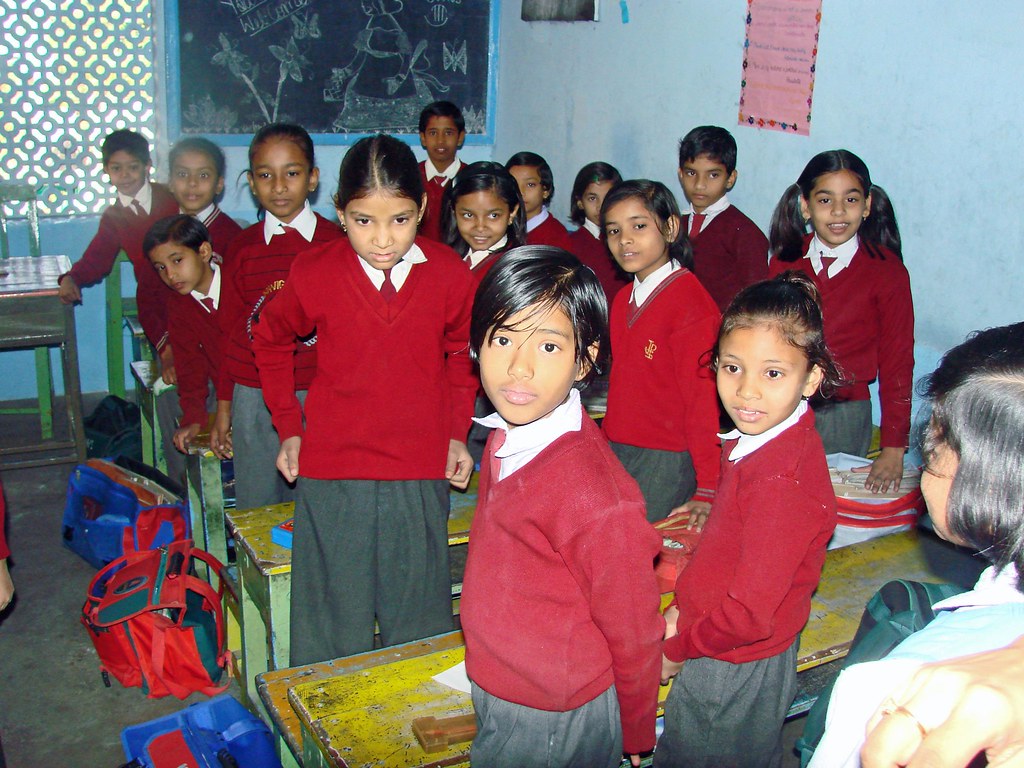 Students welcoming us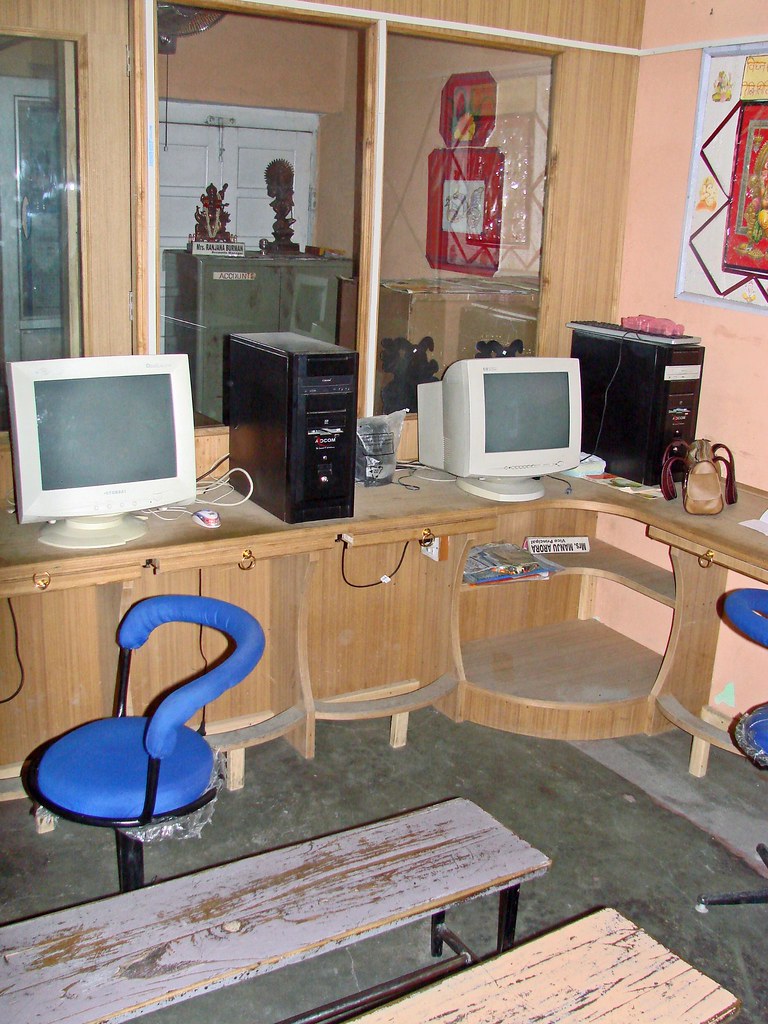 Computer room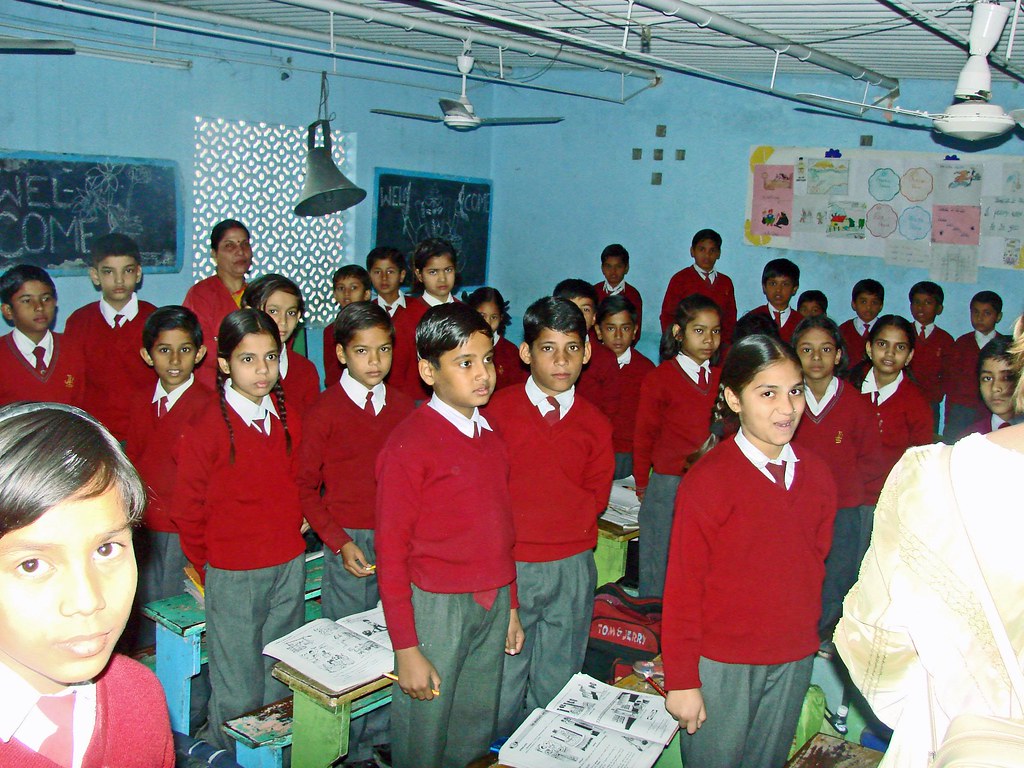 Students welcoming us
Every student receives lessons in computer education once a week. The lessons are given on 5 PCs to groups of 5, under guidance of a specialised computer teacher. This means that all students after leaving the institution have basic skills on computer. The majority of students has no computer at home.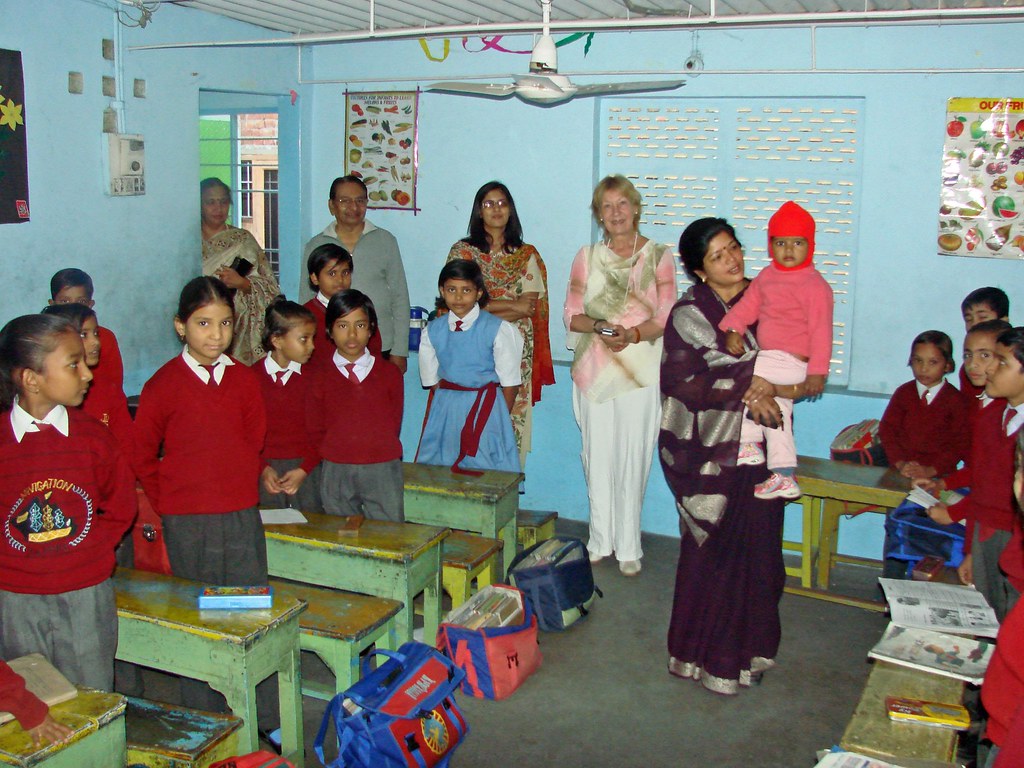 Dr. Jaishree Sidha with her son, teacher, students, Karuna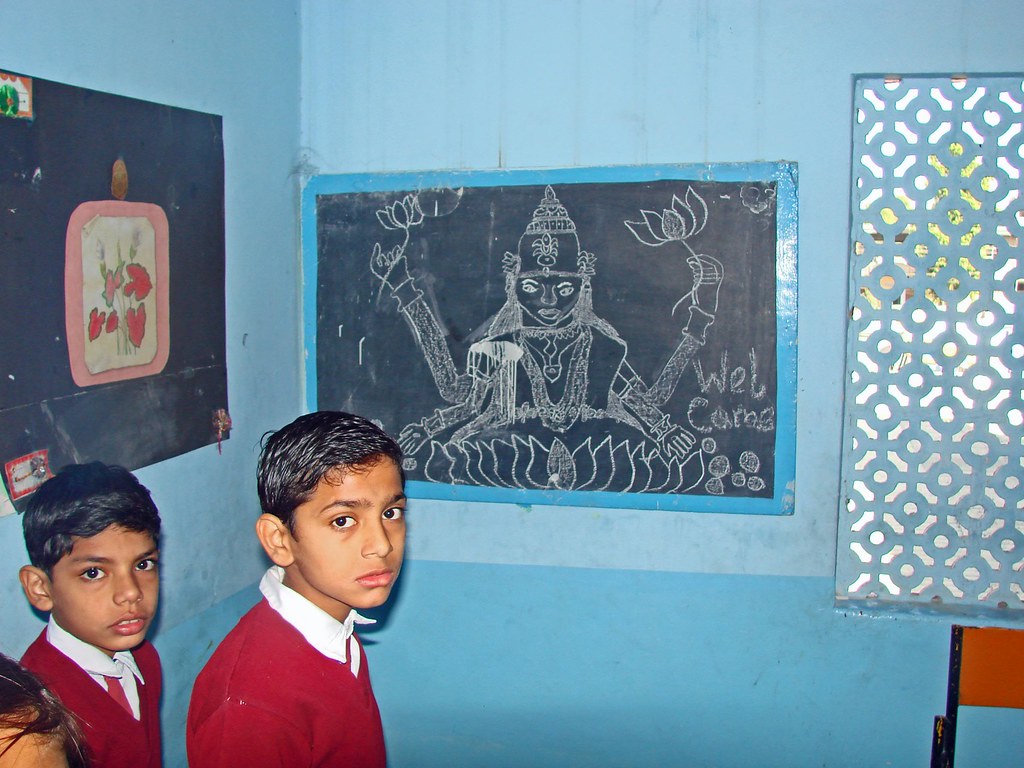 Welcome with depiction of Lord Ganesh, patron of writers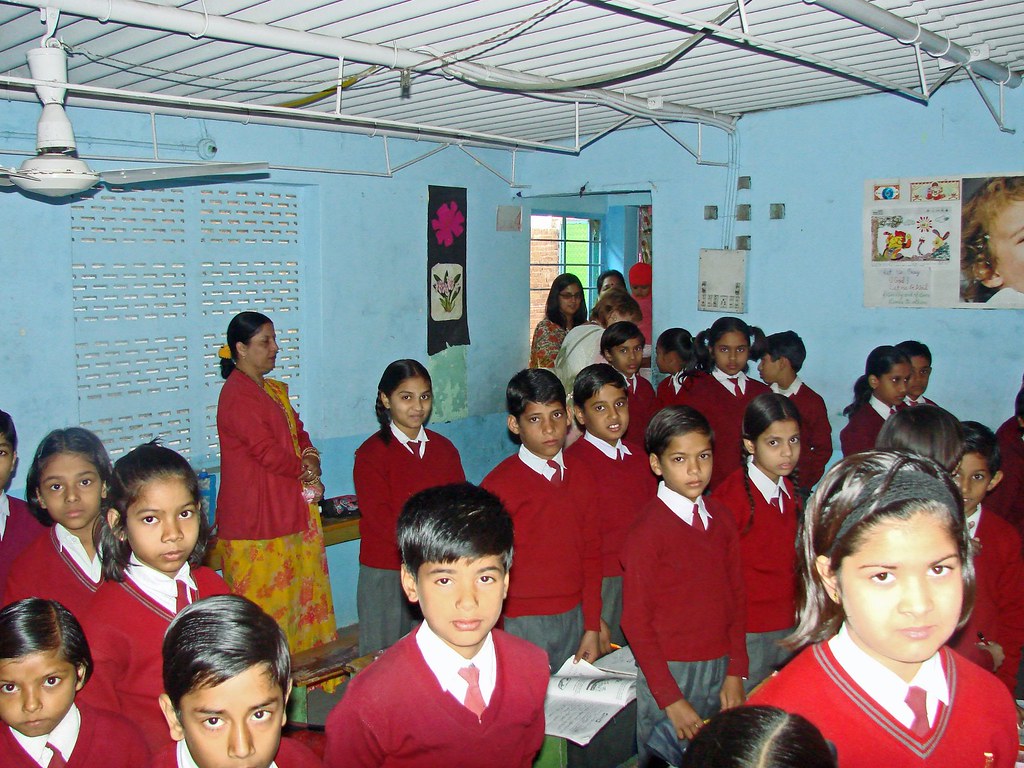 Students
Actually, about 200 students are learning in the institution, which largely follows the conceptions of Acharyashrees Tulsi & Mahaprajna on holistic education, aiming at building the students' character intellectually, emotionally, and morally, as well as being geared to reality of working life. Senior students regularly go with their teachers to factories, newspapers and to the market, to study the kind of work people are doing there and under which conditions. In class afterwards, the observations made are discussed and documented.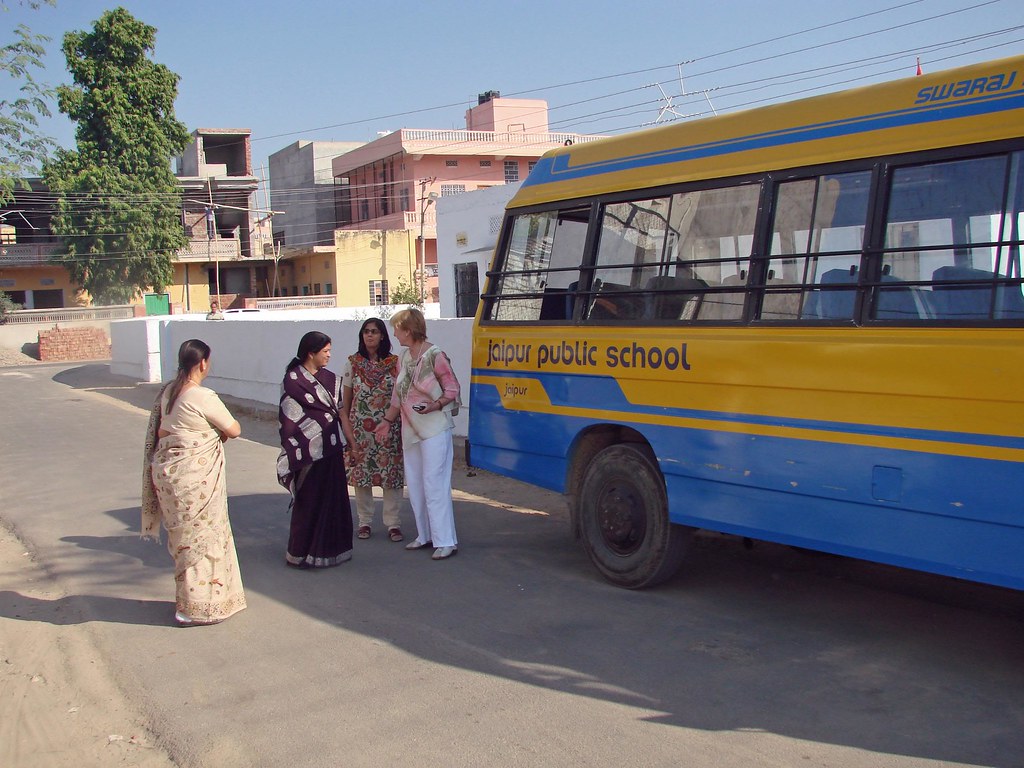 4 ladies in front of Jaipur Public School's big school bus: Premji Mehta, Dr. Jaishree Sidha, Shivani Bothra, Karuna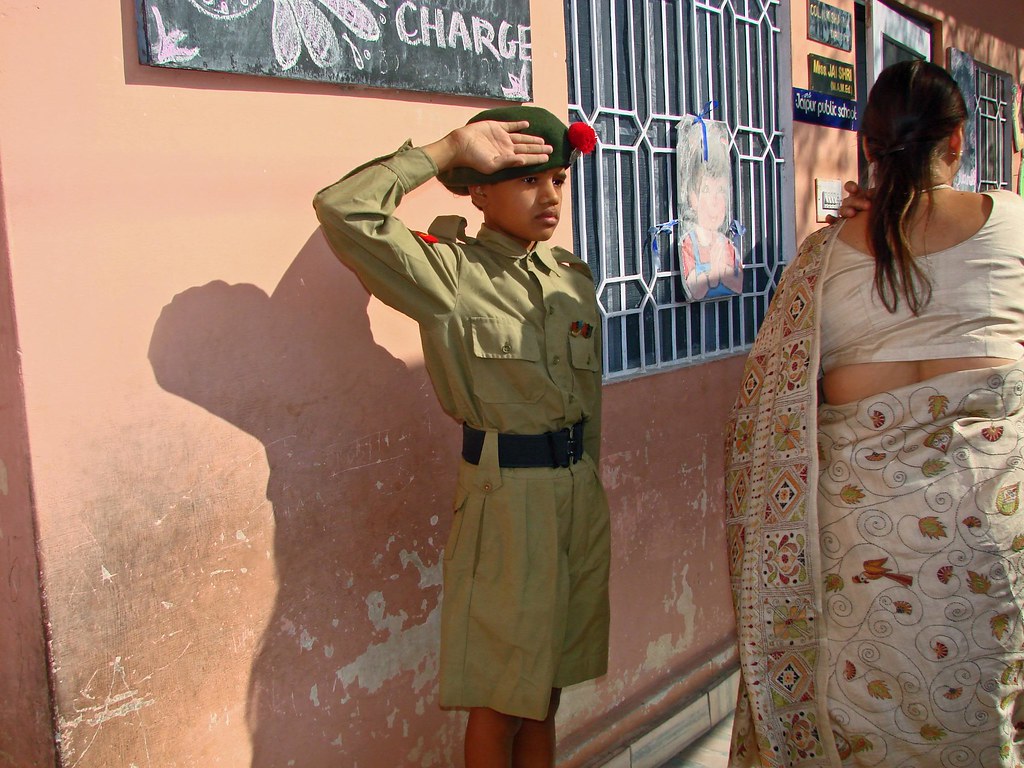 Student saluting us at the entry of Jaipur Oxford Kids World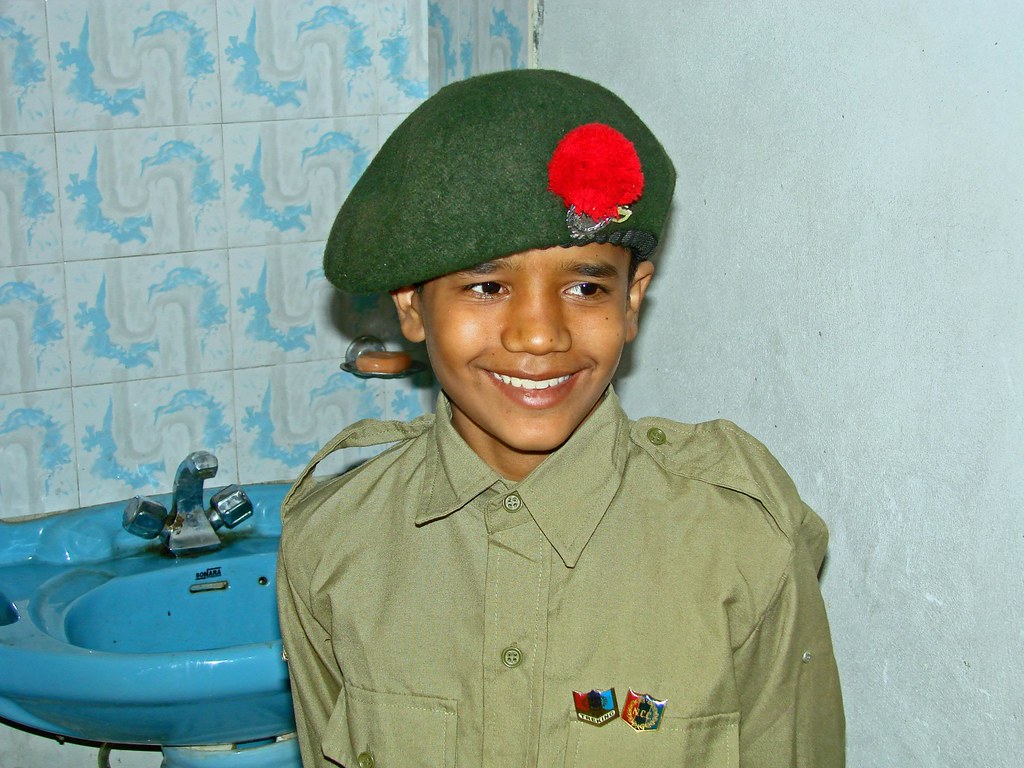 Student of Jaipur Public School
We then changed to Jaipur Oxford Kids World. We felt the excitement of the young students from the moment we entered the building. For them, a great celebration was ahead, performed by some, and watched by all, masterly staged by their teachers and parents. At the door, a student welcomed us with some kind of military watchfulness. He was in a phase of his life, where his interest was focused on all kinds of military celebrations. He received us in a military like uniform with the expression of a soldier in front of Buckingham Palace. We admired him, and he was very happy. Afterwards we saw his gentle smile and admired the prudence of his teachers.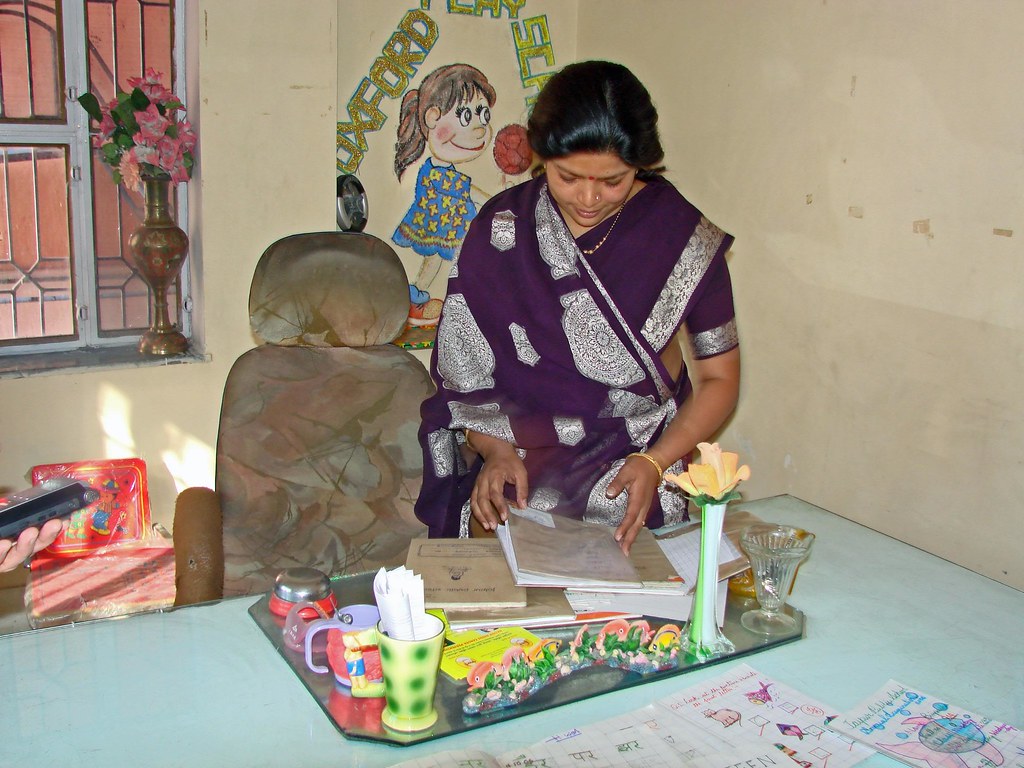 Dr. Jaishree Sidha inspecting little students' booklets of Annual Examination 2006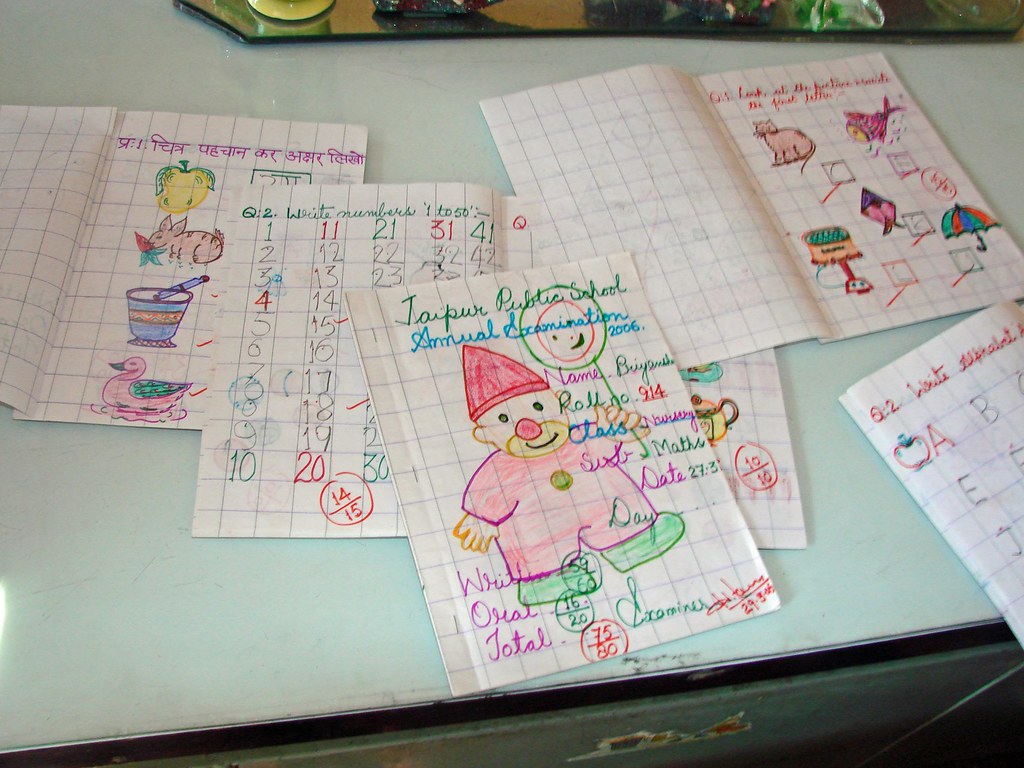 Little students' booklets of Annual Examination 2006
In her office at Jaipur Oxford Kids World, Dr. Jaishree Sidha showed the annual English tests of her junior students to us. Impressively!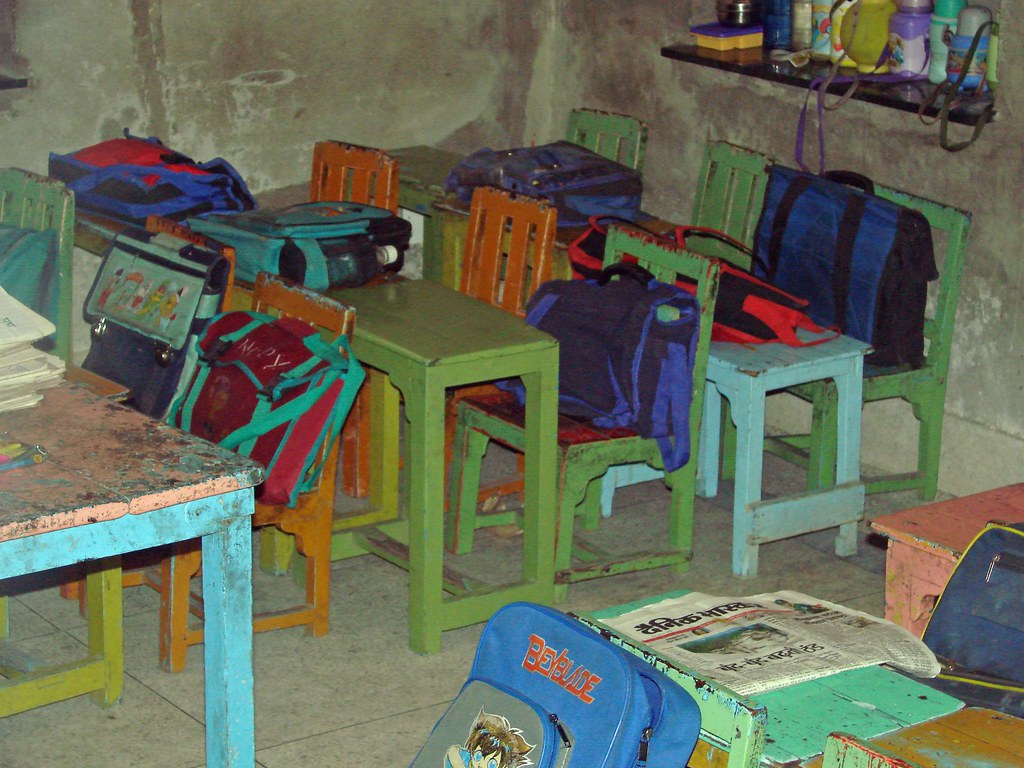 Classroom in Jaipur Oxford Kids World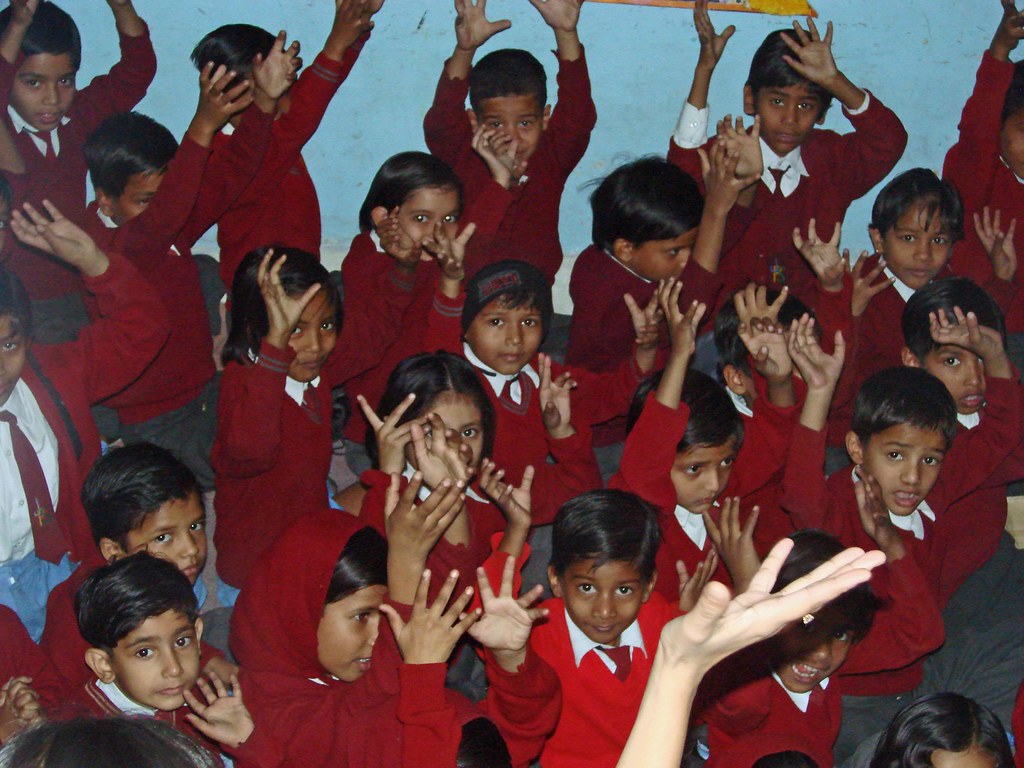 Students of Jaipur Oxford Kids World welcoming us by moving their hands over their heads instead of clapping hands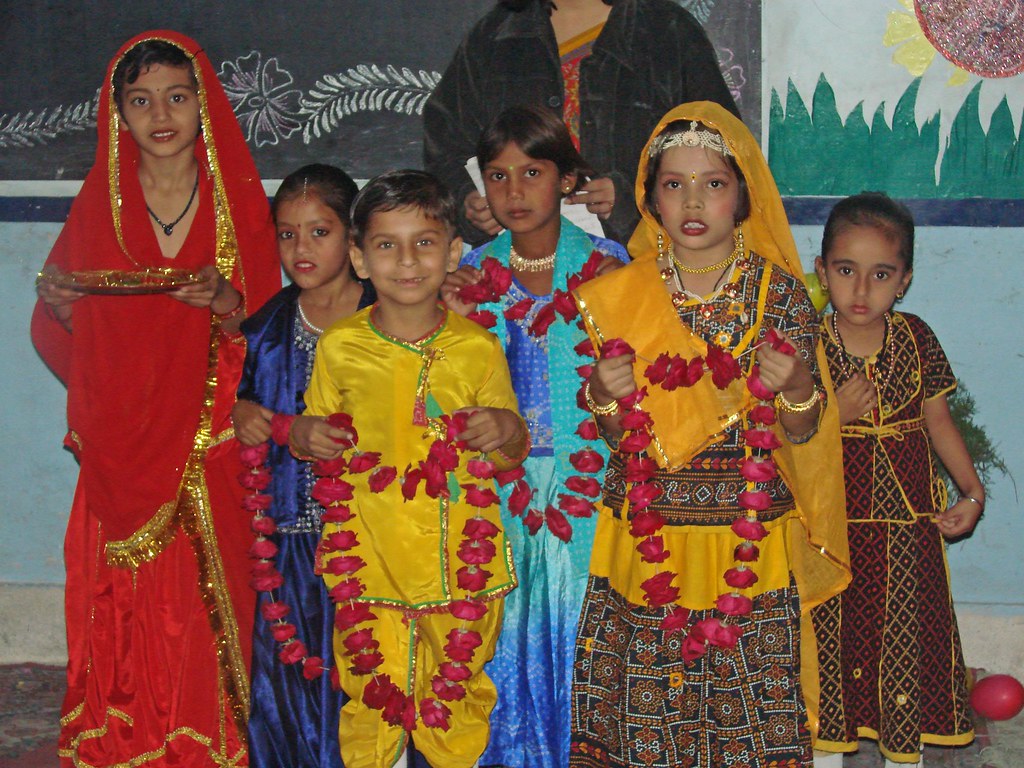 Students of Jaipur Oxford Kids World welcoming us by gifting man made flower garlands to us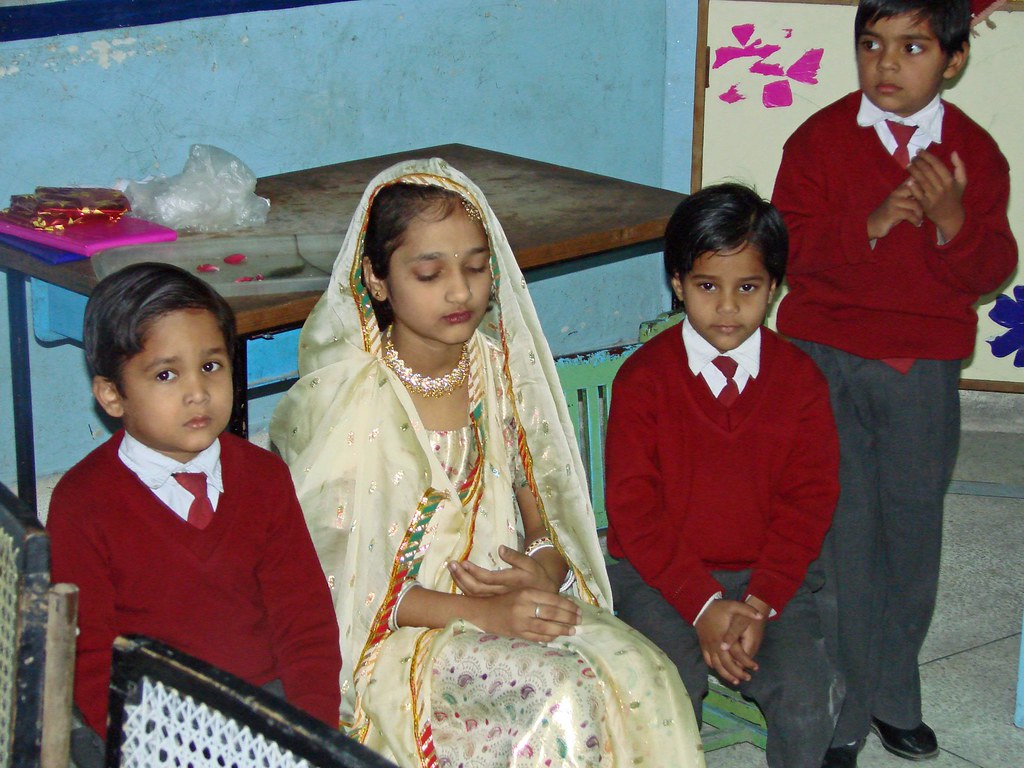 Students of Jaipur Oxford Kids World, girl waiting for showing her dance performance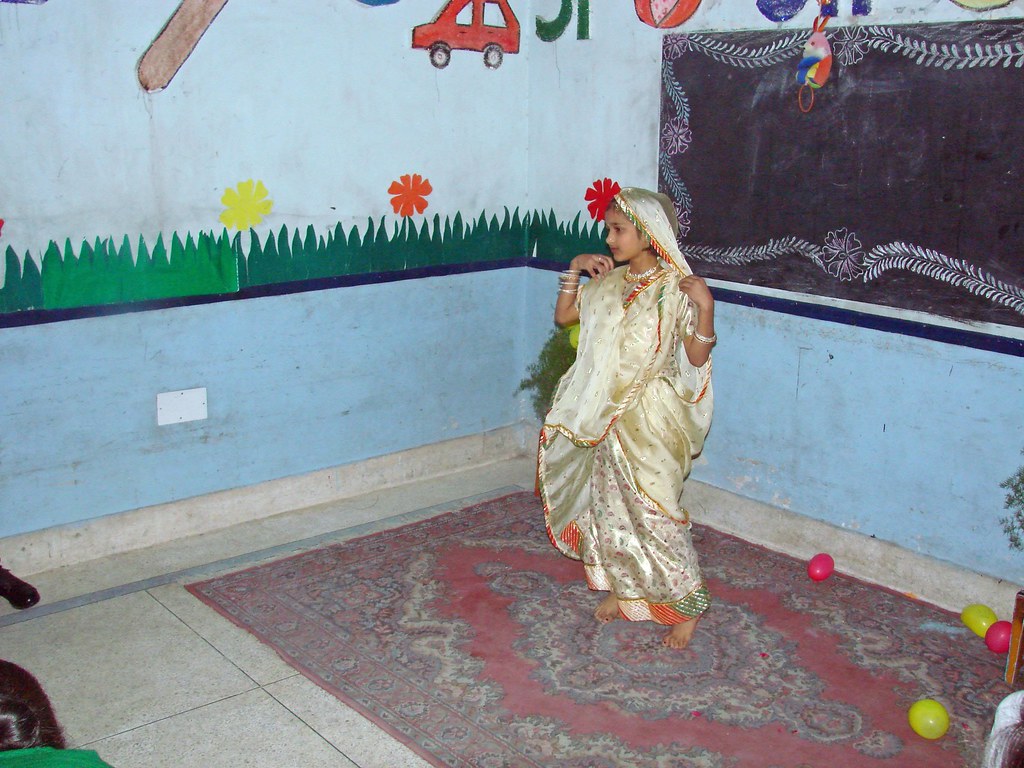 Jaipur Oxford Kids World student showing classical dance performance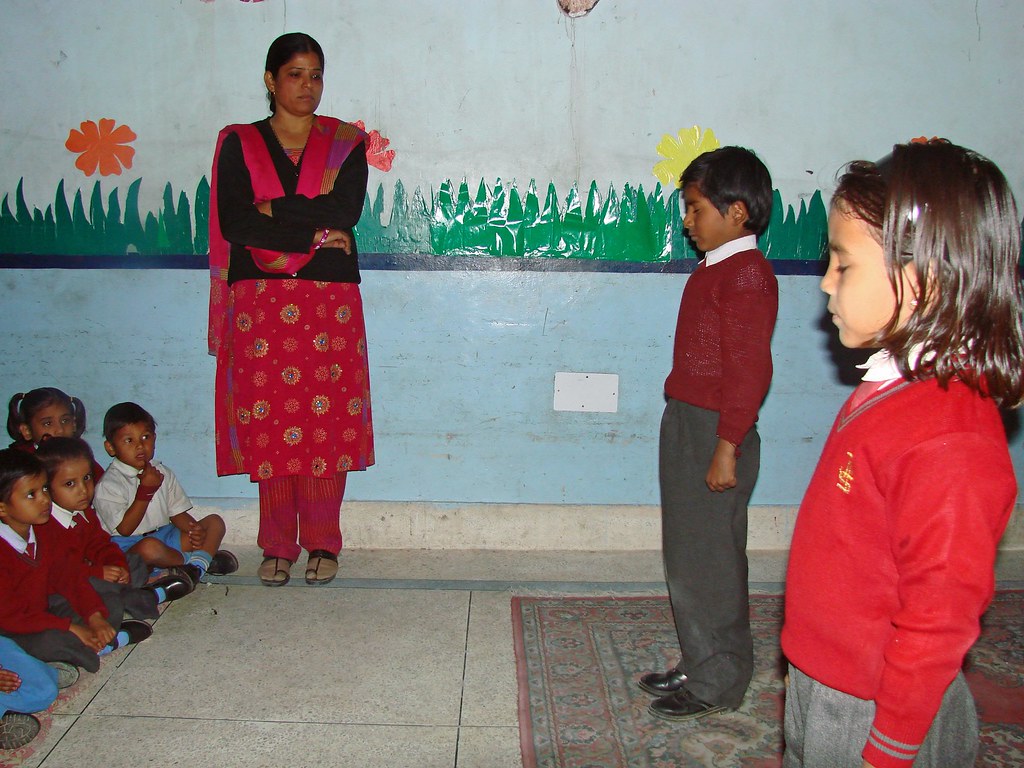 Jaipur Oxford Kids World students showing how to meditate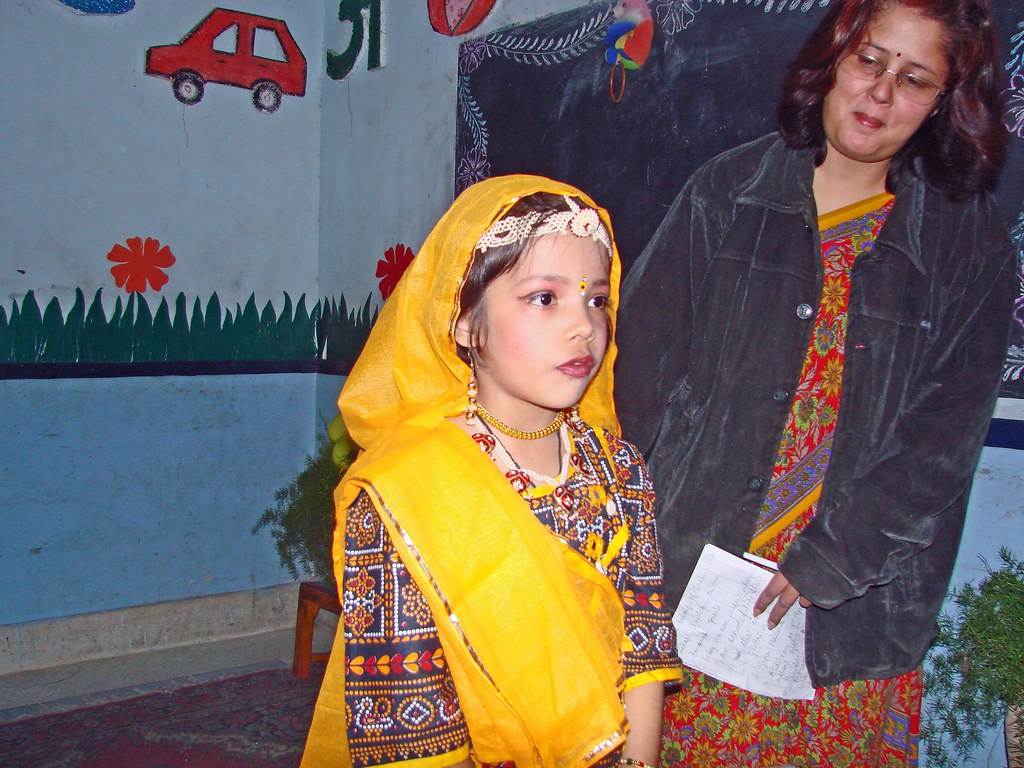 Jaipur Oxford Kids World student in traditional Rajasthani clothes recites Rajasthani poem in Marwari, language spoken in Rajasthan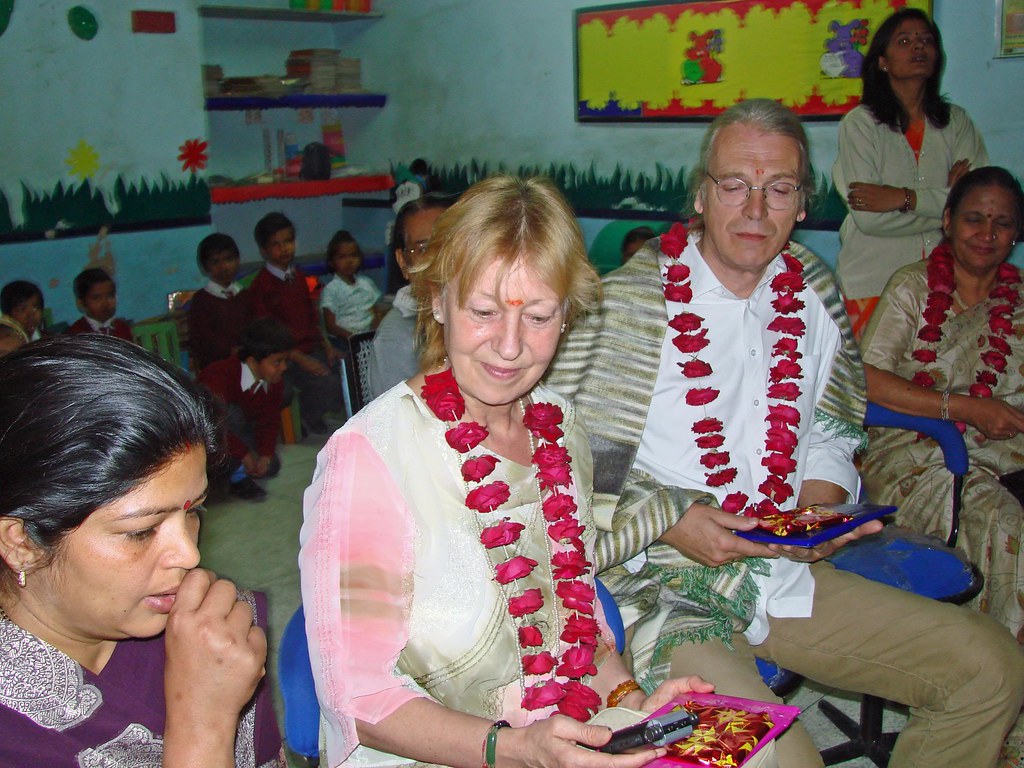 Dr. Jaishree Sidha, Karuna, Aparigraha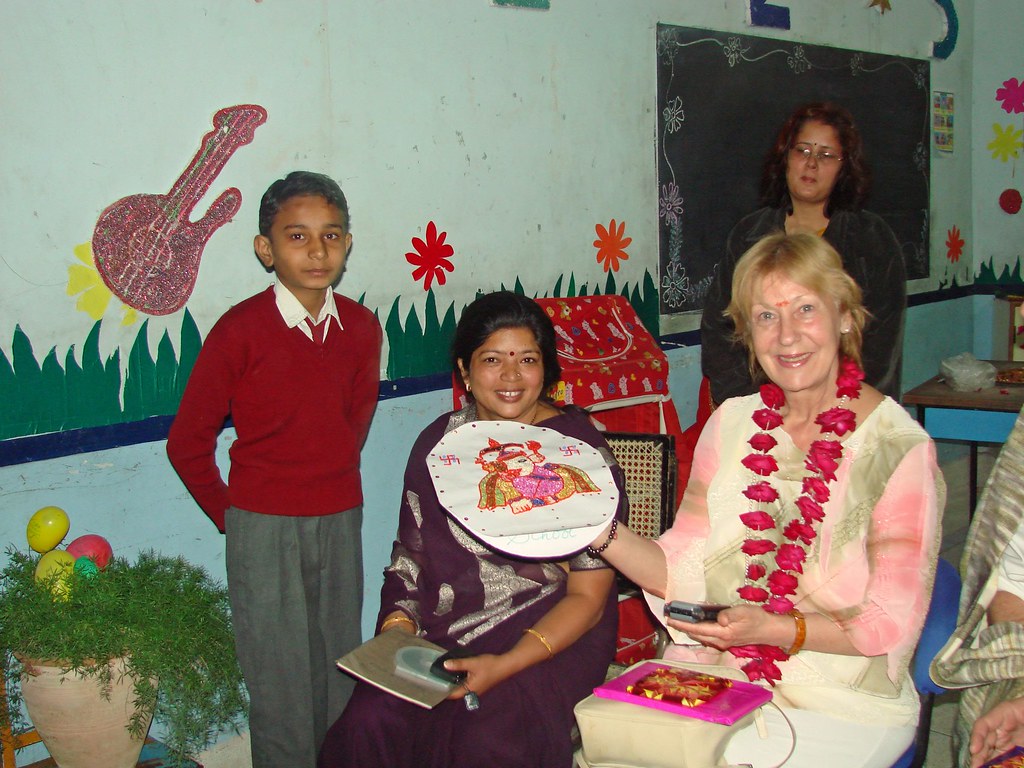 Karuna presenting hand made gift of a student (standing beside Dr. Jaishree Sidha)
We then saw empty classrooms, and then met the 60 junior students downstairs in the big play and function room. They immediately stopped talking and very attentively examined us for some minutes without any utterance. They were obviously too surprised that the announced visitors finally had arrived, and after examination in depth, they expressed their joy by vividly moving their hands in the air, the Jain way of showing acclamation. They now were more than ready for performance, and WHAT performance. Traditional dance, recitation of a poem in Marwari, all done in traditional Rajasthani clothes, songs, and meditation, Yoga exercises, a colourful revue of everything they had chosen to be extraordinary and interesting enough to be shown to their visitors and their buddies. It was so touching, and when the whole audience with the performers and their teachers sung 'We shall overcome', some of us were moved to tears.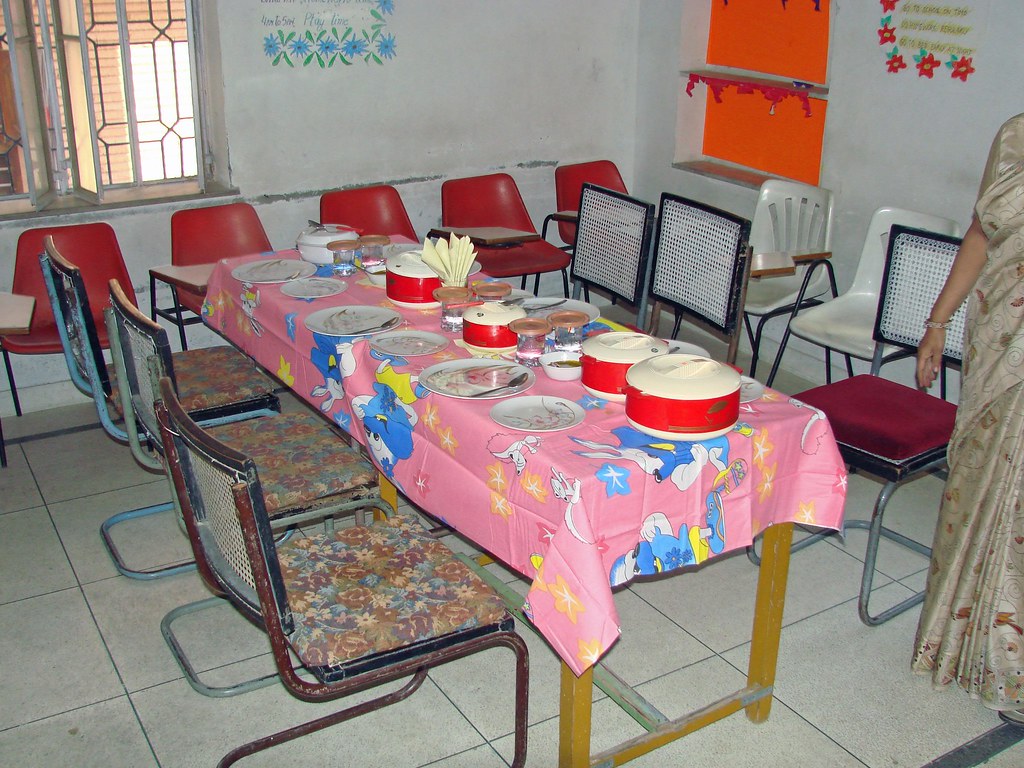 Lunch table cheerfully decorated by teachers of Jaipur Oxford Kids World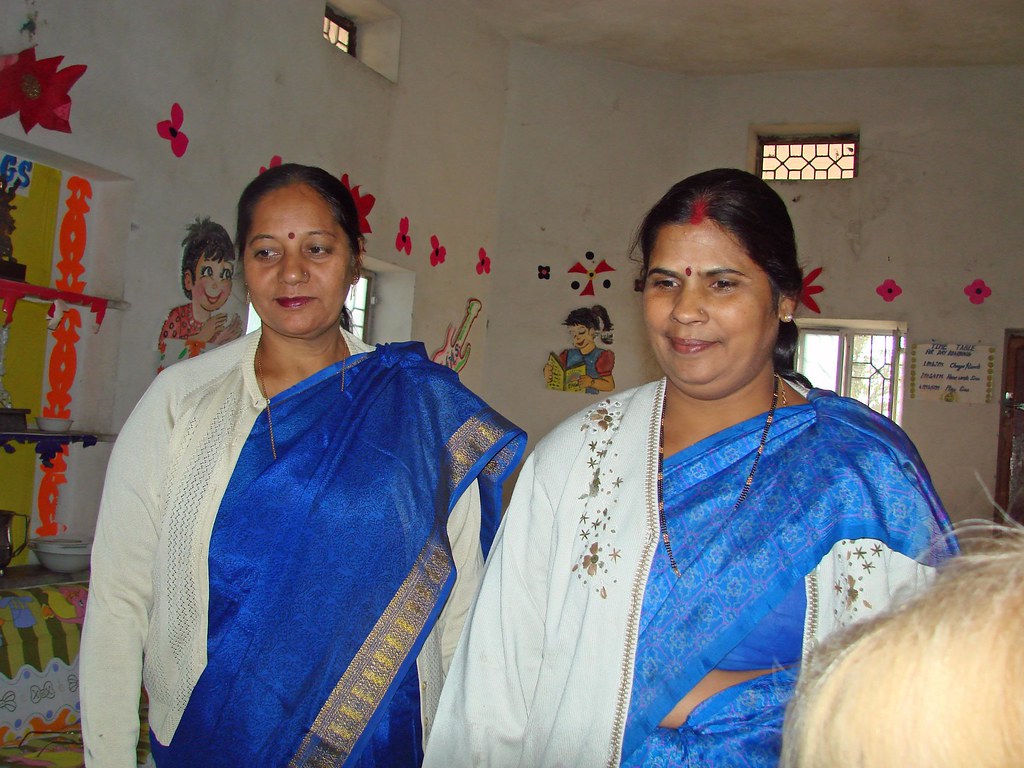 Teachers of Jaipur Oxford Kids World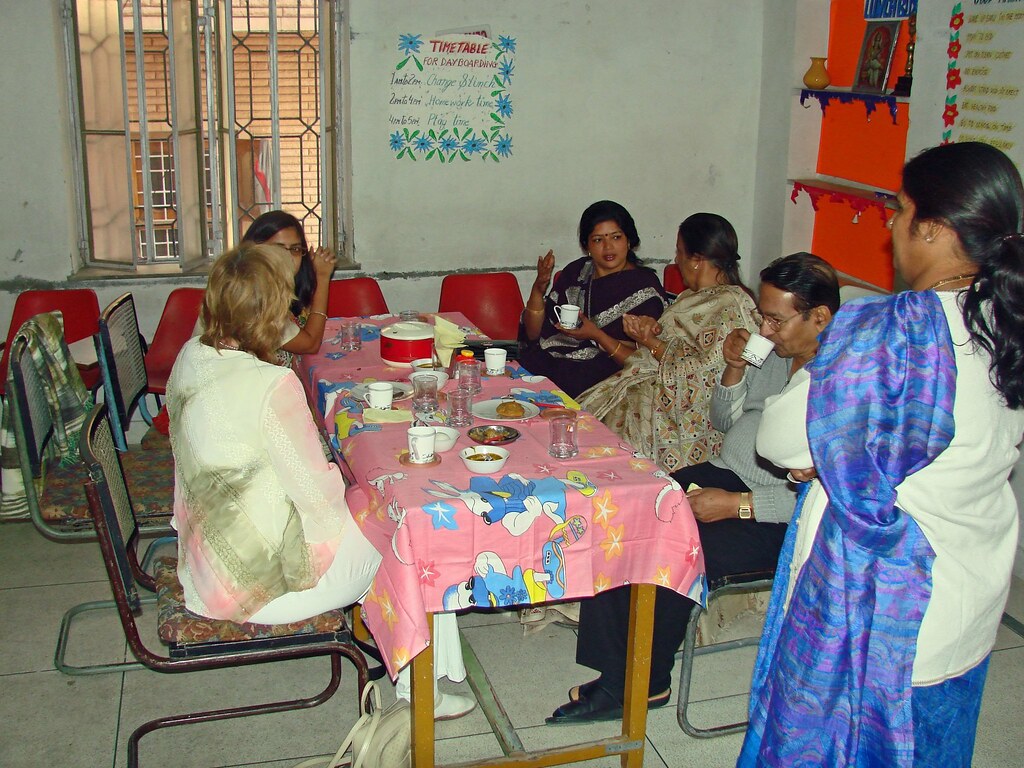 Lunch at Jaipur Oxford Kids World, Karuna, Shivani Bothra, Premji & Balwantji Mehta, Dr. Jaishree Sidha, head of Jaipur Oxford Kids World,
We then were invited to take lunch, which consisted of items homemade by teachers of the institution; every teacher had prepared the dish for which she was renowned! We felt happy, touched, impressed, and full of hope because of these young people and their dedicated educationalists.
Dr. Jaishree Sidha, head of Jaipur Oxford Kids World & Jaipur Public School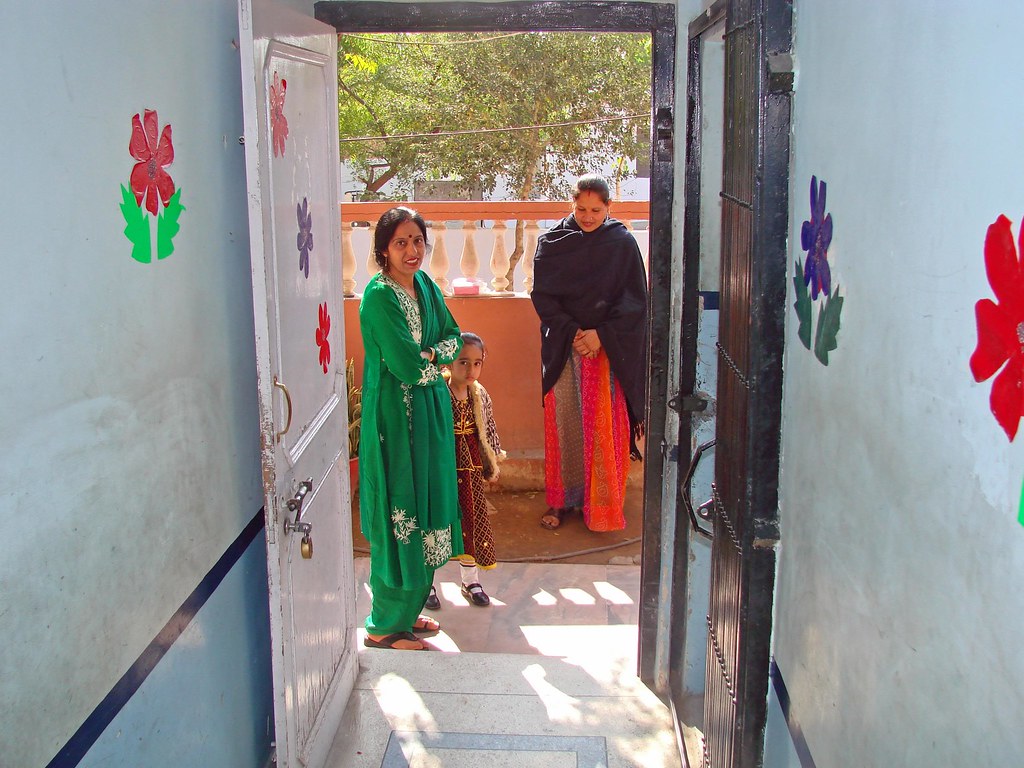 Inside looking out