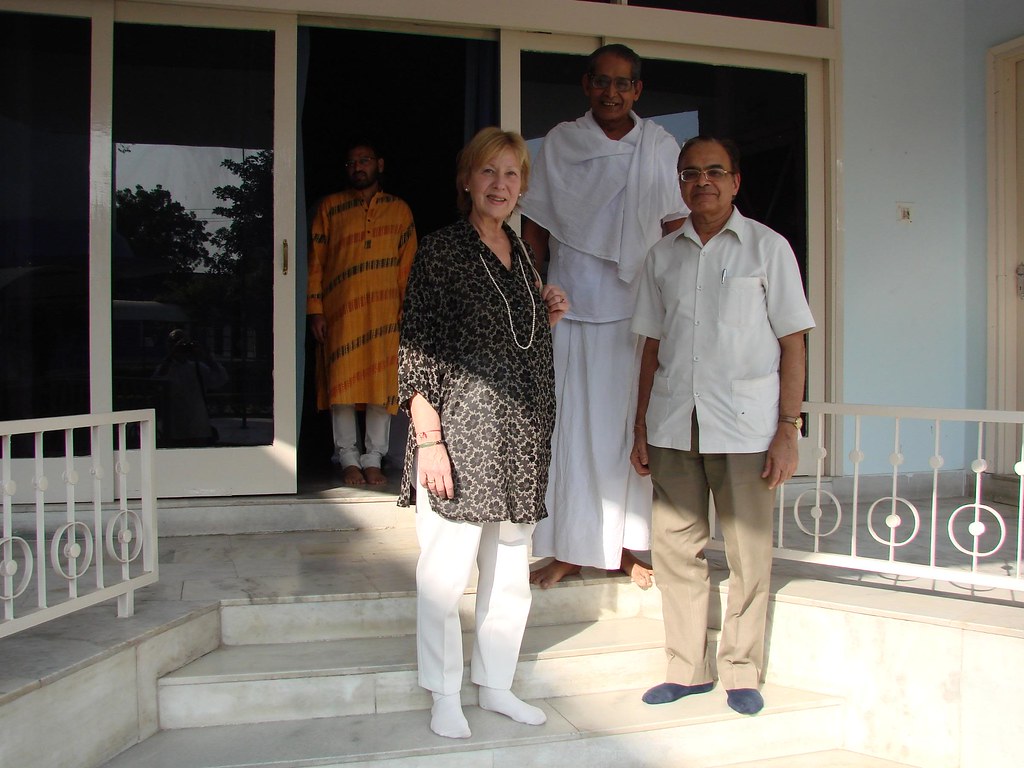 (f.l.) Karuna, Dharmanandji, prof. Manchanda on the stairs to the Kendra's Meditation Hall
15.11.2006
It was our great luck that Dharmanandji had arranged a meeting with Prof. Manchanda just before we were on our way to the train station where we would leave for Kolkata. Swami Dharmanandji and Prof. Manchanda are working together since about 9 years. Prof. Manchanda gives lectures on the aspects of medical science during the camps in ASK. He has become a promoter of yoga, meditation and diet, as according to him these are the keys to change a lifestyle resulting in many diseases of civilisation.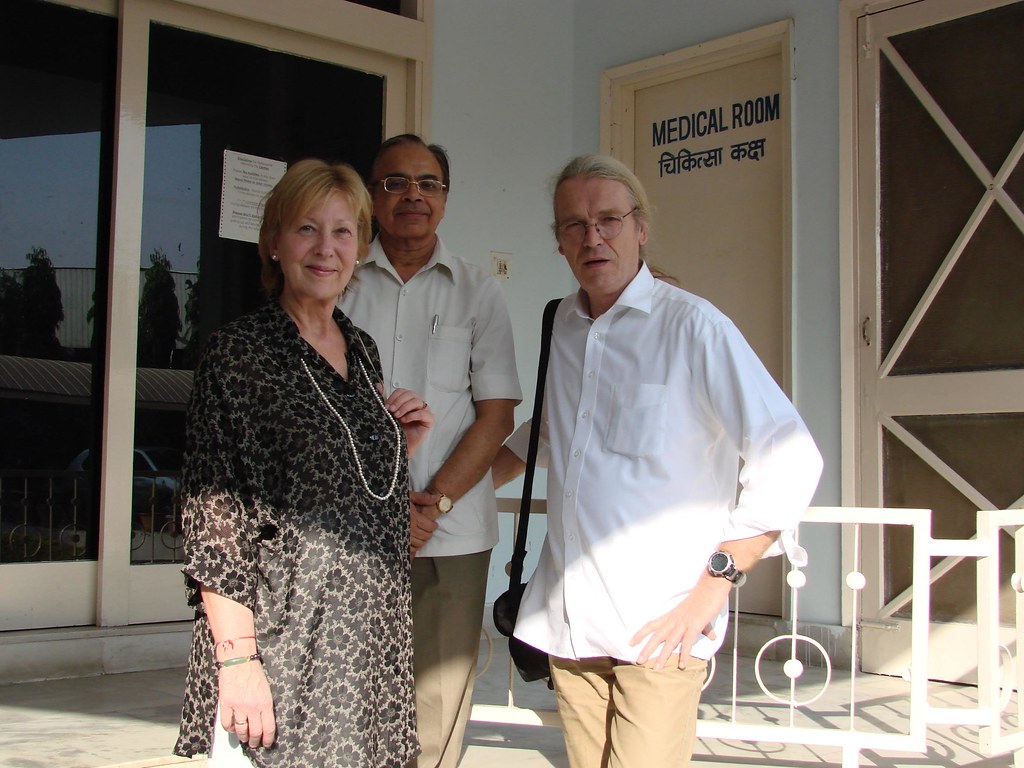 (f.l.) Karuna, prof. Manchanda, Aparigraha in front of the room where heartfrequency and blood pressure are taken
Since his times as a student of medical sciences, he was attracted by those methods influencing the bodily functions with other measures than medication. He was already then well aware of the fact that medication always has some side effects, which may cause a premature death to patients who could have survived if they changed their lifestyle. Unfortunately, his experience is that only 5% of the patients are ready to do so. Nevertheless, he is untiringly advocating and practicing holistic medicine by not giving medication at first hand. "The mind has to be made strong to fight against diseases without medication," he said. Drugs are his last option, except for emergencies. They are the field where the achievements of contemporary medicine are applied to the benefit of the patients.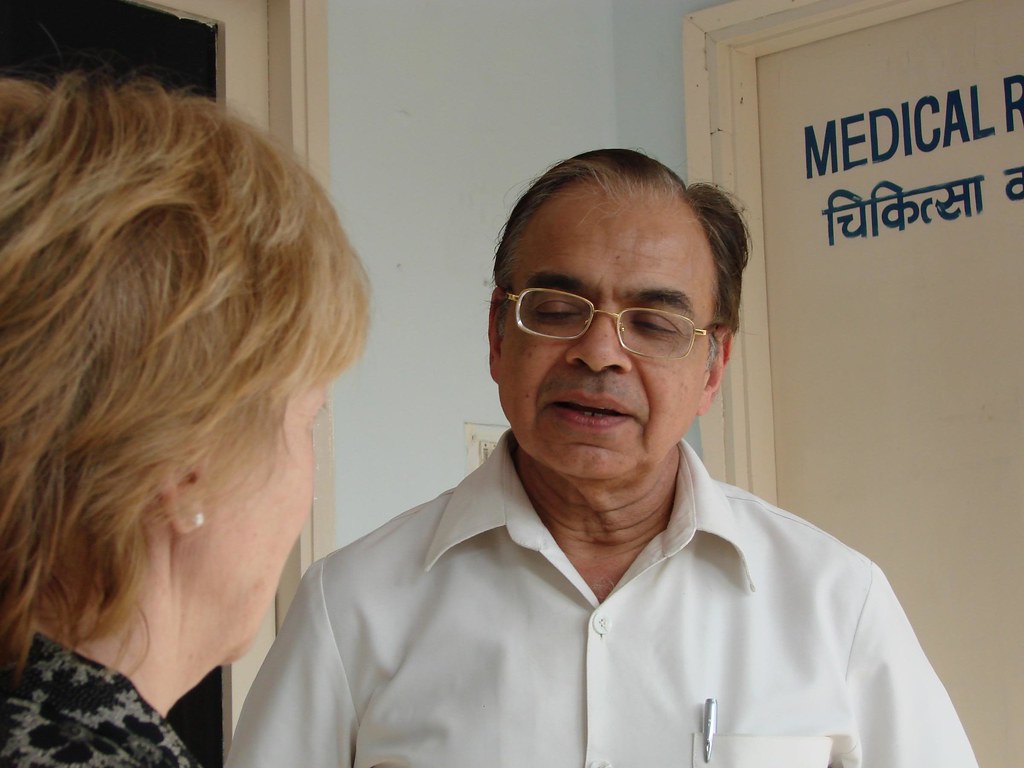 Prof. Manchanda explains to Karuna that only 5% of the patients are ready to change their lifestyle.
Since 3 years, he is member of 'World Academy Of Spiritual Sciences', as fear is the biggest problem of the people, which aggravates, sometimes even causes all kind of disorders. The academy works for the development of spiritual consciousness, and spirituality makes people fearless. He has found evidence for the same in American studies and is in regular correspondence with his American colleagues as well. Several times, he has been invited for lectures to the United States.
In September 2006, the 'World Academy Of Spiritual Sciences' had invited together with Sir Ganga Ram Hospital, where Prof. Manchanda is senior consultant cardiologist, all doctors in Delhi to a free yoga camp. Prof. Manchanda and Swami Dharmanandji had organised and realised this camp.
Prof. Manchanda is a renowned lecturer on how does Yoga prevent heart diseases. He is ready to break the barriers and concentrates his researches on collecting scientific data causing heart diseases, hypertension and diabetes, the leading diseases of civilisation. The data he has collected up to now are scientifically of no relevance, as their number is limited to about 150 up to now. His plan is to inspire 50 Yoga centres all over the world to contribute with their data to scientific evaluation. Even the funds have not to be high, as blood pressure and frequency of heartbeats can be brought about easily at nearly any place in the world.
After he retired from his function as chief cardiologist, he has founded a clinic for lifestyle where he is promoting yoga, meditation and diet as base for healthy living. Yoga and meditation are balancing both nervous systems, the sympathetic and the parasympathetic; diet is supporting the proper functioning of the bodily systems. Meanwhile he himself has become a yoga and meditation teacher, as he knows that his patients want to be instructed in these fields by the same person who convinces them for medical reason to practice. He was and is practising what he is preaching, he committed smilingly.
Once, an anxious mother approached him worrying about the many cigarettes her son was smoking daily. She asked him to do anything to prevent him from smoking. He agreed. After four weeks they met again, and the mother asked, "Why did it take 3 weeks to talk to my son?" His reply came immediately, "It took me 3 weeks to refrain myself from smoking!" He had convinced the young man through his own experiences, as he had reported to him that it is hard, but possible to stop smoking.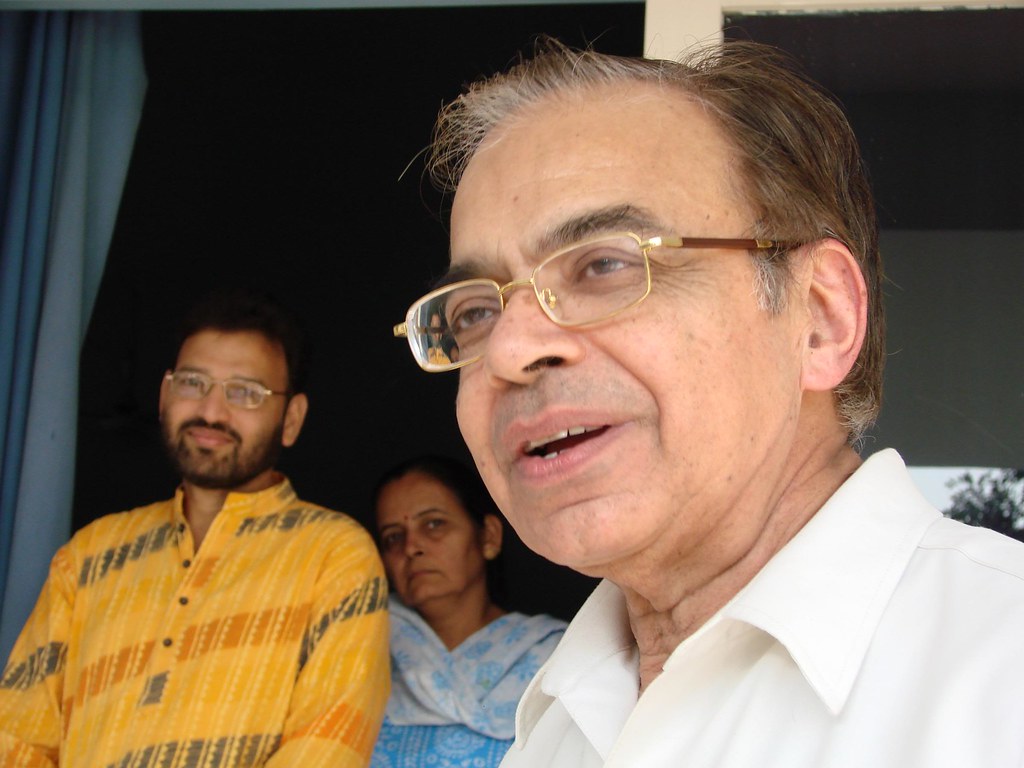 People are waiting for his lecture
We could have talked the whole afternoon with Prof. Manchanda, but he had to hurry for his lecture and we for the train to Kolkata.