On 3rd September 2006, the first Sunday of the month lecture of Kolkata Terapanth Maha Sabha took place at Mahasabha's Library Hall. It was on Jain arts, 'Jaina Art And Visual Transformation Of Tradition And Philosophy'. For this lecture, professor M. N. Tiwari from Varanasi Hindu University had been invited to Kolkatta. Prof. Tiwari was head of the Art Department of Varanasi's renowned Hindu University, which was founded after Indian independence by Dr. Madanmoham Malviya.
After chanting Namokar Mantra, Mahasabha president Sri Rajkaran Sirohia welcomed the audience and introduced the lecture. Prof. M.N Tiwari said in is speech that we can understand Jain principals and the social situation of that particular time through Jain arts, as Jain idols are uniting super qualities of great men with arts. For getting inspiration from an artist's piece, he continued, it is necessary to understand what the artist really wanted to bring near to us. During his speech, he proofed his words by showing many pictures of paintings while focussing the audience on their historic value.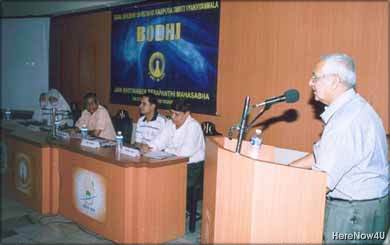 Prof. M. N. Tiwari giving lecture (r), f. l. r.: Sadhvishrees Kundan Yashaji, Dr. Yogshem Prabhaji, Sri Rajkaran Sirohia, Sri Tarun Sethia
Sadhvi Dr. Yogkshem Prabhaji gave blessings to all and thanked prof. Tiwari for throwing light on Jain arts with full command. Sri Tarun Sethia, general secretary of Mahasabha, also addressed his thanks to the lecturer, and Sri Surendra Borad compered the function.