Last week, on 5th November 2005, a U.N. model debate on world peace took place at Terapanth Bhawan (centre) in Hyderabad, Andhra Pradesh. The main topic of the program was the contribution of every country to world peace. Rahul Shyamsukha, K12 student in commerce got the inspiration for a U.N. model debate on world peace from his Jain background as follower of Ahimsa and his school in Hyderabad. He talked on his idea of a U.N. model debate on world peace to Muni Sumermal ji (Ladnun) and the Munijis of his group who are in Hyderabad for their Chaturmas. All of them considered this appropriate to realise a spiritual aim in a world parliament like organisation as UNO, according to their view a perfect platform to ensure world peace. The members of Terapanth youth organisation Kishor Mandal, boys of 15 to 21 years, and of Kanya Mandal, girls of 15 to 21 years, realised the ideal of UNO as world peace tribunal where members are judged according to the quality their politics are adding to world peace. A business school lecturer and a company manager supported them and took over the function of judges.
The following report of Rahul Shyamsukha, Hyderabad, reached us through our Kolkatta correspondent, Sushil Kumar Bafana:
Under the guidance of his holiness Acharya Mahaprajna's renowned saint Munishree Sumermalji (Ladnun), and the four Munishrees of his group, a U.N. model session was organised at Terapanth Bhavan, Himayatnagar, Hyderabad. The program continued for 4 hours under the participation of 12 teams of youths. Every team was representing one country, i.e. USA, UK, Russia, France, China, India, Pakistan, Japan, Iraq, South Korea, Australia, and Sri Lanka. The judges were two highly qualified persons who were experienced also in countries' affairs. One of the judges is a business school lecturer, the other a company manager.
3 successive sessions were organised; the first one was the speech round. All delegations delivered a speech on behalf of their country. The common thing in all speeches was the commitment to peace. Then all delegations debated on the speeches in the 2nd and 3rd session.
After this, Muni Udit Kumar ji addressed the program and mentioned that peace is an essential requirement today, and that all countries should cooperate to ensure world peace.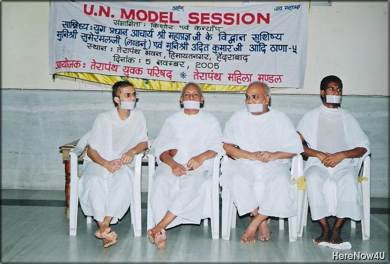 These four Munijis of Munishree Sumermal's group followed the model debate with great interest: (from left) Muni Prasham Kumar ji, Muni Vijay Kumar ji, Muni Udit Kumar ji, Muni Anant Kumar ji.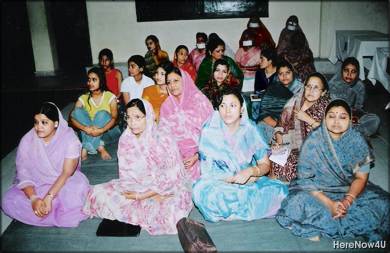 Awareness was created for the importance of the topic among these ladies.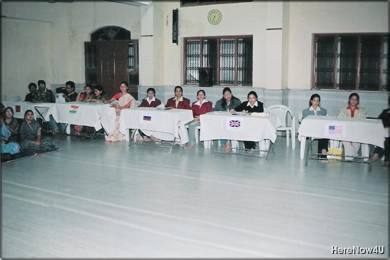 The 'Japanese' (left, Rahul Shyamsukha is seen in the middle, dressed in red)and the 'Arabian' team (middle), and four more teams were embodied by the boys.
The Indian, American, Russian, Australien and two more teams were embodied by the girls.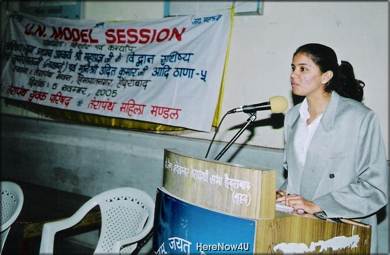 Jayanti Golchha at the lectern.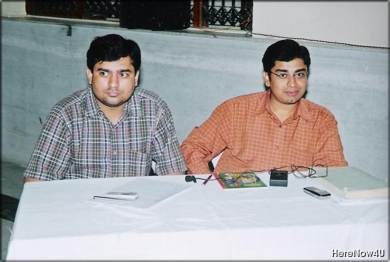 The two judges: Subodh Singh (left), companie manager, and Shankar Murlidharan, business school lecturer.