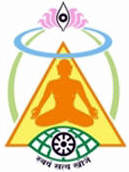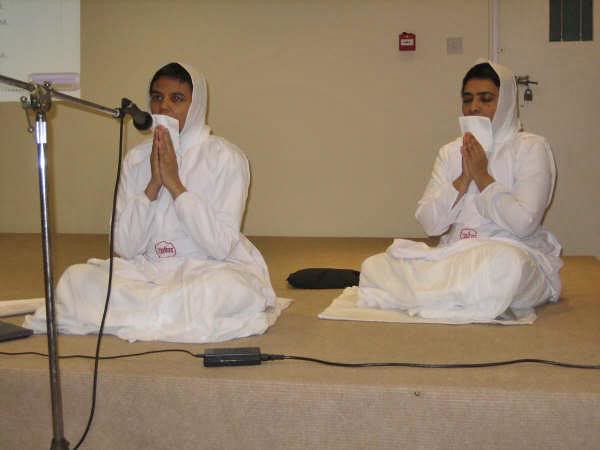 29.-30.-31. December 206 at JVB London. Samanijis reciting "vows" of Preksha Meditation
Entertaining, enlightening and exploring! These are the words which sum up my experience at the second Preksha Meditation Camp held at Jain Vishva Bharati Centre, London, between 29 and 31 December 2006. Over 80 participants of varying ages attended the camp. Samani Prasanna Pragya and Samani Sambodh Pragya, being their first major function since taking over from Samani Pratibha Pragya and Samani Punya Pragya in summer 2006, conducted it.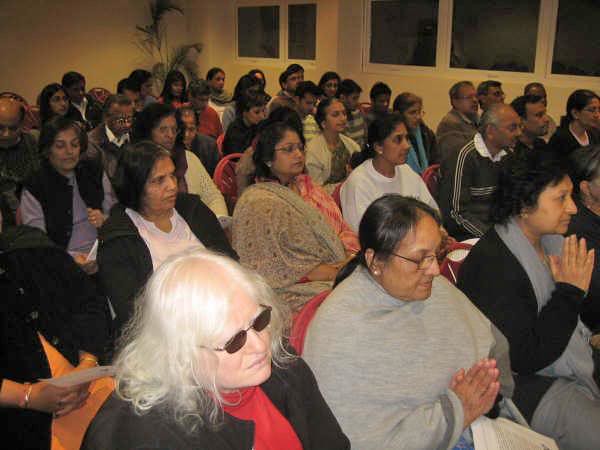 Participants taking "vows" of Preksha Meditation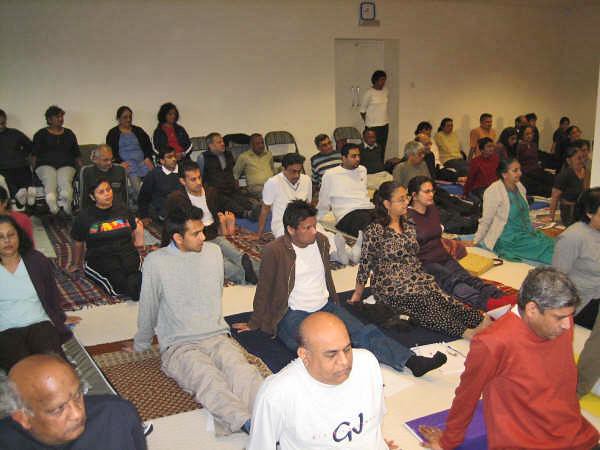 Morning yoga exercise class
On the evening of the first day, the participants after completing registration formalities were introduced by Samani Prasanna Pragyaji to the principles they had to practise for the next two days and eventually for the rest of their lives. These principles were:
Mindfulness
Non-reaction
Friendliness
Moderate eating
Moderate speaking
Initially, these principles appeared to be lofty ideals of Jainism but as time passed, the practical meaning behind them became clearer.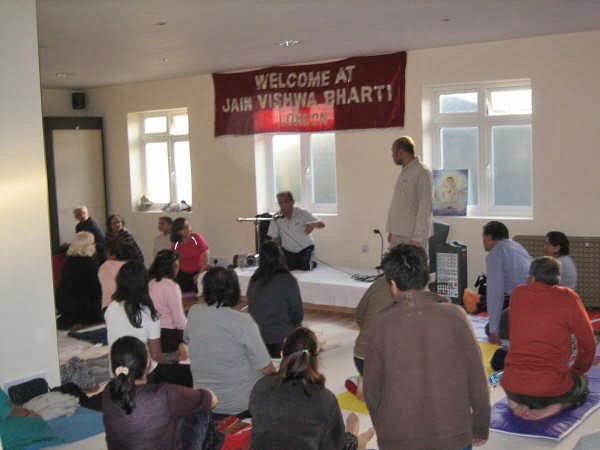 Omji Chauhan (sitting) with Ashok Gudka (standing) conducting exercise class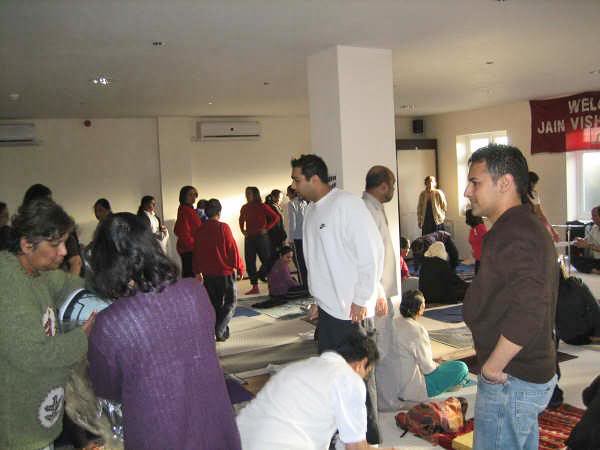 Paras Shah (white top) & Sagar Malde (brown top/jeans)
These principles are based on the notion of tolerance – an essential concept that human beings should follow if they wish to achieve spiritual, emotional and mental development on a long-term basis. The participants were shown various methods on how to reach this state of mind.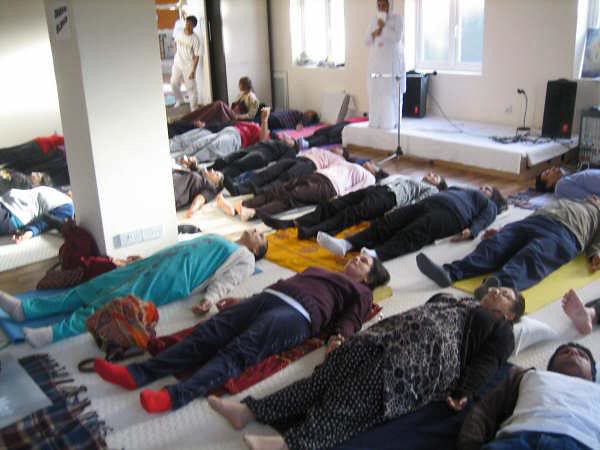 Relaxation meditation conducted by Samani Sambodh Pragya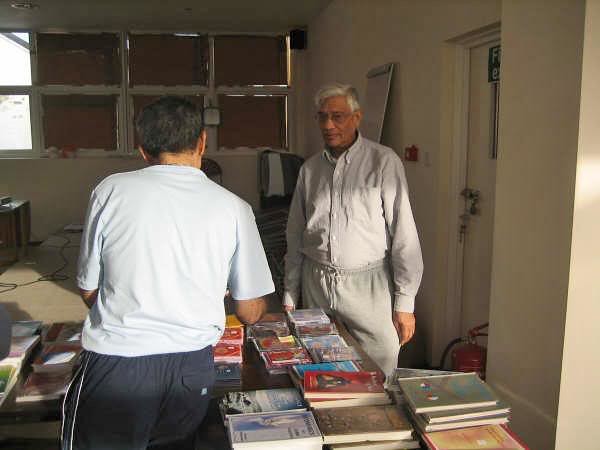 Sobhag Shah in charge of book & CD stall
One such approach was yoga and breathing exercises. The yogi Om Chauhanji, at the start of each full day of the camp, demonstrated various yoga postures and breathing exercises. The exercises made the participants feel both fully refreshed and focused. Omji also explained the mental and physical benefits of carrying out such exercises like increased flow of energy as a result of improved breathing and elimination of snoring, which some of us still suffered from when we fell asleep during the relaxation meditation!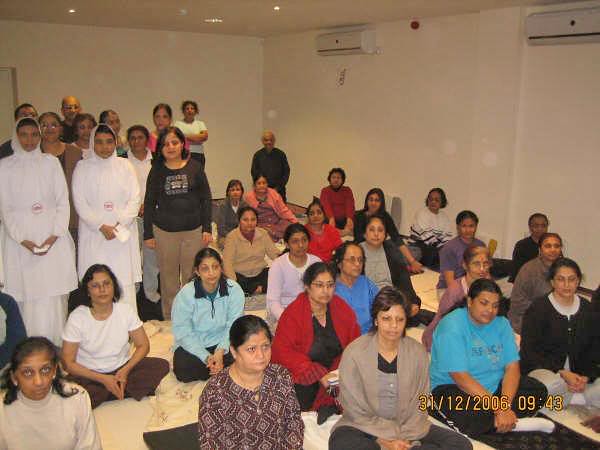 Samnijis with some of the participants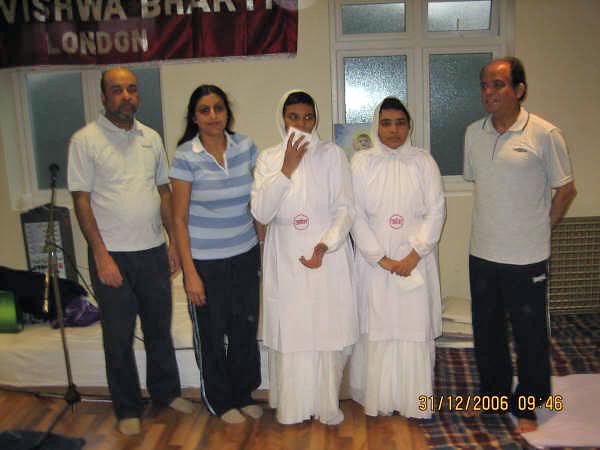 Ashok Gudka, Smt Kamlesh Chauhan Samanijis, Om Chauhan
The relaxation meditation led by Samani Sambodhji proved to be an ecstasy! This meditation involved taking an internal trip in our bodies by relaxing the muscles from the tip of our toes to the top of our heads. The meditation lasted for 30 minutes but I felt as if I was asleep for about six hours, although the idea is not to go to sleep but simply "float" when we are detaching ourselves from the body through the internal journey. This was made possible by Samniji Sambodh Pragya's ability to make the participants feel at ease. After the exercise, many of us felt revitalised. This meditation technique is a useful practice given that we live in an age where time is a precious commodity and we need to muster maximum energy in order to accomplish as much as possible in a day.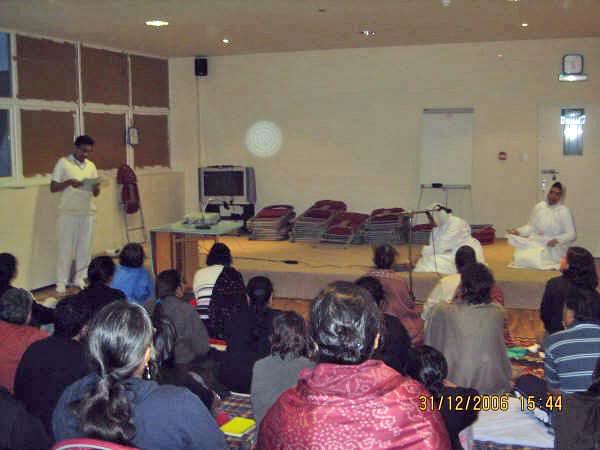 Dinesh Shah conducting closing ceremony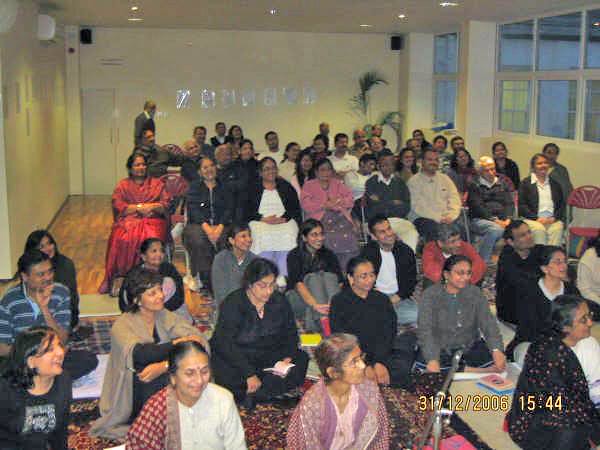 Audience responding to Dinesh Shah's remark!
The lecture on art of eating by Samani Prasanna Pragyaji was explained very well. She gave us practical tips on how to eat properly and illustrated the benefits of healthy eating and vegetarian diet from a non-religious point of view. The key messages which emerged, can be connected to the principles introduced on the first day, were to eat mindfully, silently, slowly and for the purpose of gaining energy rather than seeking pleasure.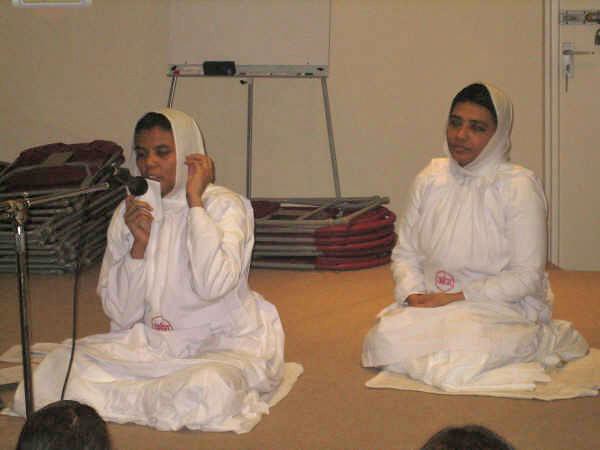 Samani Prasanna Pragya addressing closing ceremony
The lecture on tolerance, which was followed by meditation, was another important building block introduced by the Samanijis. They clearly explained the importance of developing the power of tolerance and the techniques needed to achieve it. The Samanijis said by restraining our anger in a given situation, we are controlling ourselves for our own mental and physical benefits. Anger affect external features of our body and the most damaging aspect of it is that one second of anger destroys a neuron cell, which is irreplaceable. These cells carry information to the brain from our five senses.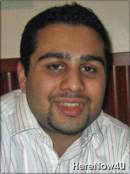 By the end of the camp, I felt more focused and energised. It was a completely different feeling from the one I had before the camp started. Others who attended the camp praised the Samanijis for showing how to plant the seeds of spiritual, emotional and mental development shared this feeling.
Samani Prasanna Pragyaji and Samani Sambodh Pragyaji delivered their lectures in very good English with simple explanations of what we were doing and why we were doing. This made the camp a beneficial experience for all the participants. Equally, it was important that the Samanijis were able to demonstrate the scientific rationale behind the practice of Preksha Meditation. This approach was a refreshing experience from the ones, which are based on the dogmas of religious beliefs.
The Samanijis were supported by excellent group of organisers and volunteers who had also helped to make the camp an exceptional experience. The organisation was excellent and it was done at no costs to the participants.
Irrespective of what stage we are in our lives, we have been given a wonderful New Year gift, which we can of lasting benefit. I feel privileged to have participated in this camp and it is my responsibility to practise the principles espoused by the Samanjis for the rest of my life.