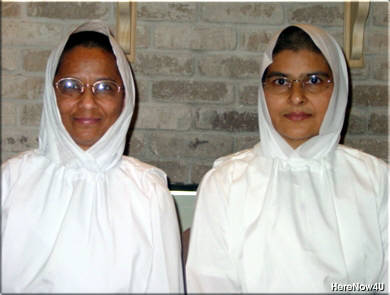 On Thursday, 17th November 2005, Samanijis Sanmati (right) & Jayant Pragya (left)attended an Interfaith Meeting, organised by The Rothko Chapel Houston, Texas. Baha'i, Buddhist, Christian, Hindu, Jain, Jewish, Muslim, Sikh, Zoroastrian representatives came together to present their prayers and reflections on the subject 'Reconciliation between nations', which attracted an audience of about 50 people from all walks of life.
Two people from every religion were there, one of them spoke a prayer, and the other gave reflections on the topic. Samani Jayant Pragya spoke the Namokar Mantra, and Samani Sanmati Pragya presented Jain reflections on the subject. From 8 religions, lay followers represented their faith; the Samanijis were the only nuns.

Reconciliation Speech by Samani Sanmati Pragya
Once I have read a joke:
Some conference was going on, and American, Russian, and Arabian representatives attended it. A world map was laid in front of them, and they were showing their distress to each other.
Suddenly God appeared before them and wanted to fulfil their desires. He first asked the Arab for his desire. The Arabs responded that they did not want to see the USA on the world map any more.
Then the Americans responded, "Almighty! There is no need of Arabs on this planet, when we want to live a peaceful life."
When the Russians were asked at last to present their desires, they said, "O God! We do not have any special desire in our favour; we are not greedy and selfish. We just request you to fulfil the desires of the Americans and the Arabs at this instant."
This joke discloses a truth on the intentions of those nations that are involved in violence at present. Violence and war have never brought about peace, their negative impact lasts for many centuries.
Jainism teaches since centuries that only the practice of Ahimsa or non-violence can lead us to a peaceful world. According to Jainism, violence should be avoided even in extreme circumstances. In situations under provocation, when violence is used for self-defence, one should not forget that the use of violence for self-defence will also have effects on oneself, one should be prepared to face.
It is easy to preach practice of non-violence, but not easy to put non-violence into practice. To actually practice it, requires a lot of courage, self-discipline, and perseverance, built on clear consciousness of non-violence. Jainism teaches respect of freedom, from every individual to nations, and not to develop feelings of jealousy and animosity by seeing prosperities and opportunities of other nations. It advises to develop the own nation without hurting any other countries' interest. All this is the message of Ahimsa, which can be understood as the philosophy of non-violence.
One of the disciplines of thinking developed by Lord Mahavira, which helps in the practice of non-violence, is called Anekantvad. In its simplistic form, it is a doctrine of many viewpoints; in its more general form, it is the theory of seeing reality in its entirety. It lets one see the judgment form the view of the other side. It allows looking at a part as part, and not as a whole, while developing a non-absolute perspective. It trains one to realize that reality can be expressed in seemingly opposite views. During reconciliation, it opens the mind to many possibilities, and even more important is, to not deny a possibility that is fair to the opponent. Respect, appreciation, tolerance, and self-restraint, all these are the components of Ahimsa. The methodology of multiple perspectives presents a simple way to practice it.
The courageous and the wise like Mahatma Gandhi and Martin Luther King who understood and practiced it, clearly saw the positive results. If we learn how to practice non-violence, the world nations will also find possibilities to co-exist with seemingly opposite viewpoints, leading us towards reconciliation and peaceful existence. Lord Mahavira said, "Ahimsa Savvabhuya Khemankari", that means, Ahimsa (non-violence) is protector. It always protects our present lives and the eternal existence.
We bid you peace.