JAINA Convention 2007
Federation of Jain Associations In North America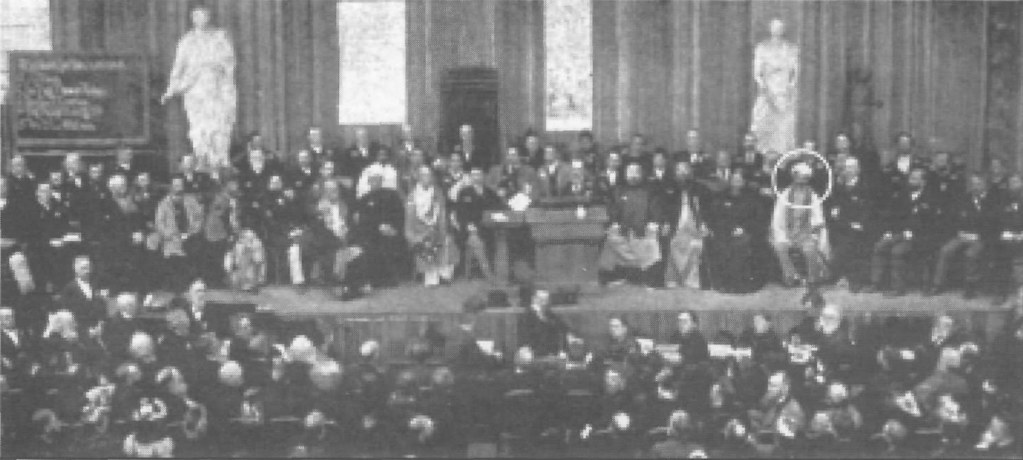 Virchand Raghavji Gandhi, An Emissary To The West
Authors , Pravin C. Shah, Mahesh Gandhi and Raksha Shah are members of a committee for issue of a postal stamp in India in memory of Virchand Raghavji Gandhi. They recommend JAINA member-centres to organize "Remembering Virchand" program during August 7 to 25, locally in a be fitting manner.
India is the birthplace of many saints and several religions and its cultural diversity mosaic has established an image in the history as a great nation. These holy sages promoted their respective philosophies and congregations to enrich the heritage of the region. However, few spoke for "India" and very few went abroad to introduce or make others aware about its rich past history. Virchandbhai was a great exponent of Indian culture, a philosopher, a reformer, a Jain scholar and a patriot who made the country proud by revealing the true nature of religion, love, compassion, tolerance and Ahimsa (non-violence). He was the one who promoted Indian philosophies including Jainism in the Western world.
VRG was born on August 25, 1 864 in Mahuva, Gujarat, India. He did his schooling, securing first place in matriculation examination from Bhavnagar, Gujarat. While still a student, his parents got him married at the age of 1 6 and had one son named Mohanlal. He completed Bachelor of Arts with honors in 1884 from Bombay and got the honour of being the first Jain to graduate. In 1 885, he joined as a law articled clerk in a solicitor's firm and became Barrister-at-law from London, England. The polyglot had good command over 14 languages including Prakrit, Sanskrit, Hindi, English and French besides his own mother tongue, Gujarati.
VRG had studied Vedanta Philosophy, Buddhism, Christianity, Western Philosophy and made comparative study of various philosophies, which equipped him for talks on various subjects with confidence. He had read western scholars on eastern philosophies that enabled him to present his views and talks on many subjects. He had a clear vision, unbiased approach and clarity in explanation. He corrected the false, twisted and perverse impression of India as being the land of Maharajahs, tigers, cobras and magicians. He defended Indian culture, Hindu religion under unjust criticism in the Parliament of World Religions and elsewhere.
Since becoming the founder secretary of the Jain Association of India (JAI) in 1 885, VRG actively worked for social and cultural reforms. At that time the Jain community was having problems with government agencies at local, state and national administrative levels that he resolved successfully. In Palitana, in Gujarat, theThakore (Collector) had levied a head tax on pilgrims visiting Shatrunjay Tirth. VRG made strenuous efforts to alleviate this hardship and brought a satisfactory settlement. Anandji Kalayanji Pedhi of Ahmedabad agreed to pay annually Rs. 15,000 for forty years to the Thakore and the tax was abolished. Makhshiji Tirth, another pilgrimage hill dispute was also brought to a satisfactory end by him in 1 887.
Sametshikharji, the hill stands tallest in its physical attributes as well as in its Jain sacred spiritualism, because of the fact that this sacred hill in Eastern India, where 20 out of 24 Tirthankars (Jinas) attained salvation. Its sacredness is spared and spread even to the unruly animals that dwell there seemingly adhering to the Jain principle, ahinsa, being non-cruel to each other. The hill being what it is to the adhering Jains and the animals live there with peace was disturbed in late 1 890's by an intrusion. An Englishman had obtained a concession from the Raja (King) of Palgunje to use the part of the hill for a factory to produce mutton tallow from slaughtering of pigs. The Jain community strongly resented this and efforts were made to have it closed. The Jains had filed a legal suit in the Subordinate Court but the case was lost. Consequently, an appeal was filed in the High Court at Calcutta. At this stage, the case was entrusted to VRG. He stayed in Calcutta for six months and learnt Bengali language to prepare the brief. He succeeded and the animal fat manufacturing plant was removed in 1891.
In 1893, the organizers of the first ever Parliament of World Religions at Chicago, USA, invited Acharya Vijayandsuri (Munishri Atmaramji) to represent Jainism. As Jain monks do not travel, Acharyaji requested the bright young and popular thinker, VRG, to be the emissary. VRG took six months special training in Jain philosophy, mastered the principles and practices from the Acharyaji before sailing to America. This training of teachings was written down in the form of Chicago Prashnotari (Questions & Answers at Chicago). At the 1 7-days Conference, in the presence of more than 3,000 delegates from all over the world belonging to many faiths, he impressed not only by the sheer weight of his scholarship but also with his six eloquent speeches and personality. At the Parliament, he played a pioneer role first time outside of India to spread Bhagwan Mahavir's (24th Last Jina - Tirthankar) message of non-violence. He illustrated the meaning of Jina's way of life and five Code of Conduct (Mahavrats & Anuvrats), Ahinsa (non-violence), Anekantvad (multiplicity of views) and Karma philosophy, doctrine of reincarnation, soul and its liberation, salvation, ethics, existence of God, etc. and convinced public about Jainism as a rational religion. His approach was the most non-sectarian. Swami Vivekananda, who represented Hinduism at this gathering also did a wonderful presentation and explained eastern thoughts to the western world. These two great sons of India changed the belief that India was the land of heathens without any culture or civilization. He was presented with the silver medal and requested to prolong his stay. In Kasadova, he delivered a lecture on 'Some Mistakes Corrected'. Later on August 8, 1894, the citizens of this city awarded a gold medal to him.
VRG was one of the first Jains to set his feet on the western soil. To commemorate the centenary of that event, the Jain Society of Metropolitan Chicago has installed his statue at their temple complex. He toured thrice throughout America and Europe including England, France and Germany and delivered more than 535 lectures in different cities there about Jainism. He established several societies in the West for satisfying the thirst of many in learning more about Indian philosophy. He founded, 1 'Gandhi Philosophical Society' in Washington, 2 'Society for the Education of Women in India' (SEWI) in Chicago, 3 'School of the Oriental Philosophy' and 4 'Jain Literature Society' in London. Under the banner of SEWI, several Indian women came to U.S.A. for studies. Herbert Warren, a religious enthusiast, abandoned non-vegetarianism and adopted the Jain religion. Herbert took VRG's lecture notes and wrote a book on the Jainism. V. Glasenapp, a well-known German scholar, wrote his doctoral dissertation on the Jaina Doctrine of Karma; and acknowledged VRG's lectures as his sole influence. Wherever he went, all churches and societies, spiritual and literary institutions, not only accorded him warm welcome but also honored him.
In 1895, VRG attended the Indian National Congress in Pune as a representative of undivided Bombay province. He represented Jains at the Dharma Mahotsav held at Ajmer, where he was awarded a gold medal. He was an All-Asia sole delegate at the 1 899 International Commerce Conference, where he advocated developmental reforms of post-parcel system. VRG was a true patriot. He had talked about economic and political freedom well before five decades of India became independent and more than a century ago. Many are unaware but it is interesting to find that VRG had contact with Gandhiji, both having a common interest in law and food subjects. Mahatma was experimenting with food and VRG joined him. Had Gandhiji not mentioned about it in his autobiography My Experiments with Truth; we would not have come to know of it.
VRG was a social reformer. When his father died in 1 890, he did not allow women, the primitive practices of wailing and breast-beating during mourning. He mastered Yoga also. He successfully advanced the noble causes of animal welfare, vegetarianism and unjust head pool tax levy. This compassionate laity individual sent forty thousand Rupees and shipload of grains to India from USA during the 1897 famine. He had received many medals, awards and recognitions during his short life.
VRG wrote many articles and books in Gujarati as well as English. He contributed essays on topics of cultural reforms like education for women and custom of repenting Radva Kutvani Hanikarak Chal, (1986, 37-pp Gujarati). JAI published Savirya Dhyan (1989, 1 34-pp Gujarati) translated by VRG, originally written by Acharyashri Shubhchandradev with a commentary by Anandan Lalan. VRG's important contributions include Yoga Philosophy, Karma Philosophy, Religion & Philosophy of the Jains and The Systems of Indian Philosophy. VRG translated besides many publications, including The Unknown Life of Jesus Christ in English from French in 1 894 from an ancient manuscript found in Tibet. VRG's selected speeches titled "Jainism in Western Garb as a solution to the Life's Great Problems" and other compilations were also published. In 1912, from his speeches and writings, three important books on Jaina Philosophy (360 pp.), Karma Philosophy (192 pp.) and Yoga Philosophy (280 pp.) in English were compiled. The Systems of Indian Philosophy (2nd Edition, 1970, 148-pp English), Selected Speeches (1964, English) and Religion & Philosophy of the Jainas (1993, 232-pp English), was published.
While he was in England, his health suddenly took a turn for the worse.
He returned to India, but a few weeks later VRG passed away at the very young age of 37 years in Bombay on 7 August 1901. He was a brilliant promising young man, full of hopes and aspirations of service to his religion and community. His name will continue to be remembered forever as a great champion of Indian cultural heritage and Jainism.
References:
Glimpses of Jainism and Biography of Forgotten Hero: Shri Virchand Raghavji Gandhi by Pannalal R. Shah
Selected Speeches of Shri Virchand Raghavji Gandhi published by Shri Vallabhsuri Smarak Nidhi, Bombay.