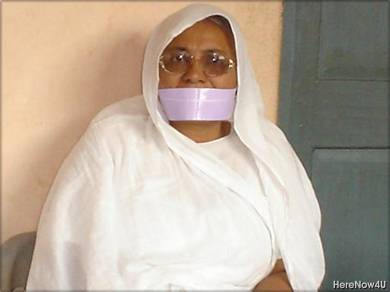 Sadhvishree Nirvan Shreeji
About two weeks ago, our Kolkatta correspondent Sushil Kumar Bafana had left his hometown together with his wife for Darshan of Sadhvishree Nirvan Shreeji (photo) at Panargarh, about 150 km from Kolkatta. Travelling in India still has some taste of adventure when using public transportation to small towns or villages. But this was a short trip, taking 3 to 4 hours only by train.
Sadhvishree Nirvan Shreeji is about to come to Kolkatta, after Sadhvishree Kanchan Prabhaji had left the town in December 2005 for Maryada Mahotsav and Guru Darshan in Dhuri, Punjab, in February 2006. Beginning of January 2006, both Sadhvishrees had met at Asanol, Bengal, one on her way to the destination the other had left.
Sushil Kumar Bafana recorded the interview in Hindi language, to where he had translated the question Editors had asked him to put in behalf of HereNow4U. After his return to Kolkatta, he had translated the interview from Hindi into English language.
What means cooperation in human life?
Journey of life cannot get momentum without cooperation. The need for cooperation arises as soon as a child takes birth. Without cooperation, we cannot think of his all-round development, which is physical, mental, emotional, and intellectual development. The Jain Acharyas have expressed this truth by saying "parasparograh jeevanam", coexistence of living beings. Every creature moves ahead in his life cycle with cooperation from others.
How cooperation can be practised in human life?
In human life, cooperation means understanding the requirements of one's own self, as well as those of others. In the same way, understanding the need for limiting the ownership of resources, providing comfort and luxury, will not pose danger to others. Cooperation can be both, on physical and mental level. This is basic attribute for progress in human life.
How life can be lived in the true sense?
According to Jain philosophy, moving every moment in direction of moksha is true life. When a man moves away from ill factors like anger, ego, greed, delusion, and establishes in him the true quality of soul, he will understand the meaning of life in the true sense.
How to maintain peace and harmony in human relation?
Peace and emotional unity in interpersonal relationship provides the energy through which one can lead a blissful life. When one becomes selfish in attitude, one disturbs the peace and existence of others. Emotional unity provides safety for oneself and others.
How important is development of consciousness for living true life?
Without developing consciousness, one cannot lead a meaningful life. Development of consciousness and leading a meaningful life with moral values are two sides of the same coin. One cannot imagine of even touching the truth, if either of them is missing in life.
How to develop higher consciousness?
Meditation, Tapas, Swadhaya are practical ways for gradual development of consciousness. As one begins gaining expertise in all these, one also establishes oneself above the physical body level and near to consciousness.
How to behave towards not much developed souls in human body?
Towards not much developed souls in human body, our attitude must be full of cooperation and friendliness. Jain philosophy believes in equality of all souls. As we do not like misery, similarly every other soul also does not like it.
How to work for world peace?
First, for world peace it is essential for everybody to understand the truth that violence can never help in development of the world. Every increase of violence will breach the peaceful atmosphere. Everybody should be made acquainted with the importance of non-violence. Second, one should practise Aparigrah to eliminate attachment from materialistic objects gradually and to establish consciousness at the soul level. Definite and regular processes in training non-violence should be practised to eradicate scarcity and increase knowledge in the society.
What is best to refrain from first?
Anger, ego, greed, delusion.
One good saying to remember when needed, please.
Message of Lord Mahavira inspires every moment of our life: Equanimity is the religion of my soul, 'samta mera atam dharam hain'. Contemplation of this sentence will make internally powerful. 'Samayam goyam ma pamayaye' means that every single moment of life is important; be alert every moment and do not let it pass useless.