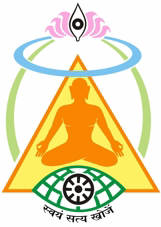 IPMC
International Preksha Meditation Camps are held in the tradition of shivir sadhana,
participants are following an ascetic lifestyle for the duration of the camp.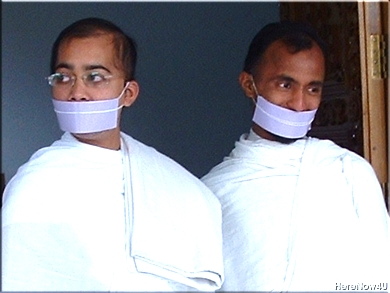 Muni Shree Kumar Shraman & Muni Shree Jay Kumarji
Initiators of the IPMC
official website: http://www.preksha.com/
---
1st INTERNATIONAL PREKSHA MEDITATION CAMP [IPMC] - Ahmedabad, Gujarat, India: 2002
October 2002
Registration Fee: 100 $
Number of participants: 250
Overcrowded.
In the following the number of participants was limited to 120.
---
2nd INTERNATIONAL PREKSHA MEDITATION CAMP [IPMC] - Surat, Gujarat, India: 2003
7. - 16.10. 2003
Registration Fee: 150 $
Number of participants: 120
---
3rd INTERNATIONAL PREKSHA MEDITATION CAMP [IPMC] - Ladnun, Rajasthan, India: 2005
15.- 22.01.2005
Registration Fee: 200 $
Number of participants: 120
Participants mainly from India, Russia, UK, Germany, USA,
The daily Programm for the participants:
---
4th INTERNATIONAL PREKSHA MEDITATION CAMP [IPMC] - New Delhi, India: 2005
Registration Fee: 250 $
Number of participants: 120 Russia, 5 others (reported)
The daily Programm for the participants:
| | | |
| --- | --- | --- |
| From | To | Programm |
| 05:00 | - | Wake Up |
| 05:45 | 06:30 | Preksha Meditation |
| 06:45 | 07:15 | Gaman Yog & Guru Darshan |
| 07:15 | 08:00 | Exercise & Yoga |
| 08:00 | 08:45 | Bath |
| 08:45 | 09:15 | Breakfast |
| 09:15 | 10:15 | Interaction On Theory Of Preksha Meditation |
| 10:15 | 10:45 | Mantra Meditation |
| 11:00 | 11:45 | Kayotsarg (Experience Of Detachment Of Soul From Body) |
| 12:00 | 14:00 | Lunch & Rest |
| 14:00 | 14:50 | Preksha Meditation |
| 15:00 | 15:45 | Anu Preksha (Contemplation) |
| 15:45 | 16:00 | Tea Time |
| 16:00 | 17:15 | Personal Work |
| 17:15 | 18:00 | Dinner |
| 18:00 | 18:20 | Gaman Yog & Guru Darshan |
| 18:30 | 18:45 | Mangal Bhavana & Anand Bhavana |
| 19:00 | 21:20 | Spiritual Discourses by H.H. Acharya Mahaprajna &/ Shri Yuvachary Mahashraman &/ Discussions On Preksha Meditation |
| 21:20 | 22:00 | Revision & Retrospection |
| 22:00 | 05:00 | Yog Nidra (Sound Sleep) |
| From | To | Programm |
| 05:30 | - | Wake Up |
| 06:00 | 06:45 | Preksha Meditation |
| 06:45 | 07:00 | Gaman Yog & Guru Darshan |
| 07:00 | 08:00 | Exercise & Yoga |
| 08:00 | 08:45 | Bath |
| 08:45 | 09:15 | Breakfast |
| 09:15 | 10:15 | Interaction On Theory Of Preksha Meditation |
| 10:30 | 11:00 | Mantra Meditation |
| 11:10 | 12:00 | Kayotsarg (Experience Of Detachment Of Soul From Body) |
| 12:00 | 14:00 | Lunch & Rest |
| 14:00 | 14:50 | Preksha Meditation |
| 15:00 | 15:45 | Preksha Meditation or Spiritual Discourse by H.H.Acharya Shri Mahapragya |
| 15:45 | 16:00 | Refreshment |
| 16:00 | 17:15 | Personal Work |
| 17:15 | 17:45 | Dinner |
| 17:45 | 18:15 | Gaman Yog & Guru Darshan |
| 18:15 | 18:30 | Mangal Bhavana |
| 18:45 | 19:30 | Preksha Meditation by Yuvachary Mahashraman |
| 19:45 | 20:30 | Discussion on Yoga & Preksha Meditation |
| 20:30 | 21:30 | Selfmeditation |
| 21:30 | 22:00 | Revision & Retrospection |
| 22:00 | 05:00 | Yog Nidra (Sound Sleep) |