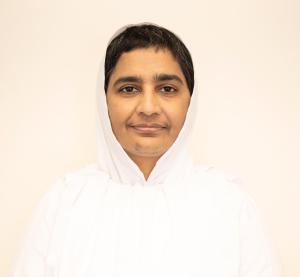 Lifetime
Born:
1978, Asadha
Terapanth Info
ID:
150
Diksha:
2001 by Acharya Mahaprajna
About
Born in 1978, Samani Swarn Pragya Ji took initiation at the age of 23 in the Shvetambar Terapanth order from the late Acharya Mahapragya (10th Religious Monk- Leader of Shvetambar Terapanth Tradition)
As a nun, she is committed to maintaining a high level of nonviolence, following certain vows. The vows include: being life-long celibate, taking vegetarian diet, abstaining from eating or drinking anything between sunsets to next day sunrise. In addition, she leads a simple minimalist, and austere life. Her daily routine includes yoga, meditation, mantra-japa, discourse, and training in Preksha Meditation.
She has done the MA in Science of Living, Preksha Meditation and Yoga (2014) Jain Vishva Bharati Institute (Deemed University), Ladnun, (India). She has also studied MA in Jainology and Comparative Religion and Philosophy (2004) Jain Vishva Bharati Institute (Deemed University), Ladnun, (India)
Description taken from https://www.jvblondon.org