25.10.2007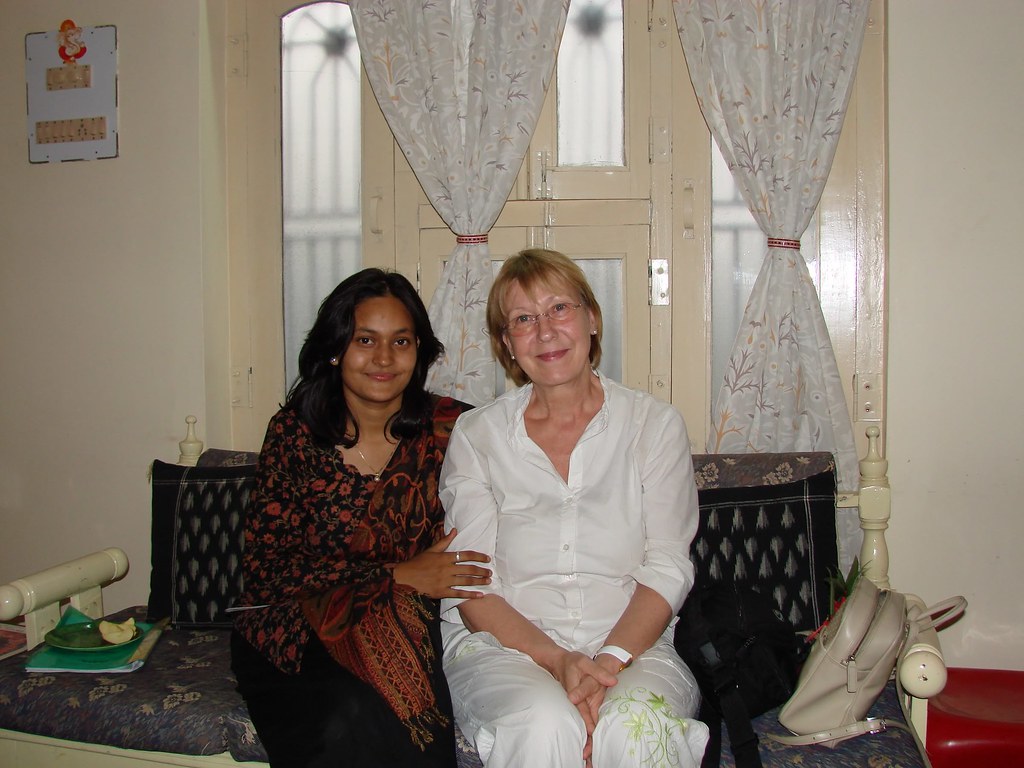 Pooja & Karuna
Meanwhile I am back from India, and there are nearly two months between my visit to Pooja Sharma and the present day. This visit nevertheless is present in my memory, because it was the only private invitation during the whole month of my Ladnun stay. My social contacts were limited to the German language course and casual talks with its coordinator Dr. Dhar. Furthermore, I was accommodated in a room of the lowest category of the university's guesthouse, what did not really contribute to my feel-good indicator.
The continually enthusiastic attitude of the German language course participants helped me to look at those circumstances as limited in time, thus temporarily. At the end I even felt a little proud to have managed modest conditions for a longer period.
Pooja Sharma was one of the most active participants of the German language course. She did not only jump enthusiastically at the new foreign language, but started immediately to ask for detailed guidance in the new subject. The German saying "Wieso, weshalb, warum, wer nicht fragt, bleibt dumm" (Approximately, why, for which reason, why so, without queries you will stay ignorant) advanced to her favourite phrase. When I sometimes felt she exaggerated, she smiled and quoted it to me.
She lives with her younger sister Poonam in the house of their parents in Ladnun. Both sisters are in the marriageable ages of 24 and 23. Pooja Sharma prefers continuing her studies to marriage; actually she is condensing her research material on peace studies for her PhD dissertation. She has achieved MA and according to her mentor Dr. Dhar, her articles on the subject already are remarkable. "When I am involved in my studies, I am happy. Sometimes I even forget the meals. But my sister reminds me," she said smilingly.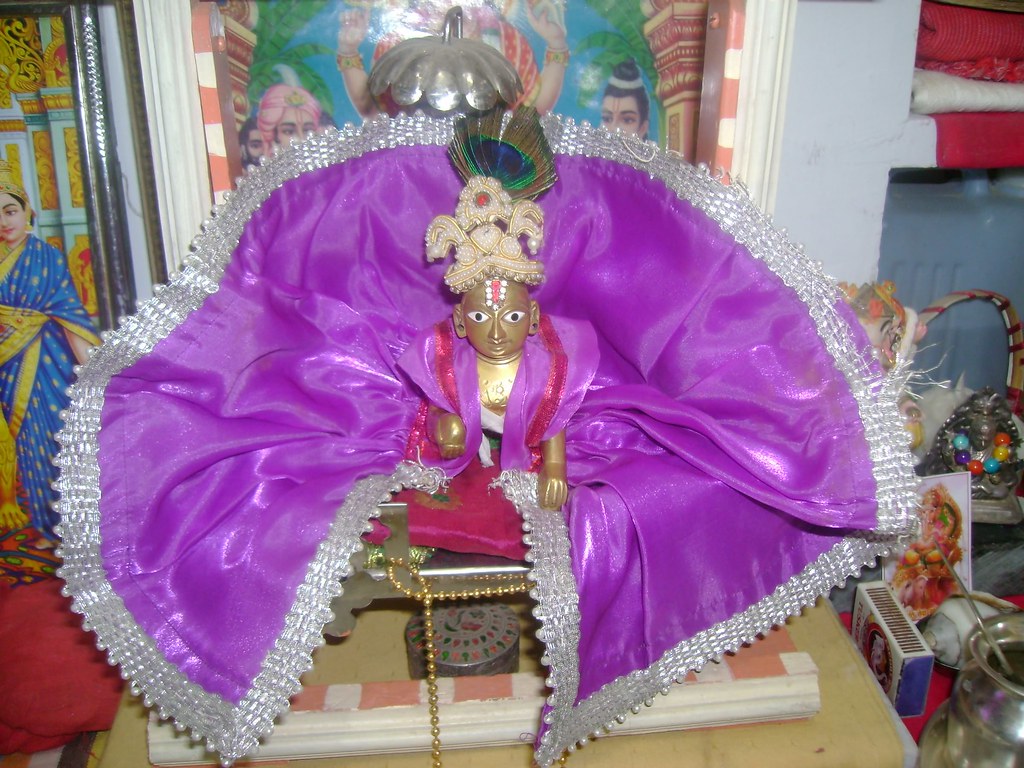 God with cloths made by Poonam Sharma, Pooja's sister, for the altar of the house
Her sister Poonam has got the artist talent, she does not feel inspired by science. She has enriched the altar in their home with her lovingly creations. The whole family follows Hindu religion.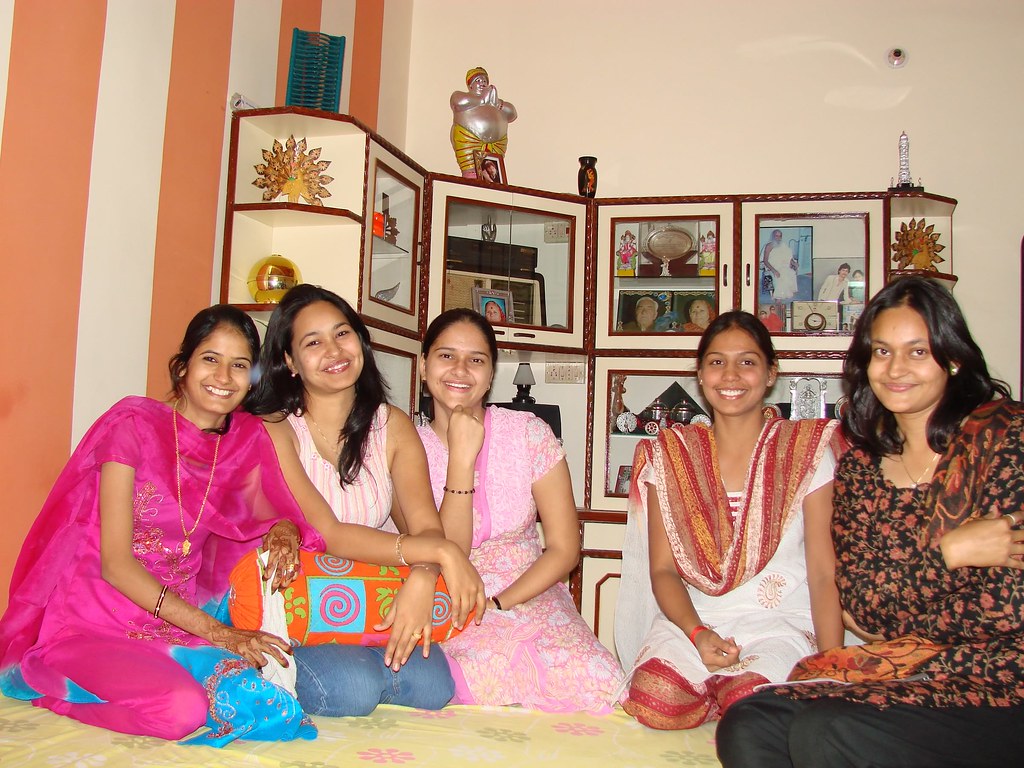 (F. r.) Pooja, Shobhag, Pooja's cousin sister, Poonam, Pooja's sister, Poonam's best friend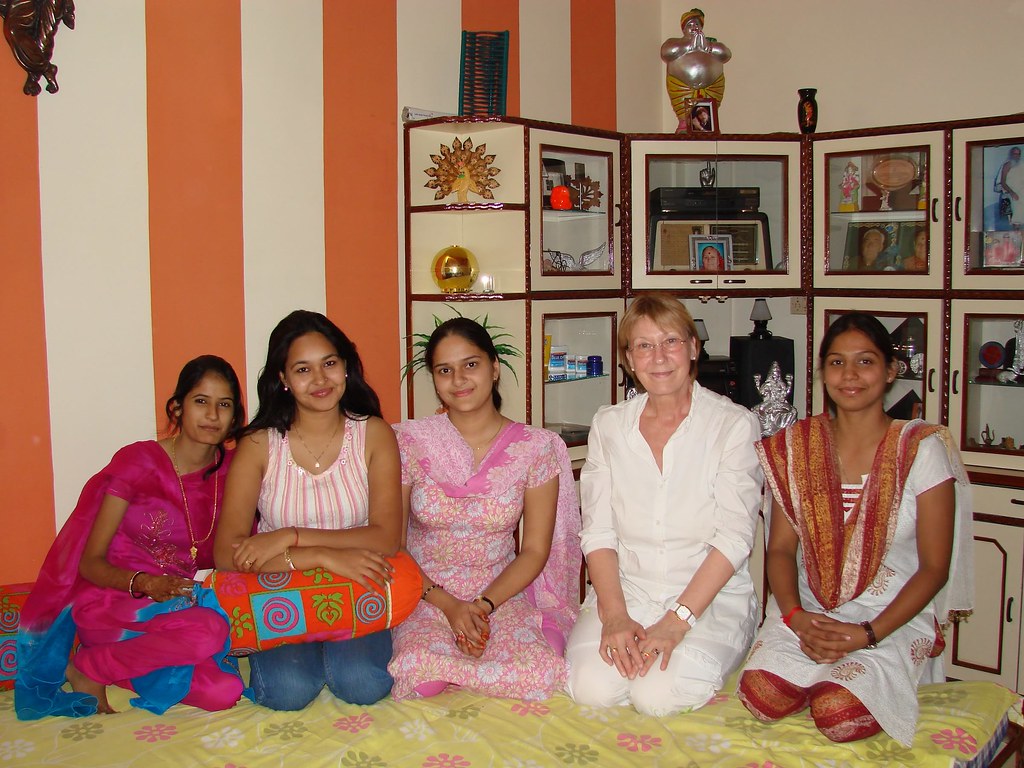 Shobhag, Karuna, Poonam's cousin sister, Poonam & her best friend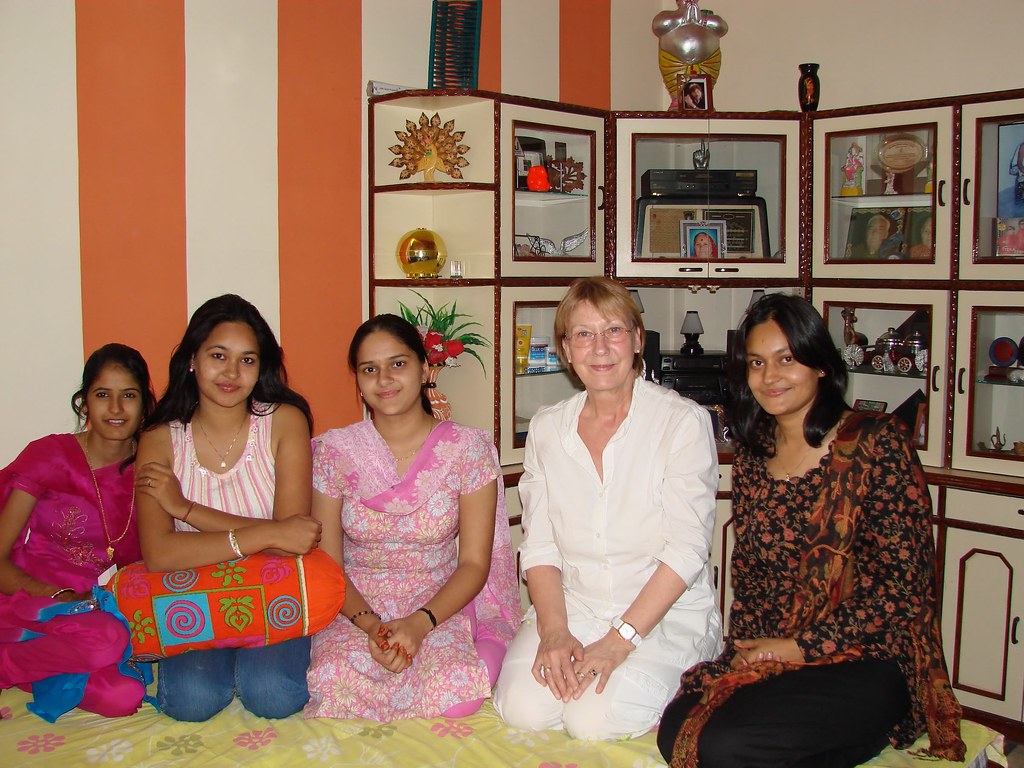 (F.r.) Pooja, Karuna, Pooja's cousin sister, Poonam Sharma, her best friend
Both sisters received us, Pooja's friend Shobha, her cousin sister, Poonam's best friend who was preparing her marriage celebration, and me, in the friendly and large room, decorated by Poonam, they inhabit in their parents' house.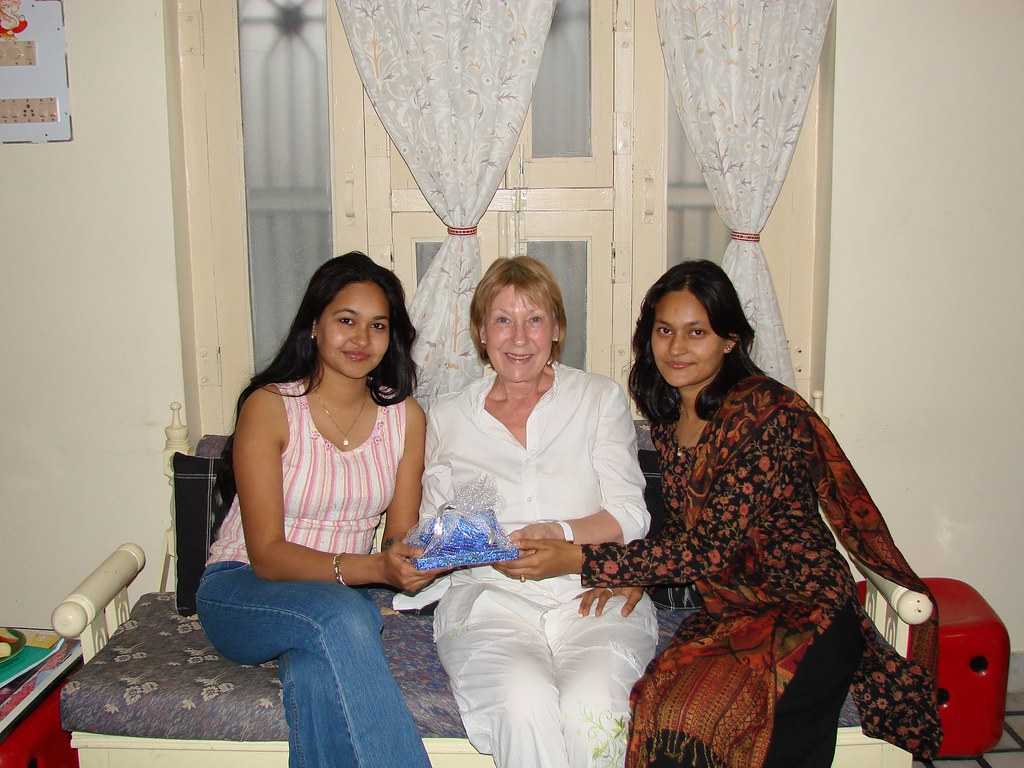 Poonam, Karuna (holding the present she had been gifted), Pooja
Like it is tradition in India, we got presents when we left. Pooja had provided and packed them beautifully. My gift was Milka chocolate (how did they get it there in Ladnun?) and the laughing Buddha. The chocolate went where it was made for, and the laughing Buddha sits on my desk to remind my of laughing in German winter.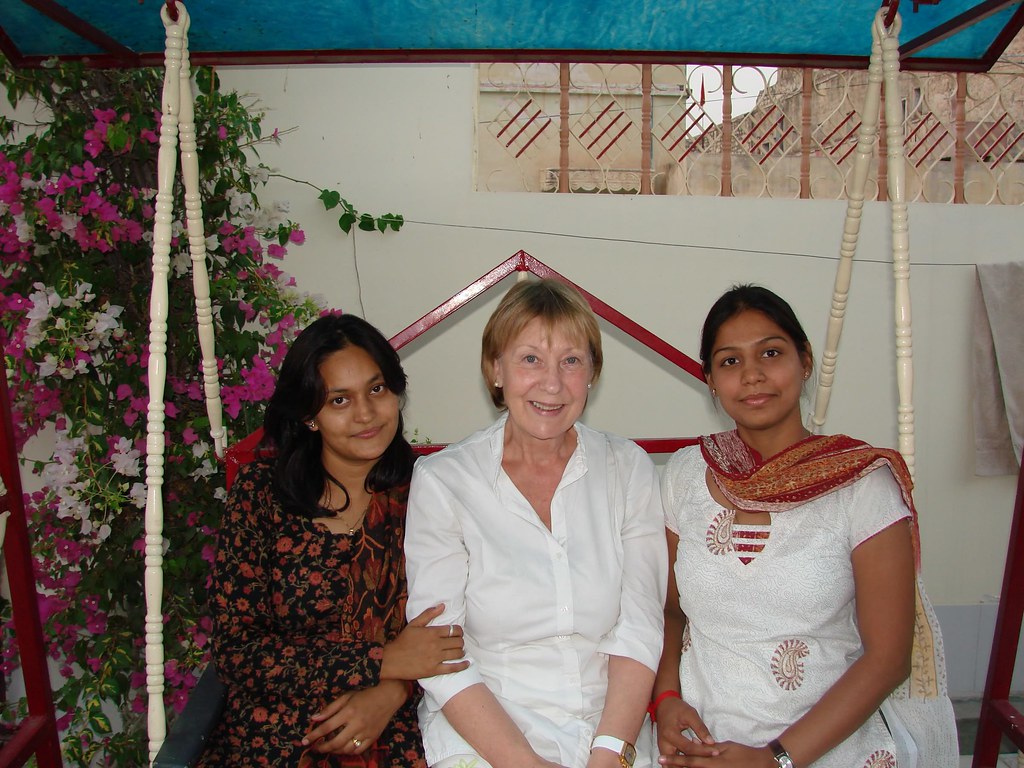 Pooja, Karuna, Shobhag in the garden
Before we took farewell, photos in front of the flowering Bougainvilleas were made on the garden swing. I really liked this tiny, lovingly cultivated flowering garden at the outskirt of the desert.
Thanks for this nice afternoon, Pooja.