All then went on very fast. Suddenly I was in the car, and we were on the road. Did I really give a German language course at the outskirts of desert Thar? In Sujangarh, 15 km from Ladnun, we stopped in front of a garage. I remembered that our friend Shri Balwant Mehta insisted in knowing number of the car, name, and mobile number of the driver. Perhaps incidents like this were in his mind. But 15 minutes later, after short inspection of the motor and some handling we were ready to continue.
On the road, the past weeks elapsed in my mind. I already knew that I would miss the peacocks and the park.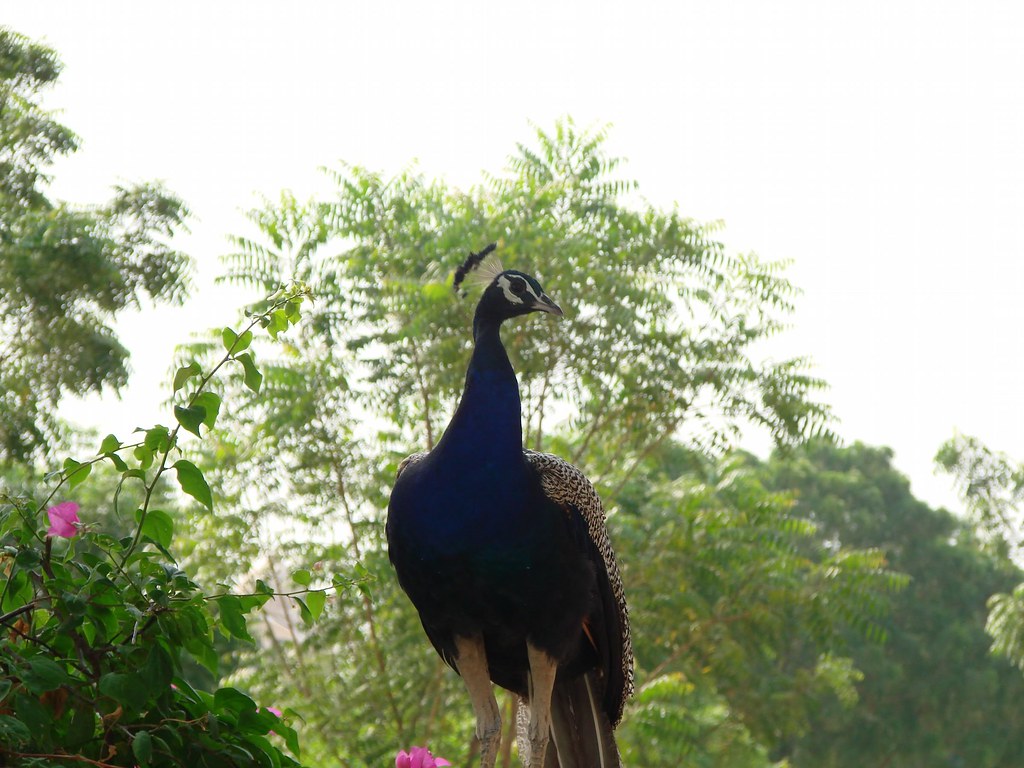 Peacock in the park on JVB campus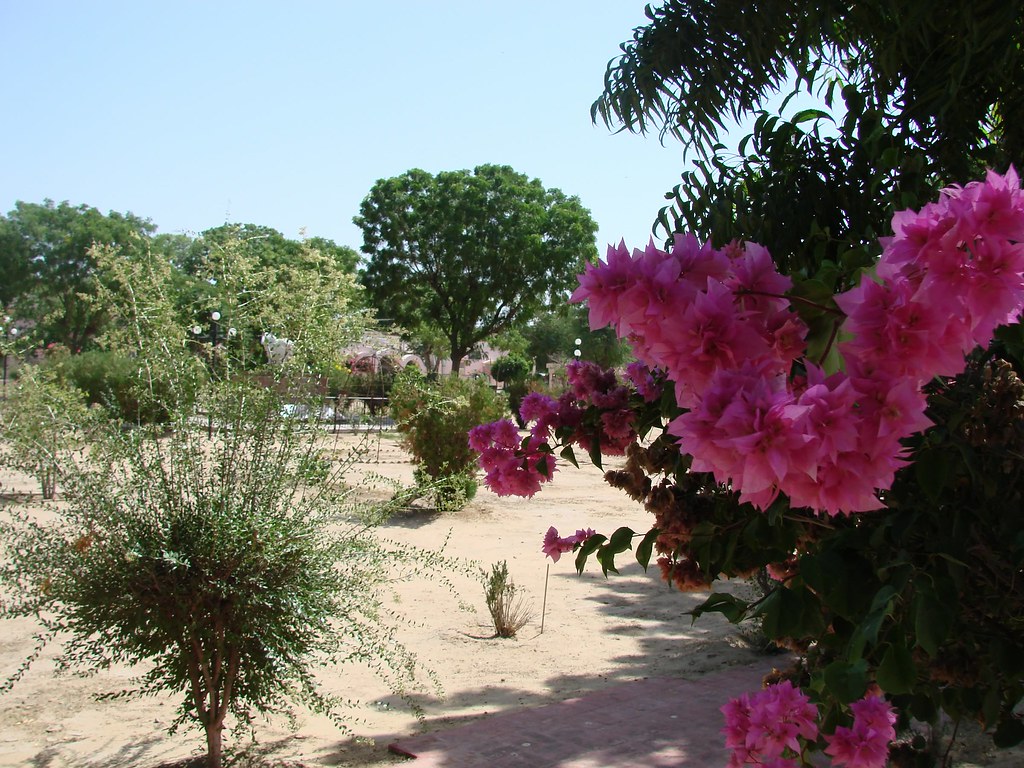 Bougeainvillea in park on JVB campus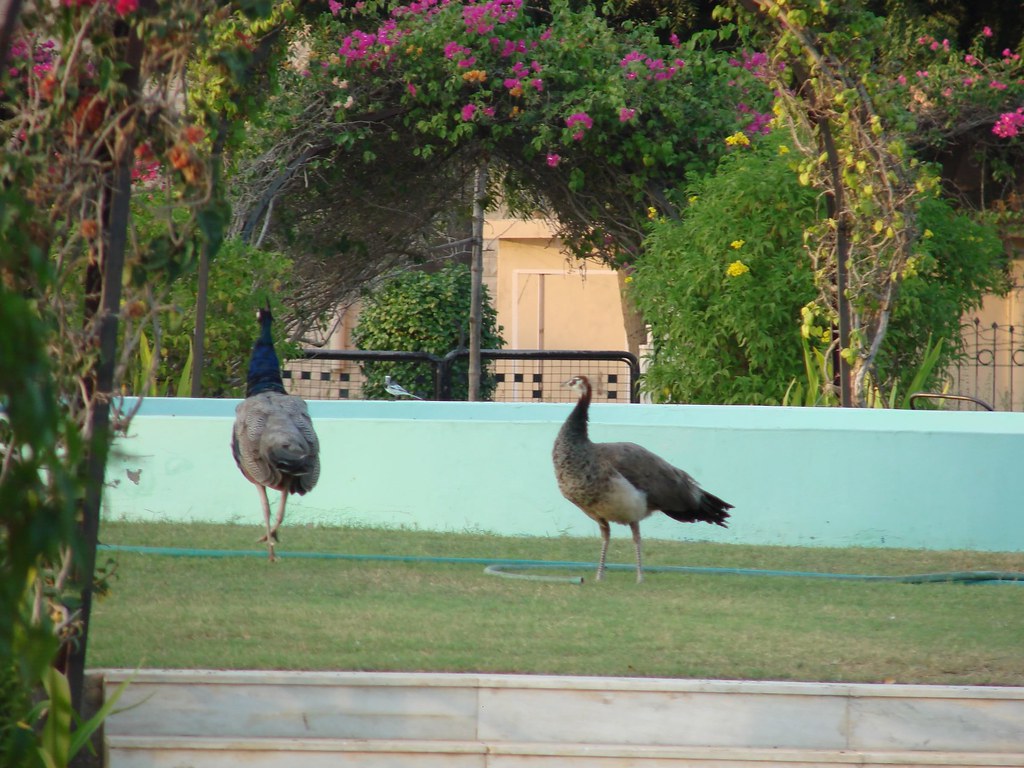 Peacocks in park on JVB campus
My thoughts went to Sunil who brought my black early morning tea, and provided fresh vegetables and fruits for every meal. Sometimes, other guests were at the table, and sometimes there was some conversation with them. But even my lonely meals were accompanied with his handling of the kitchen utensils, giving the impression to me, not to be the only person in the world. On a walk in the park, I once met him with his daughters. He always knocked three times at the door when the meal was ready.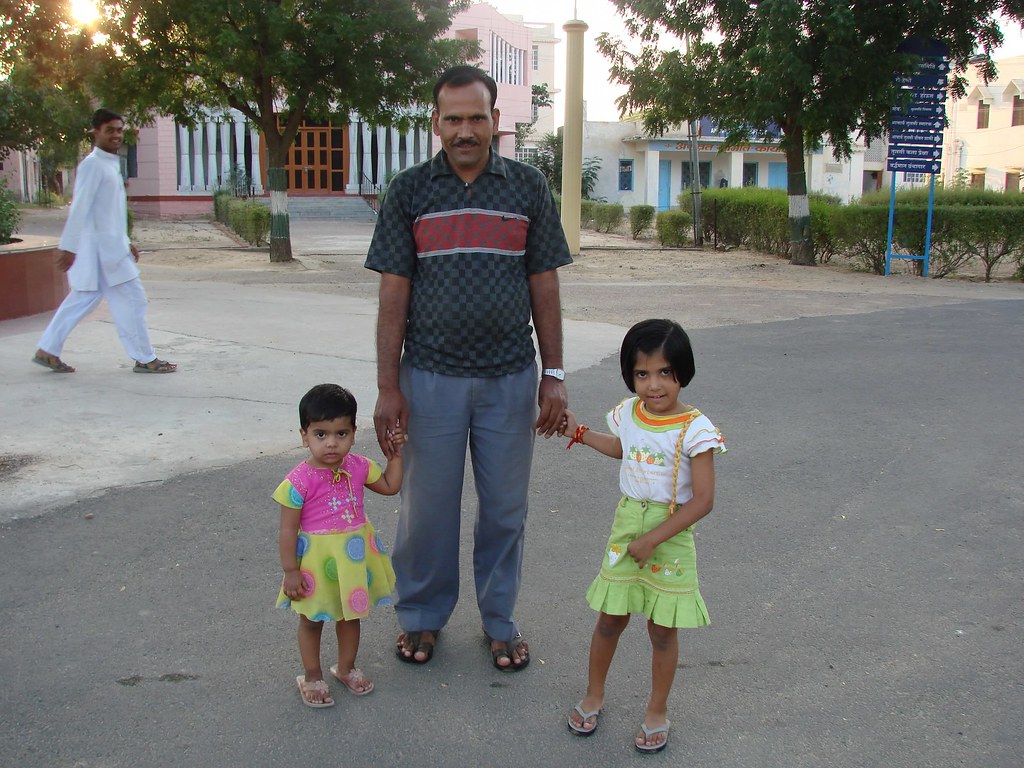 Sunil - cook at JVB University Sumeru guesthouse - with his daughters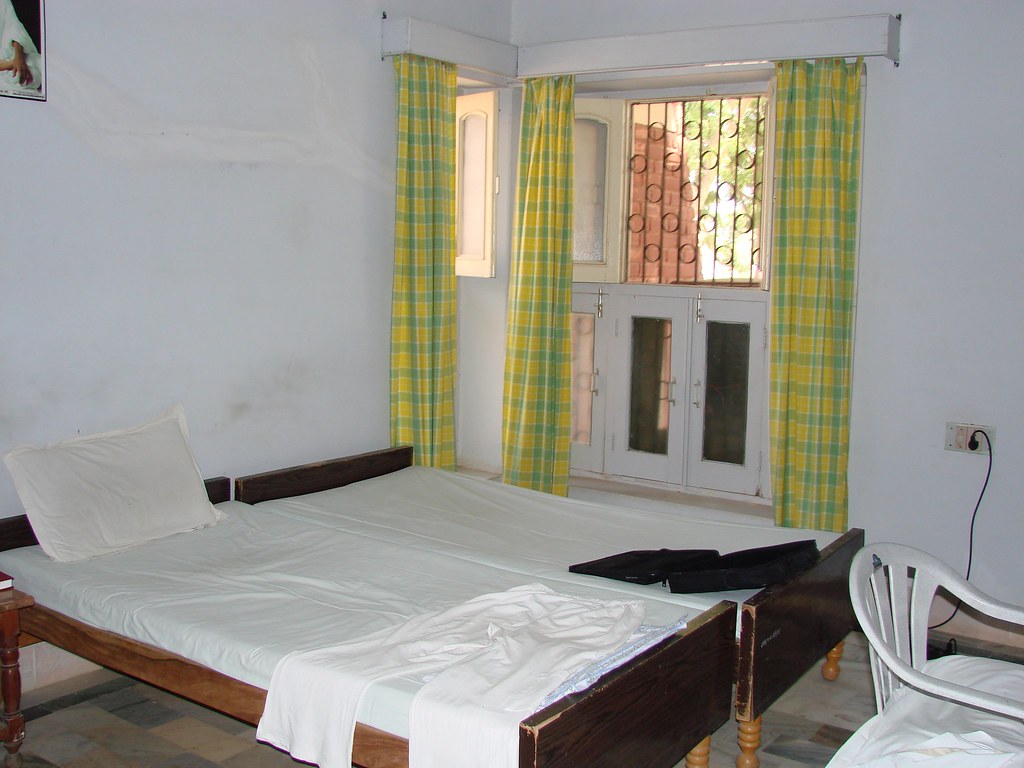 My home for 4 weeks
I then remembered my visit to JVB School, headed since more than 6 months by Samani Niyojika Madhur Pragya. She diligently had gone into the matter, and she had succeeded in providing a new status to JVB School. The educational district administration had applied the status of only English medium school in a distance of 80 km to JVB School, and recommended it for its outstanding management and the quality of teachers. Samani Madhur Pragya got very happy knowing this, as she told me that it is no easy task to get qualified teachers in a remote area.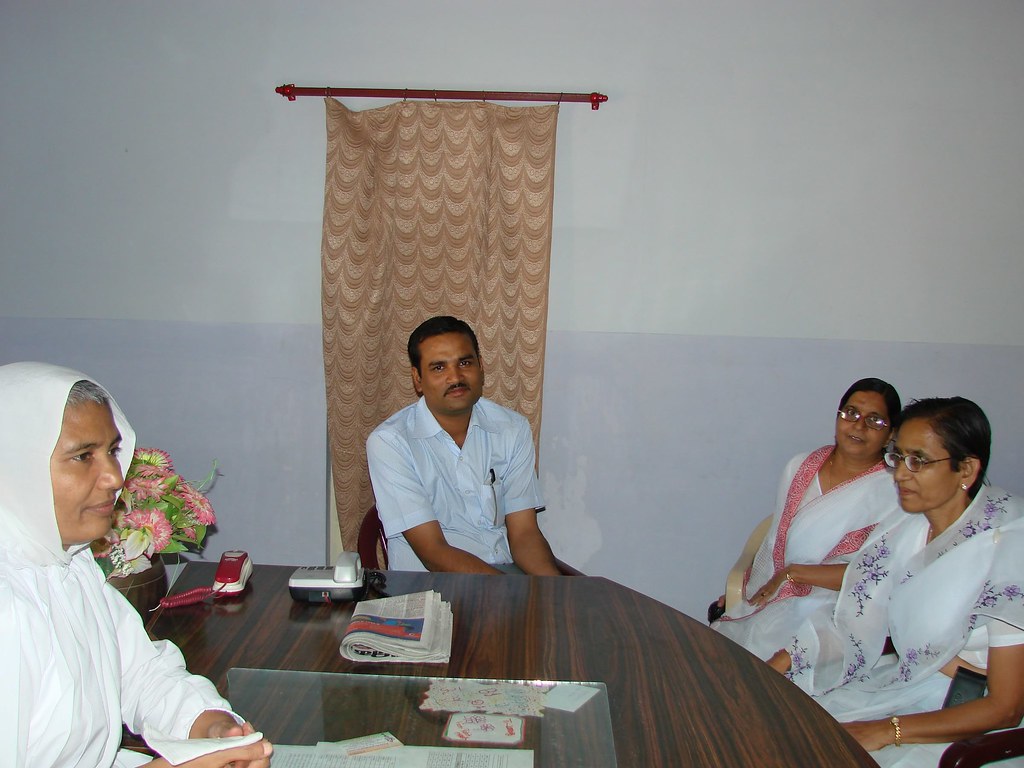 Samani Madhur Pragya, Jitendra Bothra, administrator of JVB School, 2 school teachers in principal's office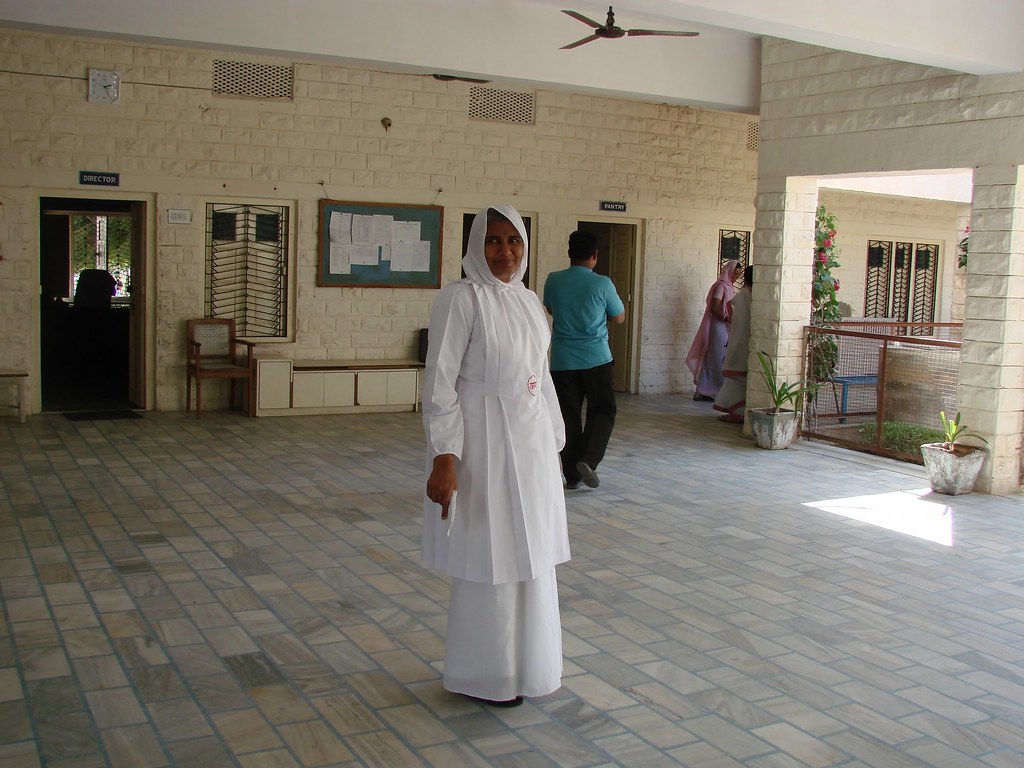 I remembered Mr. Madhur of the university's Computerlab. He had made so many efforts to connect my laptop with the university's computer network for internet connection, but had failed. I was told that connection with the Internet did not work, because there is a defect in some hardware of my laptop. Even Rajesh did not succeed with different cables. Back to Berlin - laptop plug in - Internet connection - everything went without saying.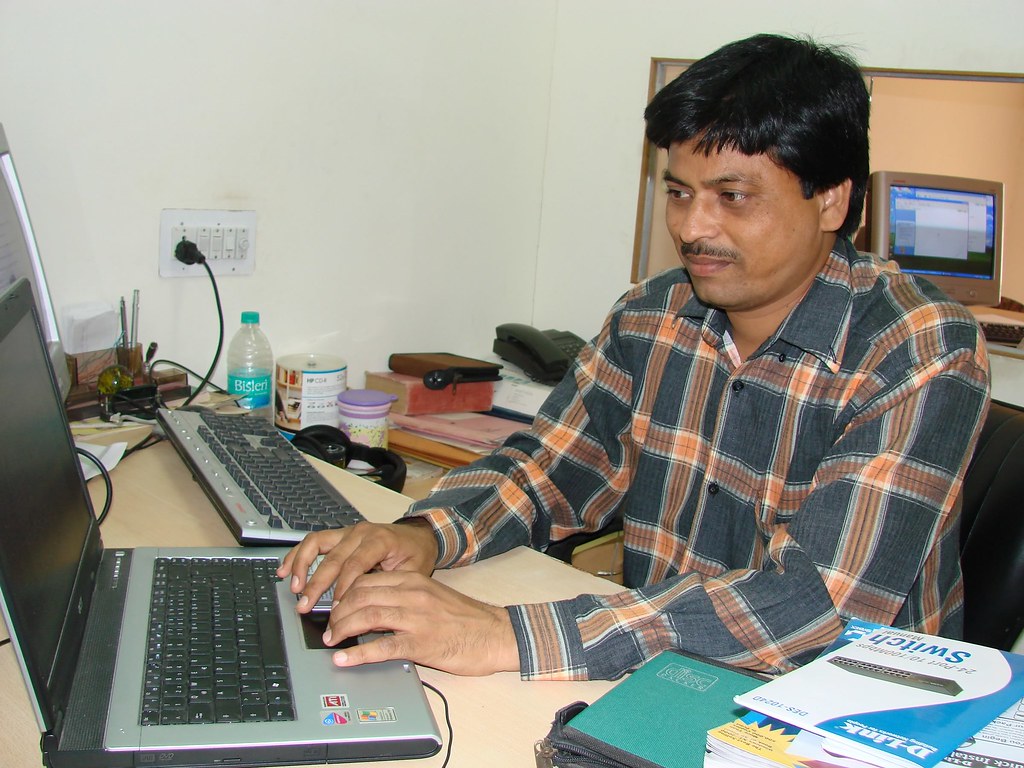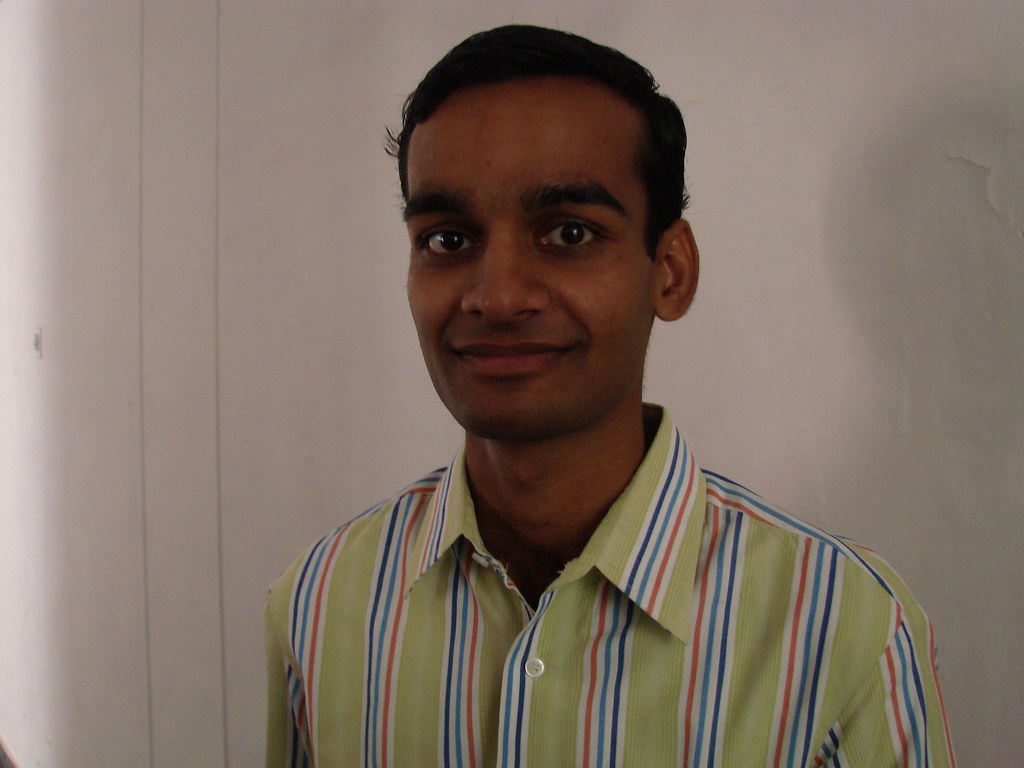 The Internet connection of the university simply is too slow. Perhaps the trustees are ready to grant some 16 Mbits. or minimum 6 Mbit/sec. This would facilitate communication between the university and other universities and the world.
I remembered the breakfast with the staff members of the company awarding ISO certification to the university (ISO 9000, ISO 14000, ISO 22000, ISO 27000, ISO 13485, ISO / TS 16949, OHSAS 18000)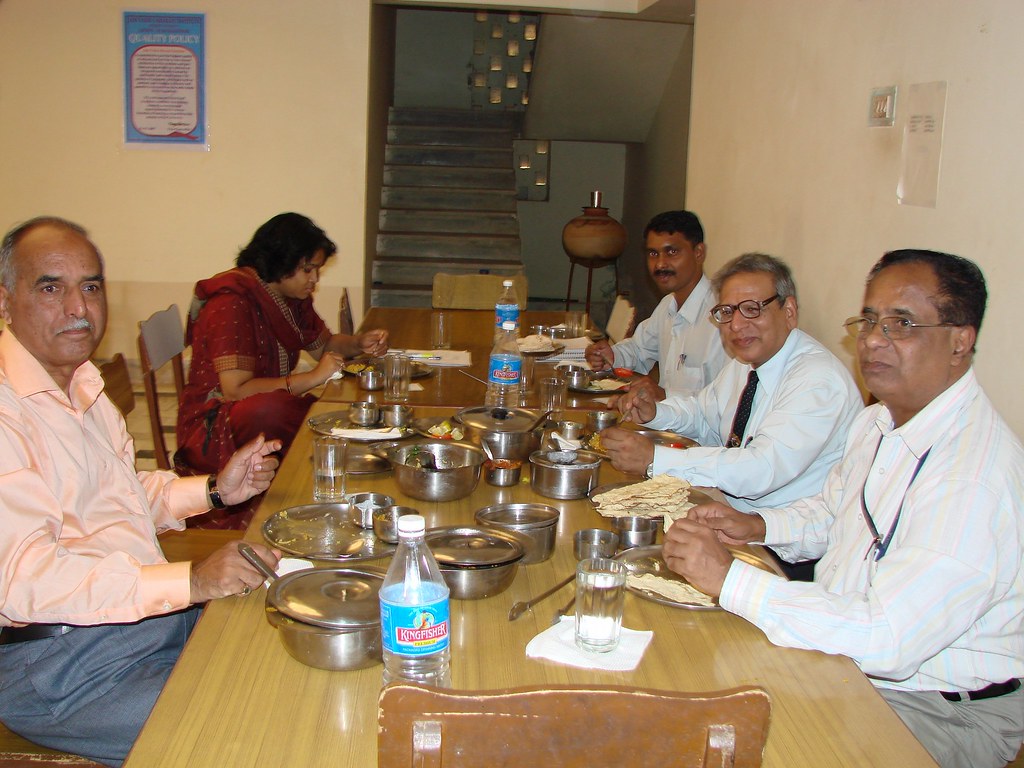 The group had marched into my afternoon course. I took them for school inspectors, as they behaved like school inspectors in Germany do behave, jovial, alert, ever ready for a joke. Dr. Dhar was a little angry for they had disturbed my class. He told me that he had protested against it. I think I am not wrong when I suppose that I did not understand the whole situation. The gentlemen from the company only wanted to be shure that there were courses at all in the university.
The trip was unobstructed, and after some calls between Yogesh jain who accompanied me, and Shri Balwant Mehta we even reached our friends' residence in Jaipur. The atmosphere in their home and the nice decoration of the table made me feel to have entered another world. After the meal and a short call to Aparigraha who in the meantime had reached Delhi, I fell asleep.
Before we started for the station, I also called professor Gelra who had come with our friends Shrimati Prem and Shri Balwant Mehta for a weekend visit to Ladnun. We would meet in Udaipur at the convocation.
Shri Balwant Mehta cared a lot for my train departure. Thank you, Balwantji! In the train, I was in the compartment with Dr. Ved Prakash, assistant to Dr. Ashok Bapna, organisator of the conference. In the neighbouring compartment Dr. S. L. Gandhi was travelling. The world is small! Our friend Balwant Mehta presented me to Dr. Gandhi with the words, "This is the one you did not want to meet last year!" But then he had to leave the train, it was departure time. I learned that last year the meeting was not possible. We three talked together until we got tired and went to sleep.
We arrived at Udaipur train station with a small delay of 30 minutes. On the platform, there was Aparigraha, together with our friends from Delhi, Swami Dharmanandji and his wife. This kept us from hugging each other after a four weeks separation. In India, this is not convenient in public.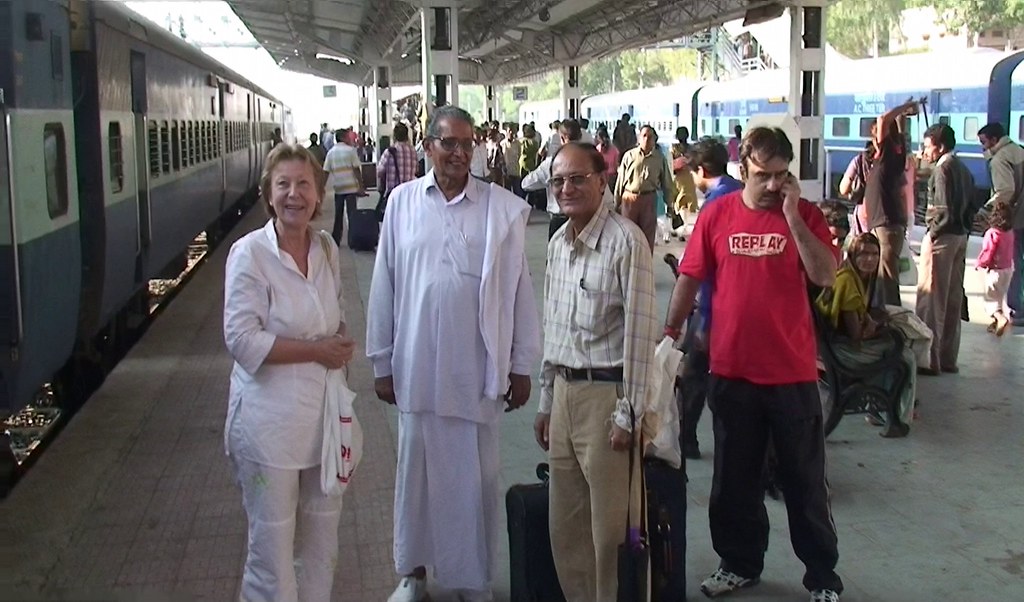 Carla Geerdes, Swami Dharmanandji, Dr. Ved Prakash