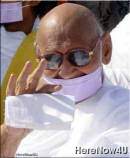 Thursday, April 10, 2008
Anekanta is not merely a metaphysical concept. It is our complete guide to practical life. It is a great maxim for meditational practice. As long as passions are not assuaged, likes and dislikes are not reduced, the third eye of anekanta is not available for us.
To access anekanta we need meditational practice that will reduce attachments and aversions. As passions are assuaged and a balance is found in like and dislike, our third eye of anekanta develops. All views seem to change and the matter remains as only matter. It is neither favourable nor unfavourable.
When there is no like or dislike, how can there be anger? Anger is not born of circumstances alone. As long as man likes one and dislikes another, anger will never subside. As attachment reduces, and the more it reduces, anger will reduce in the same proportion.
"Is there rebirth? After death is the soul born again? Is this possible?" If you know destruction and creation, then rebirth is possible. If one eye is open and watches destruction, the other watches creation and you see only with two eyes, then of course rebirth is not possible. When we see with two eyes, the question of rebirth does not arise. If we want to know about rebirth then we have to develop our third eye. We have to search for the third eye. We have to develop the vision of the third eye. We have to open the eye of anekanta.
Origination and cessation are two principles. The third is permanence or dhrauvya. Dhruv means immortal. Dhrauvya is the third eye. This is the eye, which discerns the truth. Once this opens the question of rebirth just does not arise. Today science recognises that matter can neither be created nor destroyed. It only changes in form or undergoes transformation. According to Jain philosophy, the concept is that neither will a new element originate nor will any old one be entirely destroyed. So then why this question about the soul?
Sometimes we see the sky absolutely clear and at other times, filled with dark clouds. Where have the clouds gone? In such an interpretation every entity in nature, every object, every atom would cease to exist. But once we know the existence of something it can never cease to be.
This aspect of permanence will be understood when the third eye is opened. They become true only when they are accompanied by permanence. Unless the eternal is added to any argument, truth cannot be arrived at. And unless the whole picture is before us, we cannot find the truth.
The third eye should open, the eye of permanence should open.