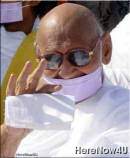 Thursday, May 22, 2008
Man has always cherished the dream of attaining the state of arogya (health), bodhi (enlightenment) and samadhi (bliss).
Man's foremost desire is to be healthy. Desire to be healthy has always found expression in sanskrit literature and it has been regarded as the basis of success.
A number of diverse systems relating to health and medical treatment have come into vogue. Mahavira's ideology is neither directly related to medical science nor to the science of health. But compartmentalization of knowledge is never acceptable to the non-absolutism philosophy. In fact, knowledge is relative. No watertight division or impregnable and adamantine line of demarcation can be drawn between two branches of knowledge. Every kind of knowledge may be applicable to every field. Actually, it is being so applied.
Mahavira fundamentally dealt with existence. His principal stress was on soul. Health cannot be attained if there is no purity of the soul. The problem of health is created when the soul is impure. In the present context, I do not wish to discuss the problem of existence from the metaphysical point of view. The definition and exposition of existence will change in the context of health.
Existence from the transcendental point of view of philosophy means the existence of soul. But in the context of health, existence means a composite of seven components: the body, the senses, respiration, the prana (vital breath), the mind, the emotions and the speech.
The first and visible component of existence is the body. The senses are the second component. The senses are related to the body, but functionally, they are entirely separate. Third component is respiration, which is important from the view of survival and health. The fourth component is the vital energy. The life sustains on the strength of the vital energy. Living implies the flow of the stream of the vital energy and death implies the dissipation of the energy. The basic support of life is vital energy. All these four are invariably related to the body. If we precede further in the direction the mind, the emotion and the speech also become the components of existence.
When considered in the context of health, all these seven components are found to be influencing one another. The body influences the mind and vice versa. Respiration influences the mind and vice versa. The emotion influences respiration and vice versa. Linguistic expression is subject to changes in emotions. A comprehensive view suggests none of these components can be left out. The issue of health has been considered from various viewpoints and many branches of medical science have developed.
One of them treats physical diseases; and another with mental problems. These are the two main branches in the field of modern medical science.