One afternoon, Ashok Bhaskar, student of Jeevan Vigyan at Jain Vishva Bharati Institute in the final stage and yoga teacher, approached us with an invitation to his father's farm for the next day, which we happily accepted. Punctually, at the appointed time, he came for us and took us to the farm by three-wheeler. The farm is situated 4 km north-west of Ladnun.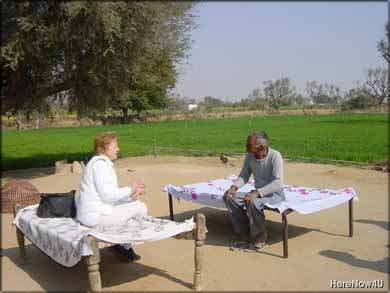 We were welcomed by his father (right) and the family. From the first moment, there was a very well understanding between us. Mr. Bhaskar had worked for six years in Italy and therefore was very happy to receive the first Europeans at his farm in Rajasthan. He was very moved by the fact that 'Europe has finally come to my home', as he put it. He was eager to show us what is his understanding of sustainable agriculture.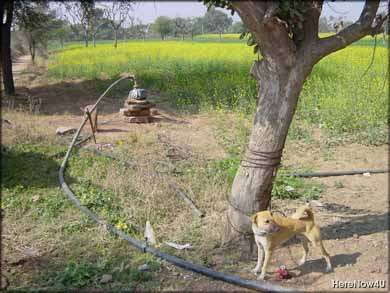 The basic of agriculture is access to enough water. Wherever it is available in the semi-arid desert of Rajasthan, people's expectations for good results do not fail. Mr. Bhaskar's water pump is seen on the photo. He explained that due to its capacity, it is able to provide the precious liquid plants are needing for growth. The motor of his water pump is strong enough to deliver it from 80 meters of depth. It was hard for him to constitute the means for buying it. He told us that farmers do neither get governmental subventions in the case of need, nor bank credits. He was well informed on the different conditions of his European colleagues, who do not suffer lack of electricity when needed...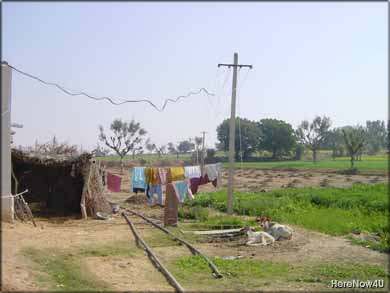 This view collects some of the elements, his happiness and well-being are based on: water pipe (middle) - symbol of growth, bicycle (left) - symbol of flexibility, laundry (middle) - symbol of good hygienic conditions, twin calves (right) - symbol of future income.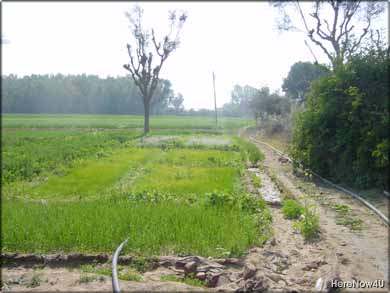 This view collects some of the plants, contributing to his philosophy of fundamental cooperation: Ayurvedic plants (around the tree and on the left random of the photo), vegetables (left), wheat (foreground), mustard (middle of left random), and Rajasthani crop, Bajara (background, behind the tree).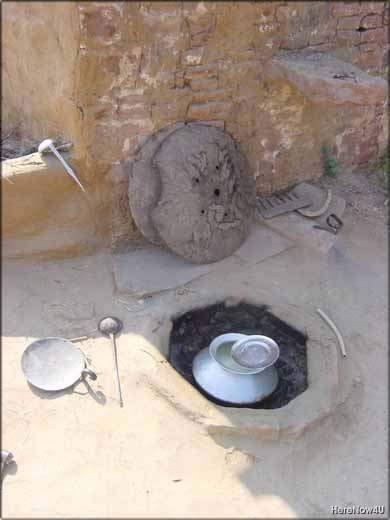 This is a traditional Rajasthani cool box, covered by a hand-made clay top (placed at the wall), keeping the water fresh even during hot Rajasthani summer. This natural cool box was constructed with nature, all parts were found in the environment and softly finished by human hands work. It is constructed in a way that sun rays never touch it directly, and situated at a central point of the farm, easy to access for everybody working on it.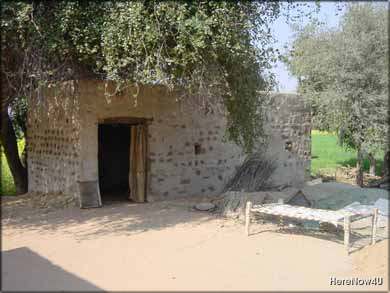 In an extra hutch, under a tree, shelter is provided for the family's cow, where it stays overnight. The cow is outside under the trees, from sunrise to sunset. Sometimes, the younger children take it out for a run on the fields, we were told. It participates in the family's life, and is treated as member of the family. When we asked her name, there was only astonishment. The cow's hutch is cleaned daily.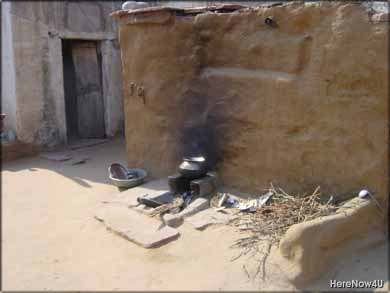 Here, water is boiled, and simple dishes are cooked. Fire is gained from the wood, harvested from Kechary trees for this purpose.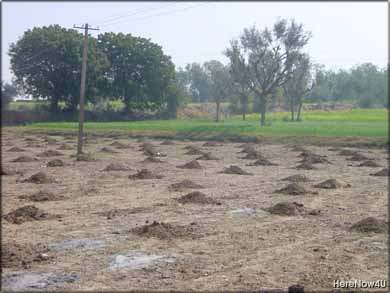 When we saw these mole hills, we were astonished to hear Mr. Bhaskar's comment on them. He said that he was happy to see that they have dug the earth, bringing fresh minerals up from deeper layers. When the moles have done this work, new crops can grow better, and earth can give more energy to the plants. For us, this was a very good example of cooperation in nature.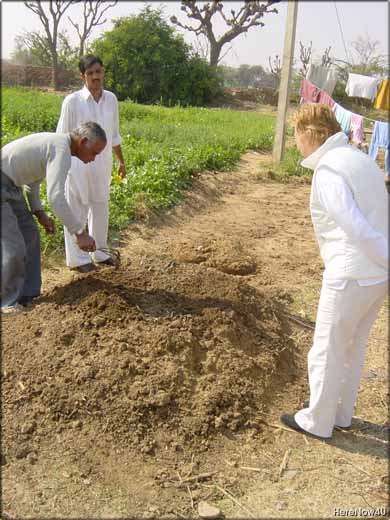 Mr. Bhaskar shows the natural fertiliser he is using. Some plants and remains of plants mixed with cow dung nourishing hords of worms enriching the earth for the new crop. This compost is one out of three in different states.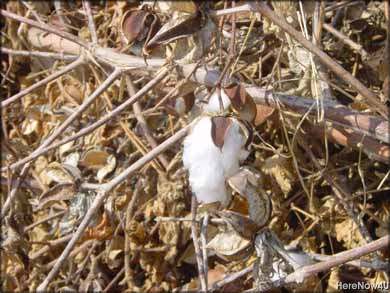 This compost is in the second state after keeping it, some remains from last years cotton harvest can be seen.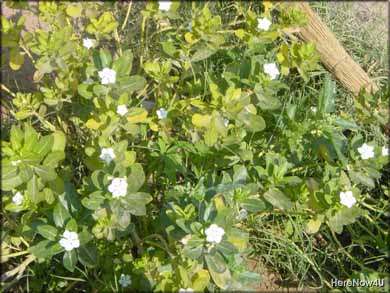 This organic fertiliser plant is preparing the ground for the next turn of crop.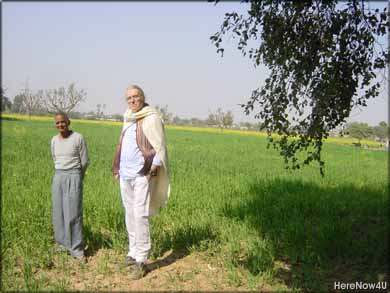 Then Mr. Bhaskar (left, with editor Aparigraha Jain) invited us for a special round tour where he wanted to explain some details to us.