Munishree Kishanlalji is a senior disciple of H.H. Acharya Mahaprajna; he got Diksha 52 years ago, in 1953, at the age of 17.
It was good luck that Munishree was at the Adhyatma Sadhna Kendra in Delhi to teach Preksha Meditation to multipliers, when editor Karuna Jain arrived there for her first spiritual trip to India in 2000. Since her first encounter with Munishree, she had a feeling to know him since ages. How true!
Nevertheless, at this time, she was only wondering what strokes of phantasm were invading her, while her mind was repeating pertly, 'this is the first encounter with a Jain Muni'.
Munishree treated her as if they were old companions, without hiding his being amused about her female figure. Only 3 and a half years later, during a session of Animesh Preksha at 2nd IPMC in Surat, Gujarat, she had a vision indicating that they had been companions, about 4500 years ago. However, this is another story, to be told at another occasion.
After some days, Munishree sent someone to find out, if her camera was good enough to take photos during the session, he was guiding. It was a session with about 60 participants, multipliers from occupations like medical doctors, psychologists, professors of school, physiotherapists, and astrologers. They were told to follow Munishree's instructions and not to resist to the sensations they might feel. At the beginning, all of them were in a sitting position. With his deep powerful voice, Munishree recited a Mantra and gave utterance to somewhat whistling sounds.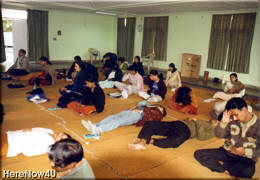 After ten minutes, two ladies, eyes closed, smiling from a beautiful dream, slowly leaned forward, and then laid on the ground. They were followed by about two third of the participants; all fell down in slow motion, without harming themselves. The remaining third maintained their sitting position.
To watch and photograph people in this happy, unconscious state seems like being in a room full of happy newborn babies. Karuna felt tenderness, and realised for the first time in her life, that all of us are capable to feel universal love; compassion and solidarity invaded her whole body with warm waves of energy.
Then Munishree gave instruction to take two or three deep breaths, sit cross-legged, and chant Mahaprana Dvani.
When the participants came back and realised, that photos had been taken during the session, they wanted to know, which impression they had given to someone watching. What could have been watched from outside, corresponded exactly with their experiences inside, they felt happy and relaxed.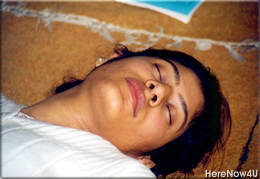 Only one young woman did not come back together with the others; she remained in the unconscious state for half an hour. Munishree, surrounded by her shivering and anxious friends, brought her with Mantras and tender appeals back to presence. Later on, she reported, that the more she relaxed, the less she could hear the instructions. At this point of her explications, she was very emotionalised and started crying and shivering.
Some of the elder women claimed to be hungry, thirsty, and tired.

Munishree gave the following explanations:
Out of their still inferior position in family and society, women are constantly exposed to great stress and tensions. When the tensions are starting to dissolve due to relaxation, this either results in bodily reactions like crying and shivering, or in feelings of exhaustibility and great fatigue.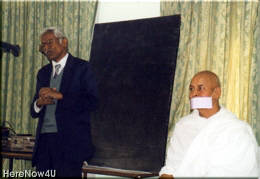 A journalist from 'Indiatimes' was there (without camera) to interview Munishree on the amazing session he had also witnessed. He was concluding the session by thanking the participants for their permission to accept his presence and regretted to have missed the opportunity to experience himself dissolution of tensions and stress.
[To be continued]