We met Mrs. Sudhamahi Regunathan, vice-chancellor of JVBI since 06.09.2001, during our visit to JVB Ladnun. Although very busy, she received us on a sunny, but still cold morning in January in her office at JVBI in a functional and warm ambience. We had studied two books of Acharya Mahaprajna through her translation into English language.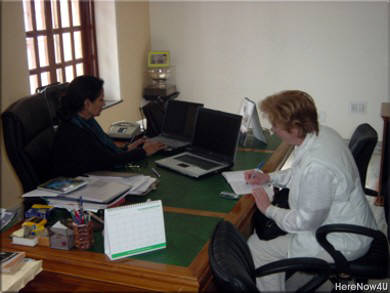 Being in front of her, I was reminded to a little incident. Once I was travelling by train in India, reading 'Anekanta - The Third Eye'. When we six persons in the cabin talked together, a fellow passenger asked me about the book, 'This must be a beautiful and interesting book, looking at your face while reading makes me a little curious. What kind of book is it?' I handed it over to him, and he started reading immediately. After 20 minutes he looked up with a sigh, 'That's what I saw in your face, really beautiful and wonderful English translation!' When I saw him so happy, I left it to him.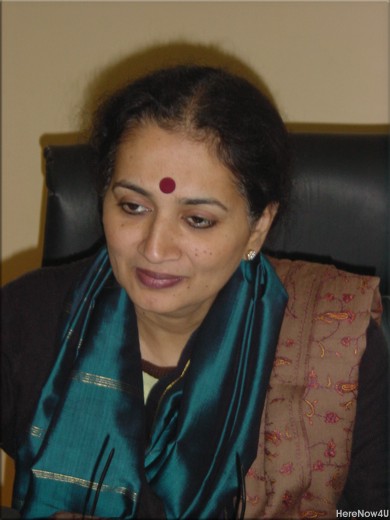 Madame, you have translated 'Anekanta - The Third Eye' and 'The Quest For Truth' by H.H. Acharya Mahaprajna into English language, what are your next projects?
I am just about to finish 'Sounds Of Silence' which has been published 1999 in Hindi. This is a very beautiful book with poetry in Haiku style, and it was a pleasure to translate it. It is like a dear companion to me, whenever I felt tired, this work gave me new energies. What is said in silence lasts, what is said in words flows away.
Next I am going to translate three more books of Acharyashree, one is titled 'Life Is A Story'. Everybody loves good stories, and so do I. Then 'Everyday' and 'Why Meditate'. I am looking to this work with great enjoyment, for I meditate while working.
In many conferences, e.g. 'Unity Of Minds' in Surat 2003, you have addressed the audience as representative of Jain Vishva Bharati Institute referring factually to the activities of JVBI. Where are you focussing on in the future?
We want to bundle all activities in a uniform perspective. Digitising of 7000 folios of the library is in progress, and the research section is preparing a descriptive catalogue for scholars all over the world. Our aim is to expand the connections with other universities.
We will increase our publications, as edition of an anthology 'Aparigraha', dealing with limits of property according to Jain texts and thinkers all over the world.
Further a dissertation on 'Jaina View Of Cosmos' based on Bhagwati Sutra will be released soon.
A series of lectures is planned on 'Understanding Religions' where the Jain dimension will be added.
We prefer 'Understanding Religions' to 'Comparative Religions', for the latter has a sense of judgement.
She invited us to follow the audio-visual PowerPoint presentation on 'Understanding Religions' of JVBI on her notebook.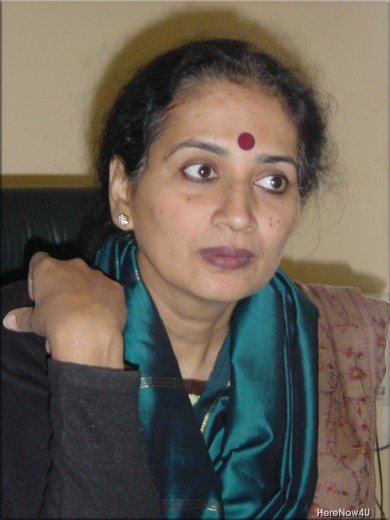 Jain Vishva Bharati is the publisher of the spiritual monthly 'U can change the world' where you are editor-in-chief. Please tell us about the background of releasing this magazine.
'U can change the world' started in November 2002 as a print platform for spirituality. Acharya Mahaprajna, the spiritual guide of the university, defines spirituality as the replacement of negative emotions with positive ones. We want to awake spiritual consciousness and awareness.
Madame, thank you so much for the interview.
During the interview, Mrs. Regunathan received phone calls and answered to some urgent queries of her secretary, so we decided not to occupy too much of her time. We met her nearly every morning after the interview, when all the three of us where on our way to H.H. Acharya Mahaprajna. The vice-chancellor was regularly searching Acharyashree's guidance, and was also cooperating with Munishree Mahendra Kumar and Sadhvishree Vishrut Vibha.
One morning, when we arrived together, Acharyashree said with a smile, 'You should cooperate.' All the three of us smiled and agreed.
Some days before our departure, Mrs.vice-chancellor invited us to take tea with her. We had a very nice conversation in relaxed atmosphere. She showed us posters made from scanned versions of manuscripts for an exhibition JVBI was preparing.