2012 Karuna's Mewar Tour
In the afternoon I had appointment with Sandeep Jain, the cousin of Akruti. For the first time we had met in Amet where his mother from Surat and some other relatives of the Dak family had come for Maryada Mahotsav. Maryada Mahotsav was an occasion for the family to meet. They told me that in one year there are 4 to 6 such occasions, which they all voluntarily used. Sandeep immediately had offered to take me around in Udaipur, which I willingly had accepted. The day of my arrival in Udaipur I had phoned him, and we had agreed that I will call him when about to leave Madam Fee. Amet Haveli is a well-known place in Udaipur, and that's why we started there.
Where to start visiting the places of interest in Udaipur? Of course, City Palace! The beautiful former residence of the Mewar kings offers broad insights to the historical facts of Mewar. The famous Rajput kings were freedom-loving combatants, and so were their folks. There is a tradition of being independent and trusty, which until today is maintained and also is a common characteristic of mountain people. Seems, the broadly sparse conditions of life, the rough weather conditions, and perhaps the relatively smaller distance to the sky are supporting the development of an outright, not too much babbling personality. In case of the Mewar kings instead of babbling their choice was fighting. Their portraits are telling this.
Until now Maharana Pratap is Mewar's greatest hero. He and his brave horse Chetak are remembered because of their braveness in the battle of Haldigati against the numerally outclassed army of Emperor Akbar who did not succeed to conquer Mewar, neither did his successors. This tradition is present at many locations, the City Palace, the Mewar Museum, to name the most important cultural institutions. Udaipur Airport and many education institutions are named after Maharana Pratap. The children of present day Udaipur still are aware of their hero Maharana Pratap and his brave horse Chetak who saved his wounded master and died, after having brought him to a safe place, out of the enemies' reach.
After visiting City Palace and before going to Mewar Museum Sandeep and me stopped for purchasing spices and even a book on Jain Tirths in Mewar. To know where to go was at the expense of several mobile phone calls by Sandeep. He succeeded in getting all needed informations, and grace to him I have taken home what I longed for.   
We left Mewar Museum, when it was close to sunset. We took tea at a tea stall of Sandeep's preference in front of one the Udaipur Lakes, a meeting point of Udaipur's youth at sunset and in the evening. In the evening the lights around the lake make it an even more beautiful area, Sandeep told me. But my flight to Delhi was early next morning, taxi pickup time 06:00am. I took leave of Sandeep and hope to meet him again, perhaps in Germany. Sandeep is an architect, and I would love to take him to Bauhaus Dessau.
This is the last report on my Mewar tour 2012. Next morning was my flight to Delhi, and reunion with Swami Dharmanand ji and Smt. Nirmala Jain. Only for some hours, as my flight to Germany was very, very early in the morning the day after, departure at 01:30am.
Thank you very much for kind attention; it was my pleasure to report on this for you. Nevertheless, Sadhvi Vishrut Vibha had put it this way, when we met for the last time this year in Amet: See you next year!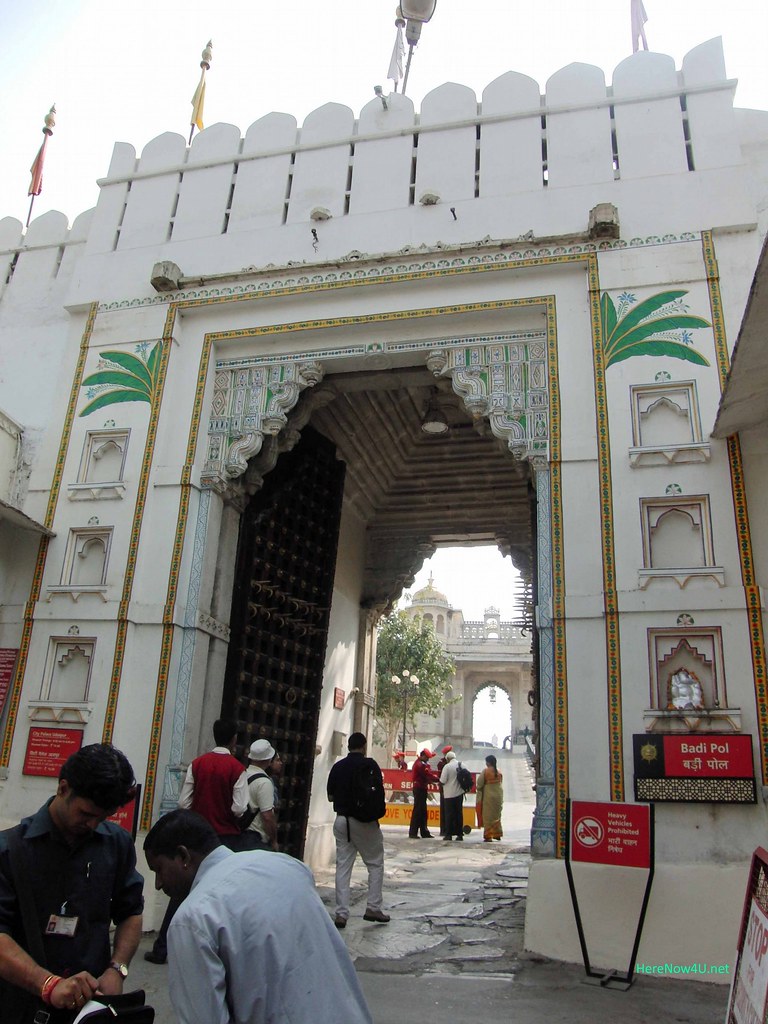 Entrance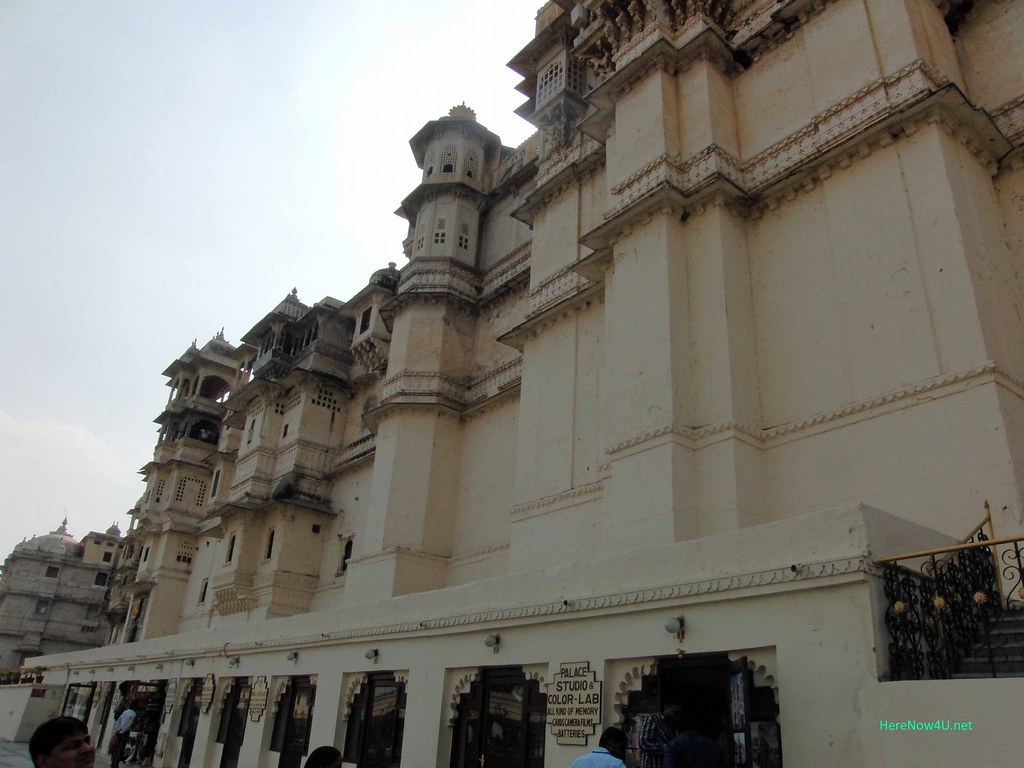 View from entrance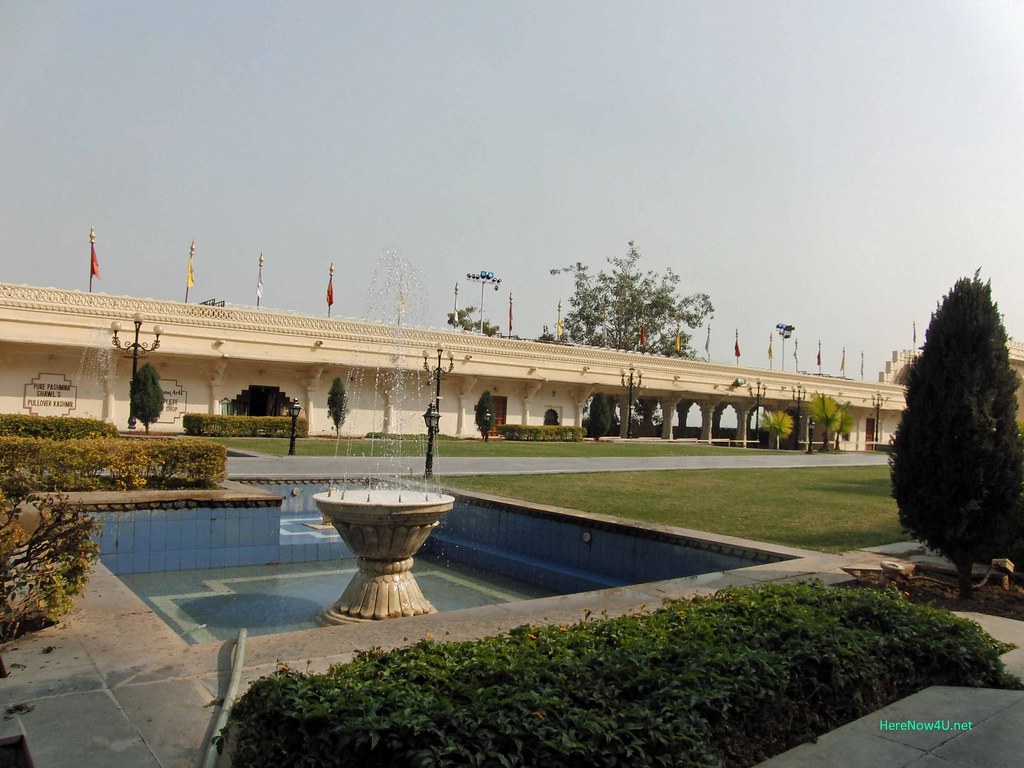 Park encircling Palace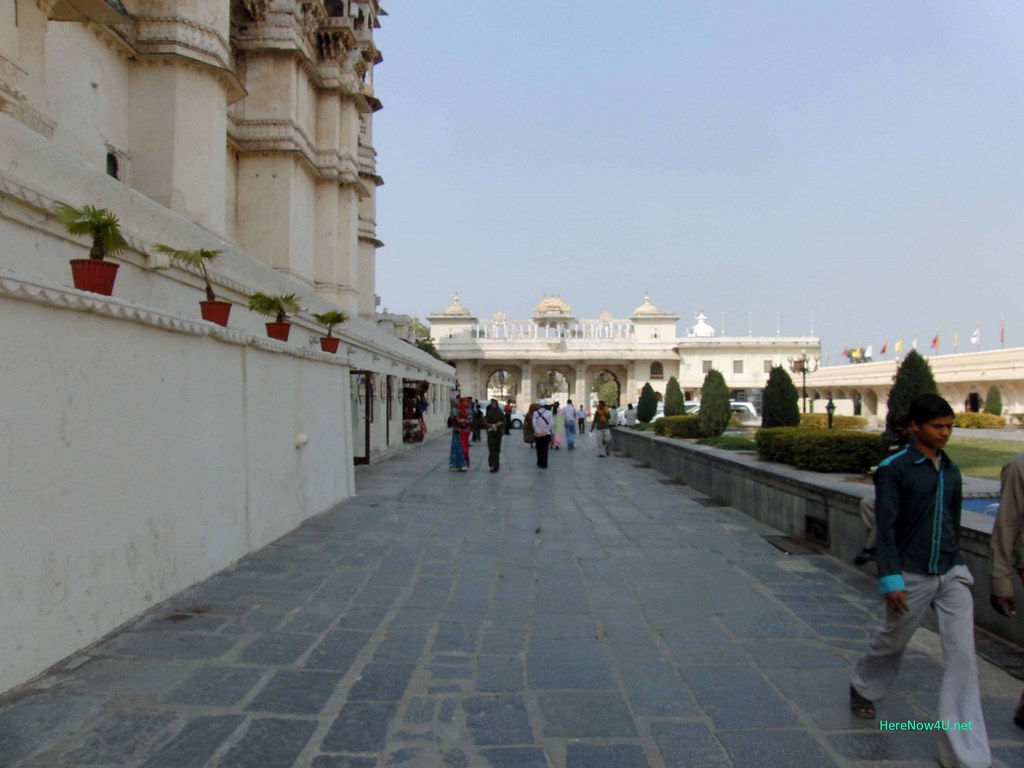 View from Palace entrance to the entry gate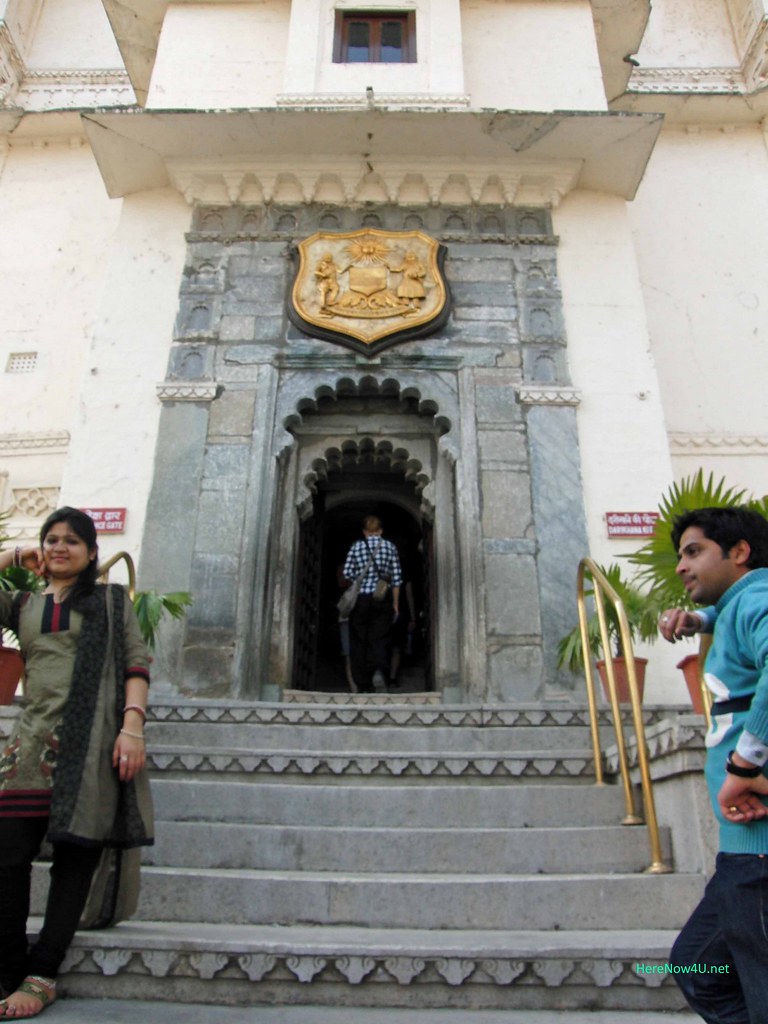 Entrance to Palace with golden logo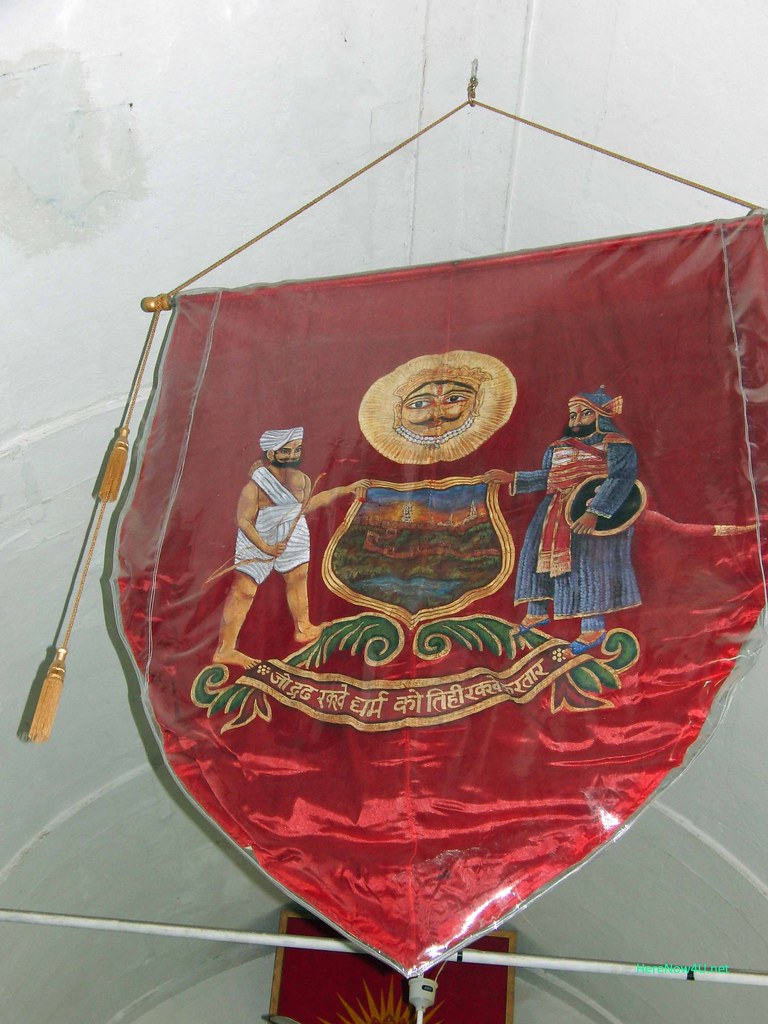 Traditiuonal Mewar flag with logo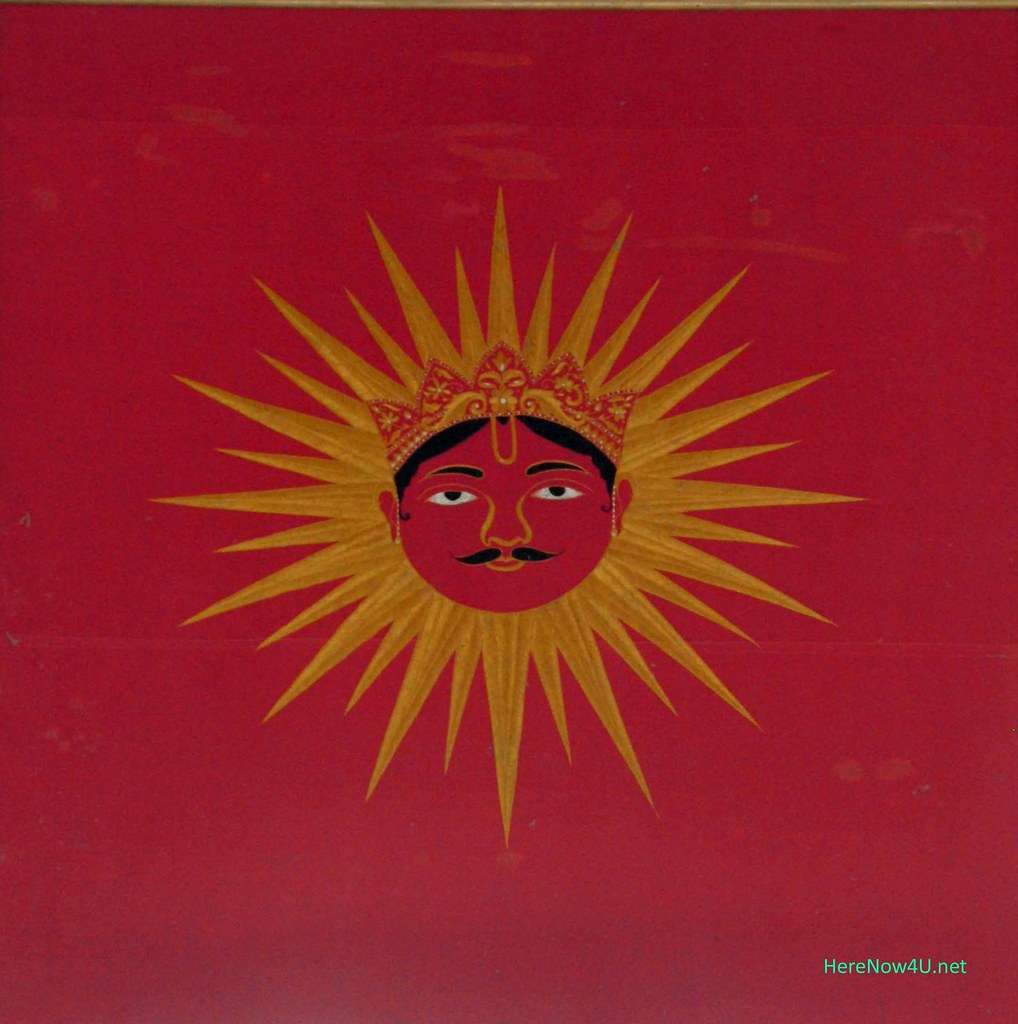 Logo of Mewar kings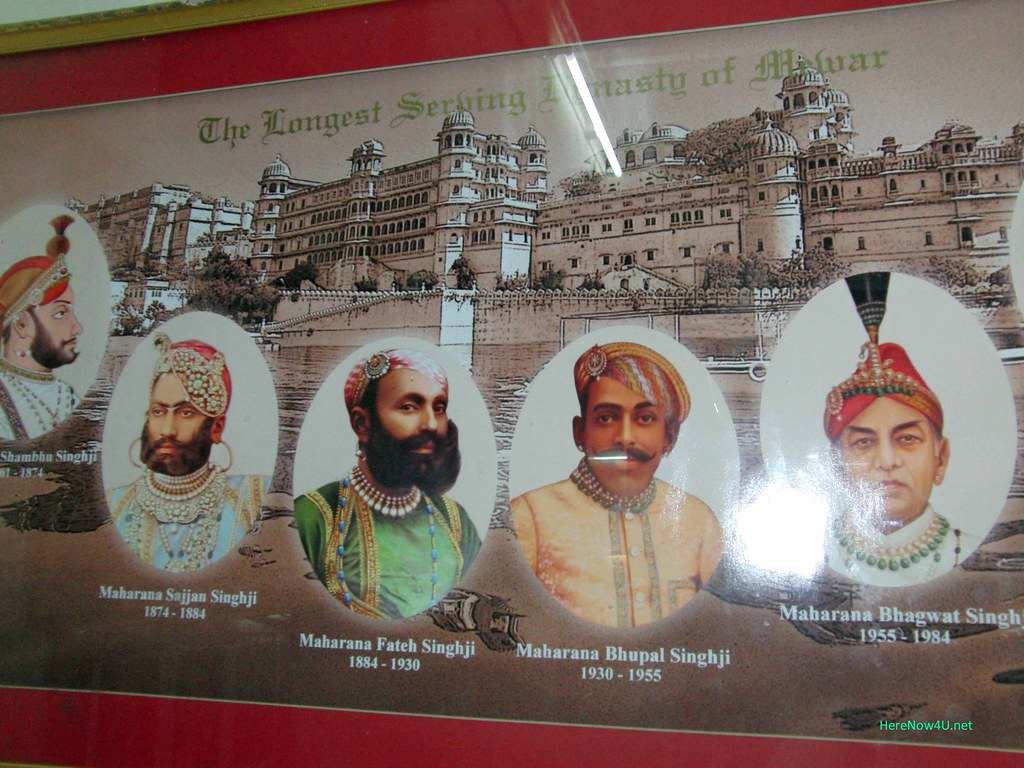 Mewar kings since 19th century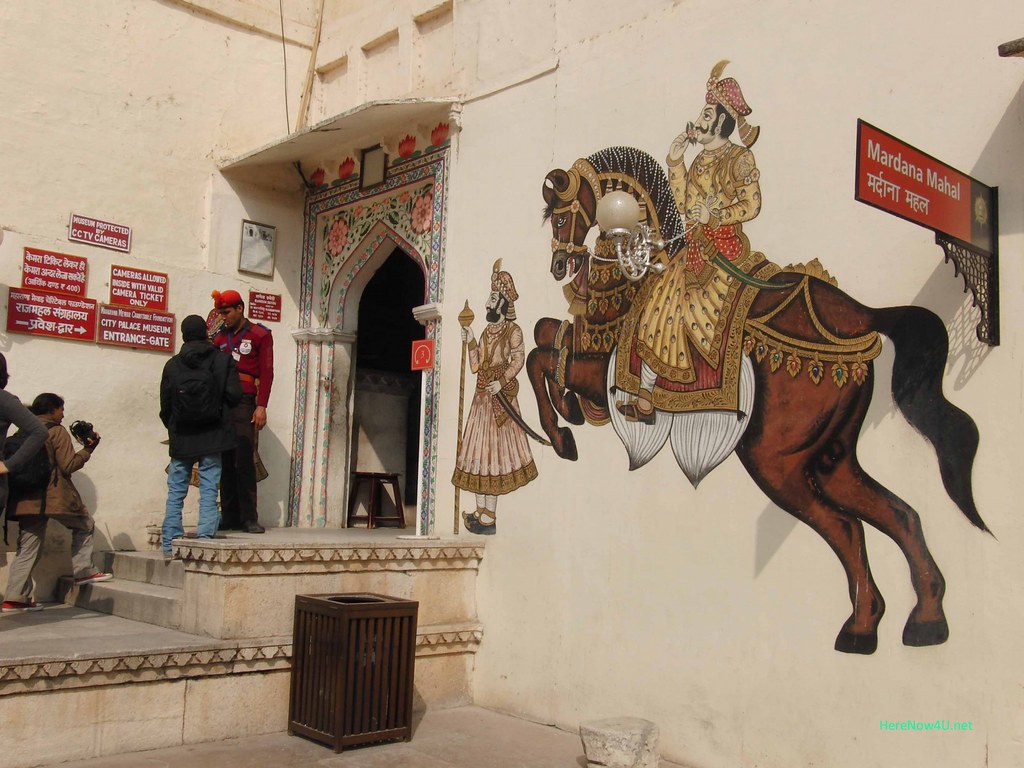 Wall paintin in the inner courtyard of the palace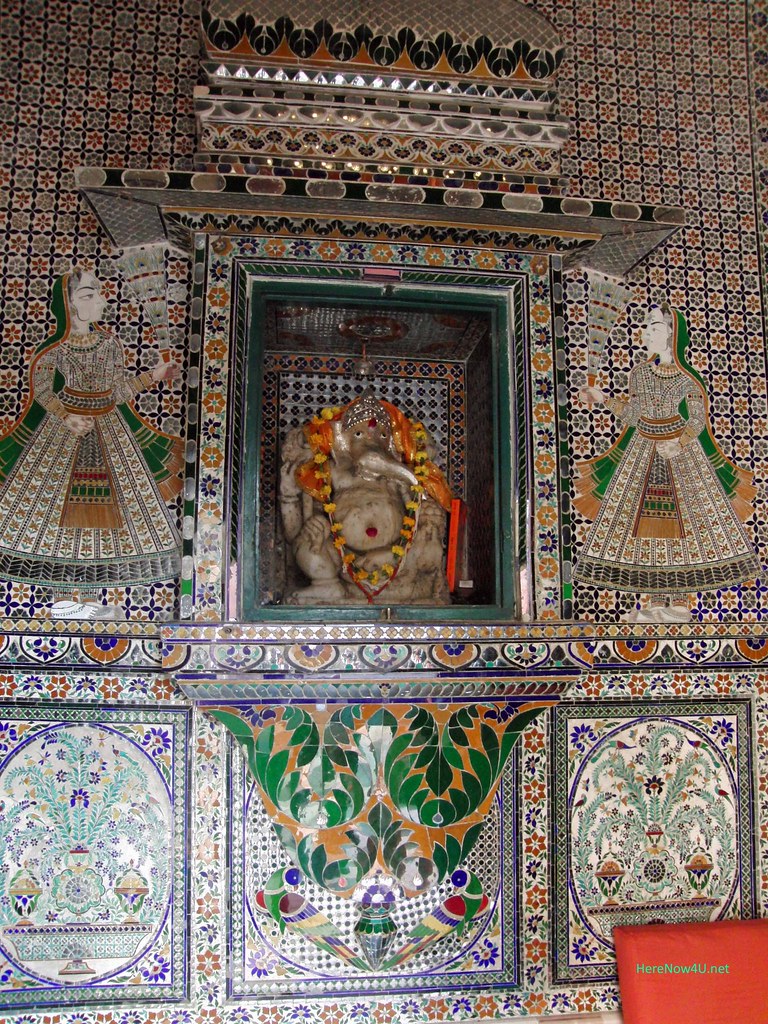 Wall mosaic with Lord Ganesha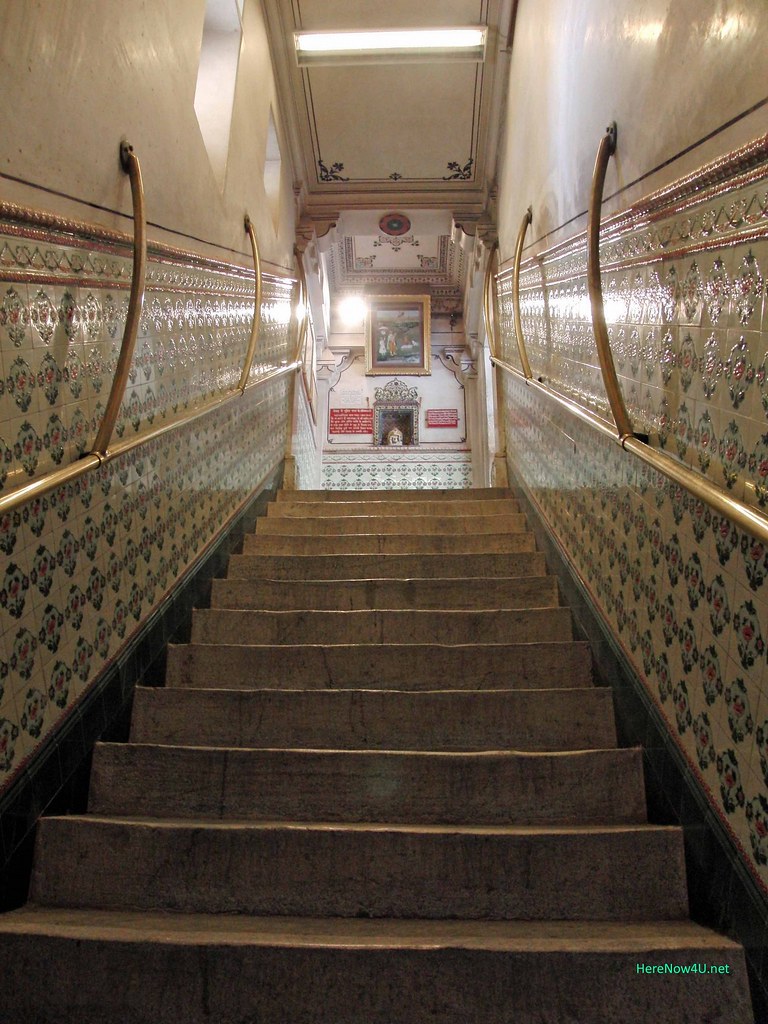 Staircase in the palace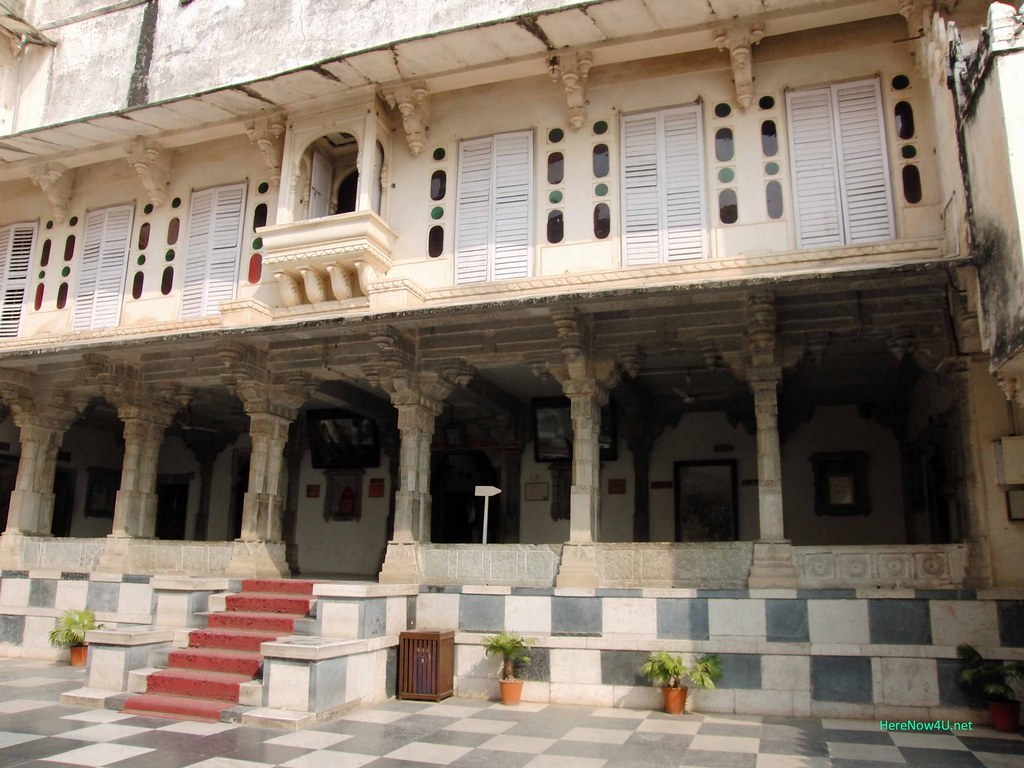 Arcades in the inner courtyard
Town and lake view from the palace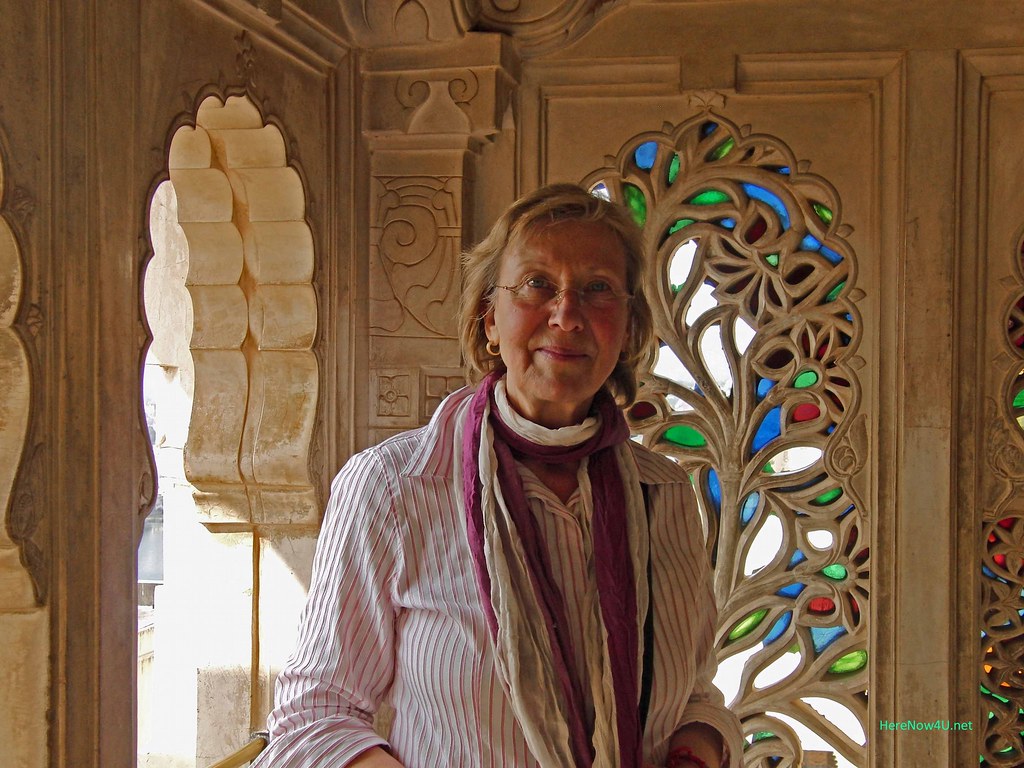 Karuna Jain in front of window mosaic in glas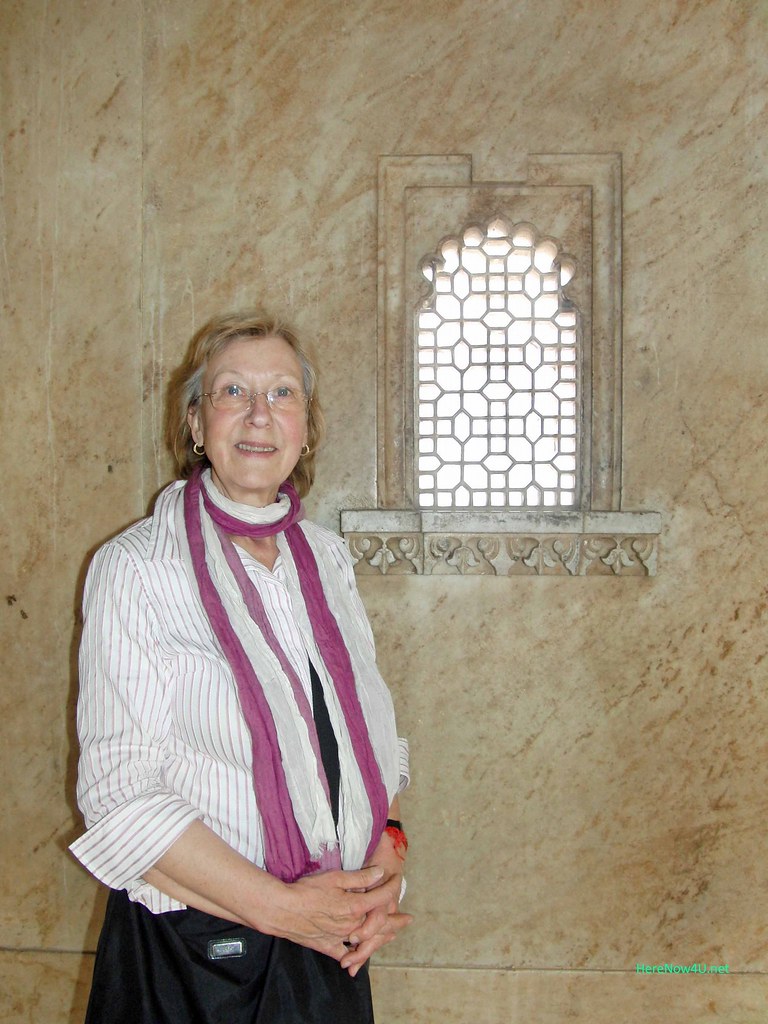 Karuna Jain under a traditional palace window with ornaments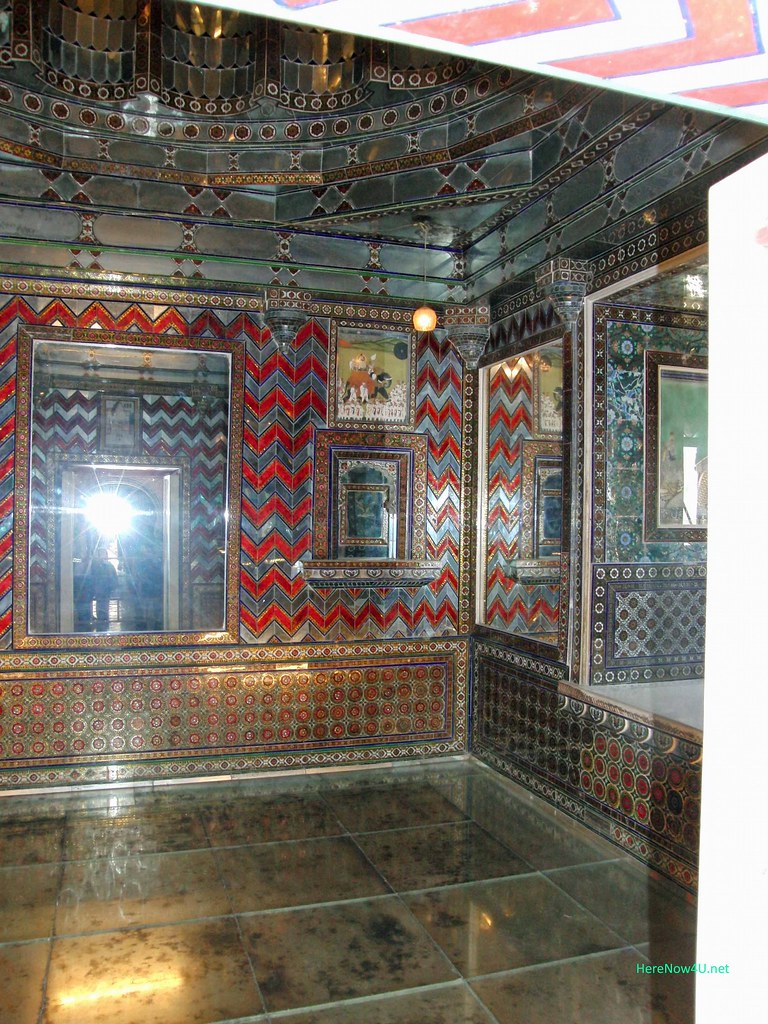 Traditional mirror mosaic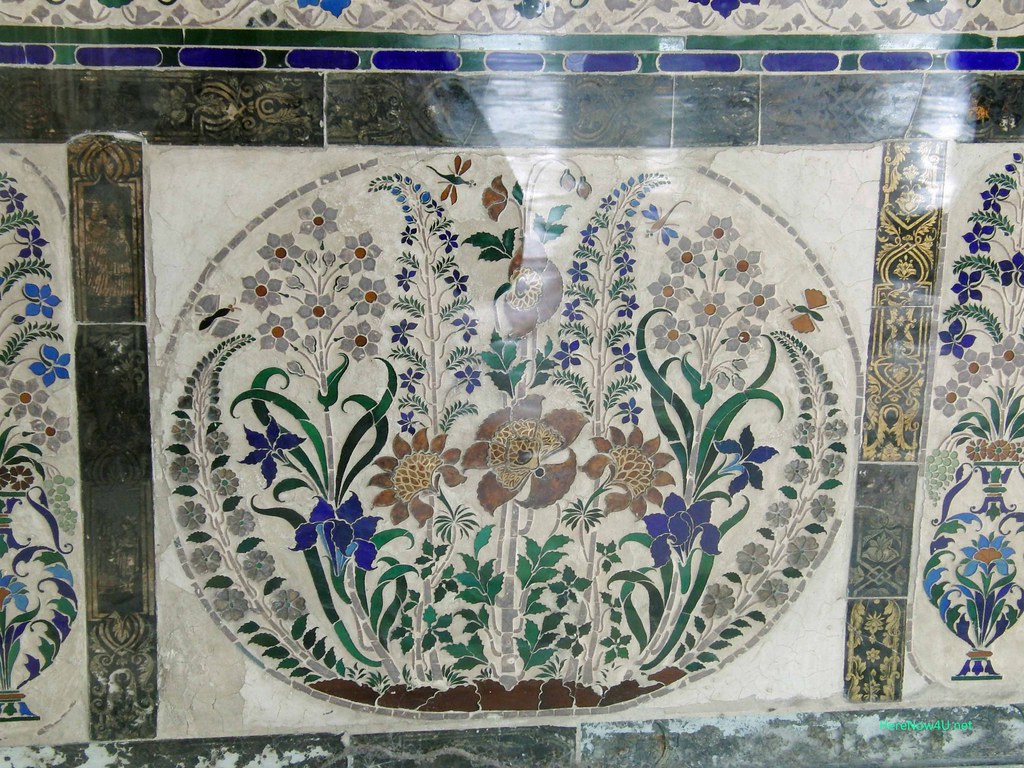 Floral wall decoration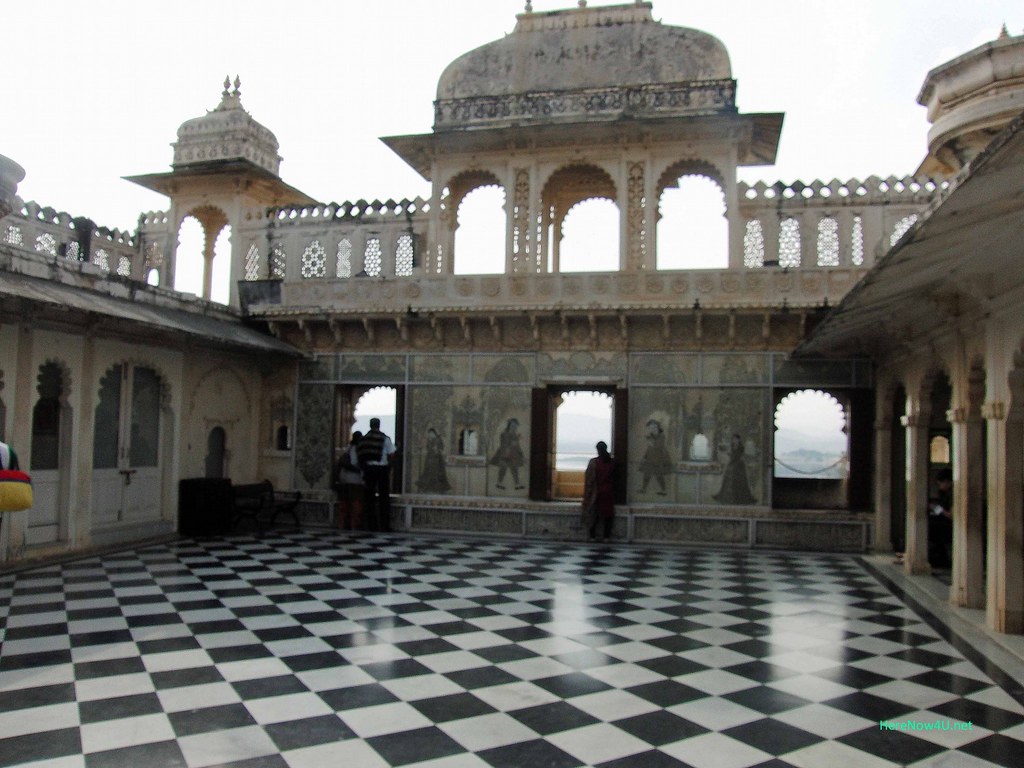 Inner courtyard in first storey of palace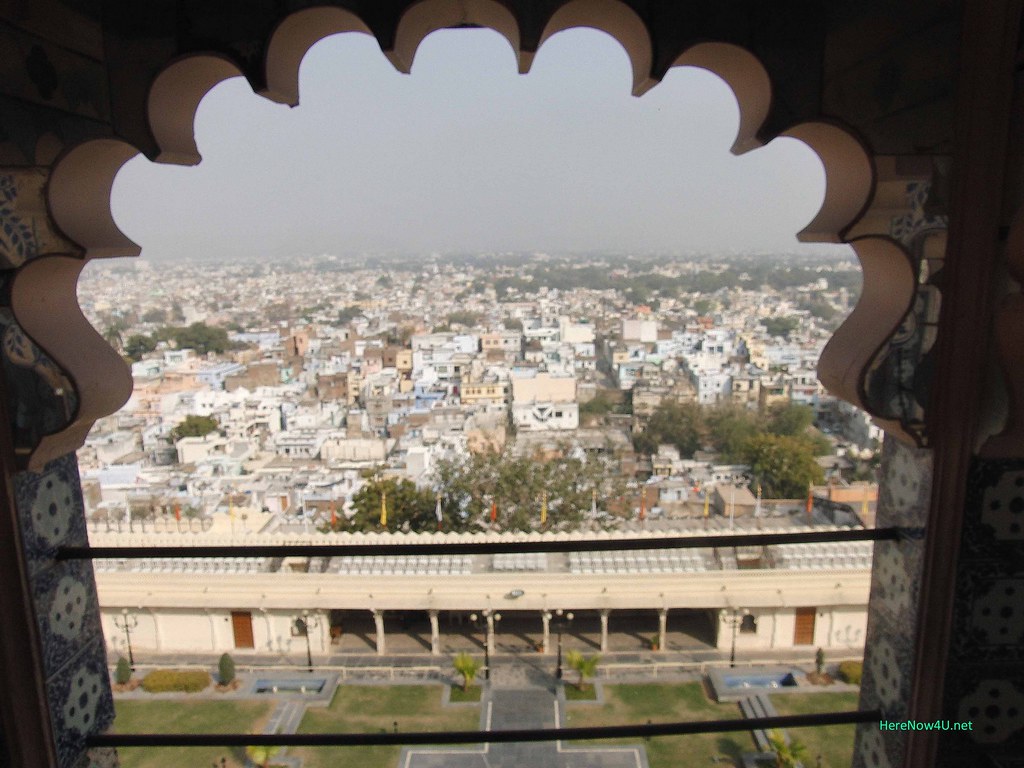 View on town from beautifully designed palace window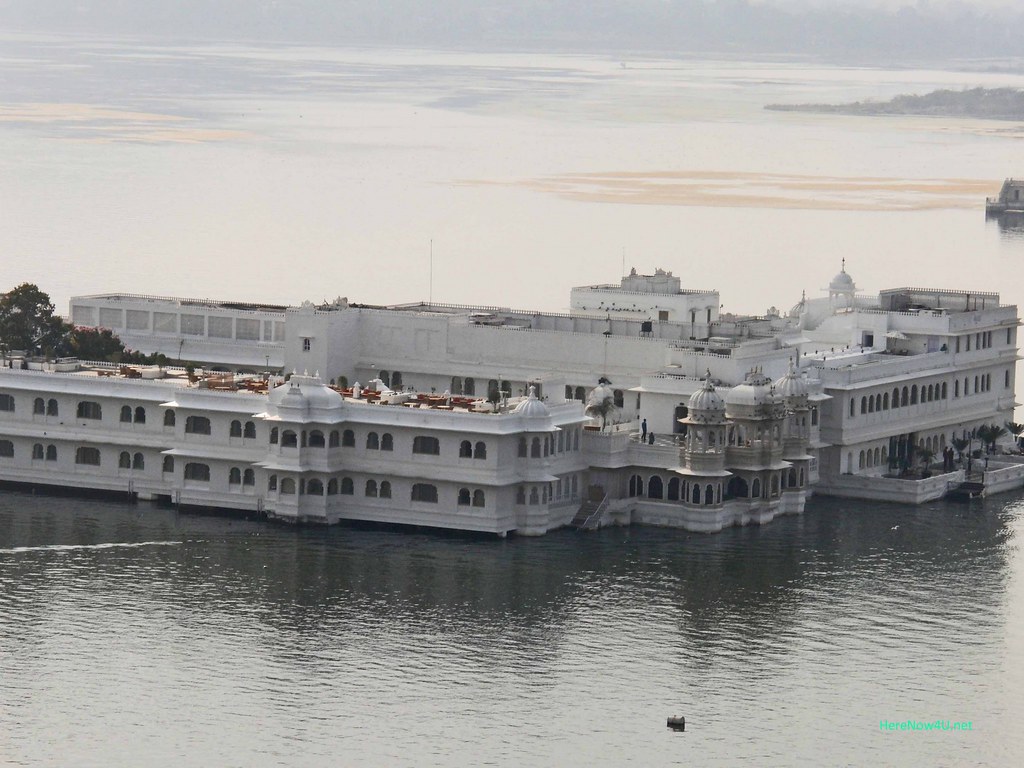 Lake palace, summer residence of Mewar kings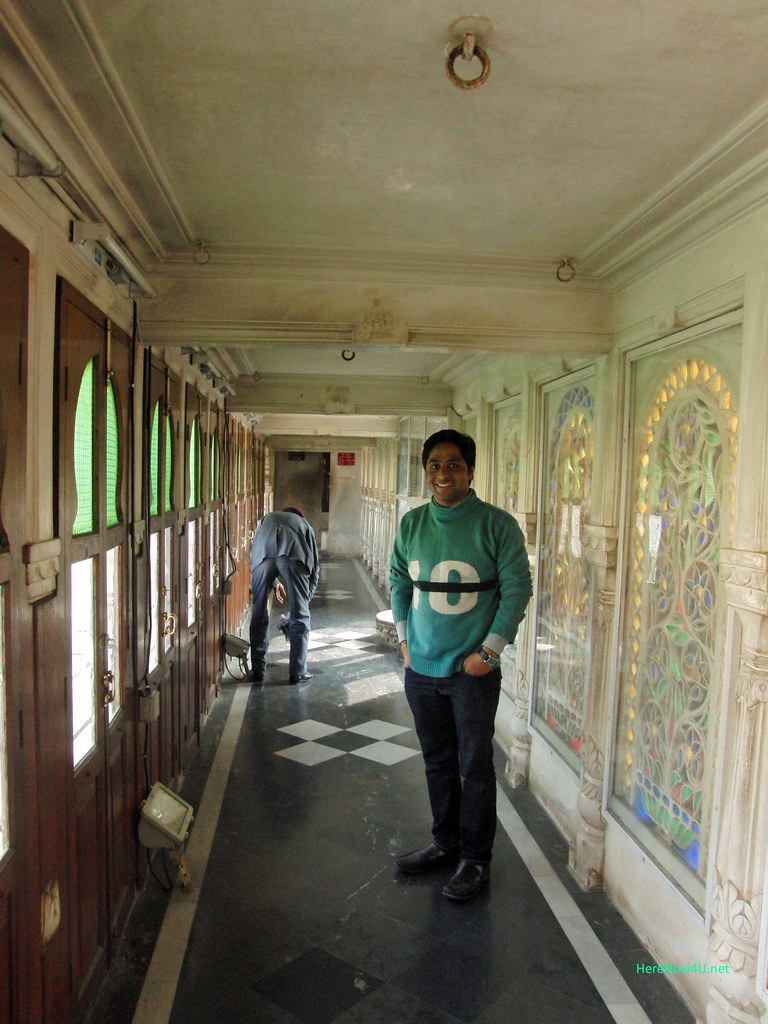 Sandeep Jain in airy corridor of palace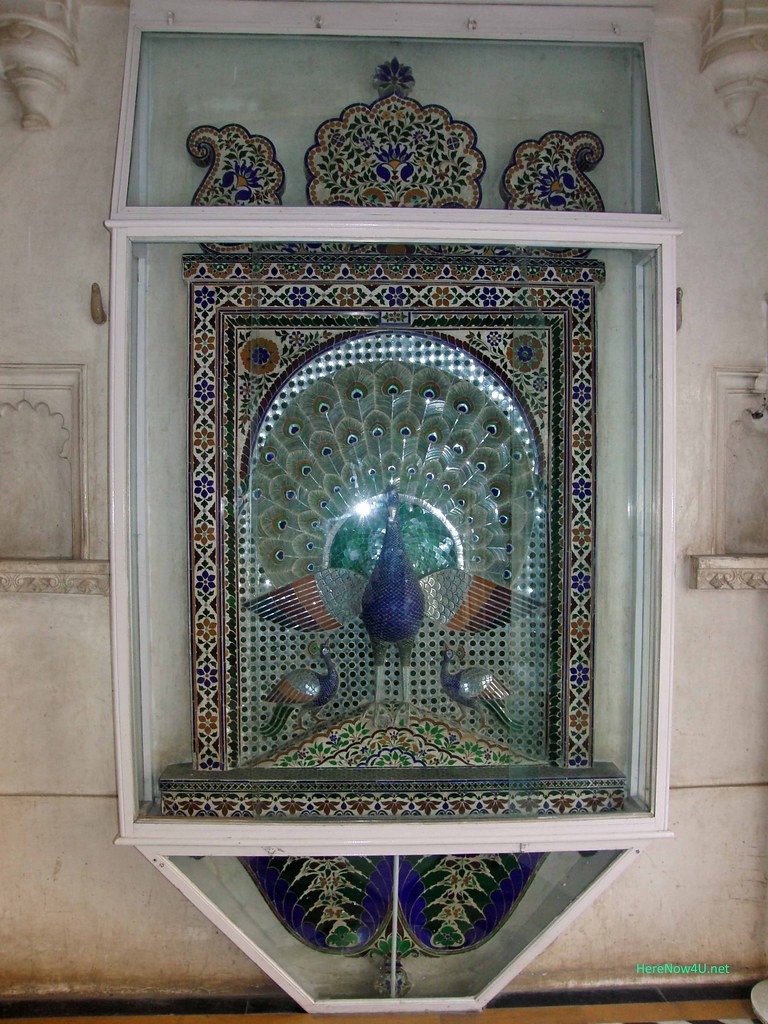 Traditional Mewar depiction of peacock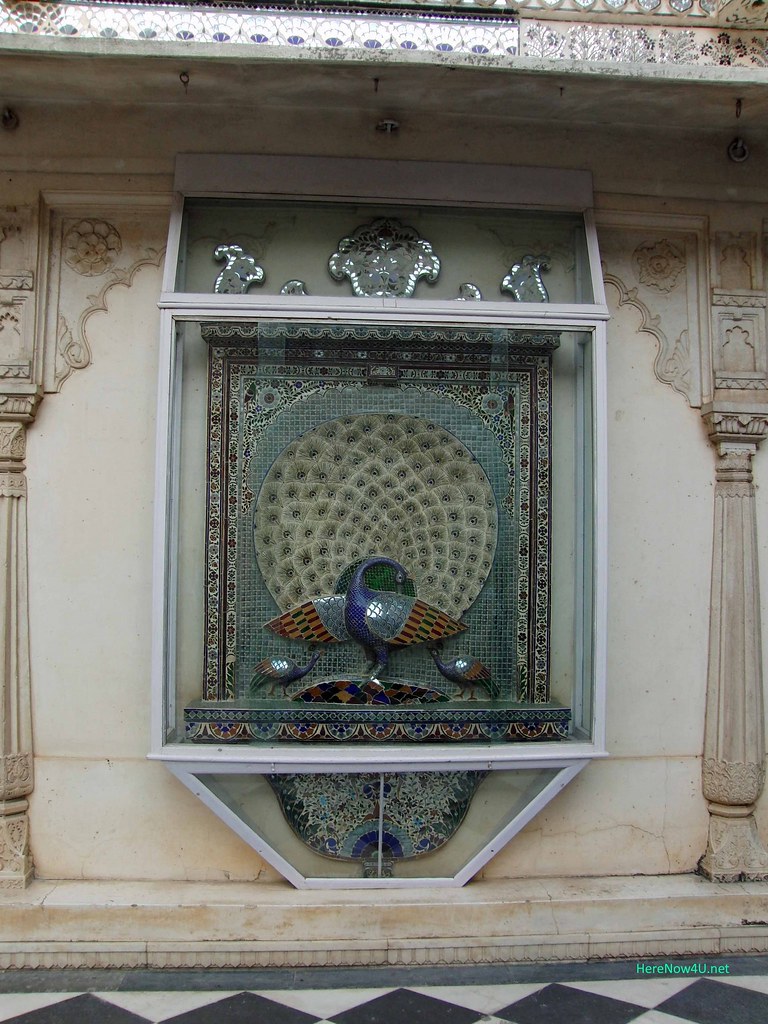 Wall decoration in the inner courtyard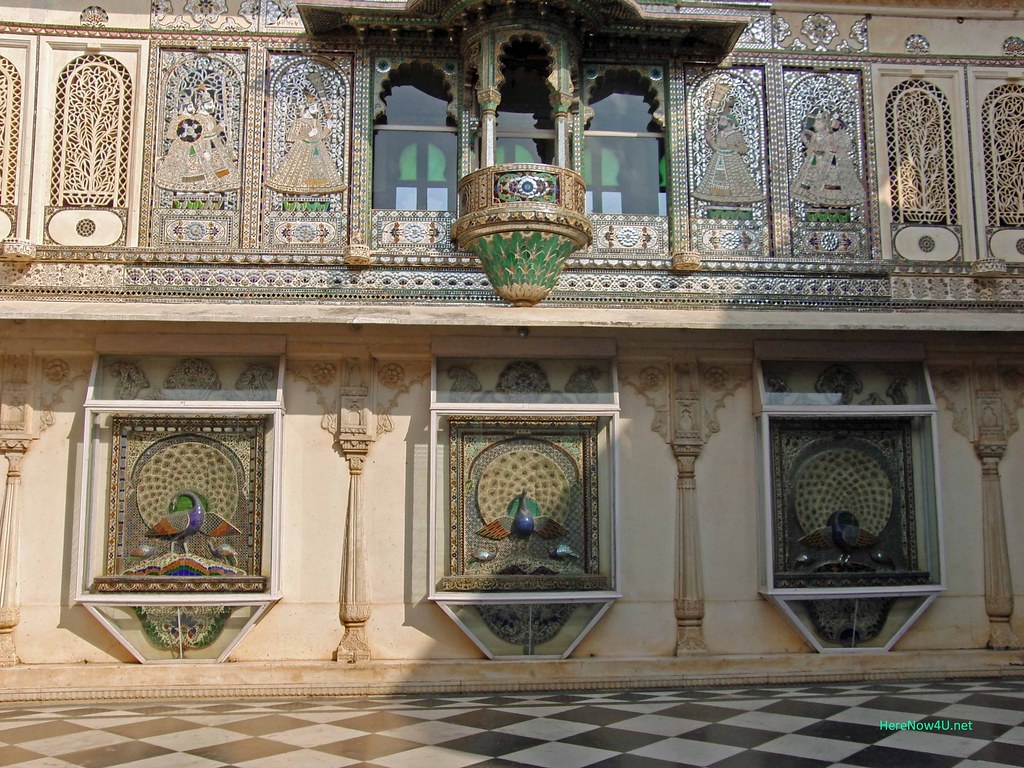 Depictions of peacocks with balcony below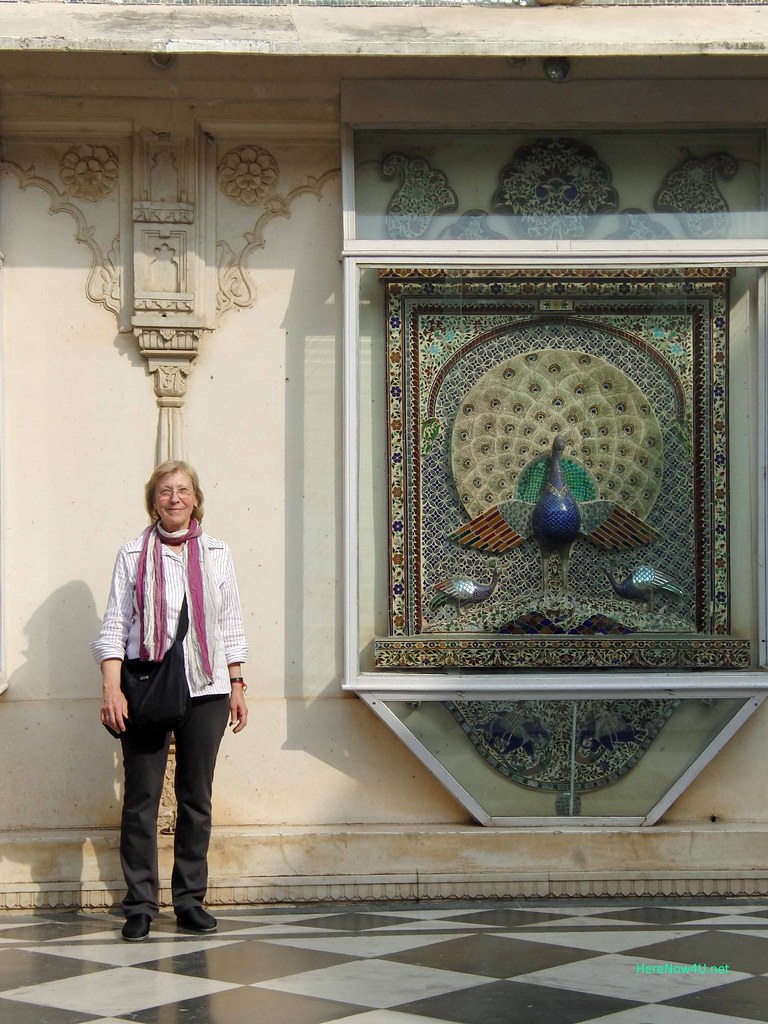 Karuna Jain in the courtyard of the palace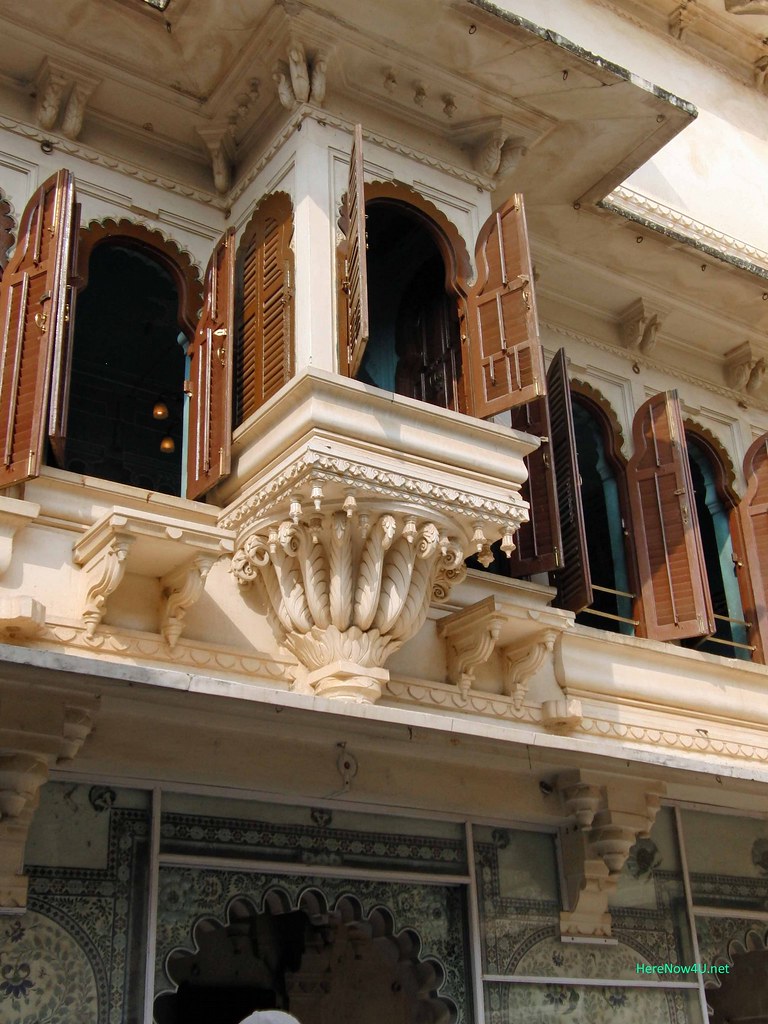 View on windows in courtyard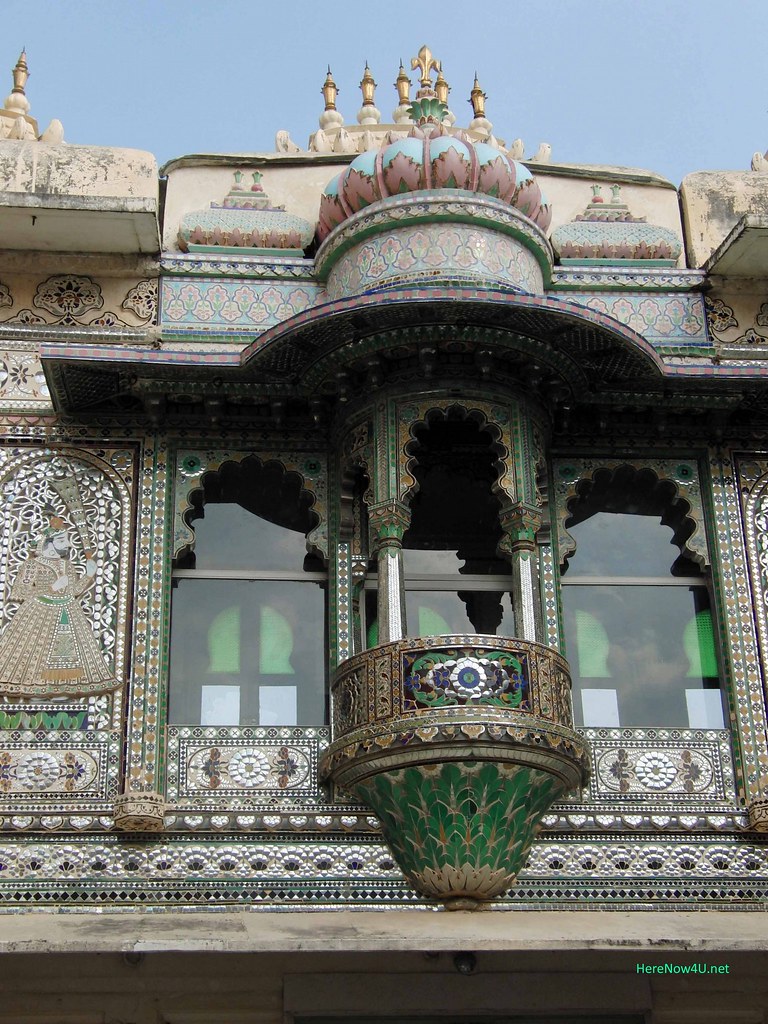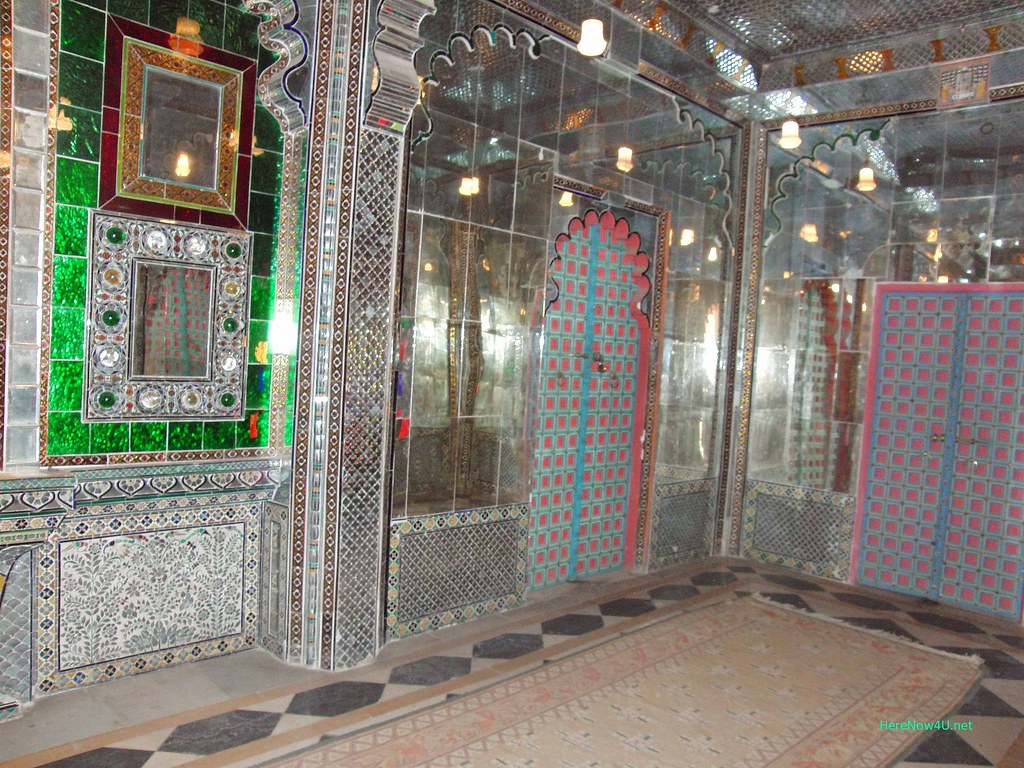 Corridor decorated with mirror mosaic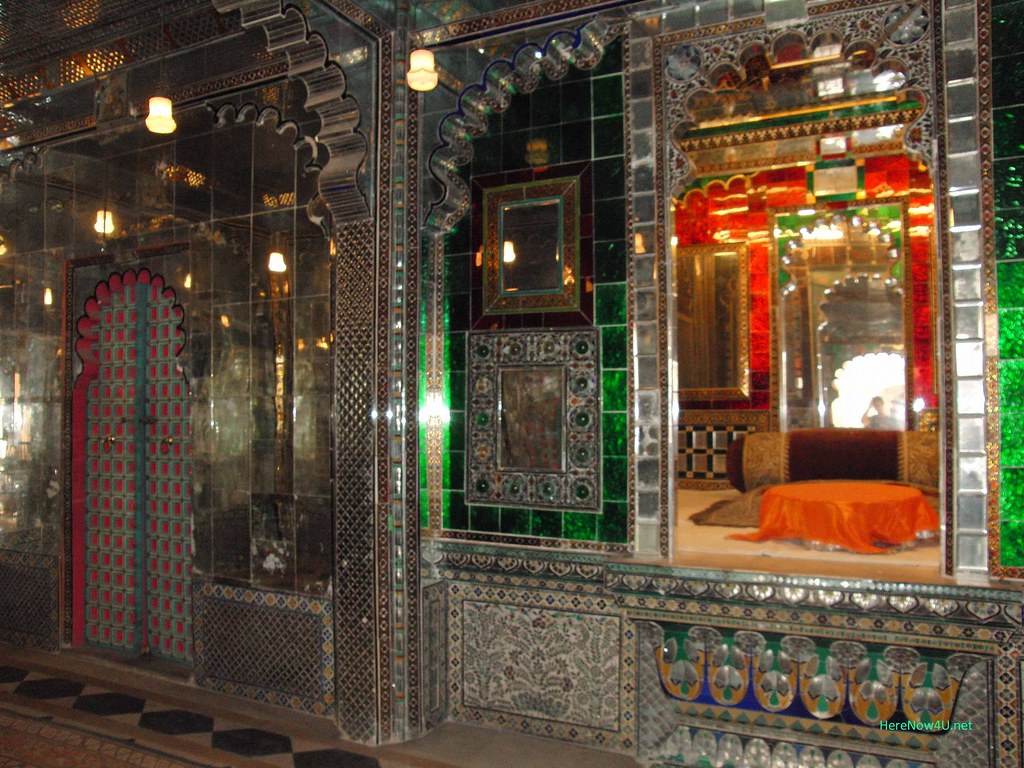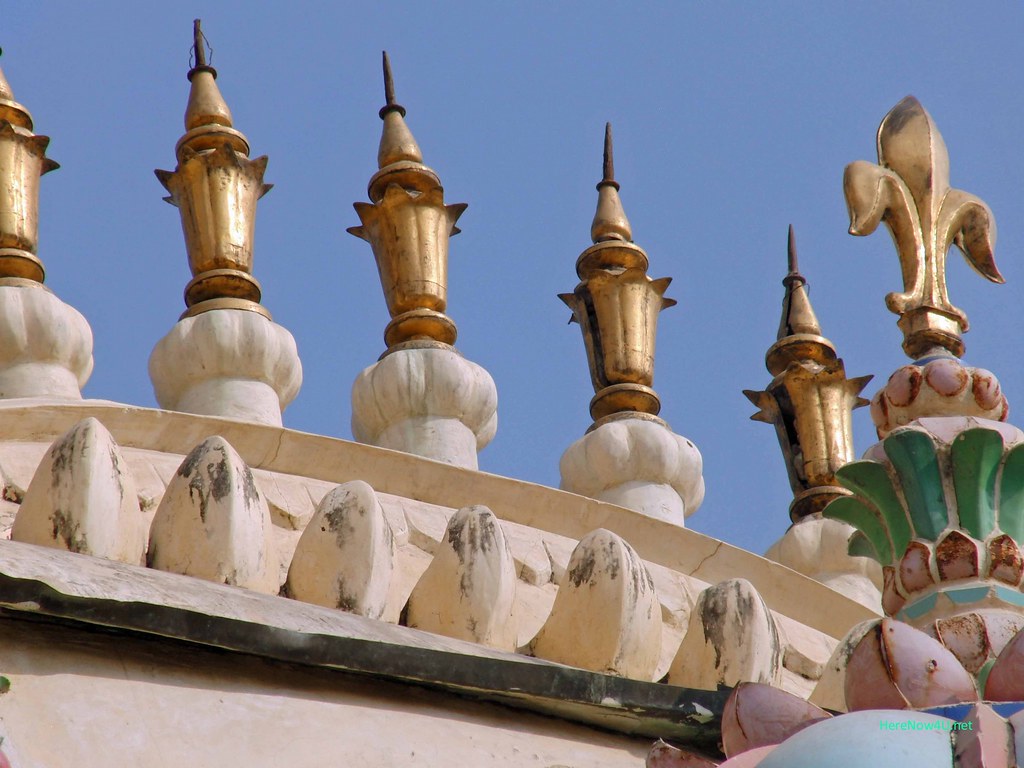 Golden cusp symbolising unconquered palace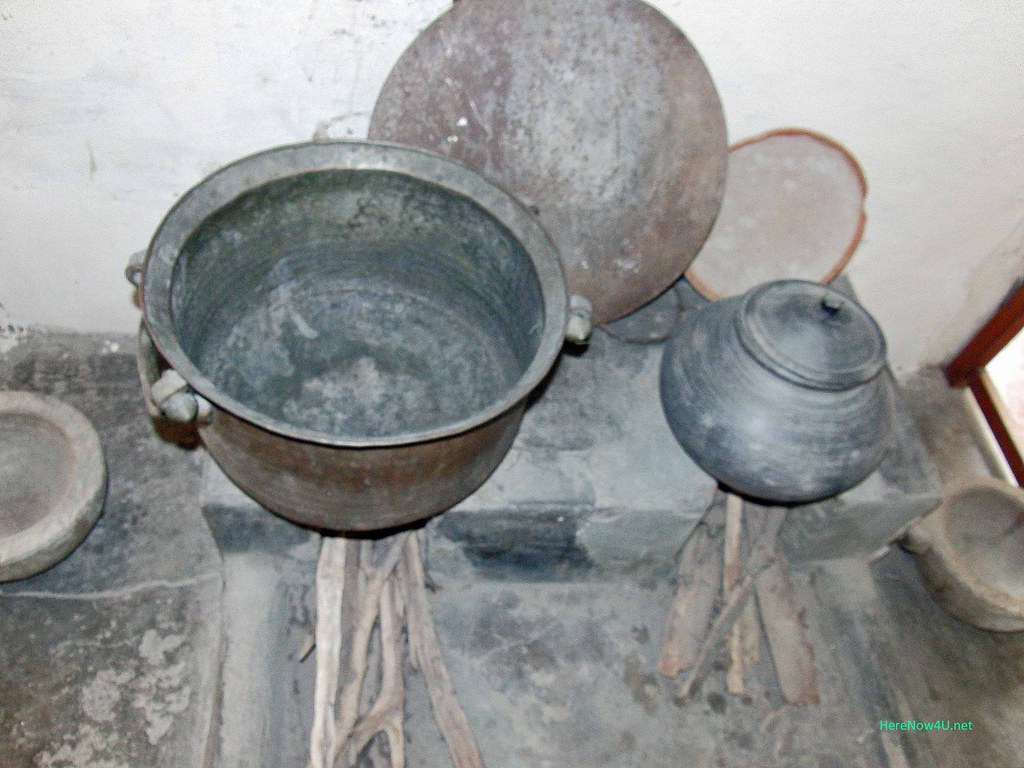 Cooking utensils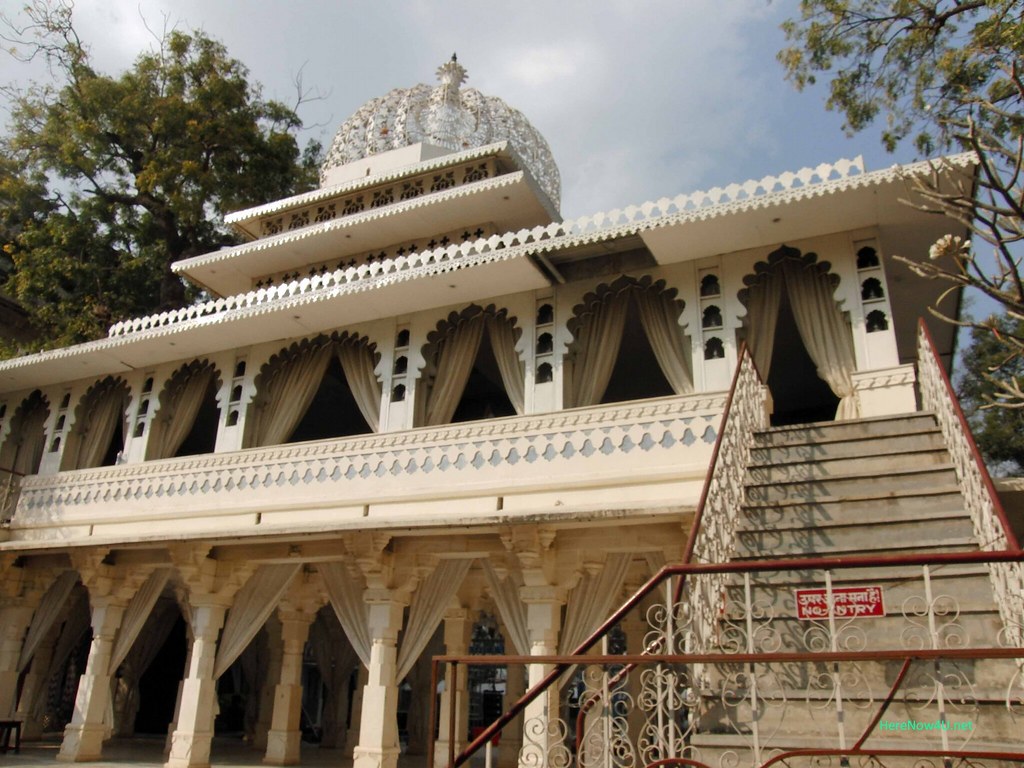 Small summer house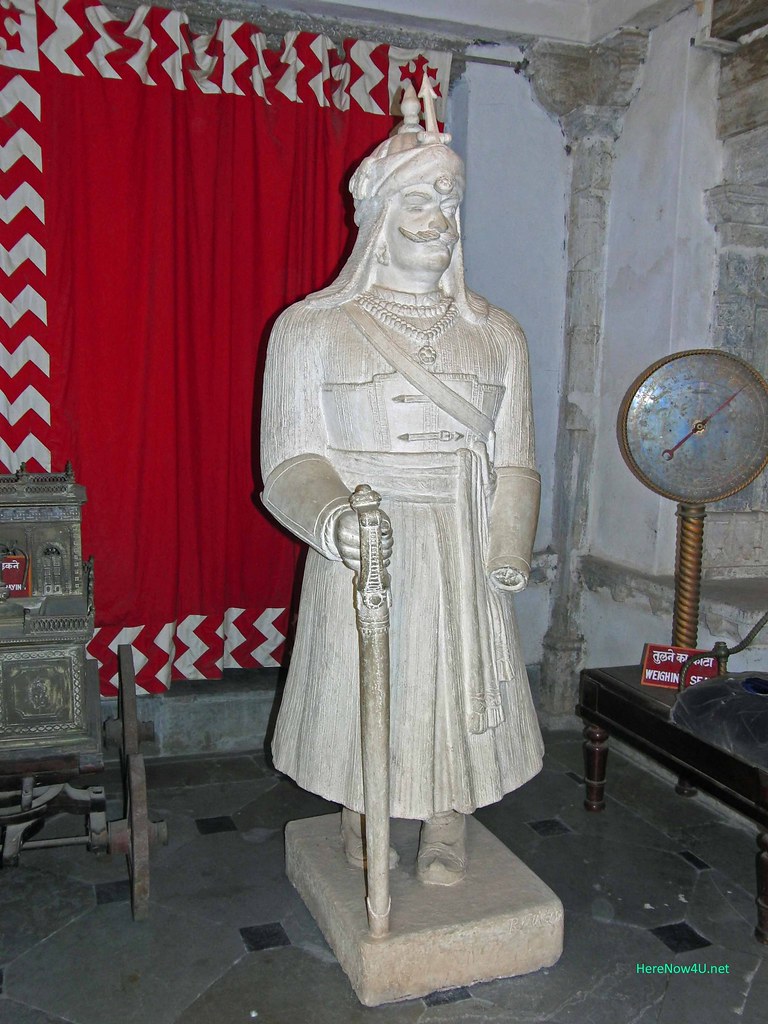 Statue of Maharana Pratab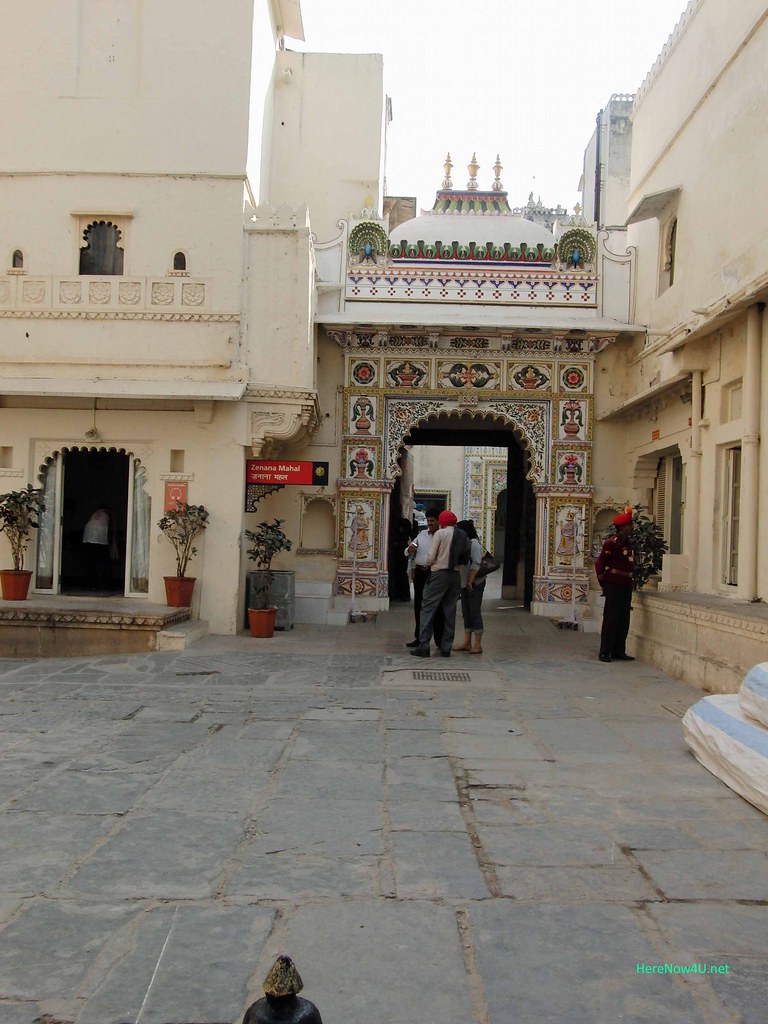 Glazed tile with traditional ornamants and depiction of peacock on a gateway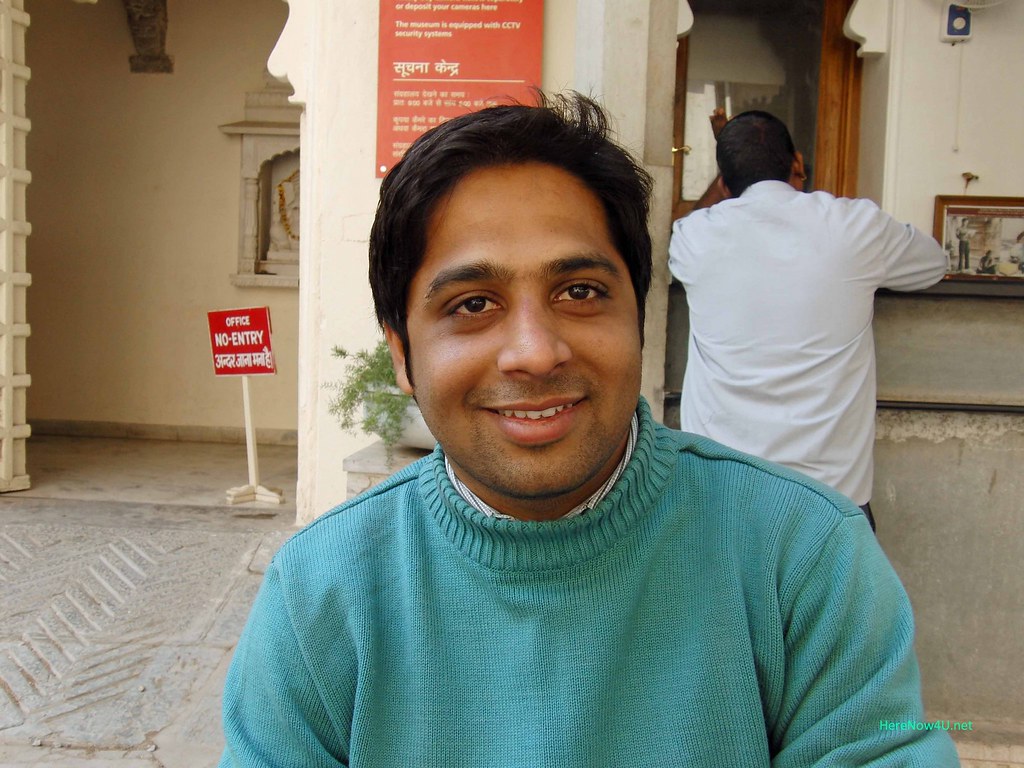 Sandeep Jain who took me around in Udaipur on his bike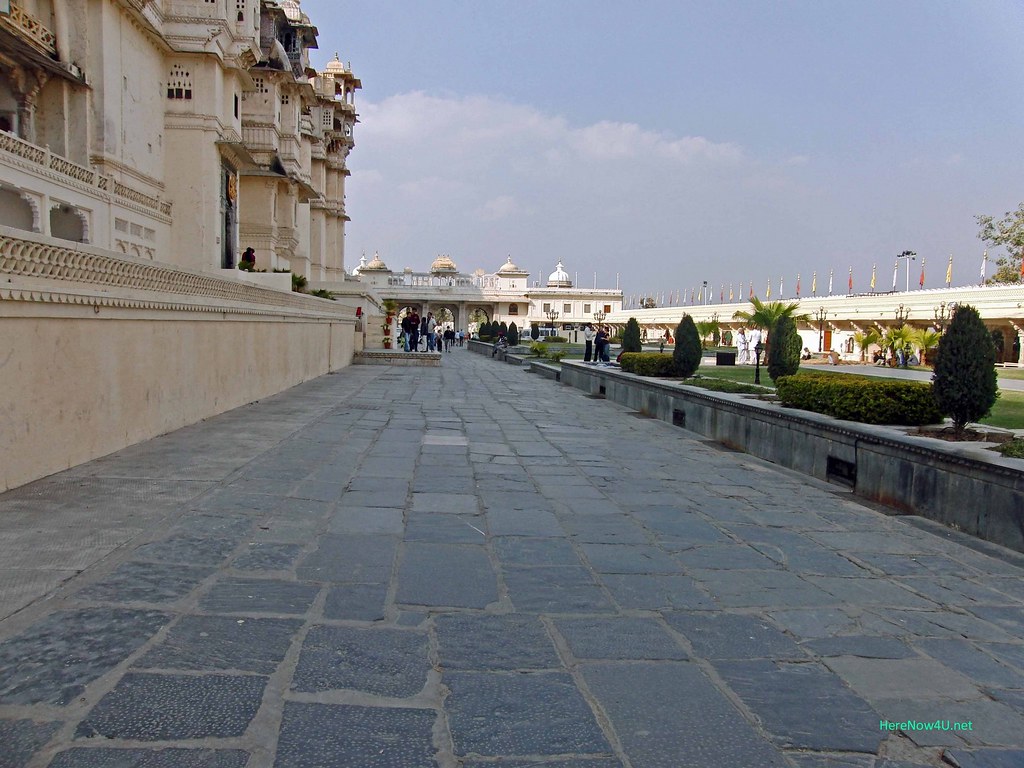 View on park and facade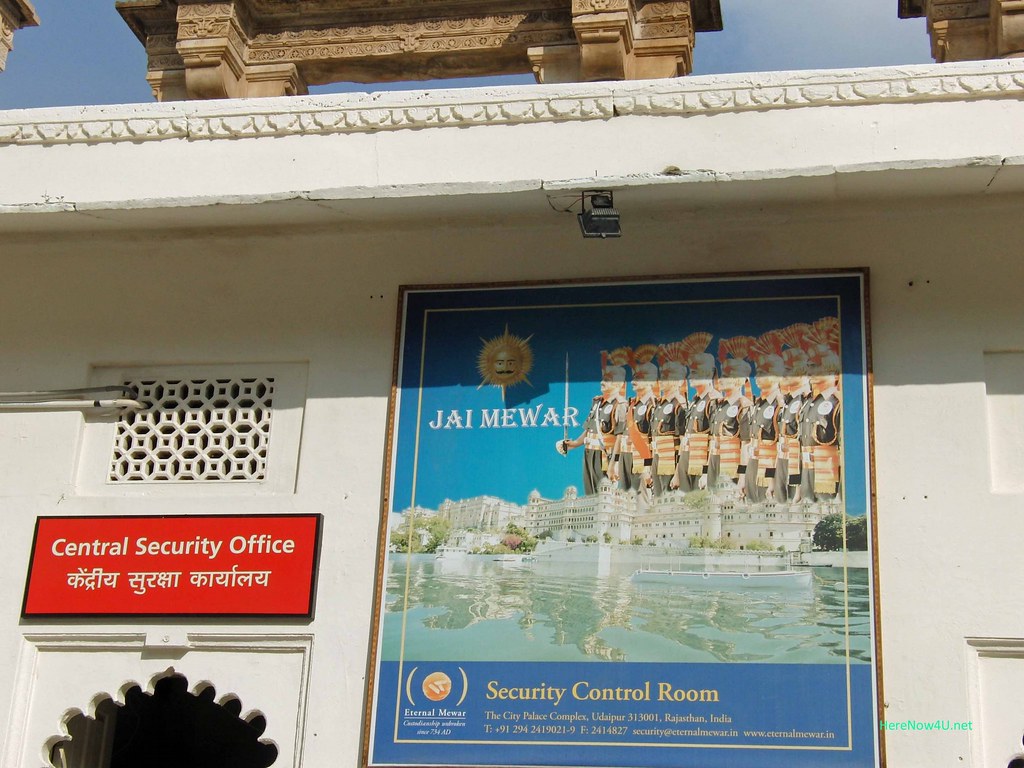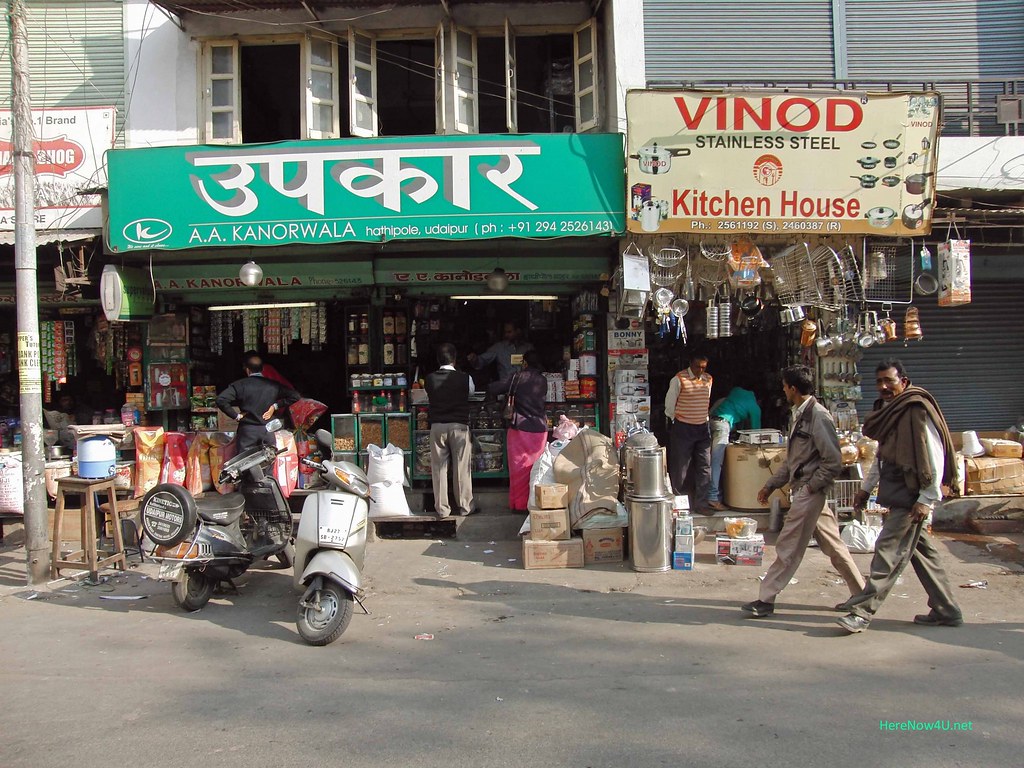 Shop where I purchased spices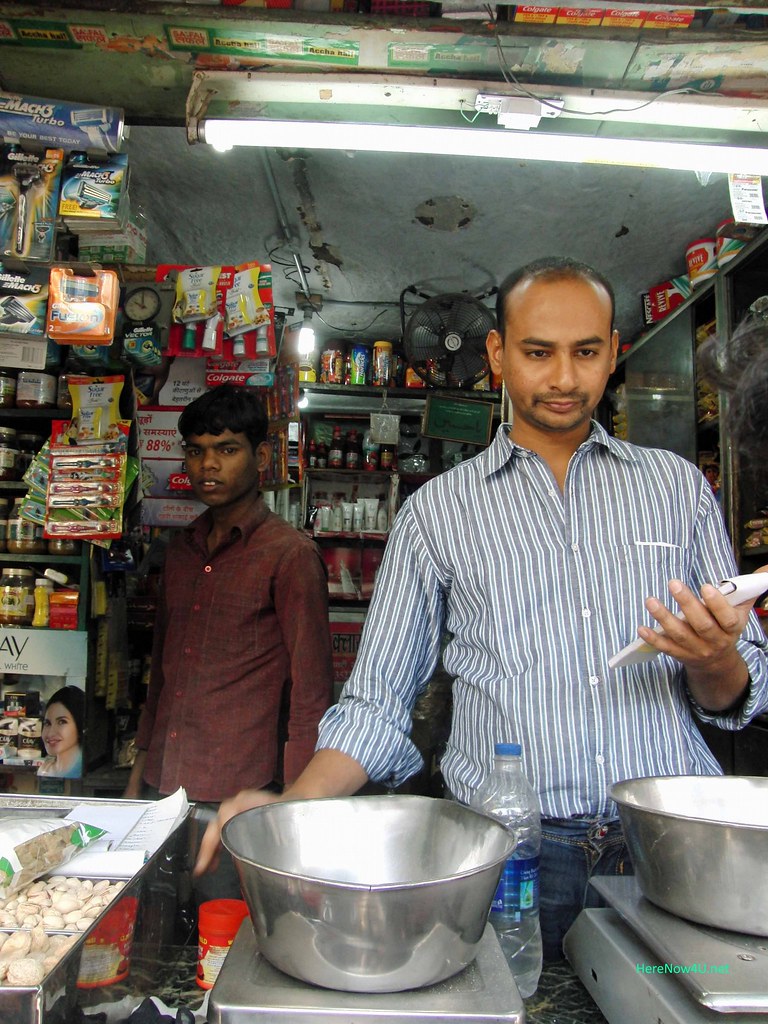 Shopkeeper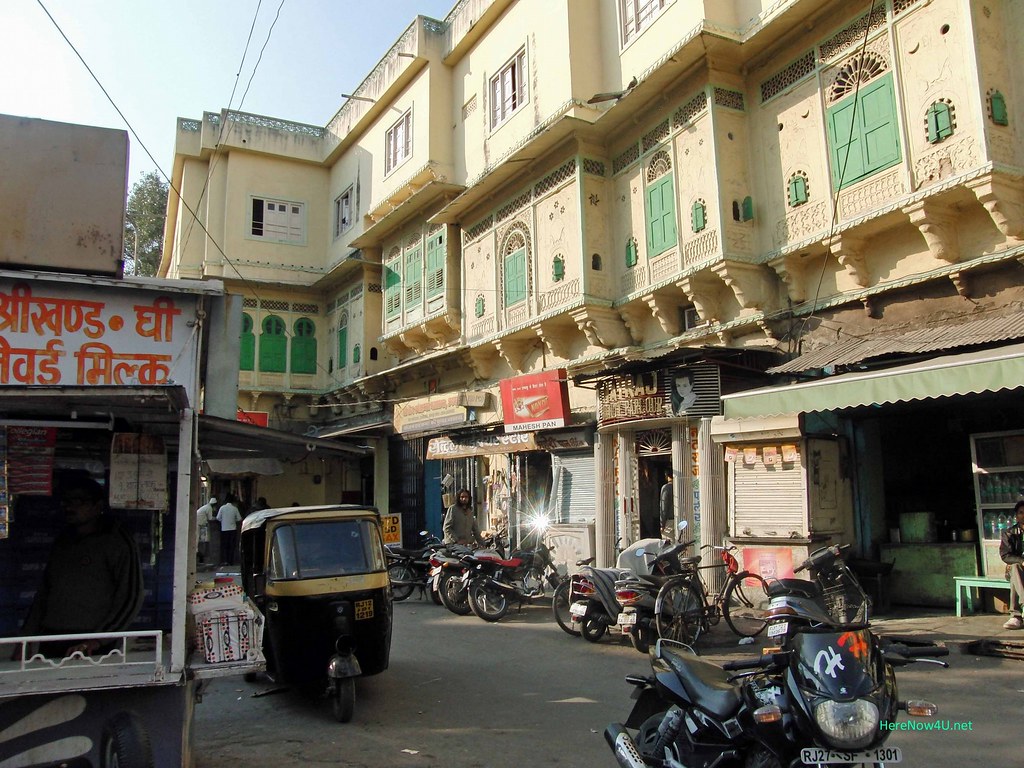 Facade of Jain Samaj where I purchased the book on Jain Tirths in Mewar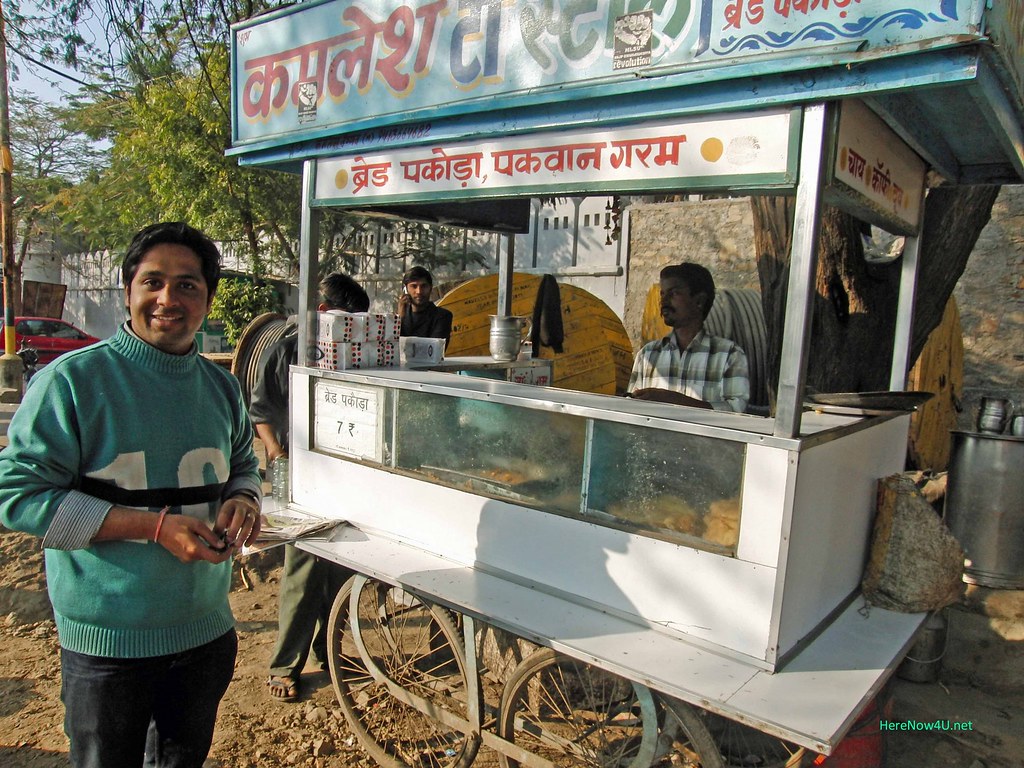 Tea stall in front of one lake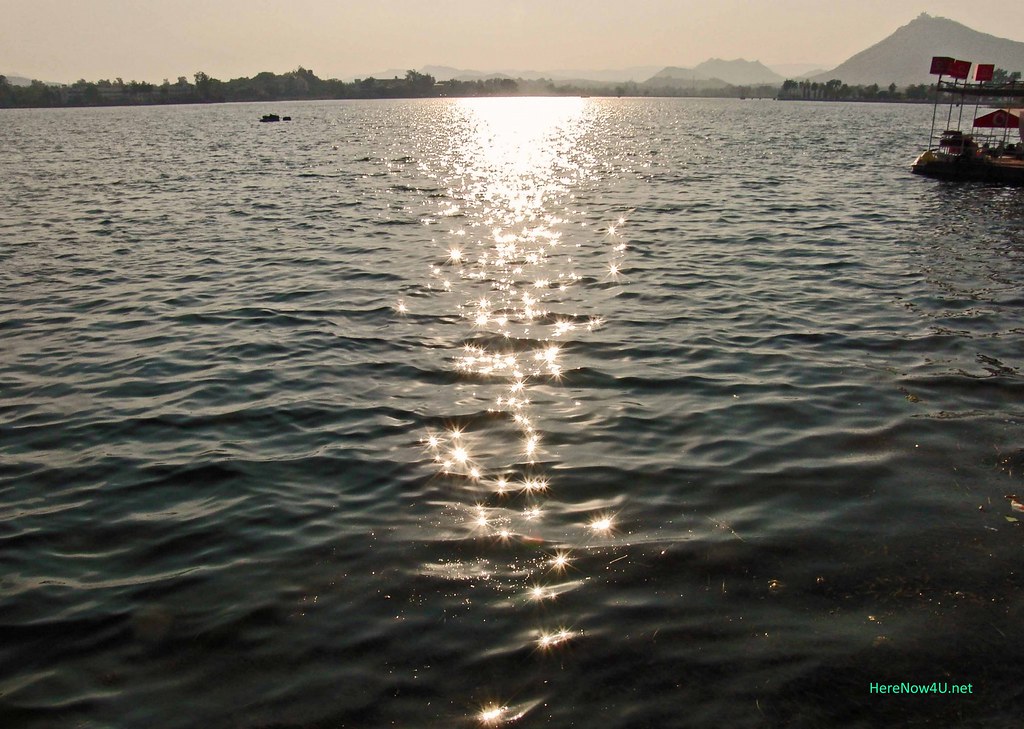 Lake view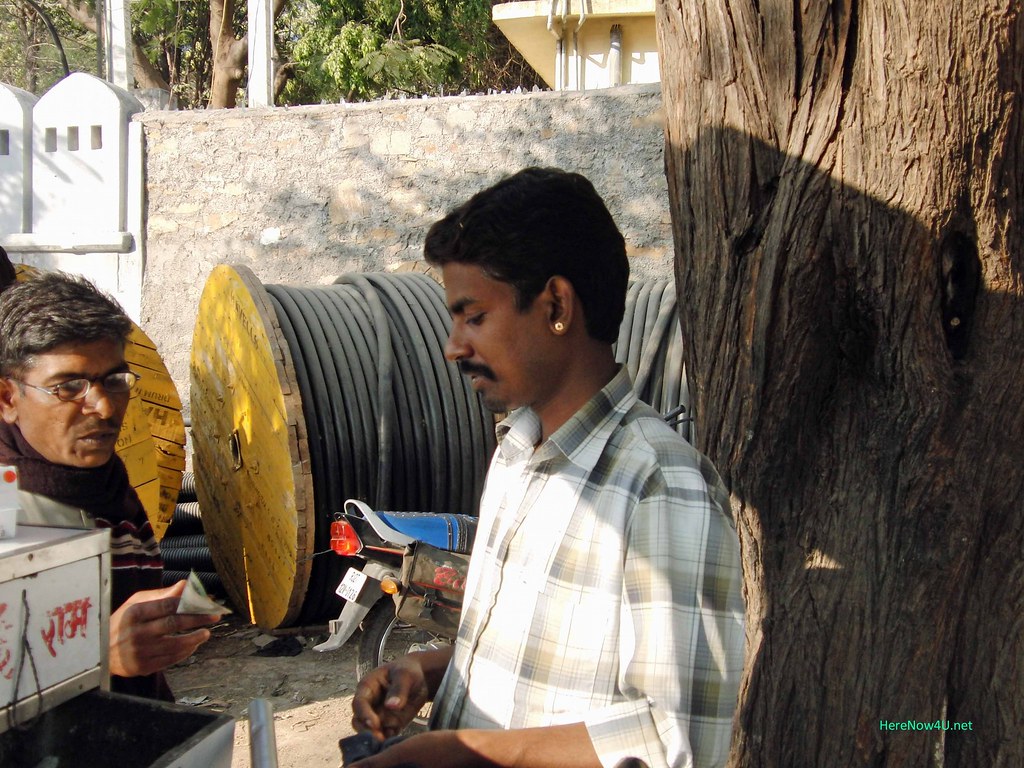 Tea wallah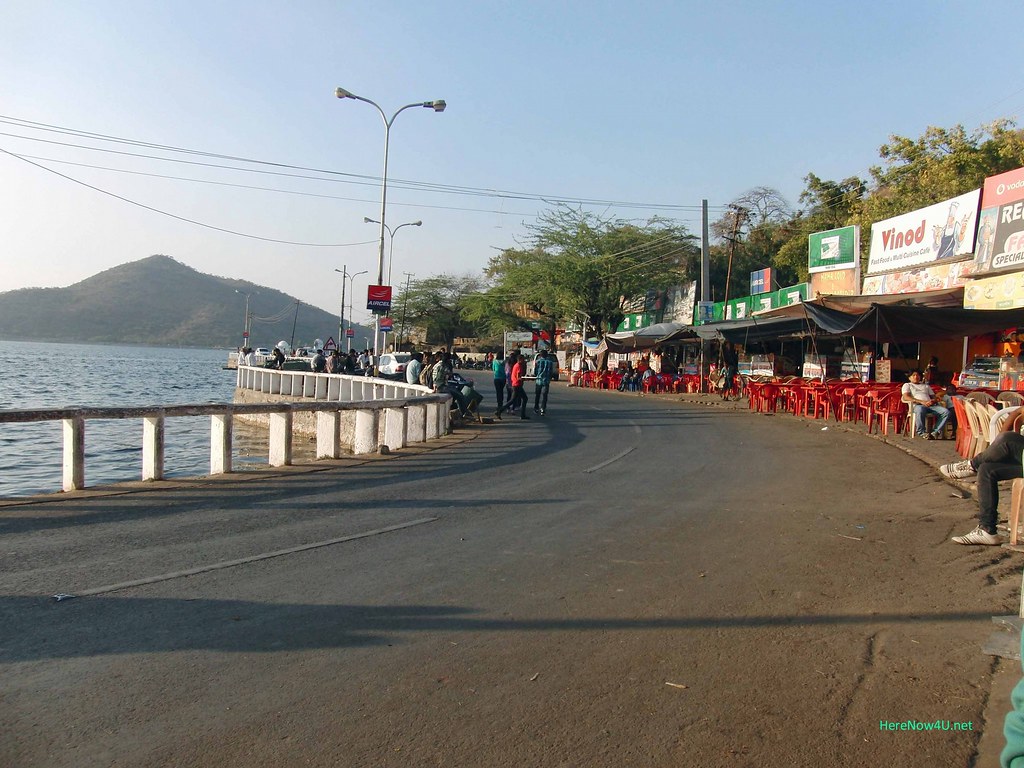 Cafés with lake view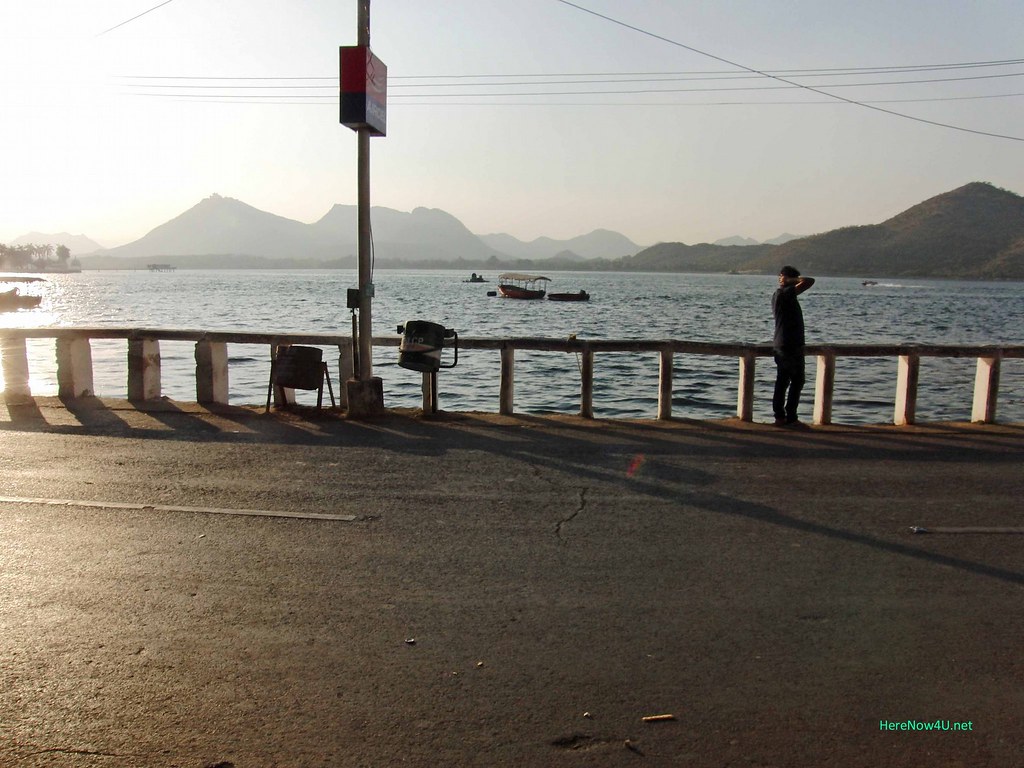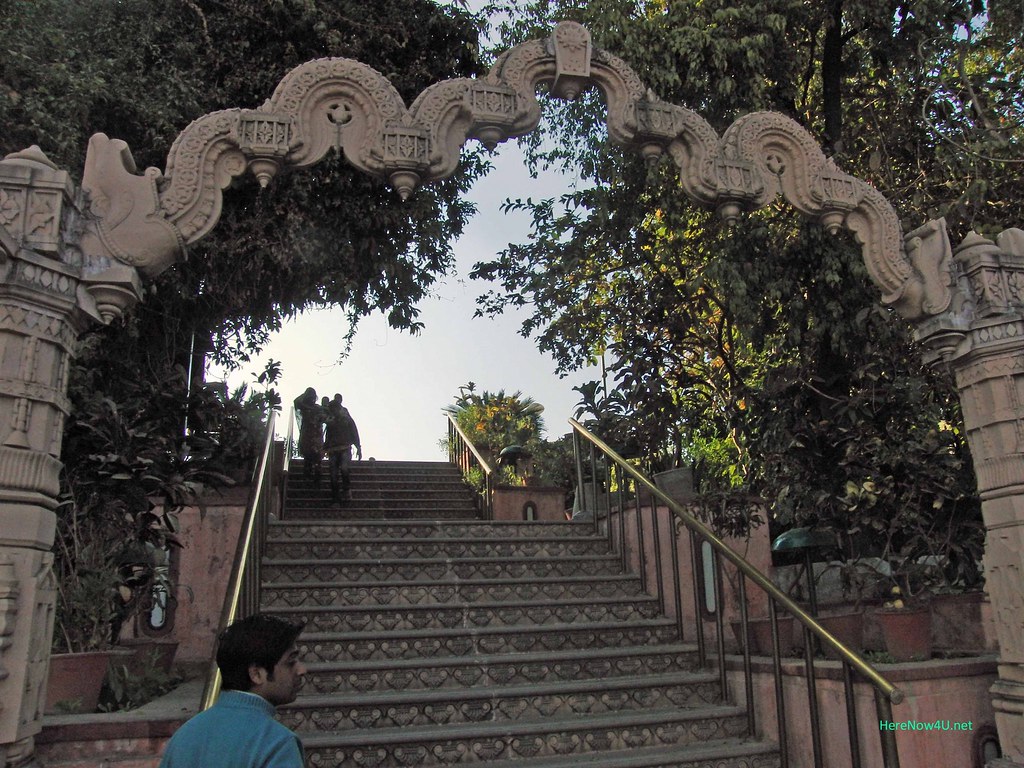 Entry to the platform with a statue of Maharana Pratab on his horse Chetak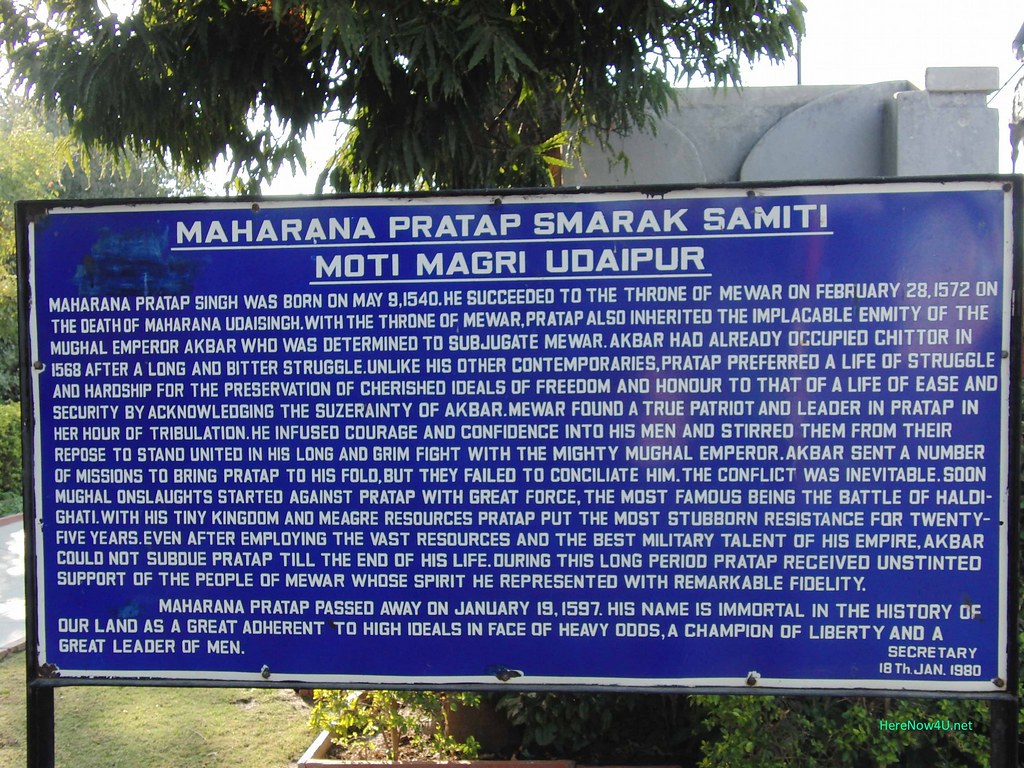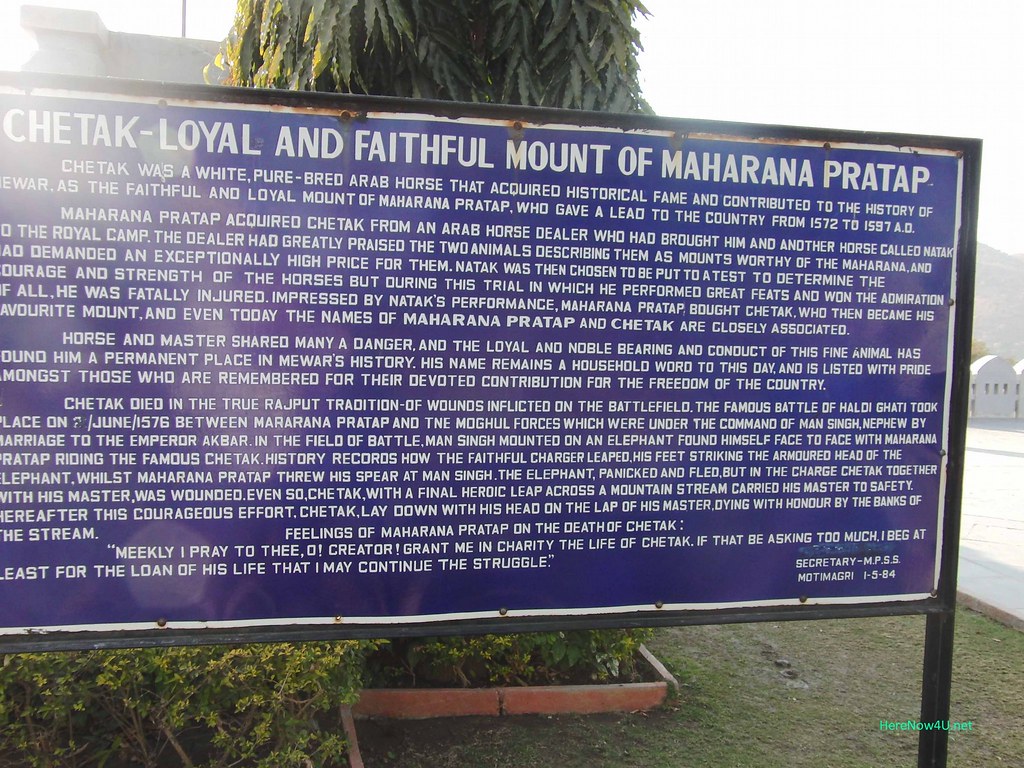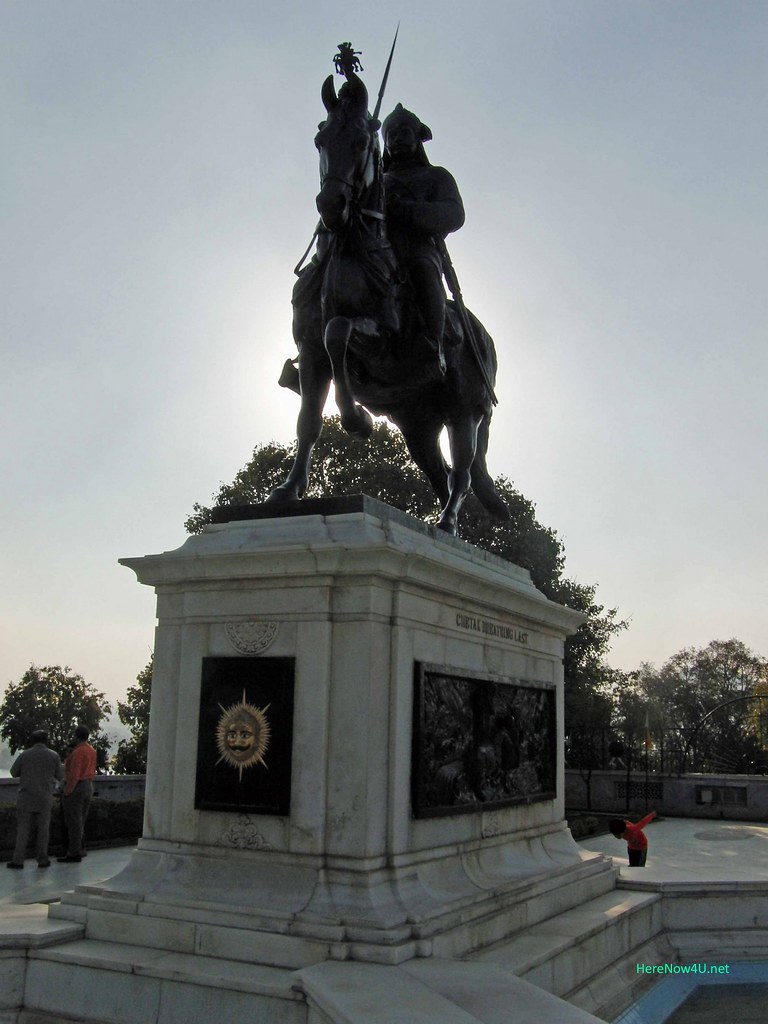 Statue of Maharana Pratab on his horse Chetak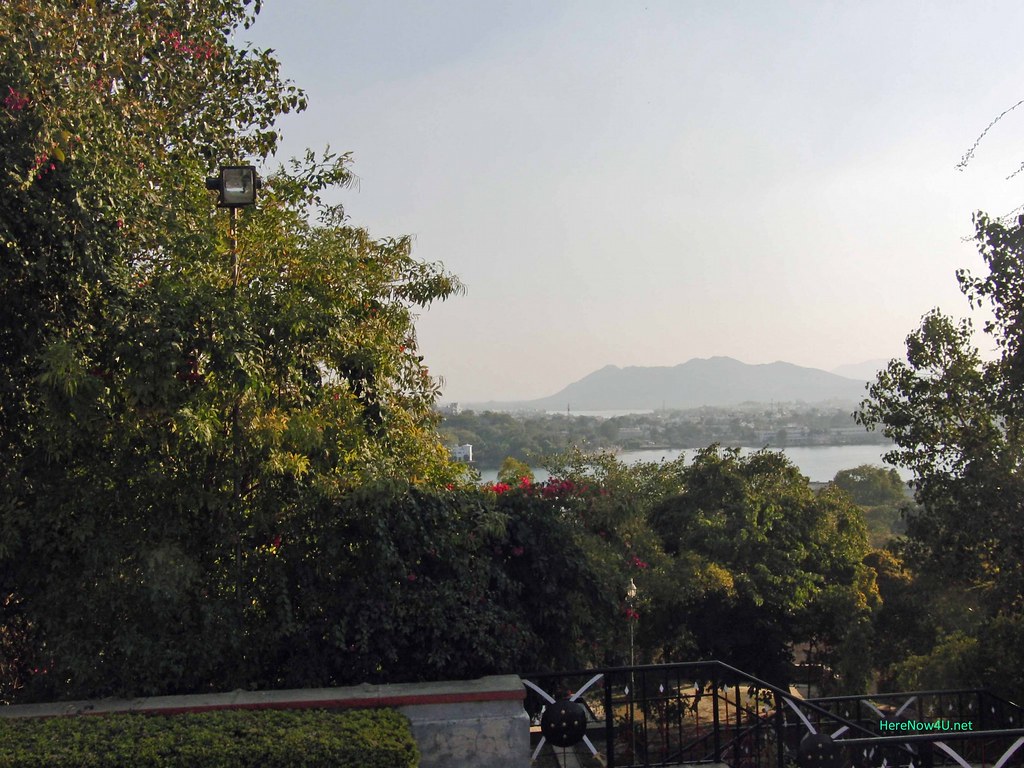 Lake and mountain view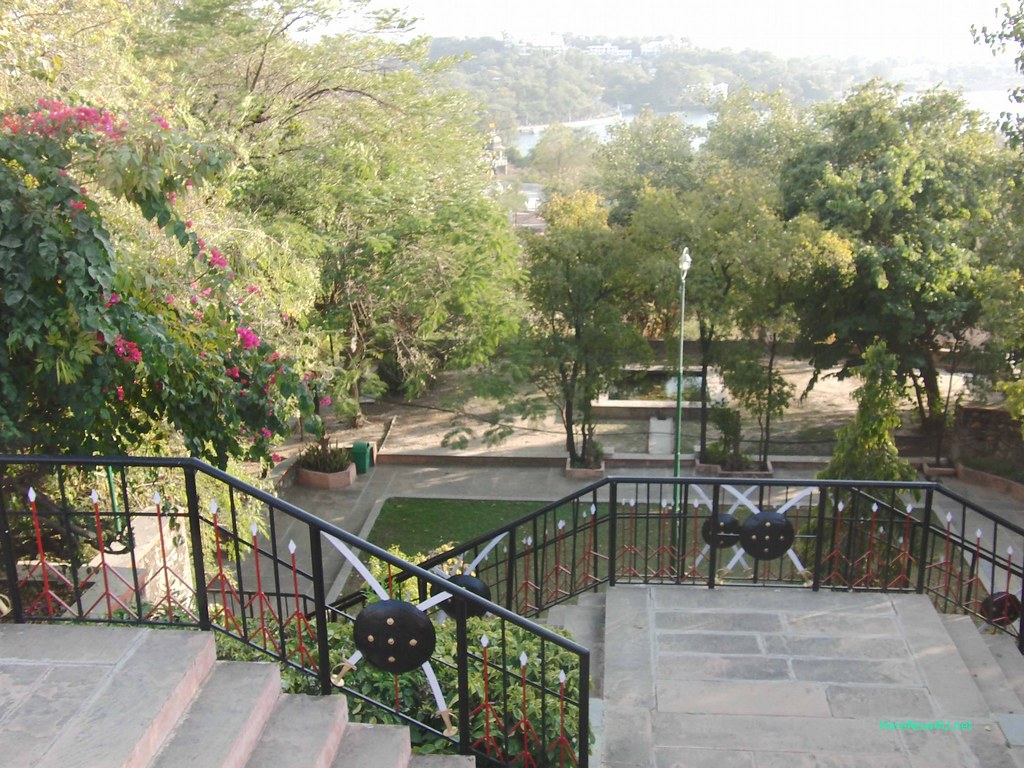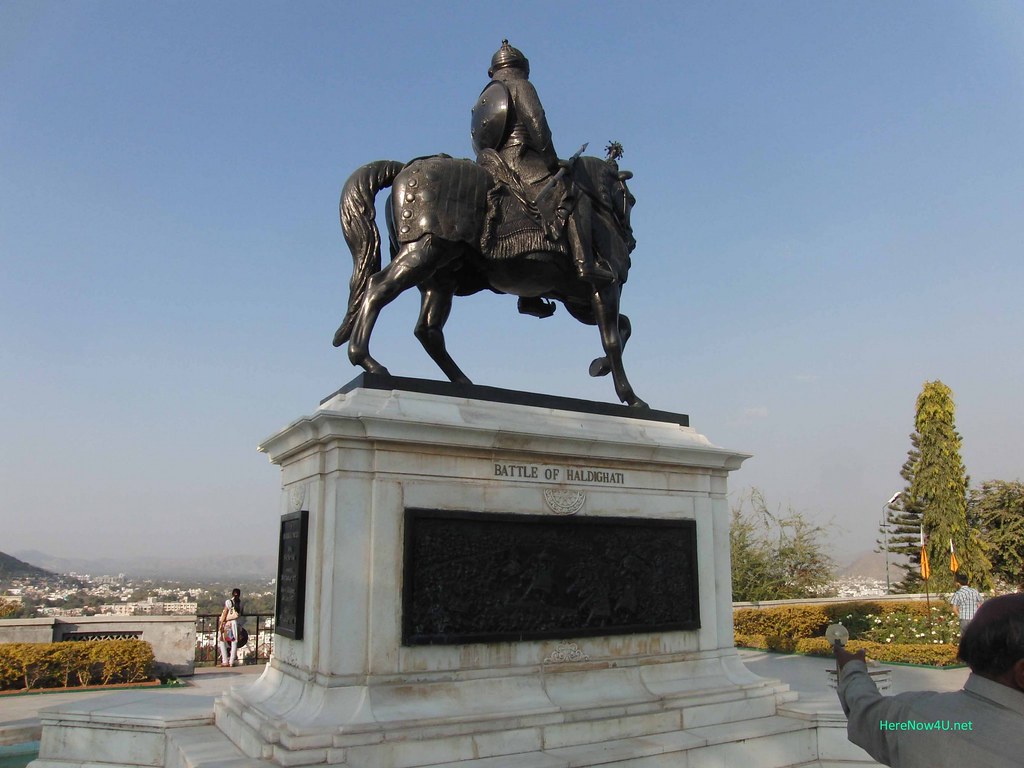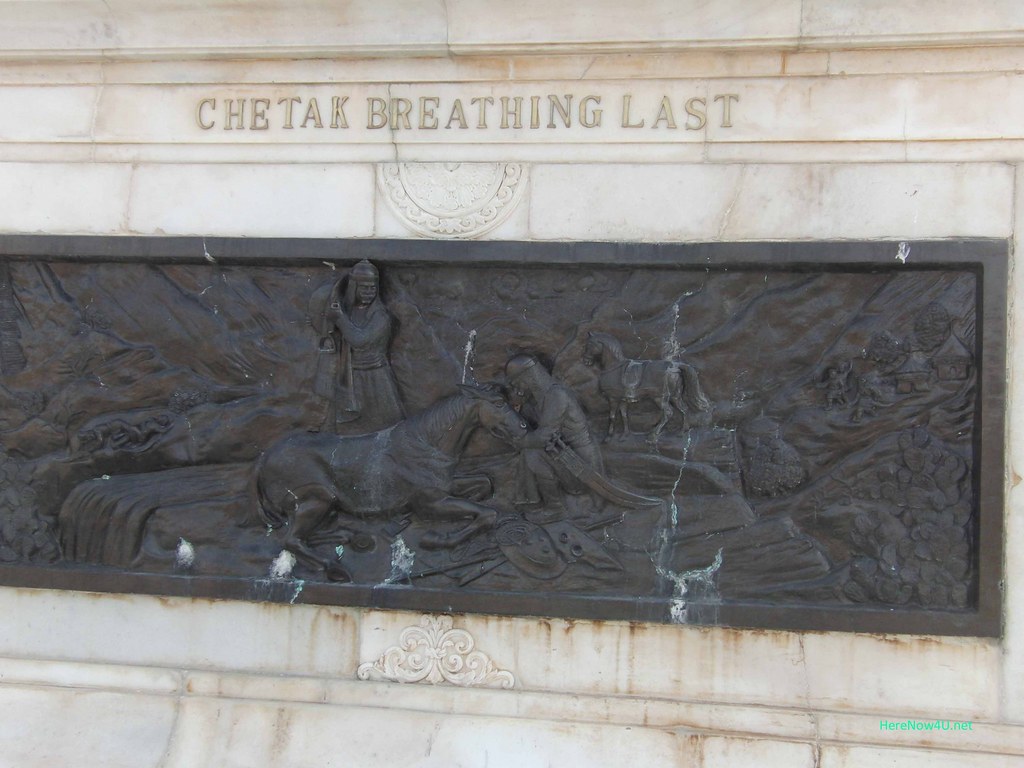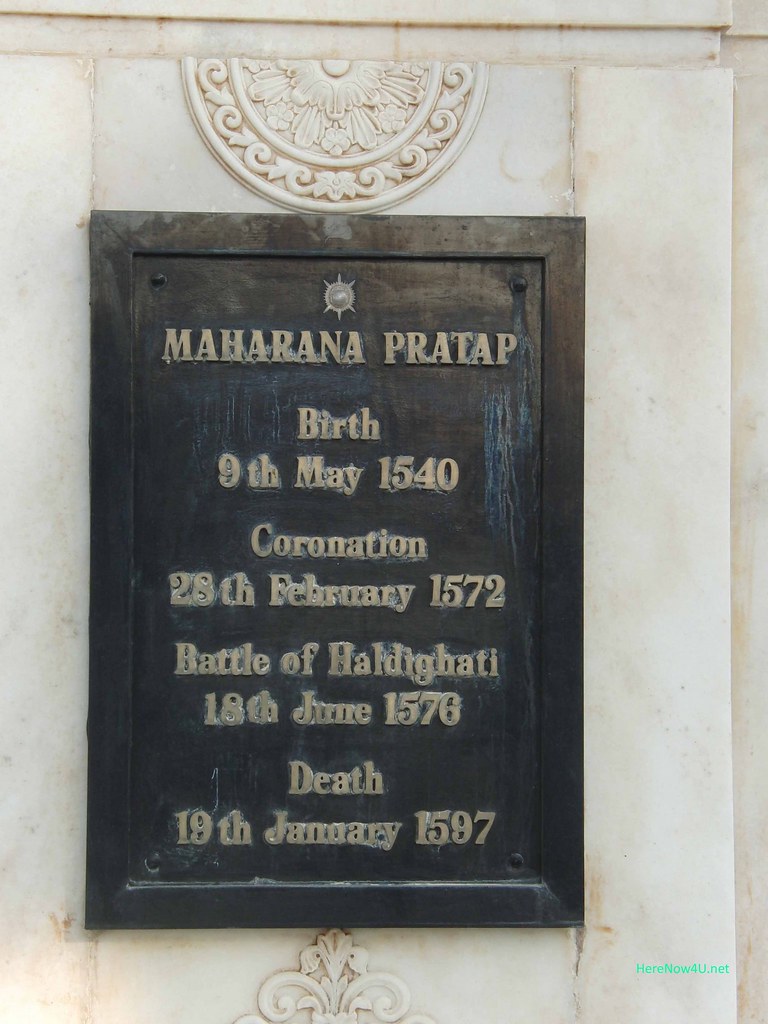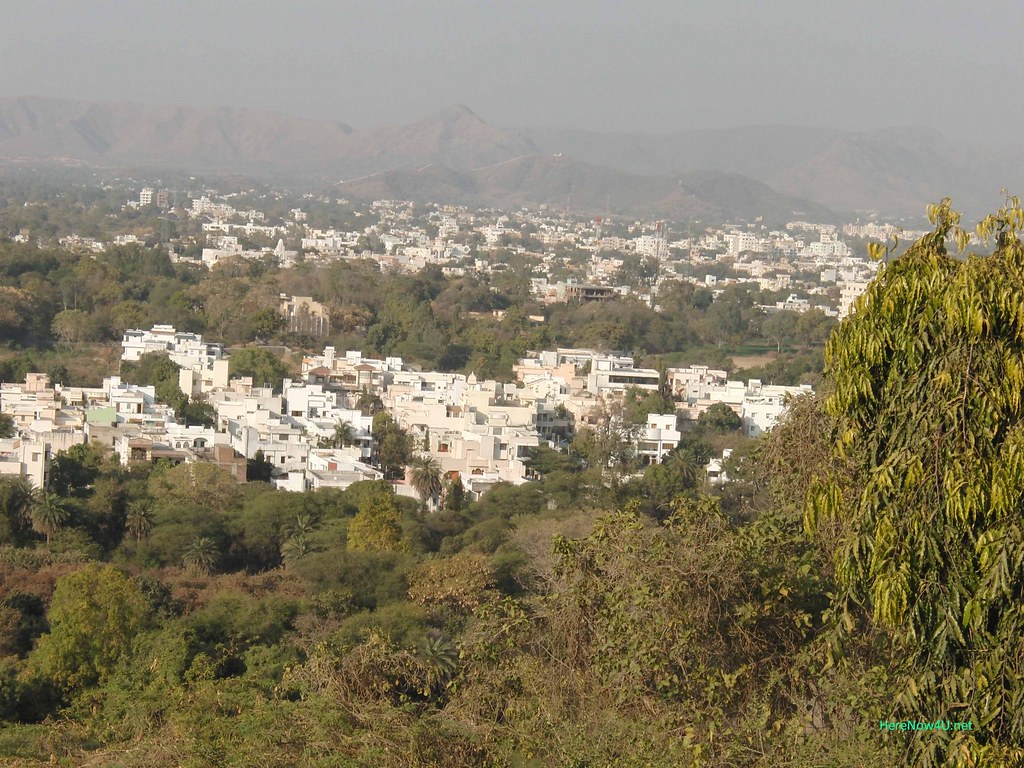 Town and mountain view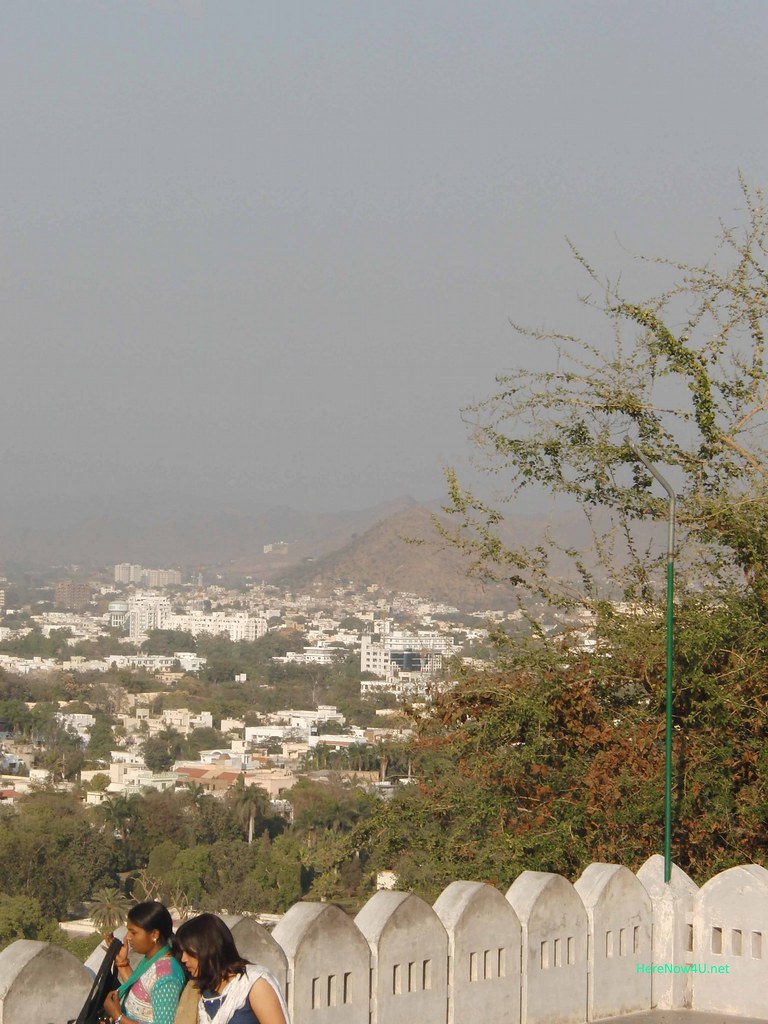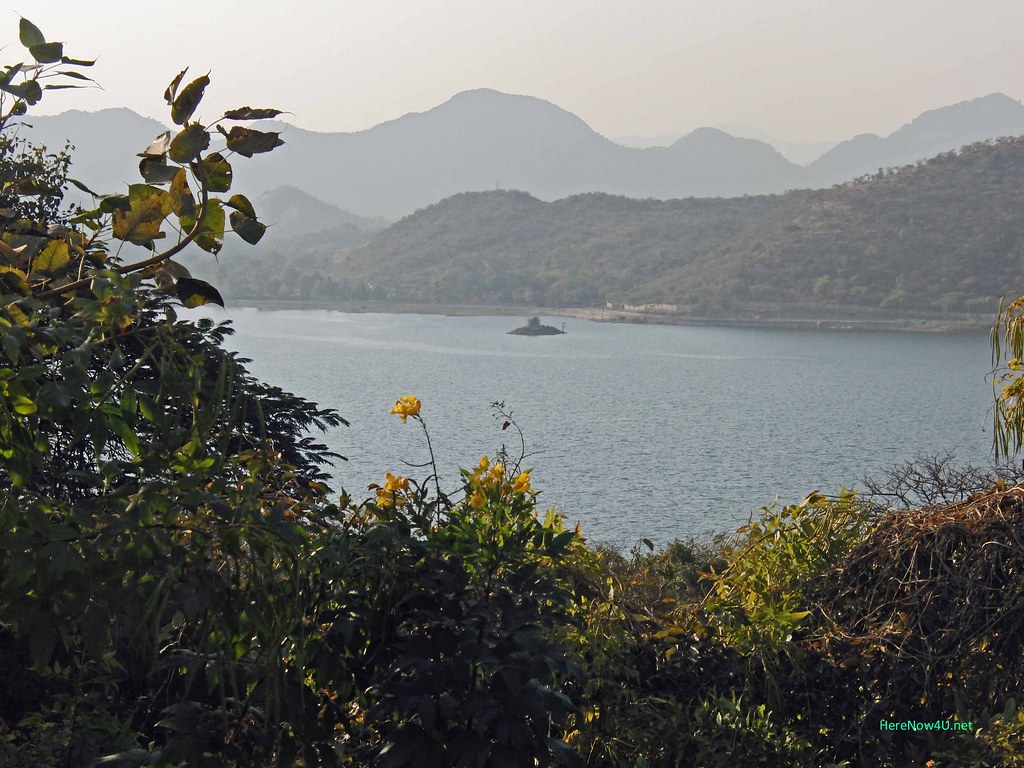 Lake view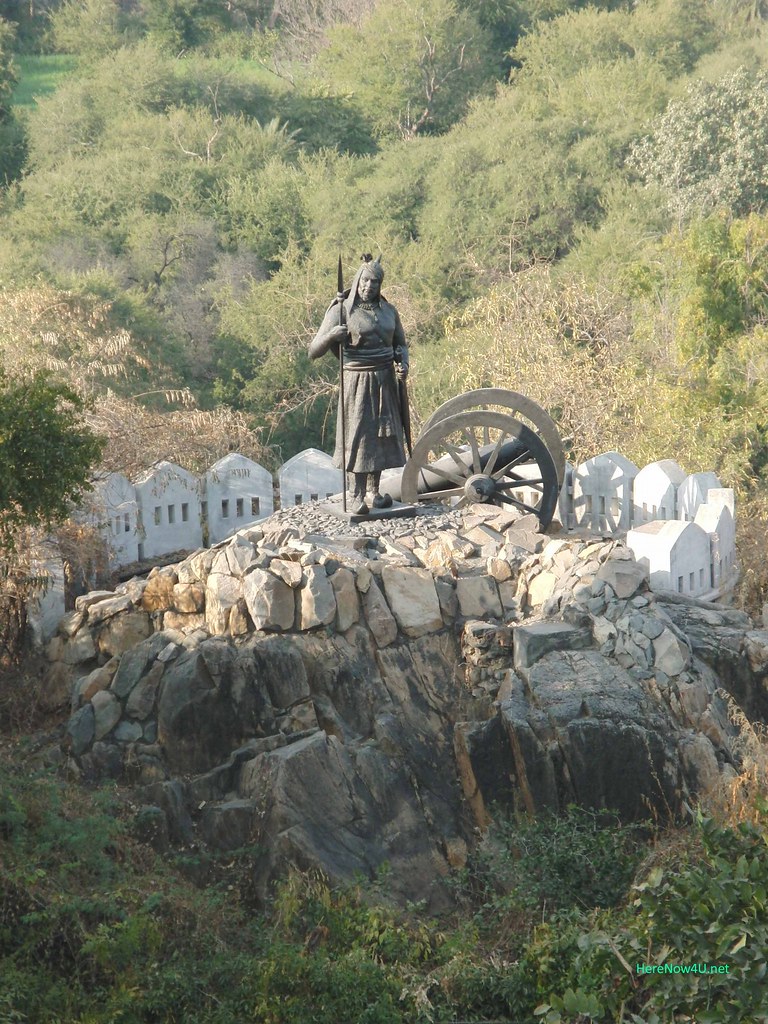 Statue of Rajput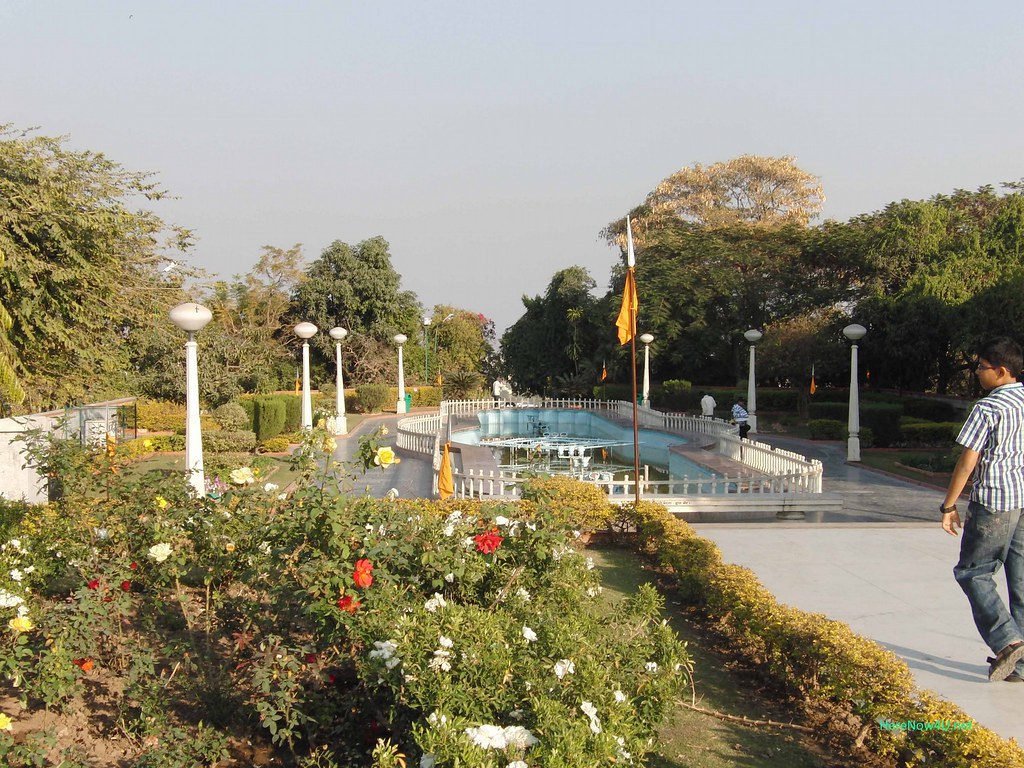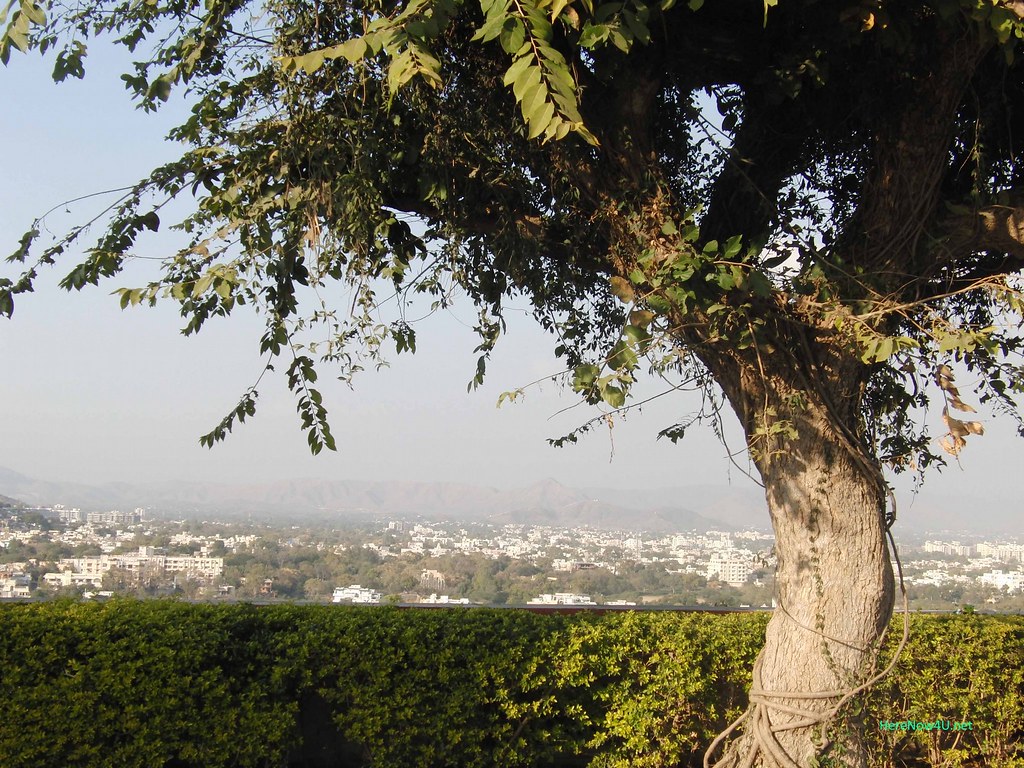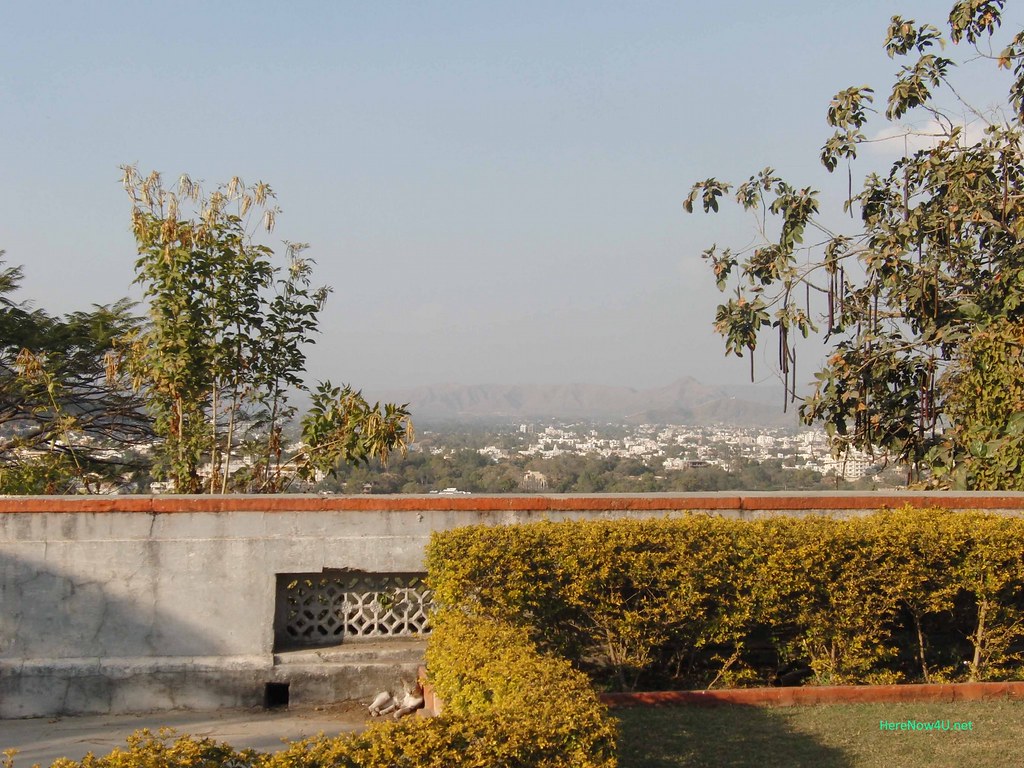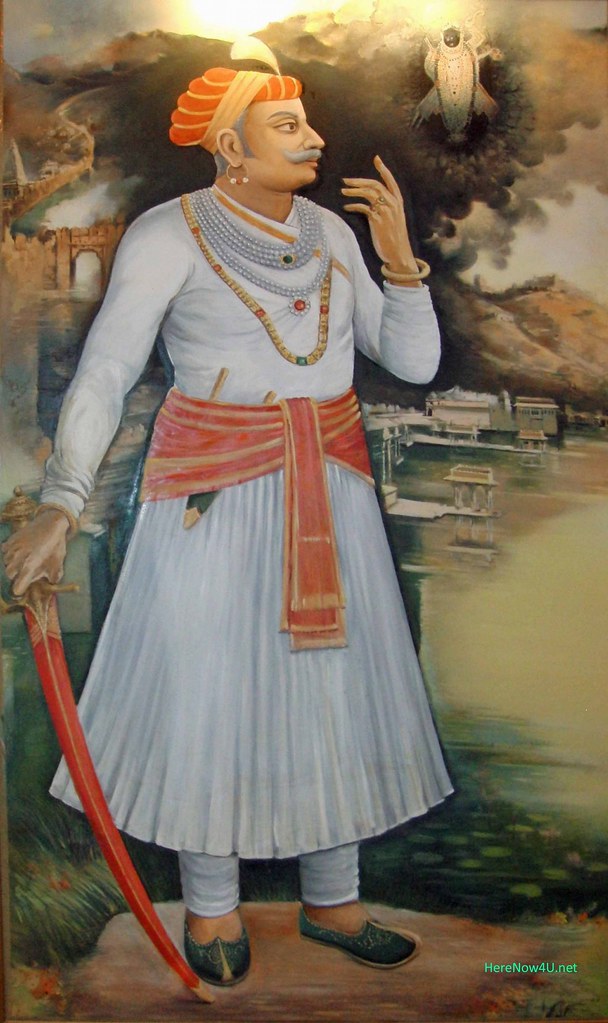 Mewar kings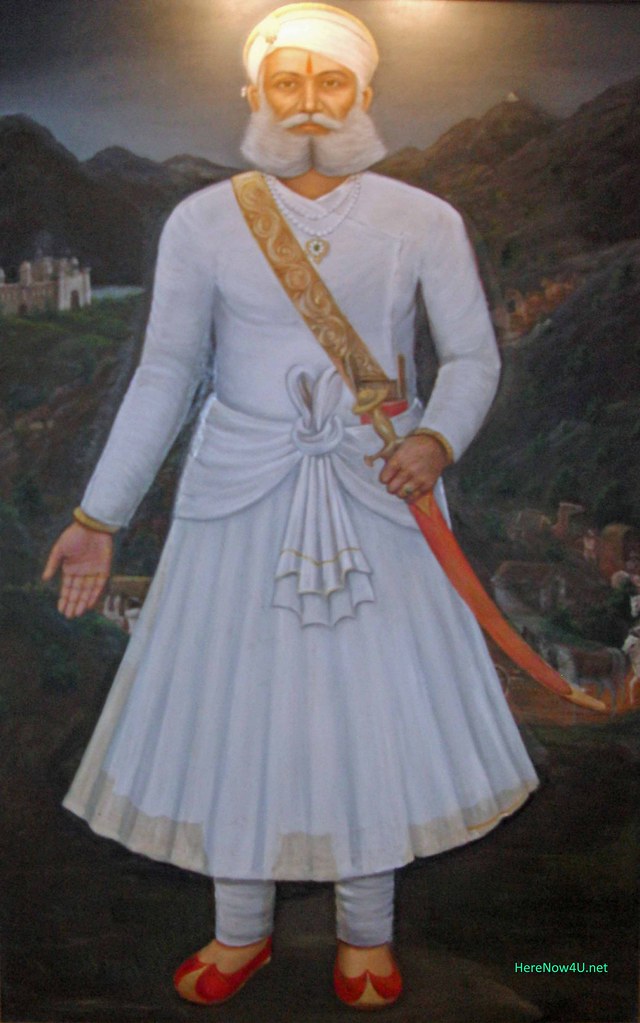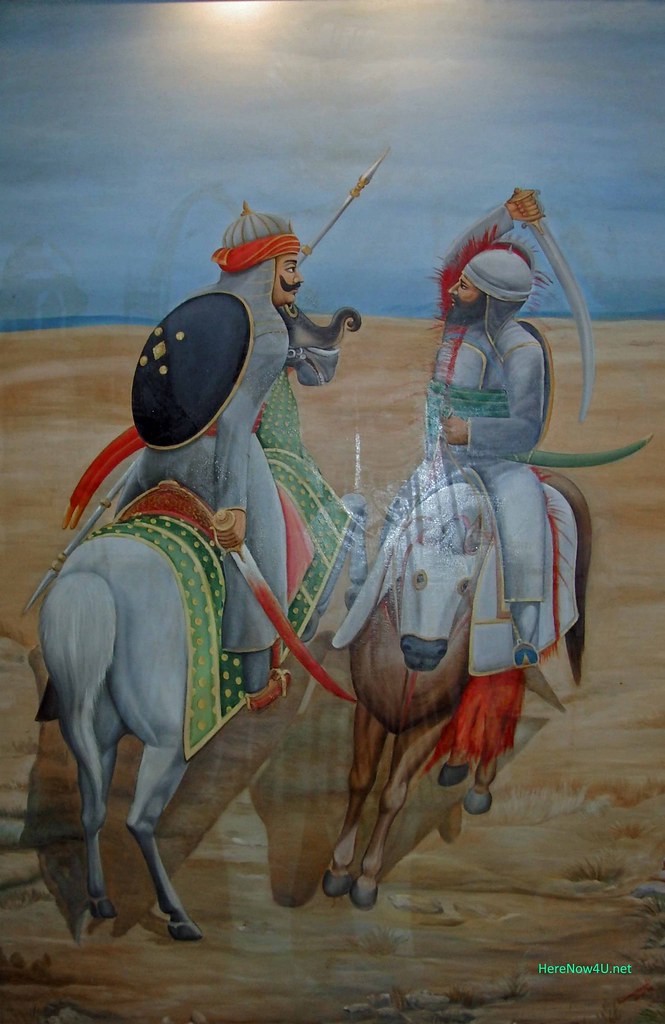 Battle scene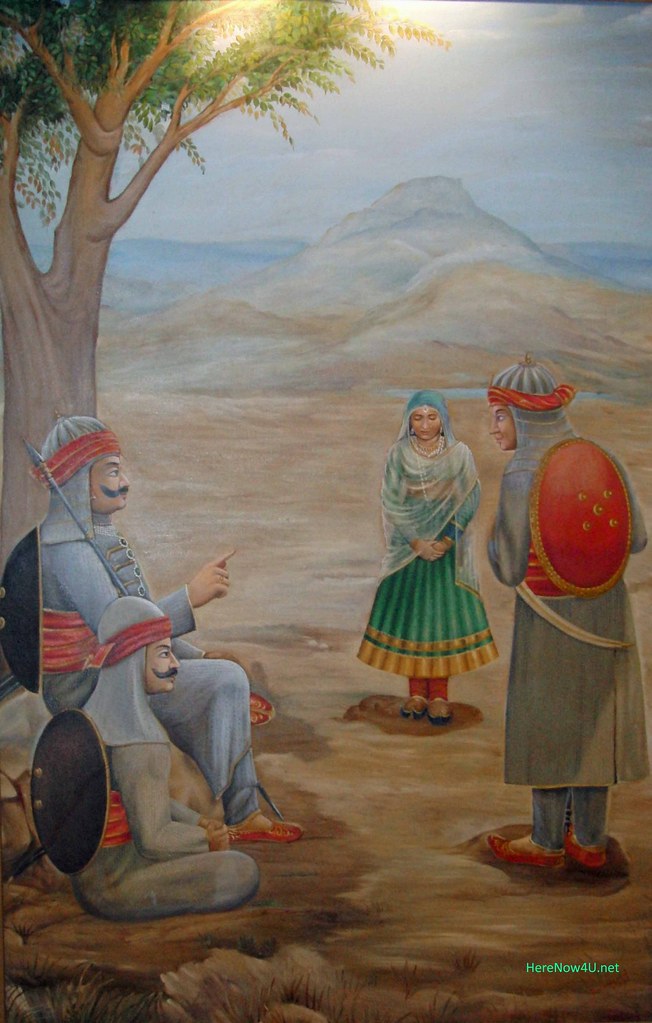 Mewar king asking a man to come with him to the battlefield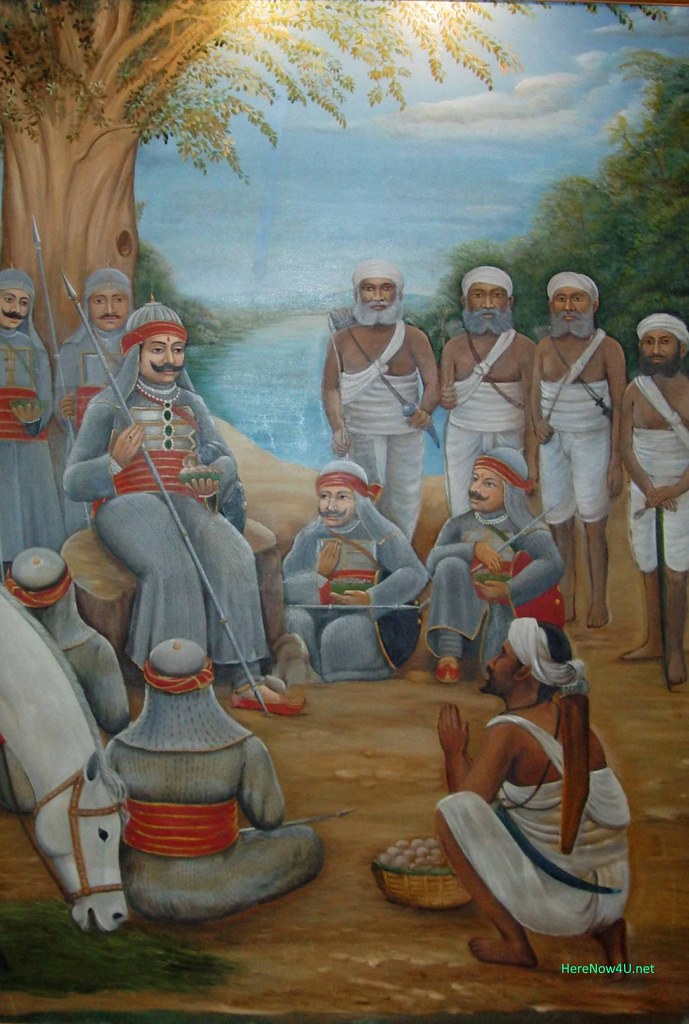 Mewar king explaining strategy of battle to the combatants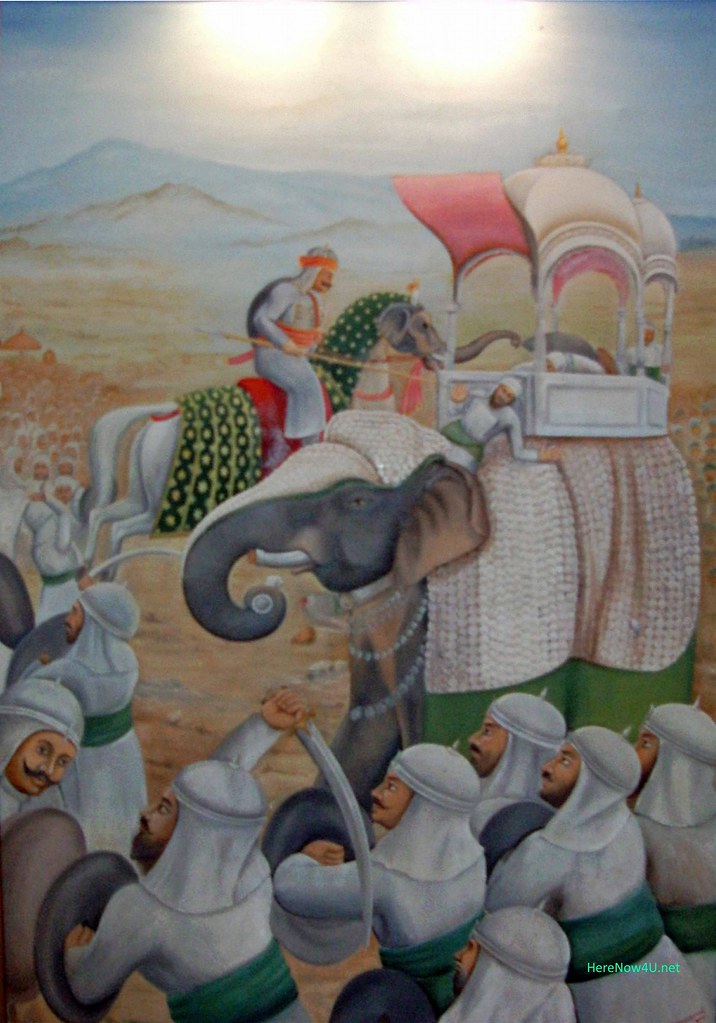 War elephant in a battle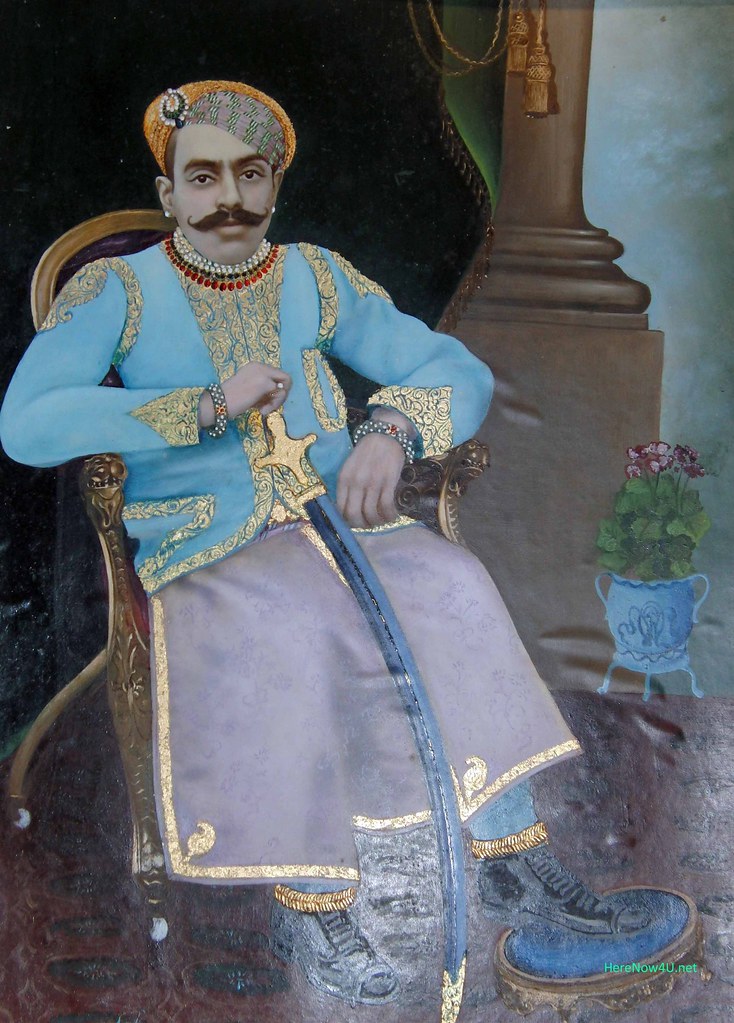 Maharana Bhupal Singh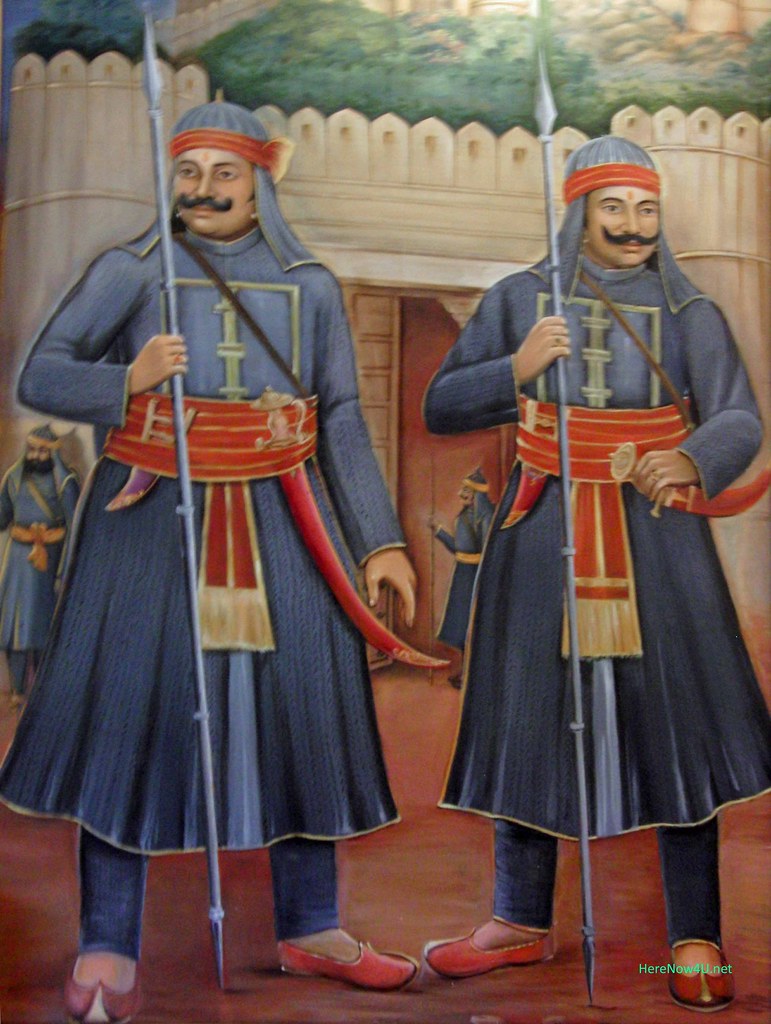 Mewar guards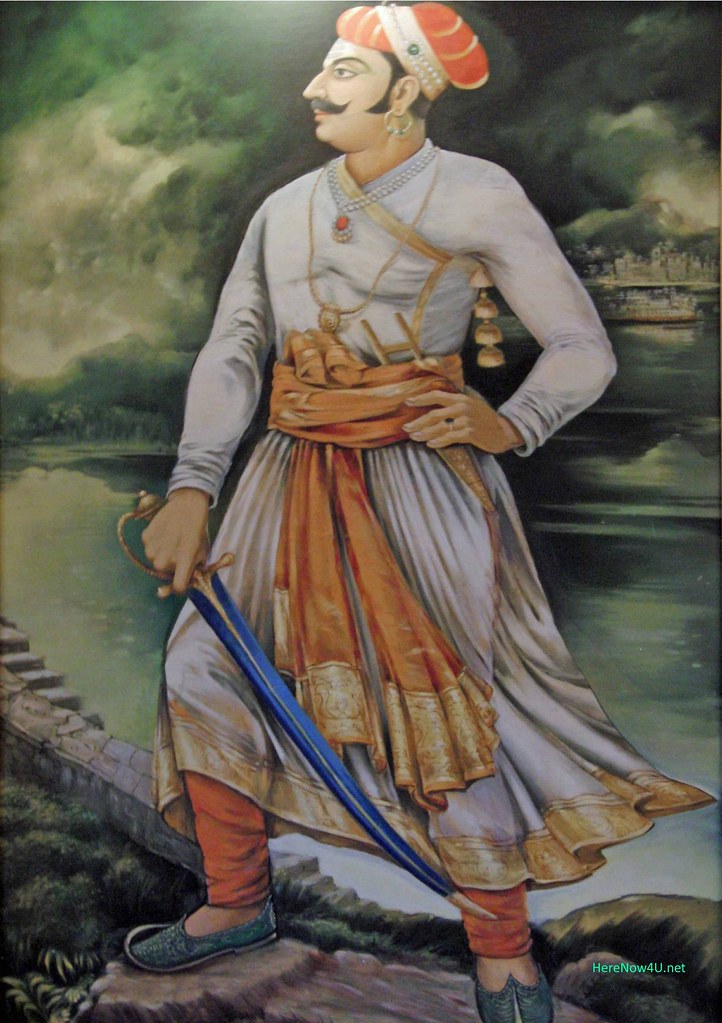 Mewar king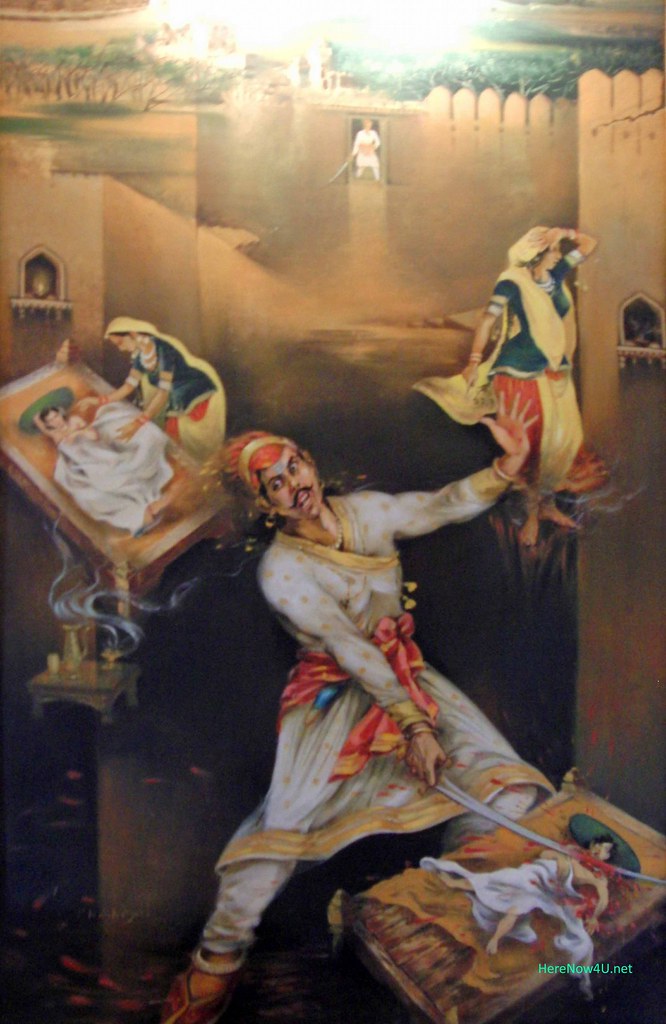 Enemy of Mewar kills baby of a servant who told him that this is the baby of the queen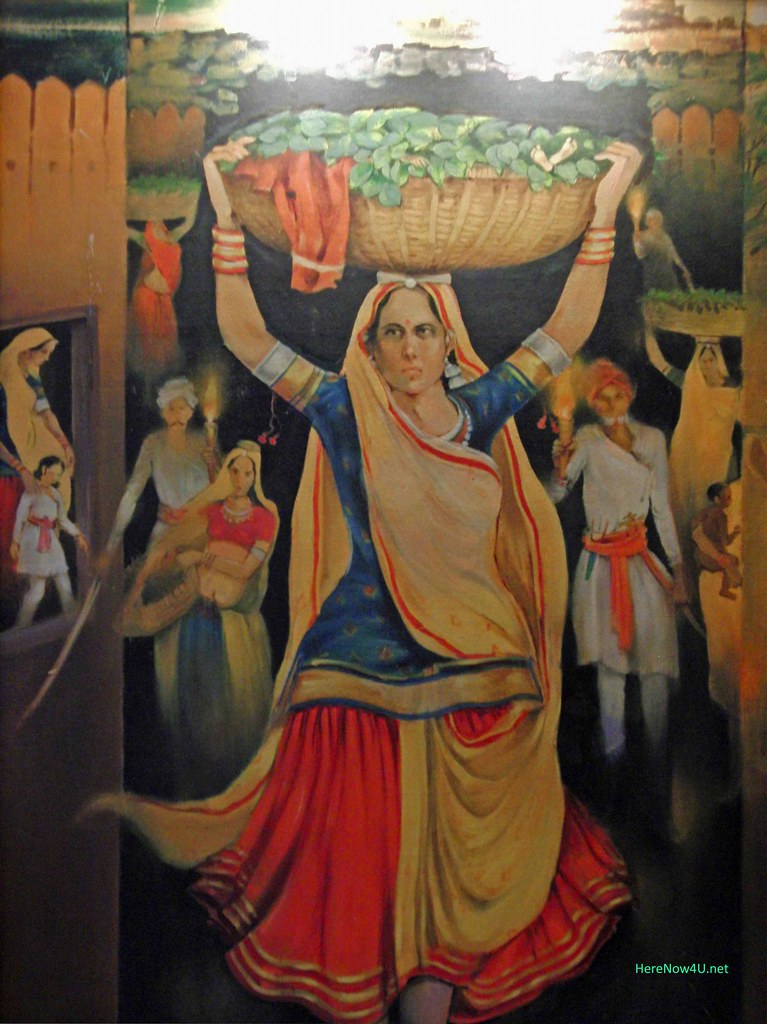 The same servant carrying the queen's baby, the future king, in a basket under plants to a safe place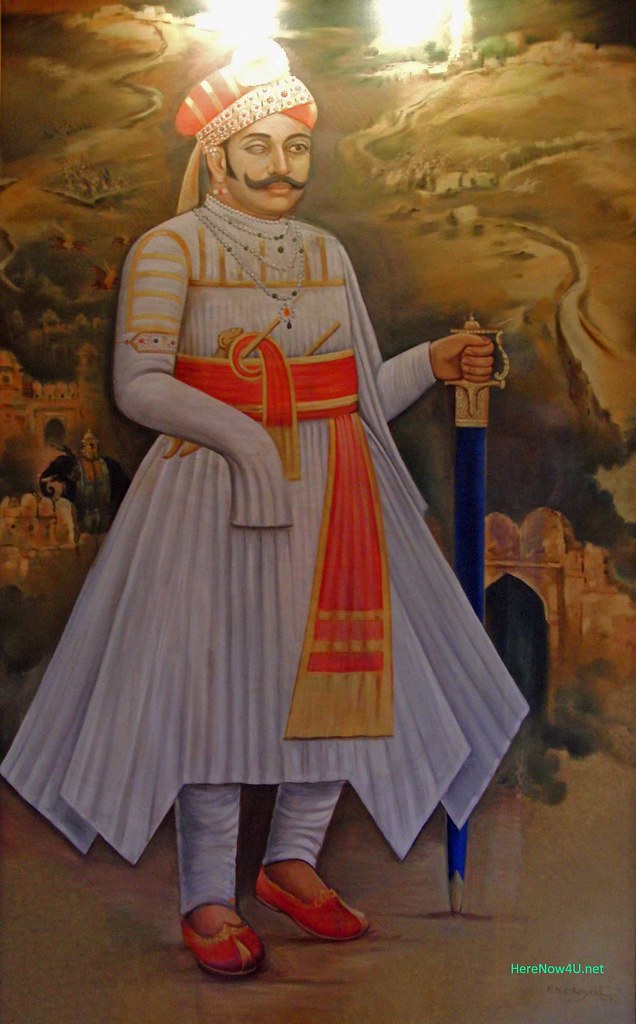 Mewar king who lost an eye, an arm and a foot on the battlefield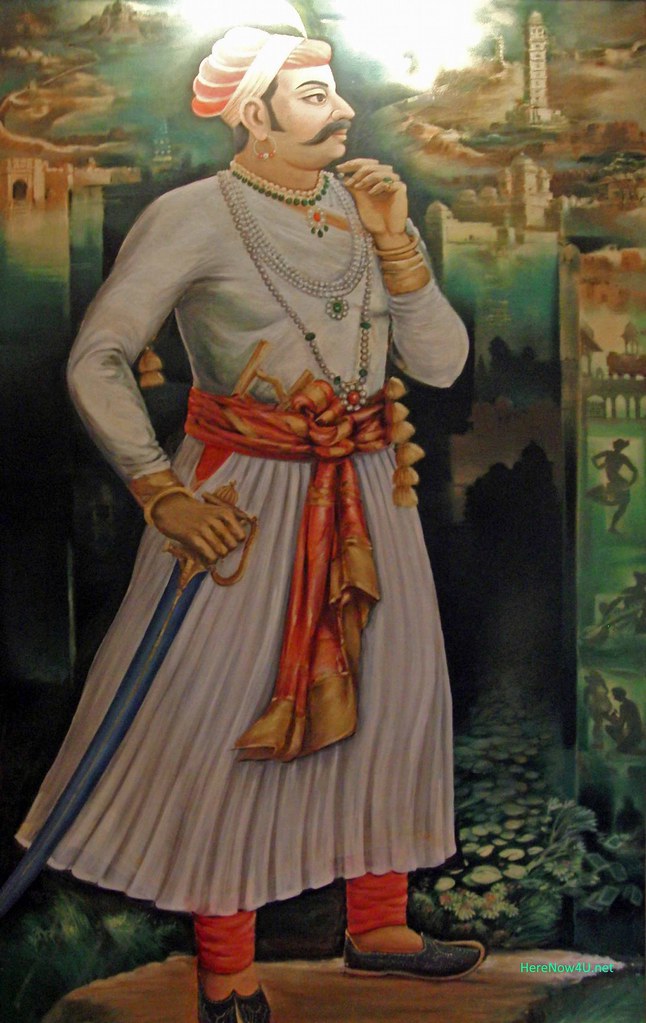 Mewar king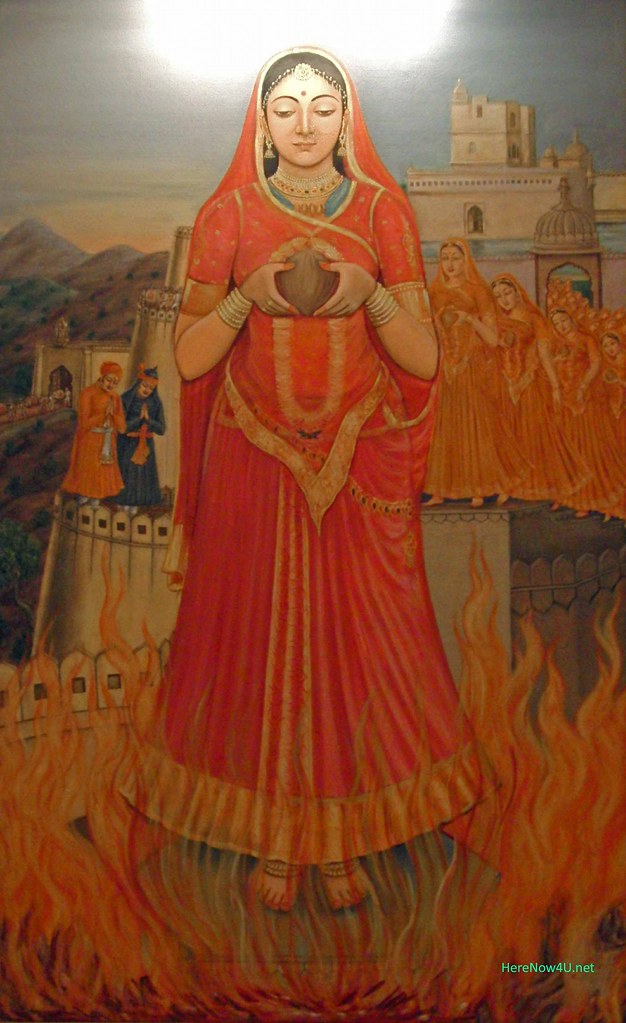 Mewar princess burning herself, followed by all women of the town, after the enemy had won the battle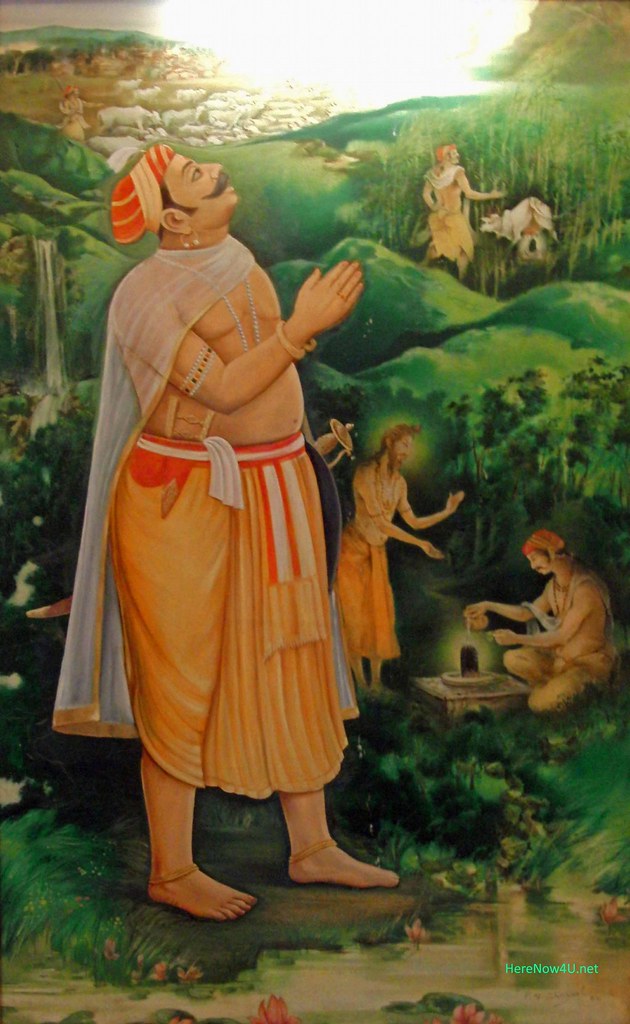 Depiction of a legend on a Mewar king