14-10-2005
Address During The Meeting With His Holiness Acharya Mahaprajnaji And Members Of The Furec Apex Body And Interaction With The Students And Teachers At Adhyatma Sadhna Kendra, Mehrauli, New Delhi.
His Holiness Acharya Mahaprajnaji and Members of the FUREC apex body,

Namaskar.

On the eve of the Enlightened Citizenship day I am delighted to interact with principals, teachers and students of various schools who had participated in the various programmes of the Foundation for the Unity of Religions and Enlightened Citizenship FUREC. My greetings to the members of FUREC, principals, teachers, students and distinguished guests. I am very happy to note that over two thousand students had participated in the essay competition carried out by FUREC and brought out the importance of morality in daily life and work ethics amongst the members of our nation particularly the youth for transforming India into a developed country. The programme on sustainable development, through training in non-violence, is another notable initiative by FUREC which has spread among large number of schools in Delhi.
My Interaction With Religious Leaders
When I am in the midst of members of FUREC, Principals, teachers and students, I would like to share with you my experience with International Group of Religious leaders, who visited Rashtrapati Bhavan on 11th October, 2005. The theme of the discussion was how individuals can acquire peace in soul and carry its radiance to near and dear ones in their family and also to fellow members of the society. As a result every individual irrespective of his religious affiliation will be a peace bridge by himself.

During the course of the discussions, Mr. Rajan Sawant from Bahai faith told the gathering that he had interaction with a group of school children recently on International Peace Day. For these school children, achieving peace is like an event telecast over television akin to signing of deeds and beaming it worldwide. He emphasized that children must be made aware, that peace is first achieved in self.

Building on this, a Buddhist Monk, rose to say, for generations, men have been feeding their body, day in and day out. And the mind, acquires its own food, through the environment around. But we forget to feed the soul. Once the soul gets its nourishment it blossoms into peace and radiates peace, wherever it goes. A Sikh religious leader clarified that as long as men fear men, there will never be peace. But when all men fear God, and God alone, there will be peace everywhere, he said.

A religious leader from Africa rose to say, that every religion has many good points. If every religion takes the converging best of all the other religions, it will automatically result in unity of minds, he said.

In this context, I would like to summarise, the thoughts of our students on morality in daily life and work ethics.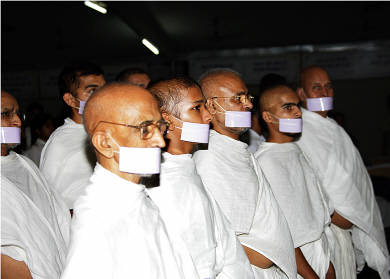 Students' Thought on Ethics and Morality
As a part of the Surat Declaration, Foundation for the Unity of Religions and Enlightened Citizenship FUREC had conducted an essay competition on morality in daily life and work ethics for school students. Approximately, two thousand students participated from all the States of the country and also from some Indian schools abroad. Some of the thoughts expressed by the students on the topic I would like to share with you. Students believe that

(a) Morality can not be taught. It has to be imbibed.

(b) Morality is embedded in the child even before birth.

(c) We have no role models. Even great heroes whom we thought as role models are appearing in the news for committing some crimes. Then who can be our ideals?

(d) There are many grey areas. Nothing is entirely good or bad.

(e) Media exploits and publicizes the immoral.

(f) Parents are responsible for teaching morality.

(g) Stories and media can be good messengers of morality.

Some students think that that which succeeds is deceit and cheat. This may be true in the short run. In the long run, the truth and the truth alone wins. We have to only persevere with courage and determination.

As a part of the Surat Declaration, I am happy to note that FUREC is launching a programme called "DESH" which aims to develop education, skill formation and healthcare in all parts of the country. From the point of view of youth this is an important programme since it will be directly related to capacity building among the youth for undertaking nation building tasks.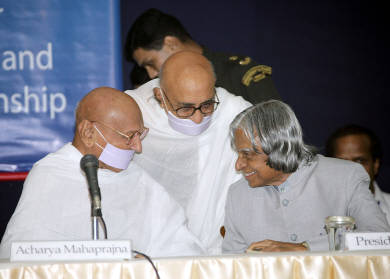 Skills
While literacy and numeracy are essential for a citizen, they are insufficient to acquire gainful employment. Having the right and economically relevant skills, becomes critical for those who only have education upto the levels of 8th std/10th std/12th std pass. A large percentage of our young people belong to this category. They need to be trained to get into an employment or self employment. Skills can be in construction, repair, hotel work, hospital related paramedical work or retailing or as electrician or carpenter. There are several kinds of work. Modern competitive economy demands correct and quality skills. It is our duty to empower the citizen with such skills. I am happy that project DESH addresses this issue.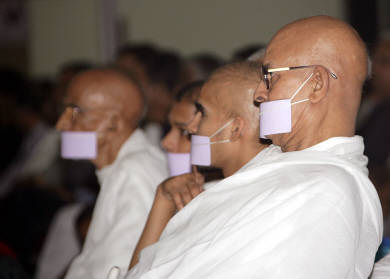 Value based creative Education
Our aim is to develop human resources with value system and entrepreneurial focus, leading to arrest the tendency of school dropouts and the generation of enlightened citizens. It can be achieved through incorporation of two models of education practiced in different parts of the country. I have come across Prof. MR Raju model at Peddamiram, Beemavaram District of Andhra Pradesh, where character building commences in the age between three to five. The child learns to become creative through love and affection, hygienic practice and nutrition. In the second model, practiced by the Azim Premji Foundation, literacy improvement is achieved through accelerated learning with the help of computer-based creative content for 1st to 8th standard. Children learn by themselves using computers. Teachers, parents, School Committee members become accountable for ensuring prevention of dropouts. With the improvement in tele-education technology, it is possible to enable quality teaching to reach remote villages through a tele-education delivery system. Such a system developed indigenously has been implemented in Rashtrapati Bhavan. Also there is a need to promote education through the creation of village Panchayat knowledge centers since the people are located in far-flung areas. Project DESH can take up such a mission.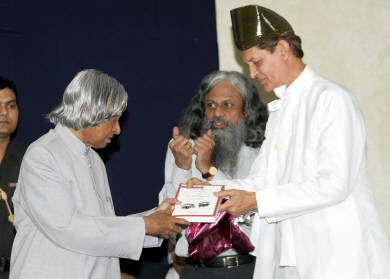 Health Care
I suggest a unique insurance model which can be implemented by DESH for providing health care to all citizens. For providing comprehensive quality health care, we suggest citizen's make a contribution of about Rs. 5/- per month and a matching Government contribution of about Rs. 5/-, which will lead to a Consolidated Health Fund for a region. The scheme will be sustainable if the population in the region is over two million. This insurance system will pave the way for every citizen to avail the services of any high tech hospital for treatment, which is within the purview of this insurance scheme. This unique Health Insurance Model will include an Information Communications Technology assisted Medical Advisory System and Health Awareness Education over and above quality medical and surgical treatment and services to all the people. Such a model is already in operation in the Karnataka for over two million people. For mobile diagnostic clinic operating in a hilly terrain one could refer to the working of TIFAC supported Uttaranchal initiative functioning for more than a year now.

Now I would like to answer some of the questions asked by the students.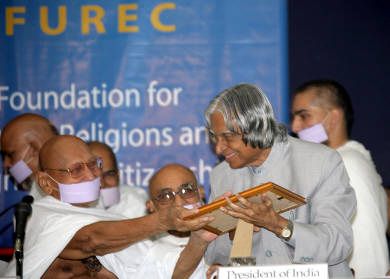 Question and Answer Session
1. How can a common man contribute in his own way to the advancement of technology in our country?

- Bhavani Kajla, 11-B, Vedvyasa, DAV Public School, New Delhi.

Ans: Innovation can come from anywhere. I have found number of people in the villages innovating products which has been recognized by National Innovation Foundation located in Ahmedabad. Secondly, the common man should make use of the technology for agriculture or any other product which he is connected with. He should demand the technological input from scientists and technologists through Kisan Call Centres. Very soon we will be having Udyog Call Centres. In this connection the creation of village knowledge centres is a means to provide appropriate technology to the village specific tasks. This way common man can contribute in the advancement of technology.

2. Will India continue to be an agriculture oriented country in spite of phenomenal growth of IT?

- Vidya, B.U. Srivani Education Society, Bangalore.

Ans: India is a country with one billion population. Hence, it is not possible for India to depend on agriculture for food products. Though, there will be societal transformation, agriculture will remain to be one of the important component of economy. The trend of reduction in employment in agriculture will continue and by 2020 our employment pattern should aim at 44% in agriculture, 21% in manufacturing and 35% in service sectors. Thus, we can see agriculture cannot be done with and large population will find employment in agro-processing instead of basic agriculture.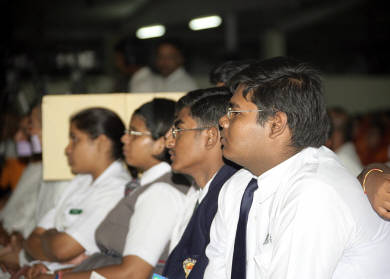 3. Sir, According to you what is the greatest obstacle to India becoming a truly developed nation? How can we as students contribute towards this development?

- Manek Kutar Campion School, Mumbai.

Ans: We have to cultivate a spirit of "we can do it". Self doubt is the greatest obstacle for transforming India into a developed nation. 540 million youth of the nation have to become enlightened citizens through value based education. The ignited youth force is the greatest resource on the earth, above the earth and under the earth. Hence, the youth assembled here must motivate other youth for cultivating a spirit of we can do it.

4. Most of the science students take up lucrative careers such as medicine or engineering. But a very few take up research work as their career. What step according to you are required to regenerate the interest in basic sciences and research work as was once their at the time of Aryabhatta?

- Dushyant Mehta, 11-C, Vedvyasa DAV Public School, New Delhi.

Ans: (a) It is essential to have an assured career in science for a certain number of high quality committed scientists with aptitude towards research. There should be a minimum annual intake of about 300 M.Sc and 100 Ph.D scientists with proper emoluments and assured career growth in the organisations such as ISRO, DRDO, Atomic Energy, CSIR, DST and the Universities. The private and government funded universities must be encouraged to appoint M.Sc and Ph.D who have been selected through a nationally coordinated competitive selection process. This will be a great motivator for the science students and also their parents for pursuing advanced courses in science. This is the first and foremost need for attracting young people to career in science - an assurance to the youth and the parents that the future is secure, once they take science as a career.

(b) The experienced scientists and policy makers of the organisations must recognize the talents available in the organisation irrespective of the position and empower the young scientists to create state-of-the art laboratories once they have concrete thoughts and vision. Prof Vikram Sarabhai in the initial stages of ISRO brought in a culture of management which encouraged and satisfied the vision of the young scientists which collectively succeeded in making the mission of the organisation a reality.

(c) Universities and Research and Development institutions must encourage and facilitate the young scientists to write quality research papers in frontier areas and in prestigious journals. They should also facilitate the youth to present the papers in national and international seminars and symposiums which will enable them to assess their standard against international benchmarks. Encouraging youth to be lead authors while publishing the joint research would be a very good gesture that the youngsters would cherish for many years.

(d) Based on my experience during my interaction with the 600,000 students, I realize that they are looking for role models, whom they would like to follow after their 10+2 career. Approximately 7 million students appear for plus two examinations every year. Out of which 3 million students are from the science stream. To attract this youth towards a career in science, we need many novel ideas. The youth must be made to understand the beauty of doing science, the pleasure of doing science and the ultimate bliss when the results of science make you understand the nature, master it, control it and finally make things that improve the quality of life of the human kind. Every one of us, scientists must pledge that we will at least spend sometime visiting the schools to ignite the young minds by recounting our own experiences.

All these actions are required to motivate young minds towards the scientific career.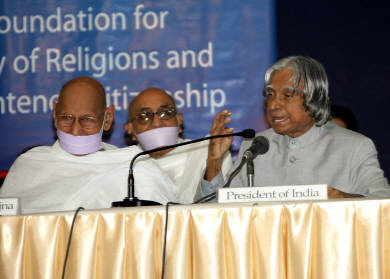 5. How can science and technology help in bridging the gap between rich and poor by exploring the countries rich natural resources?

- Animesh Chatterjee, Bharatiya Vidya Bhavan, Vidyashram, Jaipur.

Ans: Science and Technology should be used first to educate the people and converting our society into a knowledge society. Similarly, the S&T must be used to provide quality healthcare to the people so that they can become partners in development tasks. Both these things are possible today through distance education programmes and healthcare programmes by the use of tele-education and tele-medicine. Information is the biggest resource for development. All the information needed for the poor must be made available through Information Technology so that they can produce at an economic cost and be able to sell their products at a remunerative price. They also must be able to get precise information on timing of sowing based on monsoon arrival data. Also, the technology can provide them warning for creating safety systems. These are some of the examples of the use of technology for bridging the gap between rich and poor.

6. Will Institutions to study Nanotechnology be set up in India in near future? If yes, than in what time frame? If not, then will Bio-informatics take the lead or not?

- Deepakshi Madan, 9-B, Delhi Public School, Jalandhar

Ans: There is no need for separate institutions for teaching nano-technology. Already many departments in chemistry in Indian Institute of Science, University of Delhi, IIT Mumbai, IIT Kharagpur, IIT Kanpur are having courses in nano-technology. Some of them are planning to have full fledged M.Tech programmes in nano-technology. Also, Centres of Excellence are required to be created based on the core competence of that institution. The trend is towards the convergence of technology namely nano-bio-info.