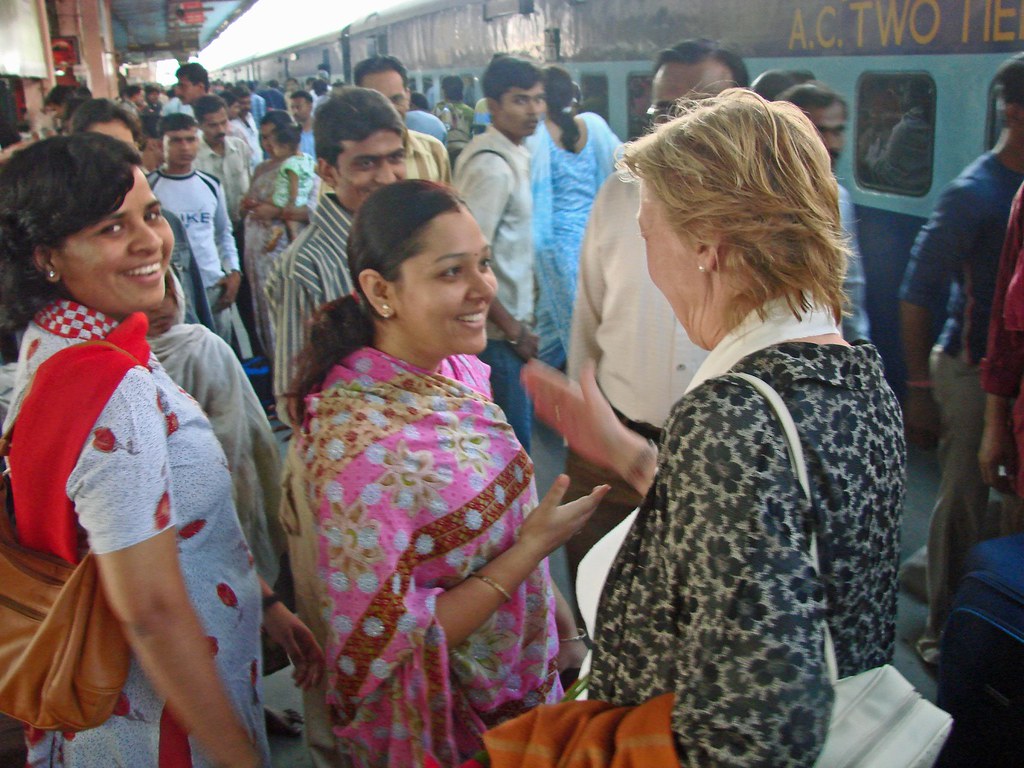 (F. l.) Mahima Bokariya, Ashok Jain, Amita Jain, his wife & Karuna's friend in Surat, where they first met at International Preksha Meditation Camp in Surat in October 2003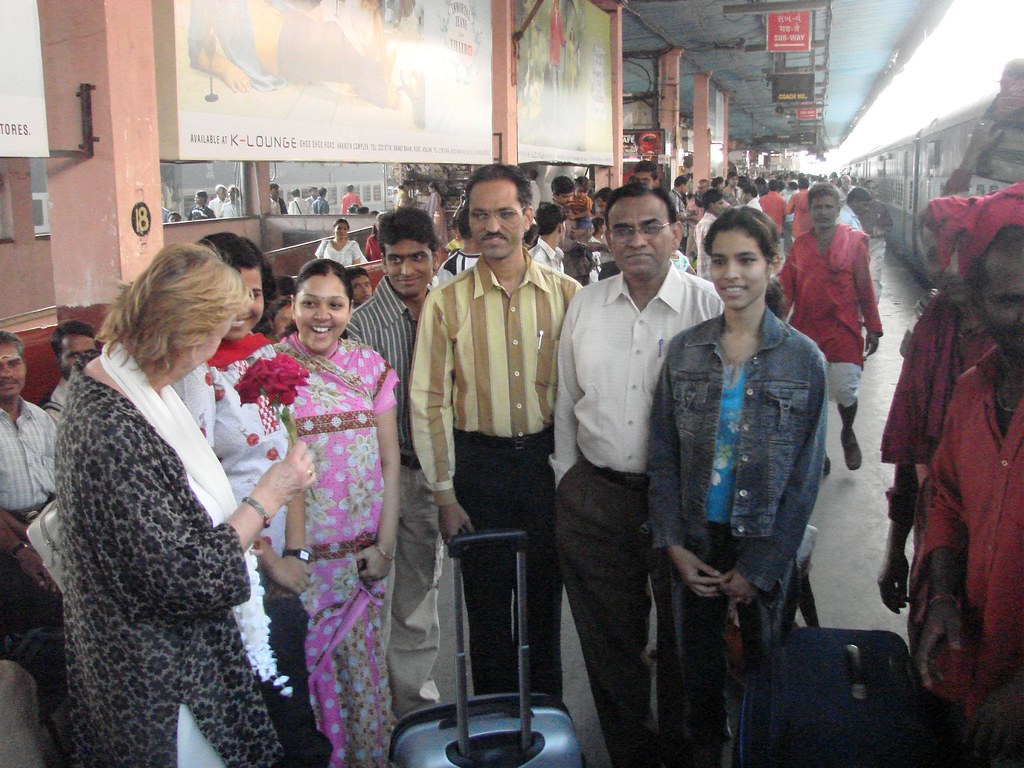 (F.l.) Karuna, holding a welcome rose given to her by Mahima Bokariya, standing beside her; Amita Jain, Ashok Jain, Shri Harish Jain, Shri Bokariya, Mahima's father, and Rinku Jain, Shri Harish Jain's daughter.
Retrospectively, we admit that 24 hours for Surat were not enough, but a more extended stay was not possible for us. Mahima Bokariya, HereNow4U Surat correspondent nevertheless succeeded in planning a dense, but well tuned program, consisting of meaningful spiritual and social encounters that we highly enjoyed.
We arrived at 11:00 at Surat train station. Shri Bokariya, Mahima's father, Mahima Bokariya, Shri Harish Jain, Rinku's father, Rinku Jain, and Ashok & Amita Jain, married since two years, received us. Karuna was very happy to meet again with her friends Amita and Rinku from three years ago, when she participated in II. International Preksha Camp in Surat, and afterwards stayed three more weeks near H.H. Acharyashree. Amita and Rinku had regularly visited her in City Lights Terapanth Bhawan where she was accommodated during her whole stay.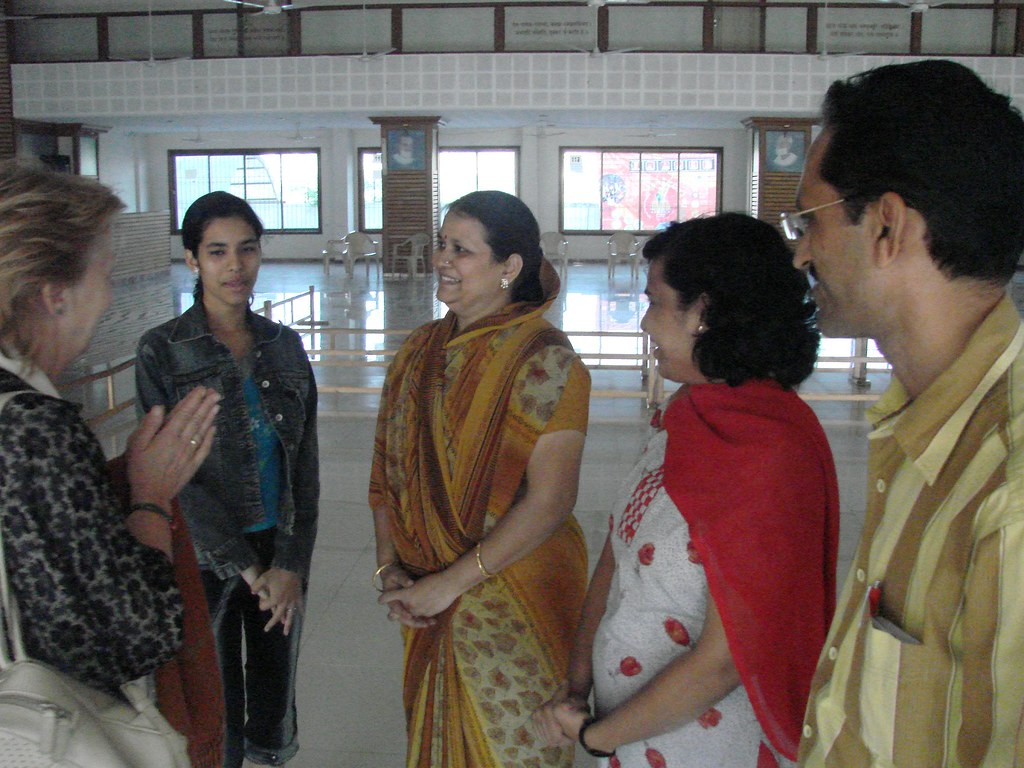 Welcomed at arrival by Mrs. Harish Jain, Rinku's mother; Mahima Bokariya, and Shri Harish Jain.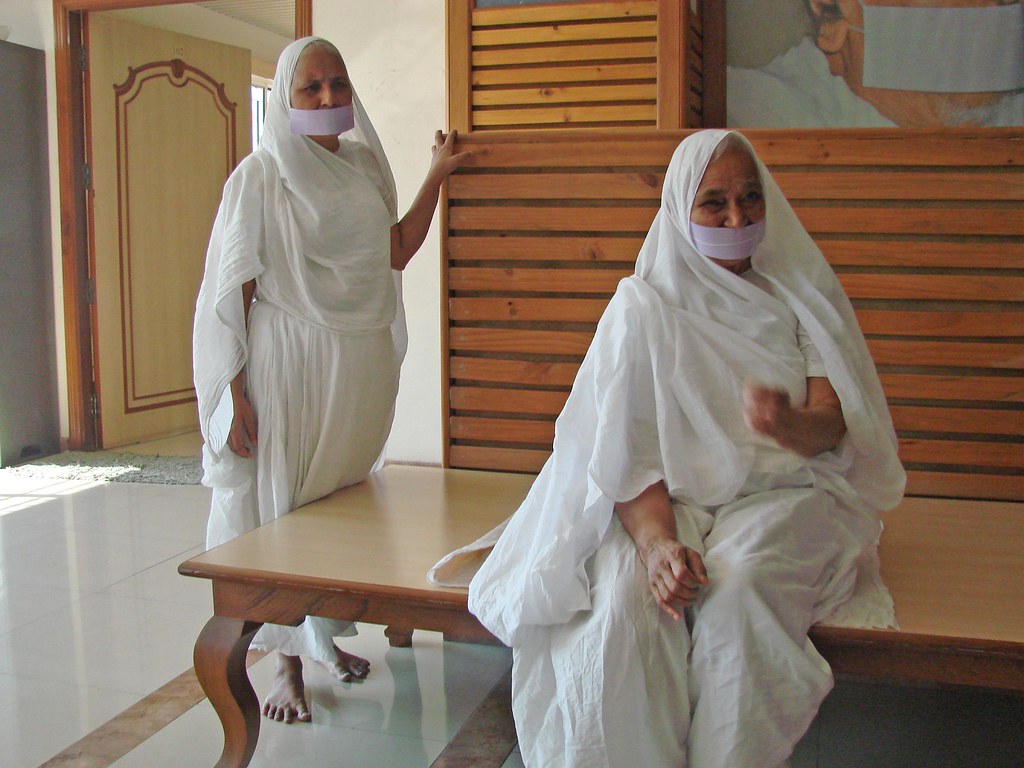 Darshan of Sadhvishree Anandshri ji; Sadhvishree Prabalyasha ji standing beside her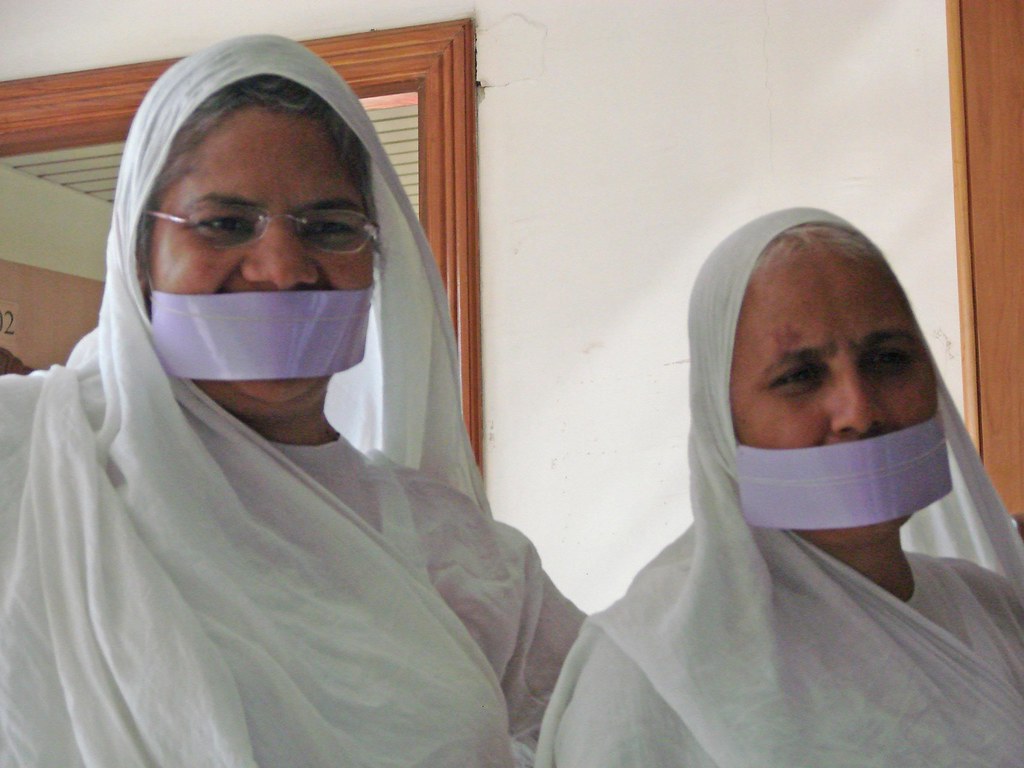 Sadhvishrees Sourabhyashaji & Prabalyashaji
Mahima had organised our accommodation in City Lights Terapanth Bhawan, where our friends Ashok and Amita took us. In the car, Amita and Karuna exchanged their latest news, and Aparigraha meanwhile got informations on 'Diamond City' from Ashok. At Terapanth Bhawan, Mr. Harish Jain, and his wife, Rinku's parents, and Rinku already were waiting to present us to Sadhvishrees who spent their Chaturmas there.
Head of the group of three Sadhvis is Sadhvishree Anandshriji. At the age of 21, Acharya Tulsi ordained her, and since 48 years, she lives the enlightened life of a Jain nun. Two years ago, she got the information to suffer from breast cancer, which was successfully operated. Her great willpower helped her to get back her energies. After her Surat Chaturmas, next her destination suggested by H.H. Acharya Mahaprajnaji should be Baroda. The walk on foot from Surat to Baroda will probably take one month. The Sadhvis in her group are Sadhvi Prabalyashaji, initiated since 20 years, Sadhvi Sourabhyashaji, initiated since 10 years, and the latter's younger sister, Sadhvi Suyesh Prabhaji, initiated since 5 years.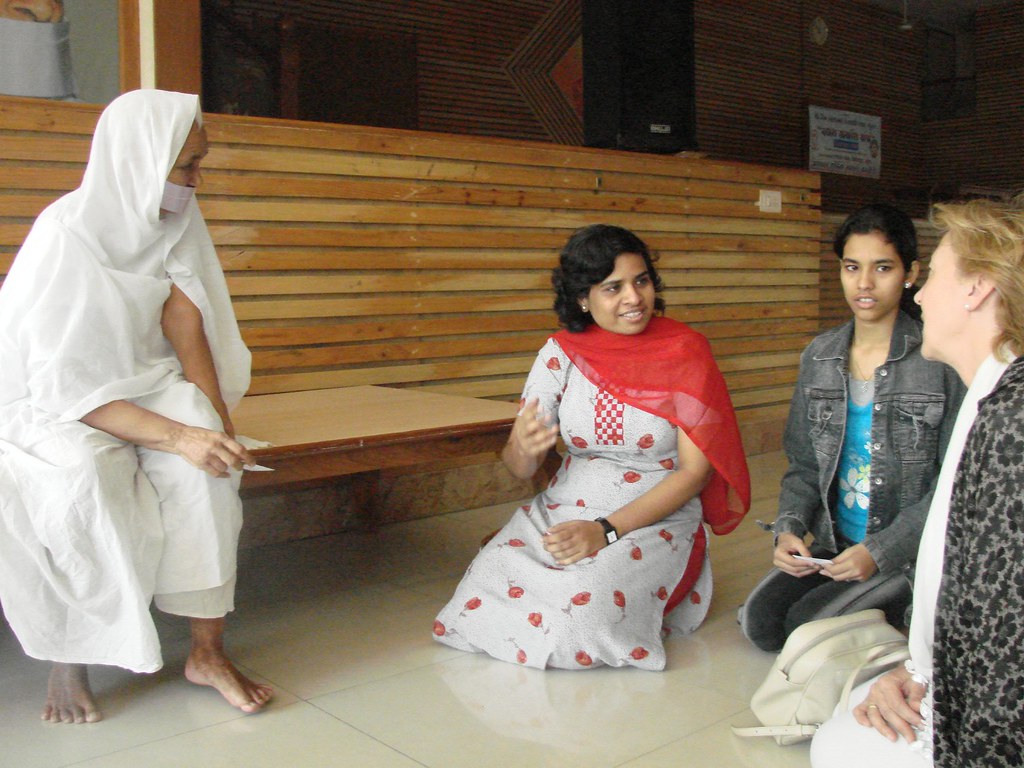 Sadhvishree Anandshriji talking to Karuna, Mahima Bokariya & Rinku Jain listening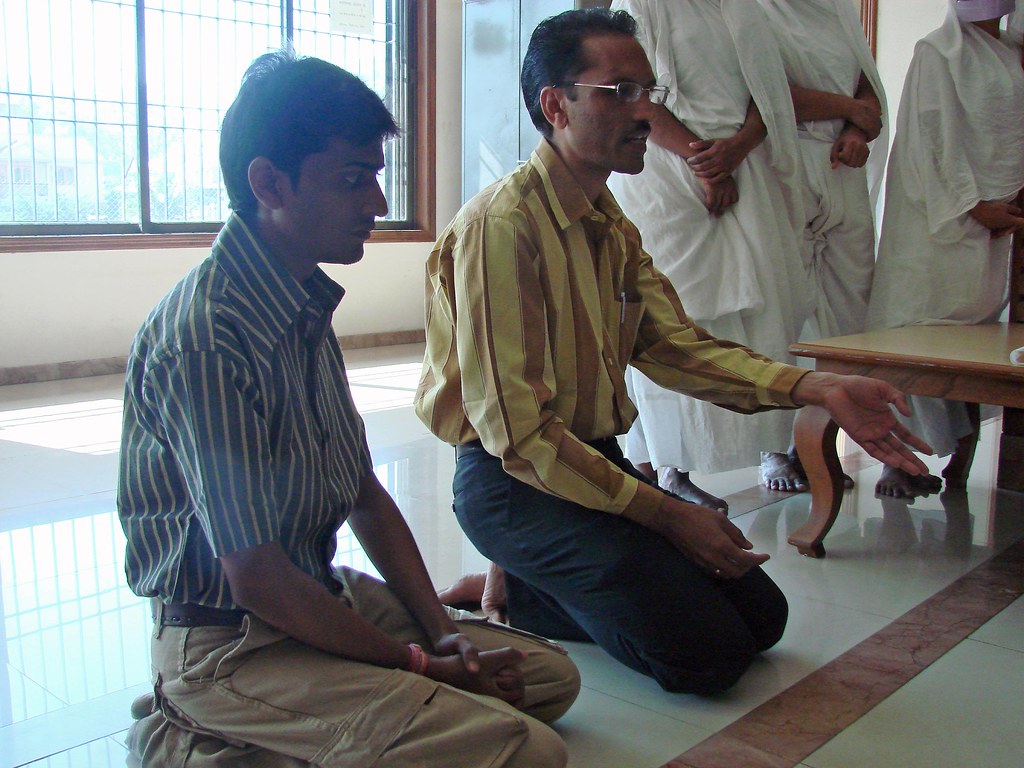 Shri Harish Jain & Ashok Jain
When Mahima Bokariya presented us to Sadhvishree Anandshriji, we had an inspired talk together, in which Mahima kindly was our translator. Sadhvishree Anandshriji was delighted to know what we are doing and said that it is very important in life to do such work that helps to become a good person. In her daily lecture from 09:00 to 10:00, she had kindly announced our arrival.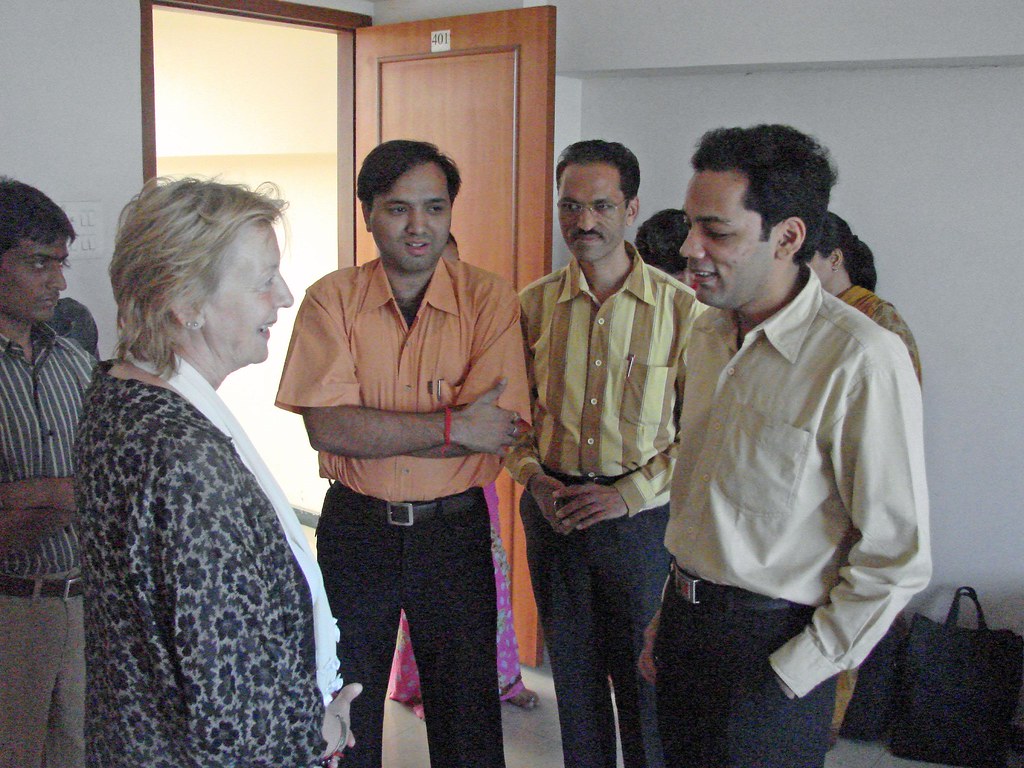 Meeting again Lalit Dugar, Munishree Kumar Shramanji's brother in worldly relations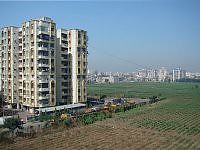 View from a window in 4th floor on city buildings & agricultural experimental fields
We then went upstairs to refresh us and took lunch, Mahima cheerfully had prepared. An old friend, Lalit Dugar, in worldly relations brother of Munishree Kumar Shramanji, visited us and conveyed the greetings of the whole family, we unfortunately could not meet this time due to lack of time.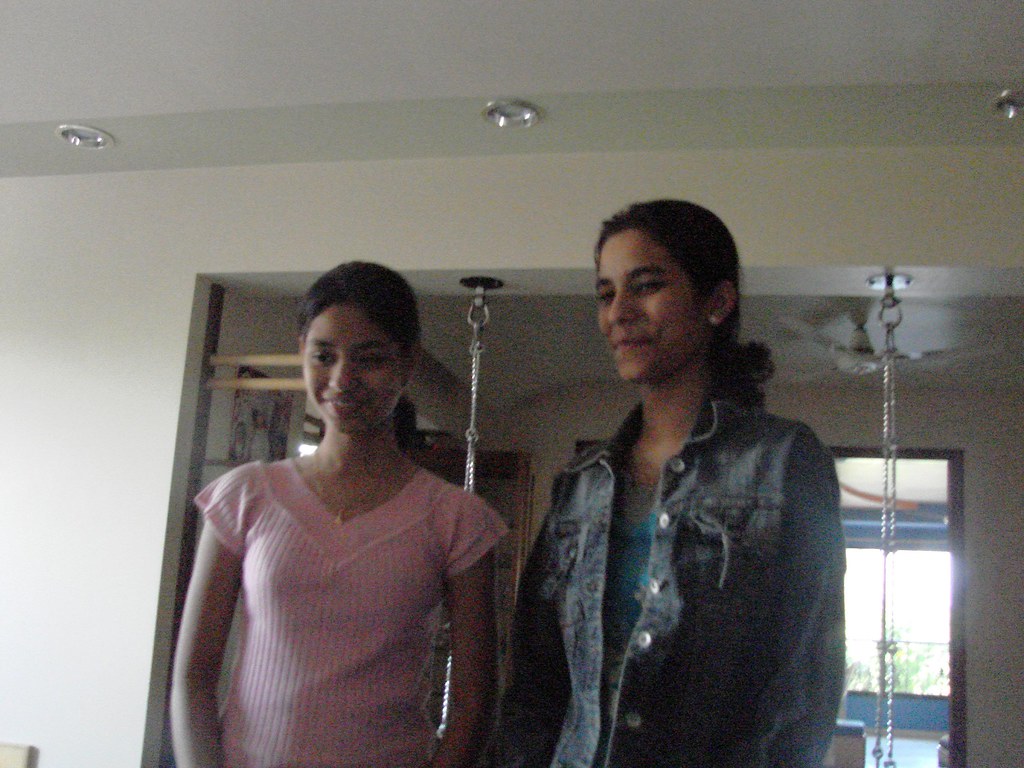 Rinku Jain & her younger sister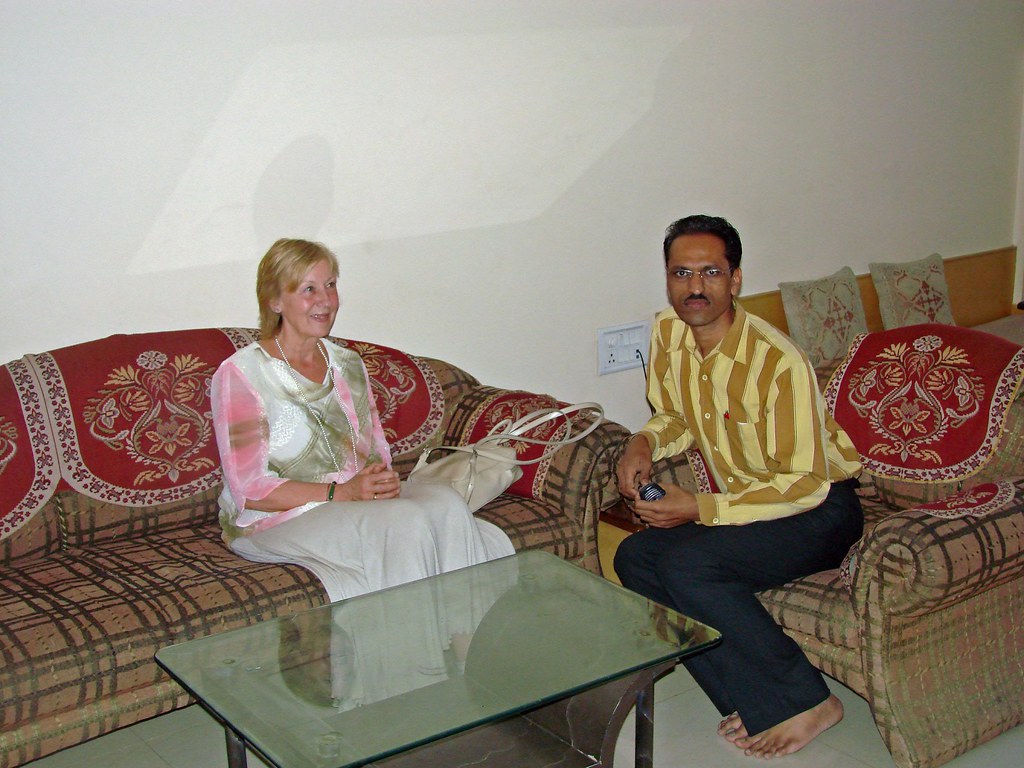 Shri Harish Jain, Karuna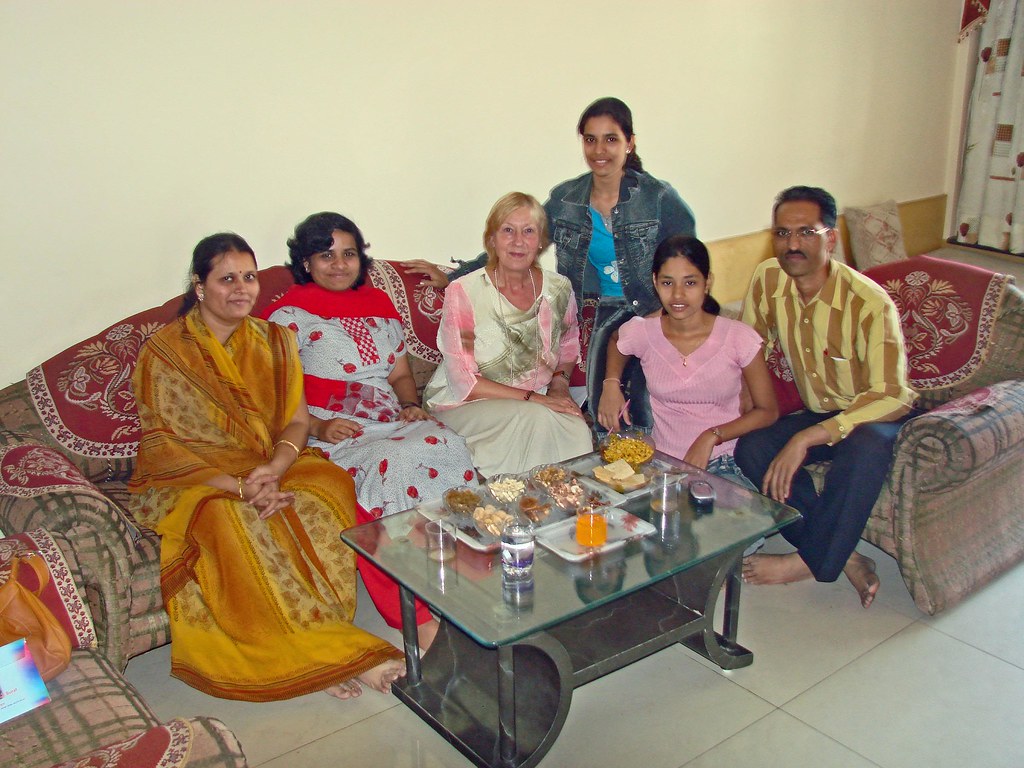 Sweet memory photo in the living room of Mrs. Harish Jain, Mahima Bokariya, Karuna, Rinku Jain, her younger sister & Shri Harish Jain
Shri Harish Jain came and took us to his home. Rinku and her younger sister showed us their rooms, Mrs. Jain offered delicious homemade snacks and tea, and we admired her very well organised kitchen.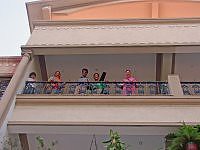 Mrs. Jain,Her son Ashok, Amita Jain and two cousin-brothers of Ashok, welcoming us from the balcony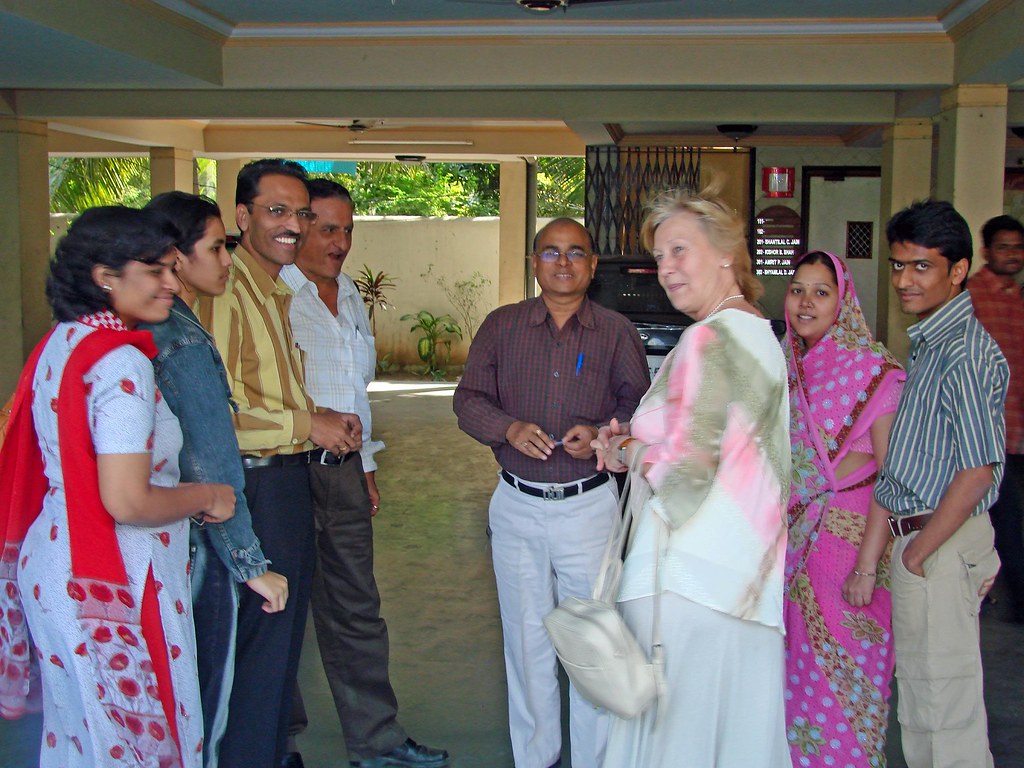 Mahima Bokariya, Rinku Jain, Shri Harish Jain, a relative, Mr. Jain, Amita's uncle, Karuna, Amita & Ashok Jain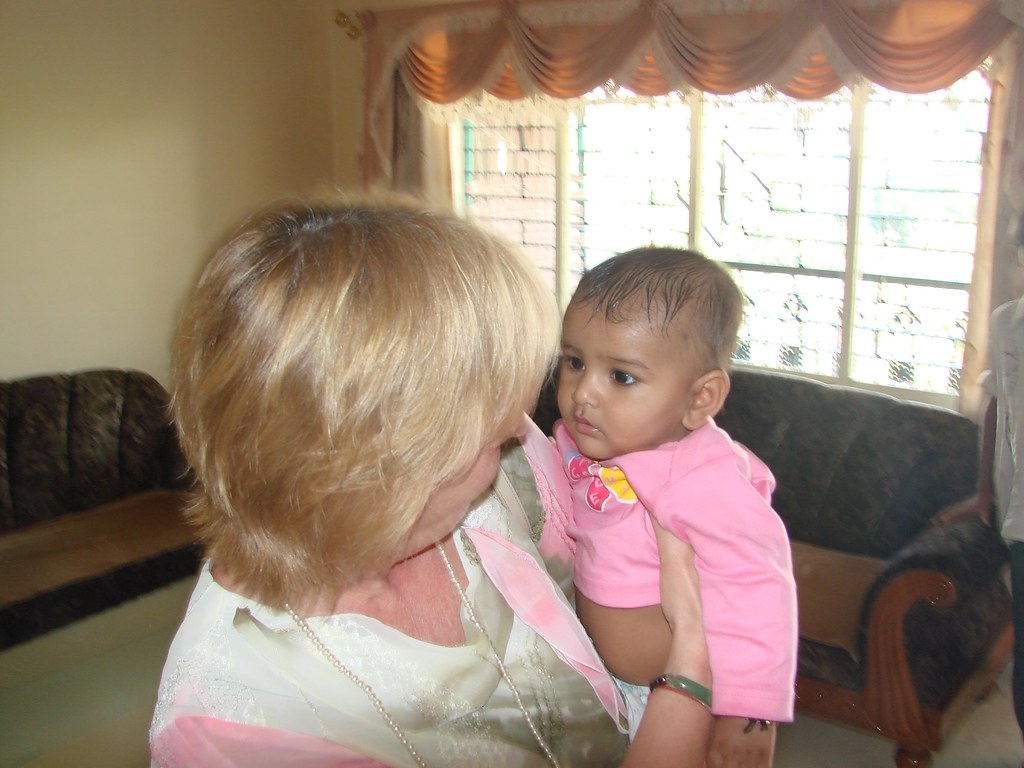 Karuna holding Ashok & Amita Jain's son Khush in her arms
Next visit was to the Jain family. Amita Jain, who did not only marry Ashok in January 2005, who was her fiancé when Karuna met her first, but also had given birth to her beautiful son Khush 6 months before our visit. Ashok and Amita live in a happy joint family with Ashok's parents and Ashok's younger brother Nitin. Amita feels very happy with her 'in-laws'; they have two sons and got with her a daughter as well. The relations between her parents' family and her 'in-laws' are very good; Shri Gopilal Talesra, Amita's father was also present when we visited the family of his daughter. He and Amita's father-in-law were and are very good friends. Karuna had met very often with Gopilalji's and his brothers' (4 out of 5 are living in Surat) families. The children of three brothers had grown up together in a joint family, and they had much fun. Their relation still is very close. Years ago, when they were going on family excursion to the village near Udaipur they all originate from they used to rent a bus! Now all have separate cars and nearby situated apartments.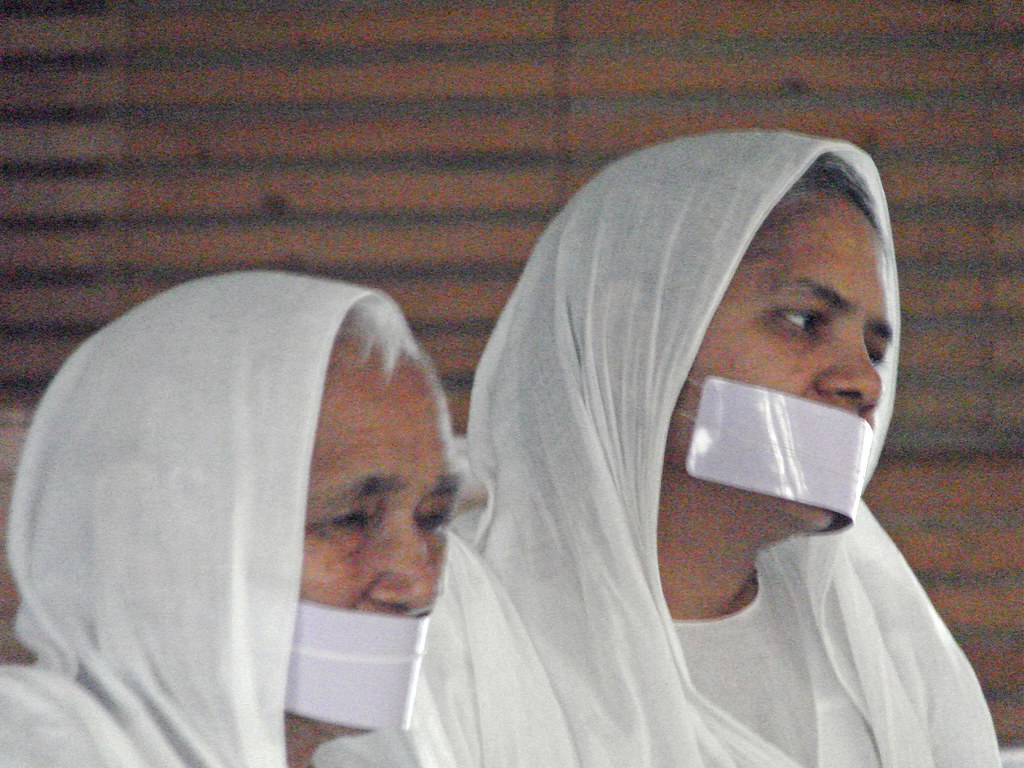 Sadhvishrees Anandshriji & Suyesh Prabhaji, head of group & youngest member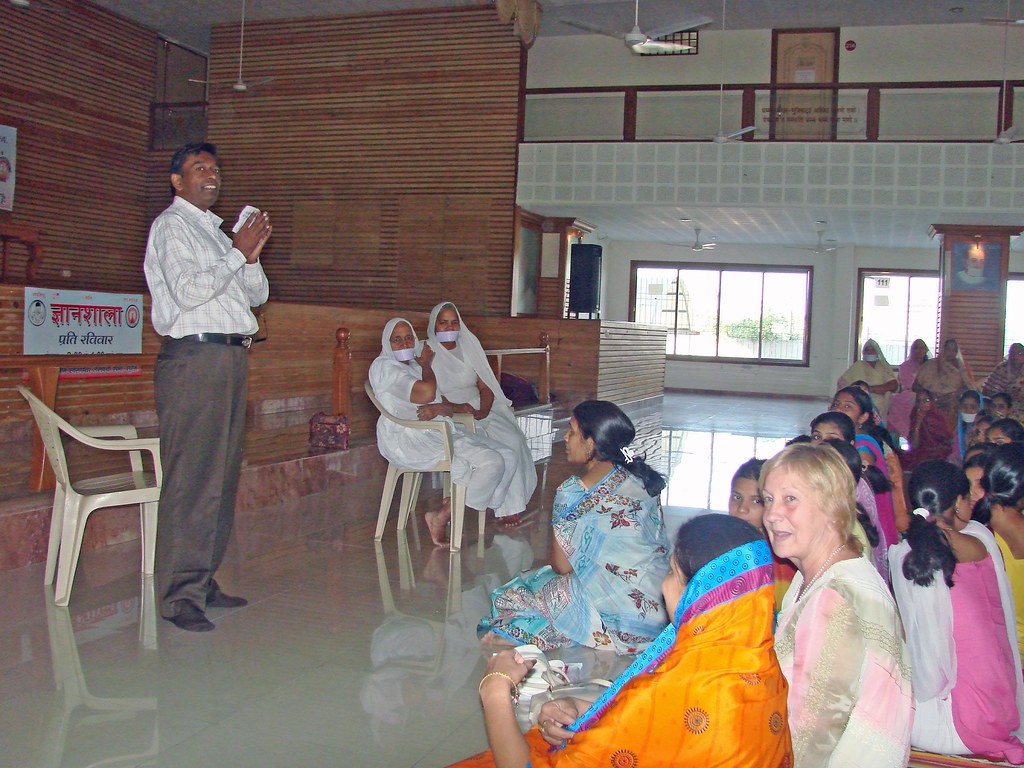 Sushil Bafana, HereNow4U Kolkata correspondant giving welcome speech in presence of Sadhvishrees
Meanwhile, Sushil & Supyar Bafana had arrived from Kolkata, and for us it was time to leave for welcome function of the Girls' Wing of Gyanshala students in Terapanth Bhawan in presence of Sadhvishrees, organised by Mahima. Sushil Bafana delivered a speech in which he encouraged the students to use the opportunity of our presence to put questions to us, which later was well accepted by the students.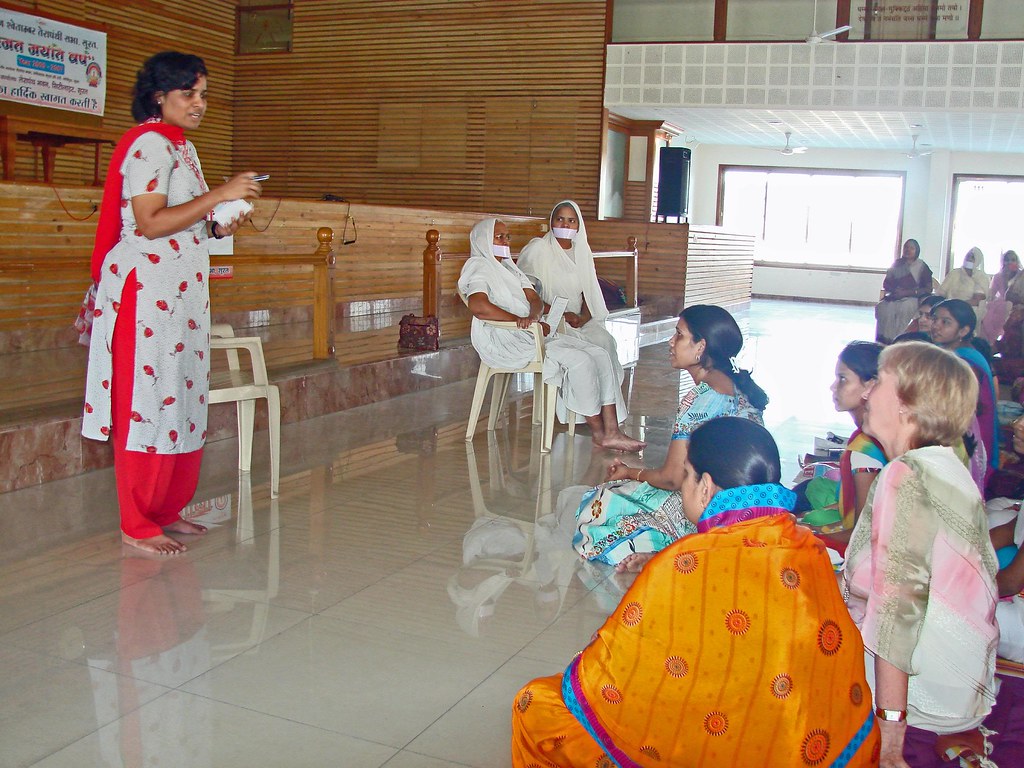 Mahima Bokariya giving welcome address in presence of Sadhvishrees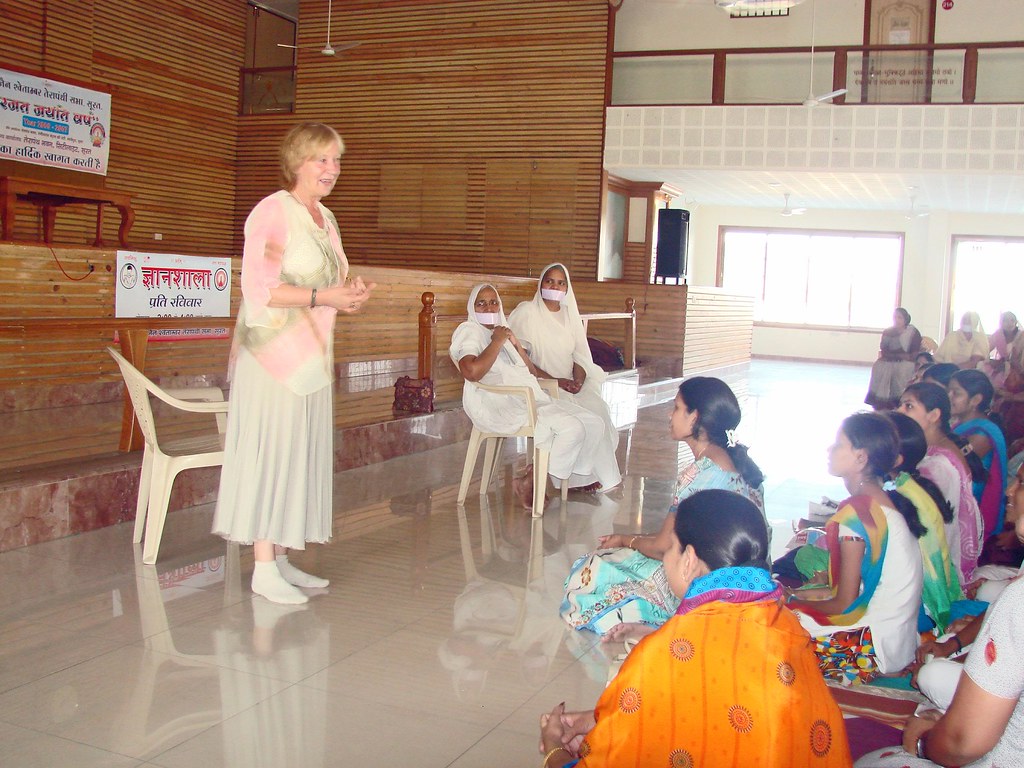 Karuna delivering address of thanks in presence of Sadhvishrees
Mahima Bokariya presented us to the audience, and Karuna then expressed our heartfelt thanks. Sadhvishree Anandshriji said in her speech that there are good relations between Terapanth and Germany since many years. She appreciated the German scholars working for Jain philosophy, and specially referred to the meeting of Hermann Jacobi and 8th Terapanth Acharya Kalugani in Ladnun. When Hermann Jacobi left India, he said that he remembers three noble things of his visit to Ladnun: Diksha of a couple, the correct meaning of the word 'masam', and monks like in the era of Lord Mahavira. Sadhvishree continued that she is impressed by our efforts to practise Preksha Meditation, to observe the Anuvrat code of conduct, and to spread the teachings of H.H Acharyashree, particularly in the west.
Mrs. Punam Gujrani, poet and writer of books and articles, compered the function.
Surat Terapanth Women's wing in the audience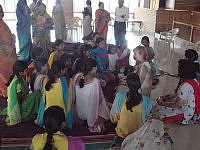 Karuna talking to students of Gyanshala Girls' Wing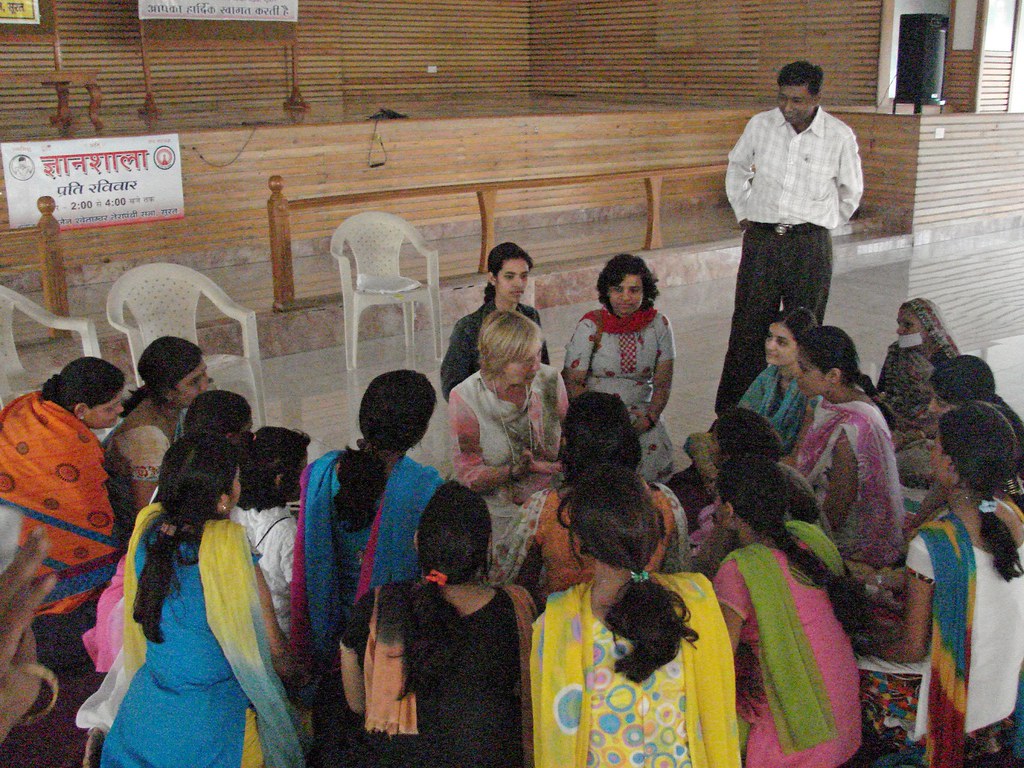 Karuna talking to students of Gyanshala Girls' Wing; Sushil Bafana & Mahima Bokariya & Rinku Jain watching
When the function was over, the students mainly wanted to know how we became Jains, how we feel in India, and how we like Indian food. We could not give too detailed answers, as schedule asked for leave – to next function!