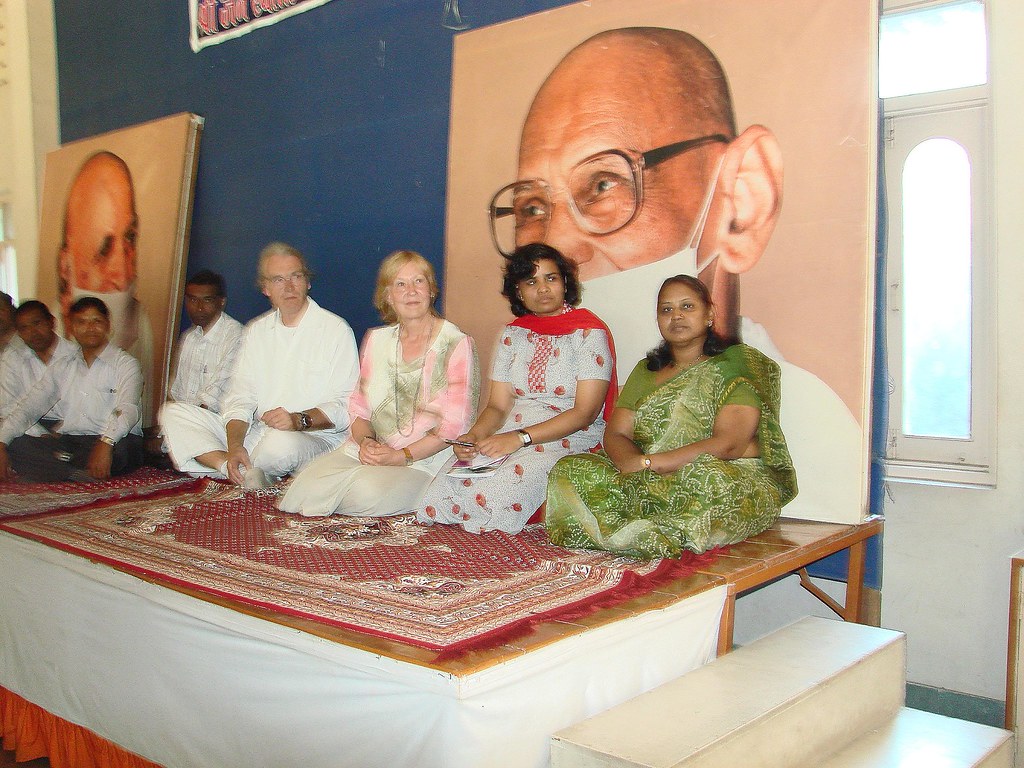 Mr. Sushil Bafana, Aparigraha, Karuna, Mahima Bokariya on stage with posters of present Acharya Mahaprajnaji and his predecessor Acharya Tulsi
Mahima Bokariya had organised a function of Gyanshala Girls' Wing students in Udhna Bhawan after which the students exposed beautiful products they had manufactured. We afterwards met with Mr. Arjun Medatwal, Mr. Jeevan Jain brought us to Textile Market where we met with Mr. Hemant Borana, and back in Terapanth Bhawan, Mr. Balubhai M. Patel convinced us to follow him to his farm outside of Surat. All this happened in a time span of 4 hours!
Before the start of program, one of the girls approached Karuna with the question, if by chance she knew her father, Mr. Jeevan T. Jain. She did, and had started several attempts to contact Mr. Jeevan Jain since they met first in 2003, but lost his phone number and therefore could not advertise our arrival in Surat to him. Now his daughter, grown up from a child to a young lady, stood in front of her.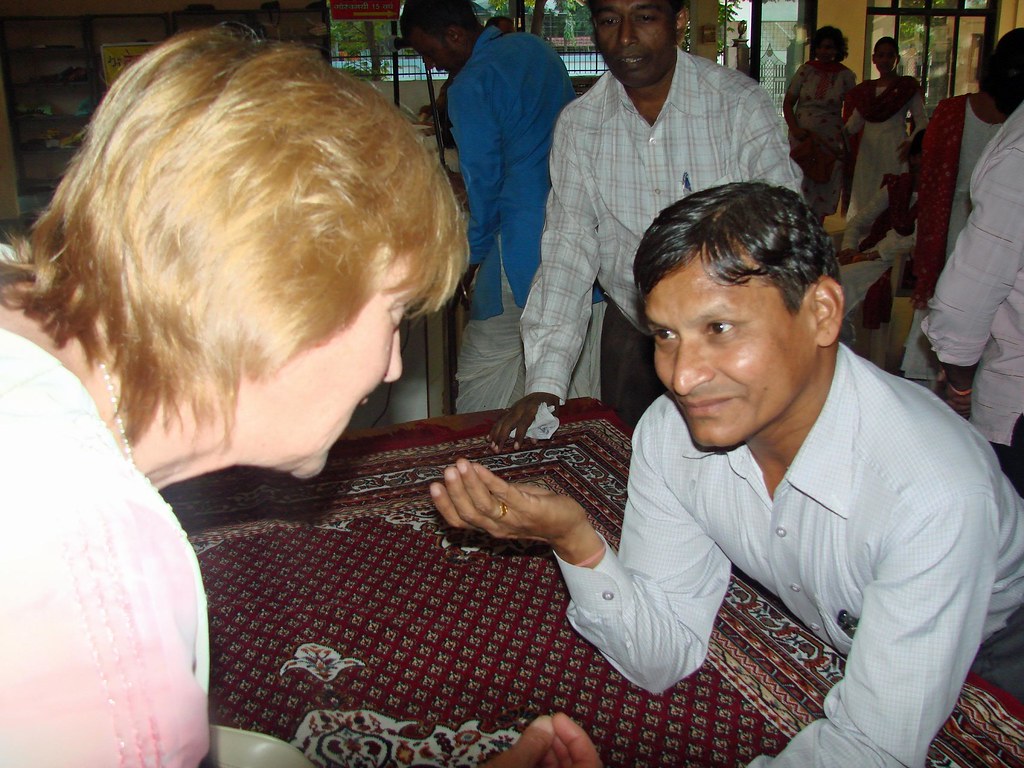 Shri Jeevan Jain welcoming Karuna
And some minutes later, just before the program started, Mr. Jeevan Jain himself!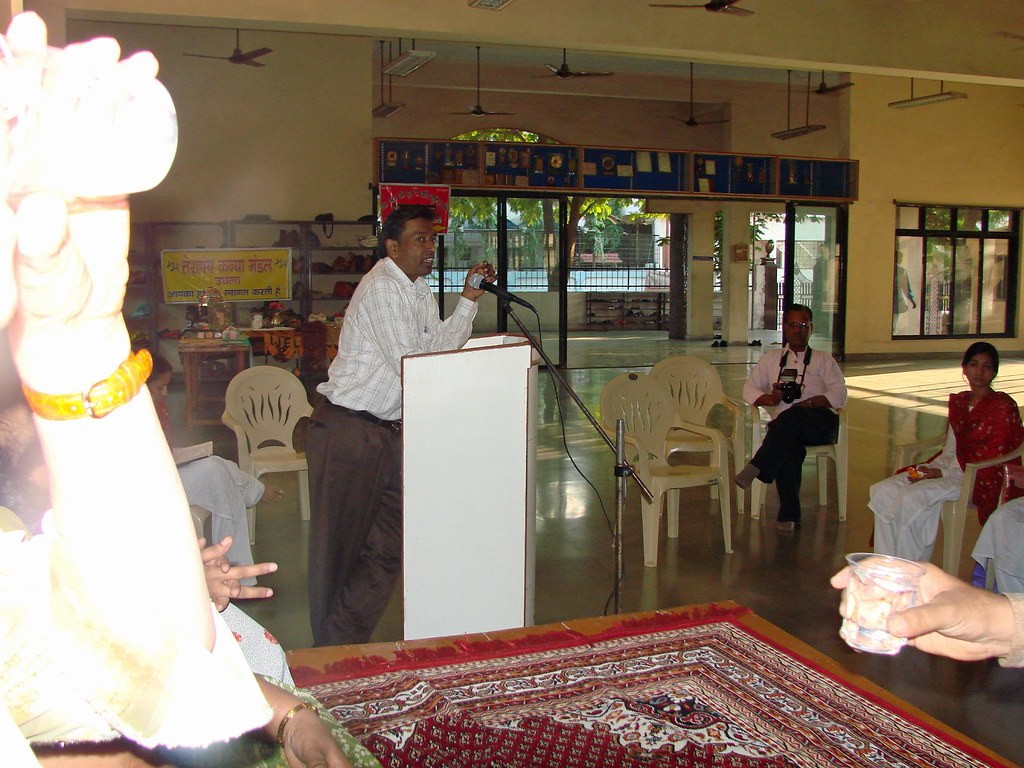 Mr. Sushil Bafana from Kolkata opening the function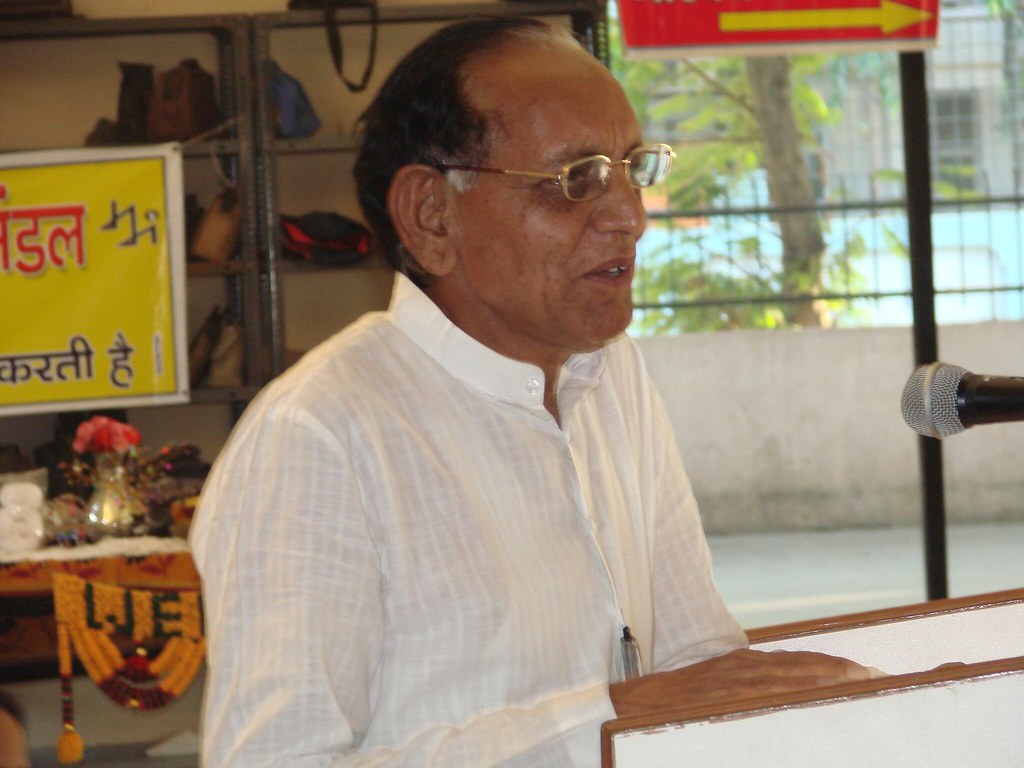 Mr. Anilji Chandaliya, president of Terapanth Udhna Man's Wing in his speech
Now the creatively composed program started with an introductory speech of Mr. Sushil Bafana, HereNow4U Kolkata correspondent, followed by a warm welcome speech of Mr. Anilji Chandaliya, president of Terapanth Udhna Man's Wing. Mr. Parasji Sanchati, vice-president of Terapanth Udhna Sabha was also present, and Mrs. Chanda Gokhru, president of Udhna Women's Wing, delivered a speech. Afterwards she invited us for slight homemade snacks to her house.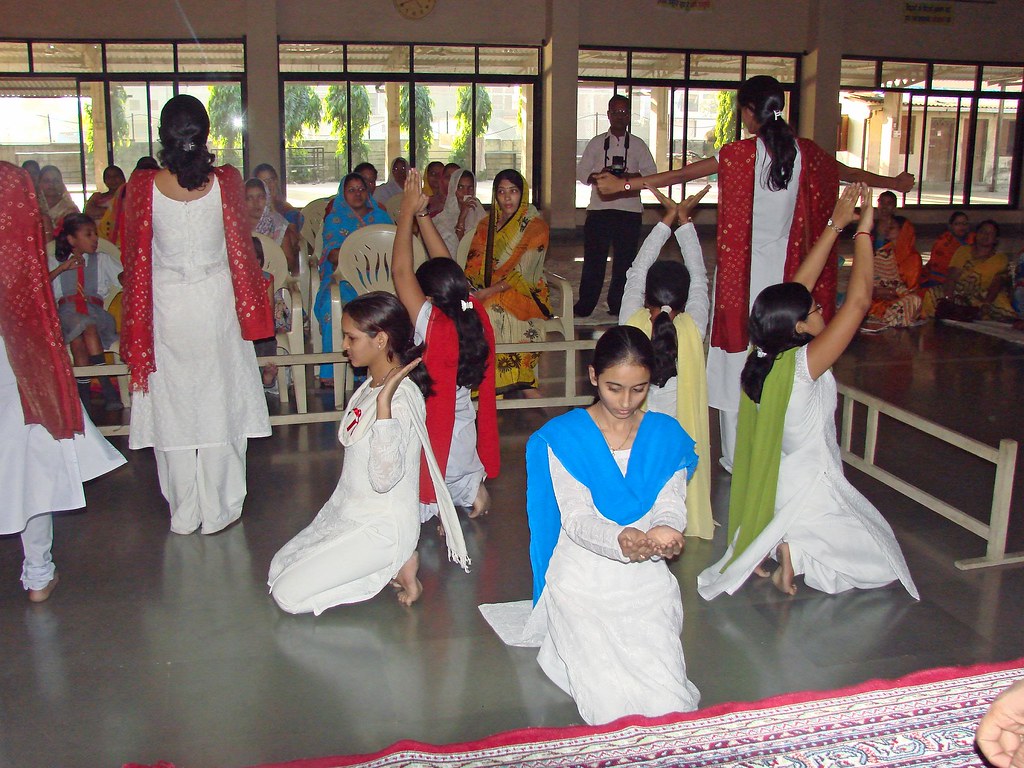 Gyanshala girl students performing Jain Namokar Mahamantra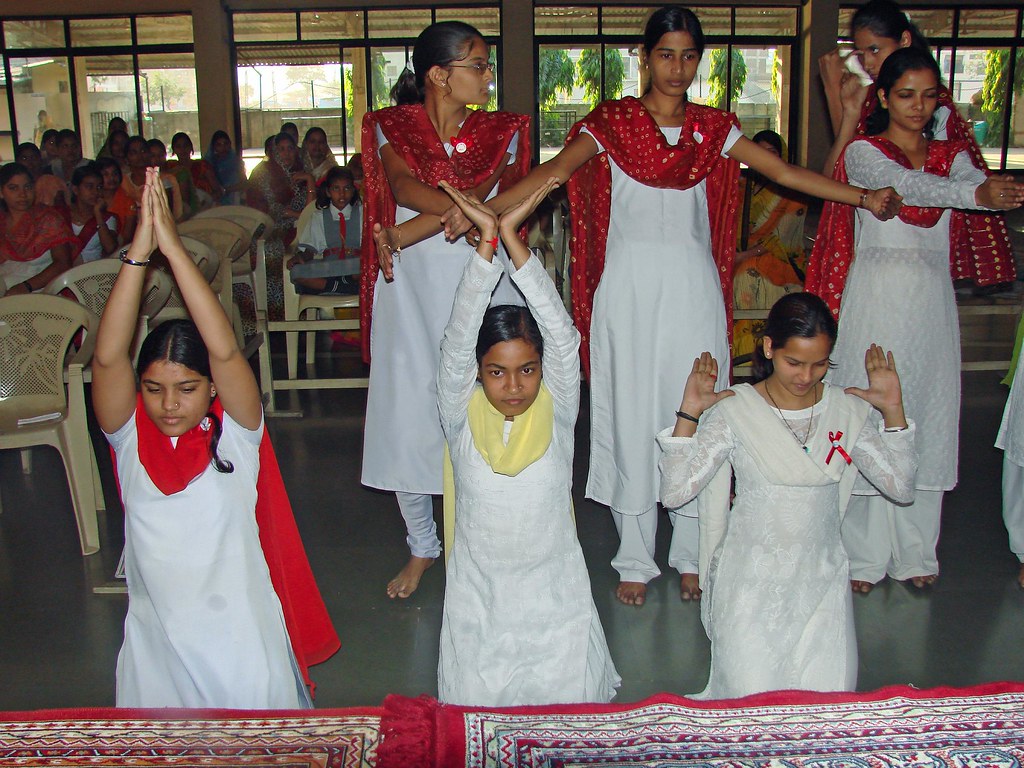 Gyanshala girl students performing Jain Namokar Mahamantra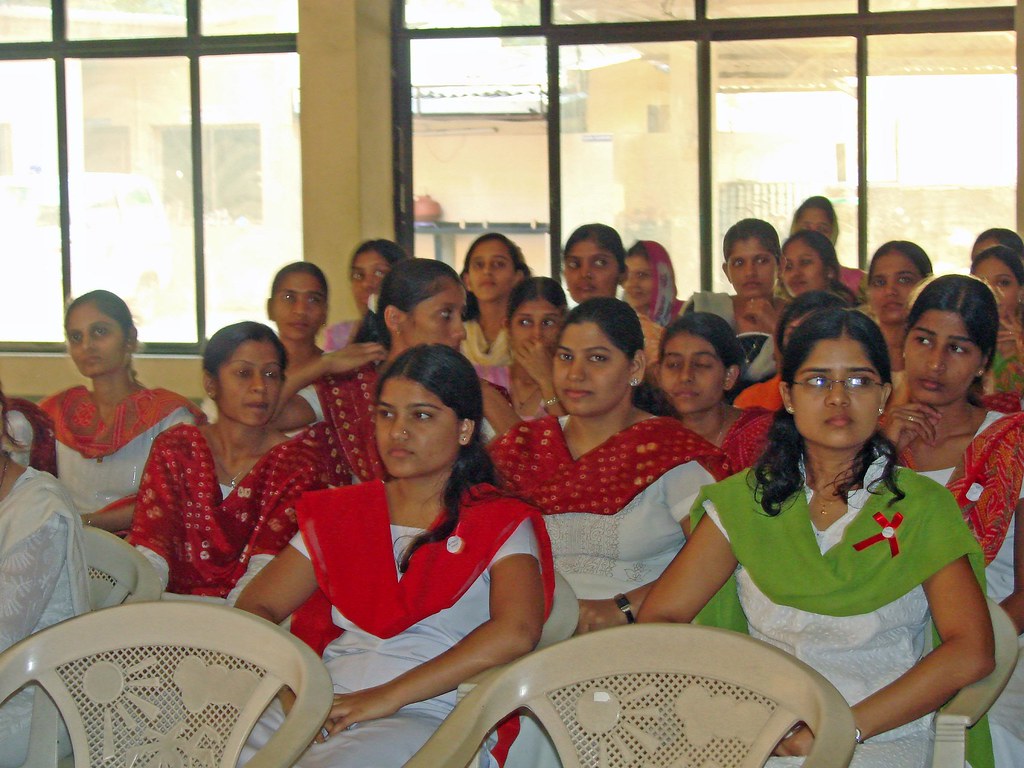 Audience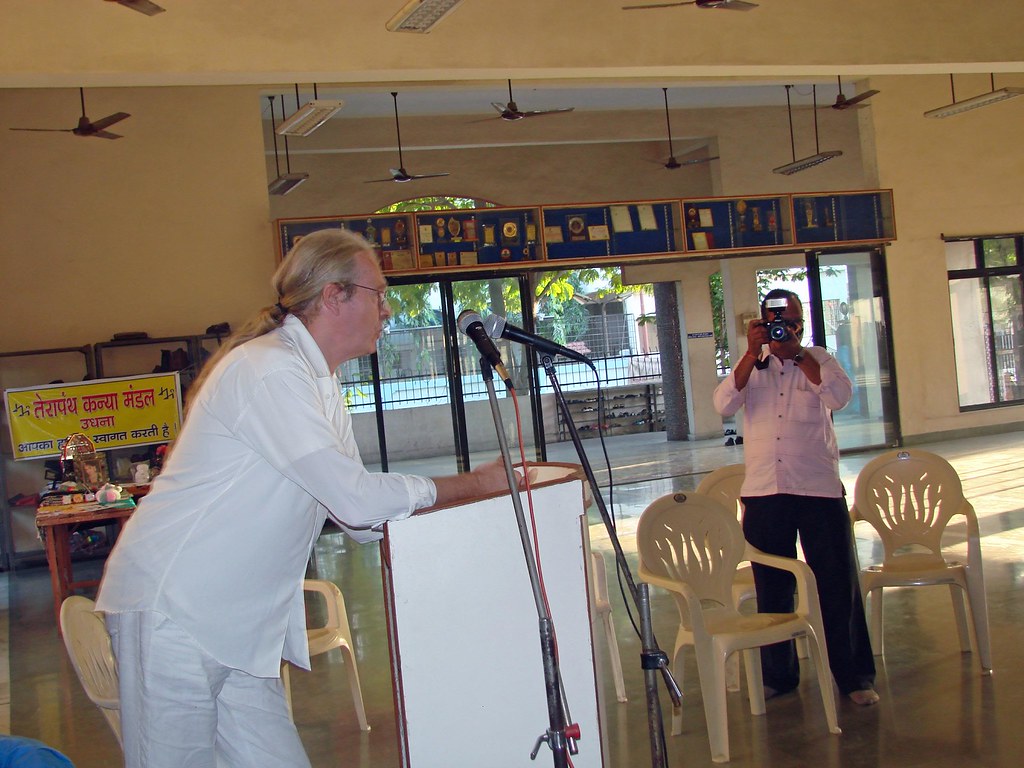 Aparigraha in his speech
The students showed a performance of Namokar Mahamantra, Yoga, and dance. The audience, us included, was applauding them by shaking hands in the air while saying 'Om Arham'. Aparigraha then gave an overview on how we live Jain values in daily life in the west.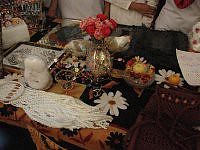 Collection of beauties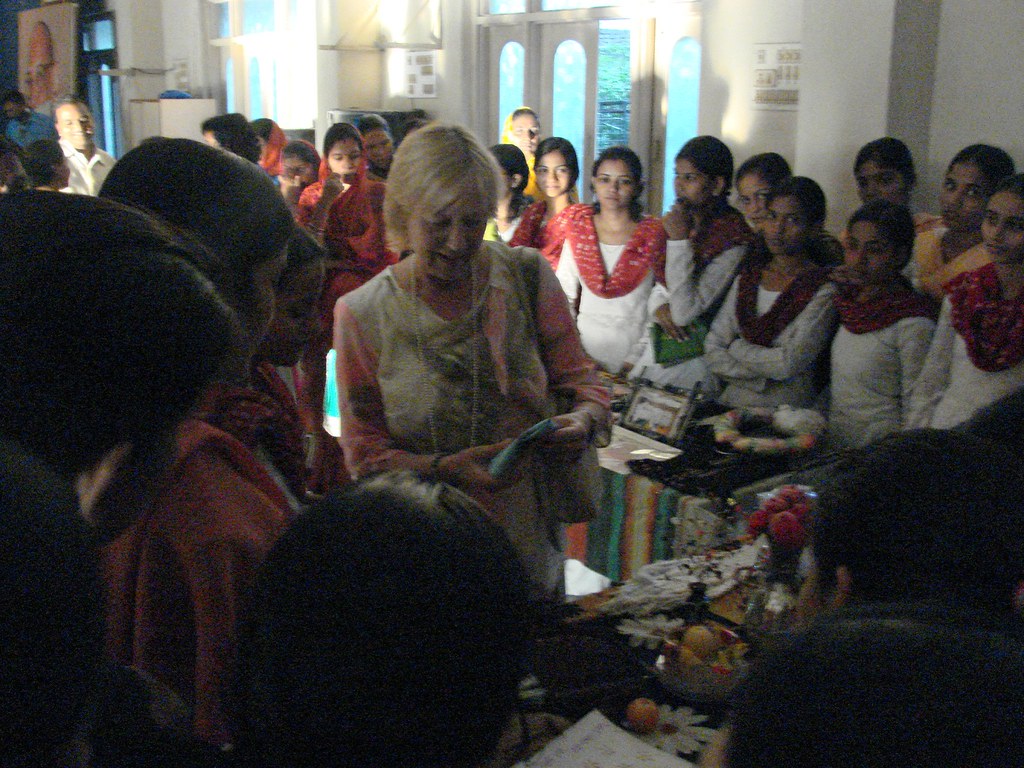 Karuna admires the fine needle work on the handkerchief; she got it as a gift!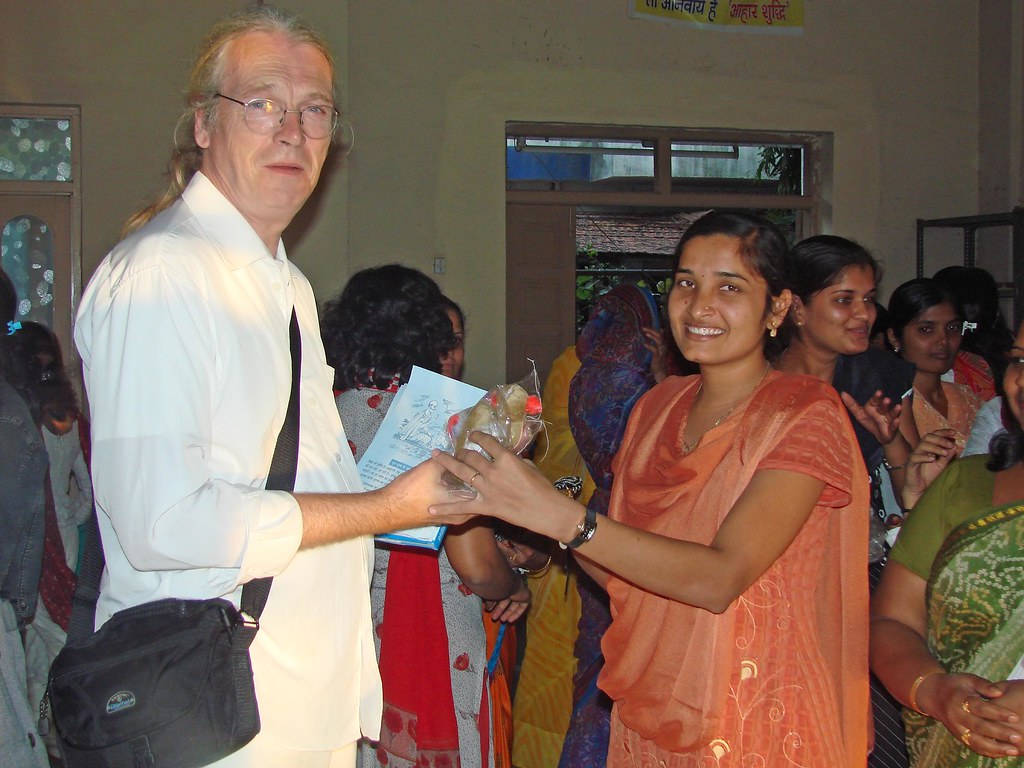 Aparigraha receives a gift
The girls had decorated the stall with handmade items. All admired the girls' facilities, when they then invited the audience to have a look on the product they had manufactured. They insisted to donate those products to us, which they had noticed we liked too much. All gifts got a nice place in our house, and we always remember this afternoon in Surat when looking at them.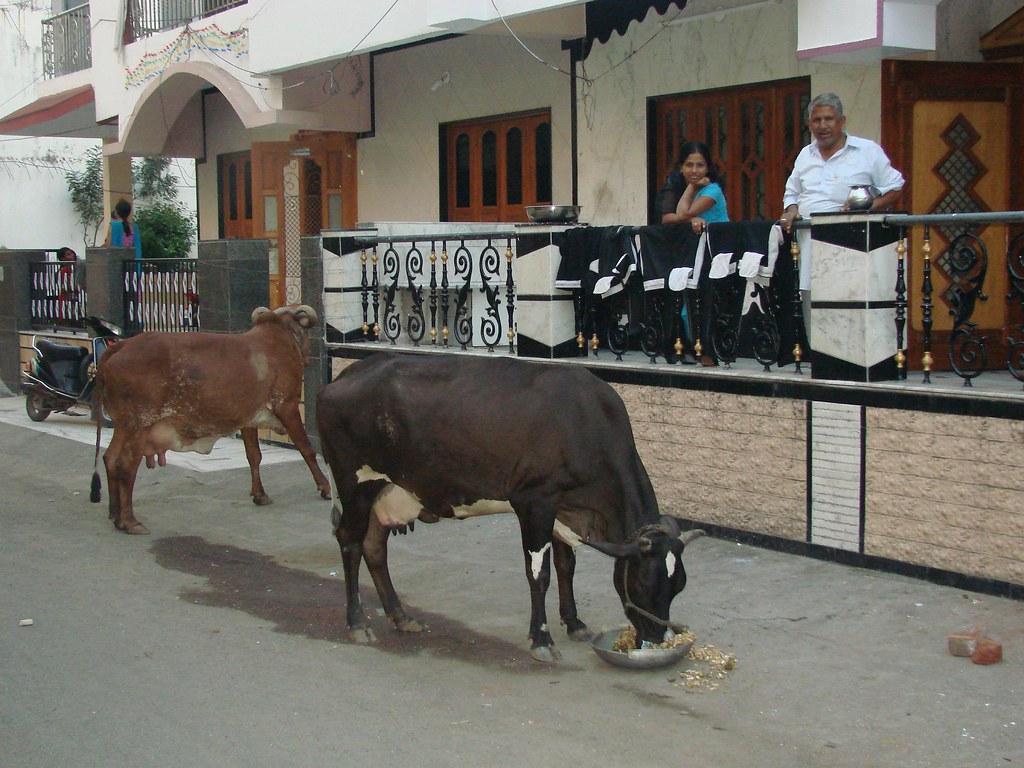 Got it!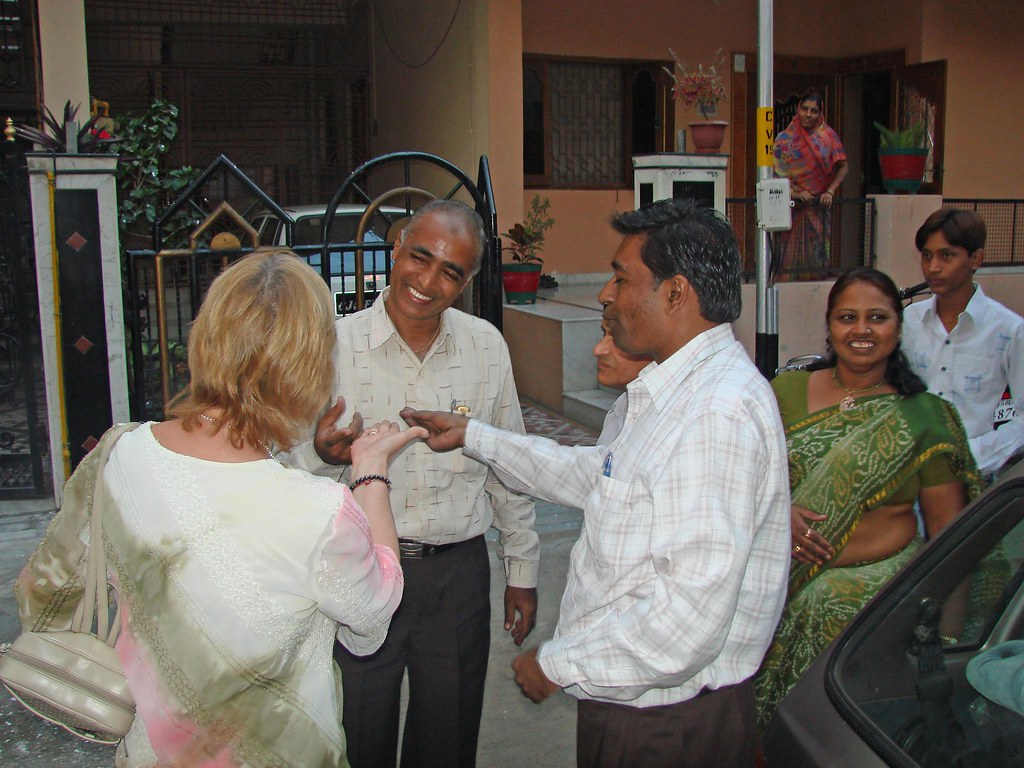 Karuna talking with Mr. Arjun Medatwal, Mr. Sushil Bafana from Kolkata watching
Mr. Sushil Bafana took us to the street where Mr. Arjun Medatwal lives. On our way to his house, we saw his neighbours feeding a cow, obviously following a habit by doing so. Some minutes before, we had seen the cow waiting in front of their terrace.
Mr Arjun Medatwal is very talented in creating little poets, the following he developed for us:
Mr. Aparigraha, you are our precious guest.
Mrs. Karuna, your mission is the best.
We heartily welcome & congrate both of you,
Because you are marching with the flag of Ahimsa followed by the rest.

Sir, you both are personalities in front line,
Your work is very good & fine.
Today we give you best wishes & compliments,
Your mission will glitter as bright as sunshine.

Mrs. Karuna is the ocean of bliss,
Mercy & happiness are always on your list.
Our best wishes and blessings are always with you,
Your work is the bridge between west & east.
Thank you, Shri Medatwal!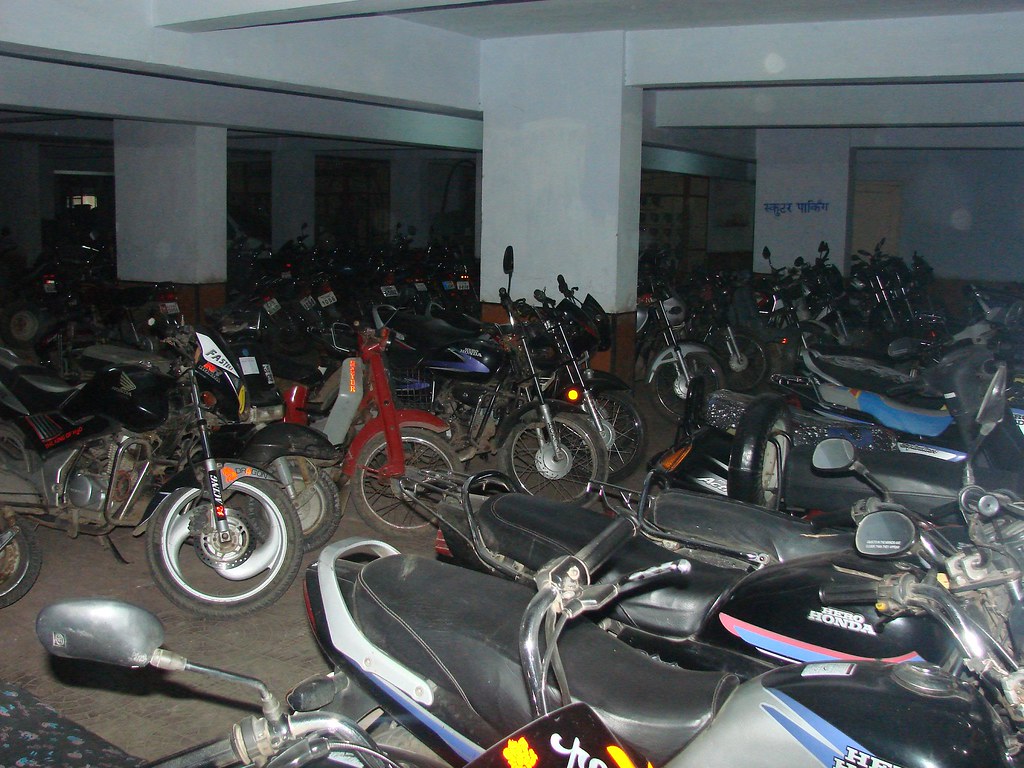 Subterranean garage in Textile Market building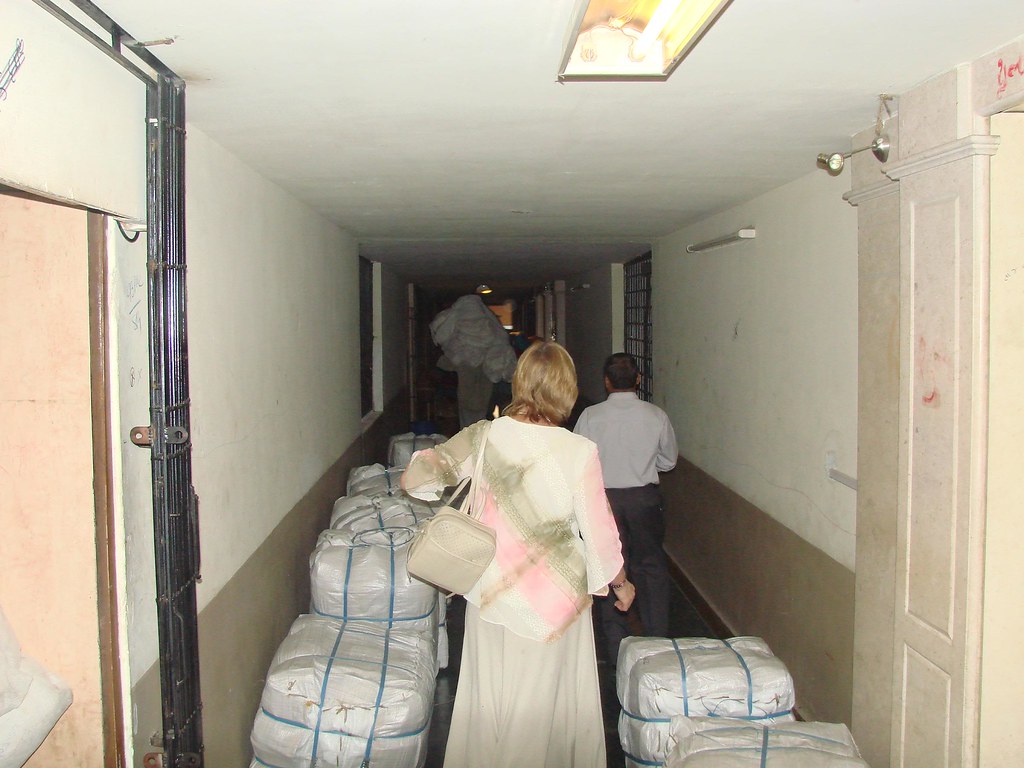 Corridor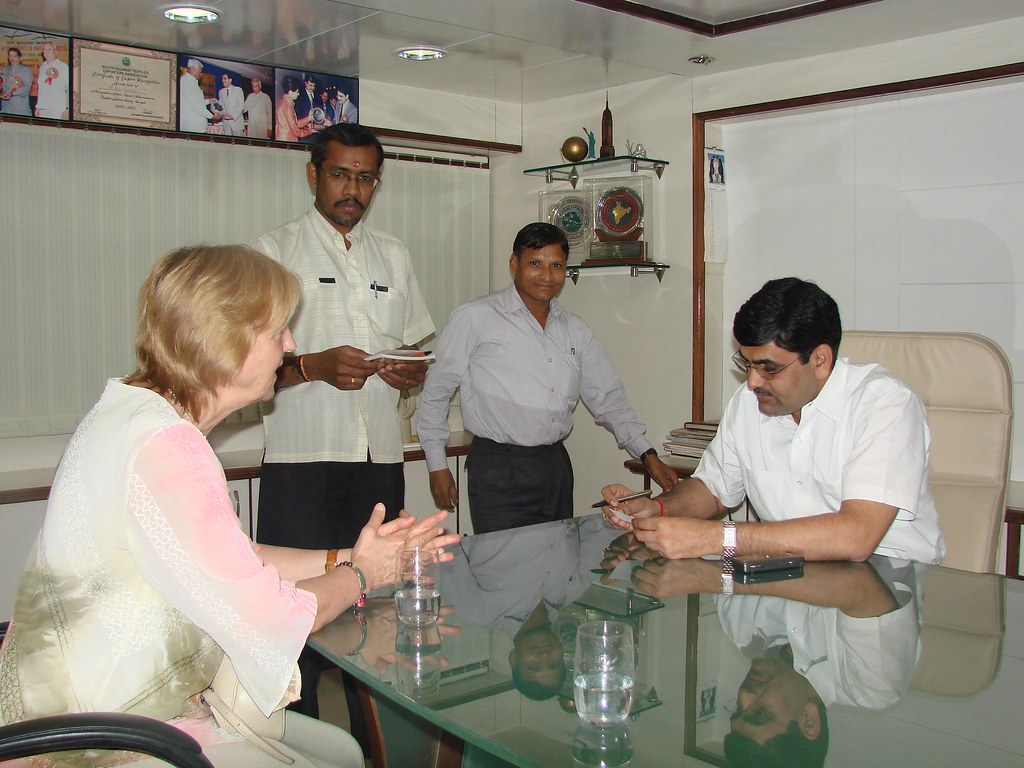 Meeting & talking with Mr. Borana in his office
Mr. Jeevan Jain then came in the car of Mr. Borana to bring us to Mr. Borana's office in Surat Textile Market. Surat Textile Market is most well known to everyone in the world, trading with garments and all kinds of cloths production. Inside, the multi-storied buildings belonging to the huge complex of Textile Market seem like a realisation of European writer Franz Kafka's fantasy. The dim light there renders everyone and everything in the corridors to unreal.
As seen in the subterranean garage, by which we entered the building where Mr. Borana's office is situated, people are earning enough for their livelihood and invest their surplus into mobility.
In 2003, Mr. Borana had sponsored the realisation of a very well done brochure, titled 'Ambassador of Ahimsa' on H.H. Acharya Mahaprajnaji's Ahimsa Yatra. We enjoyed very much to meet and talk with Mr. Borana, who in spite of his busy schedule spent some time with us.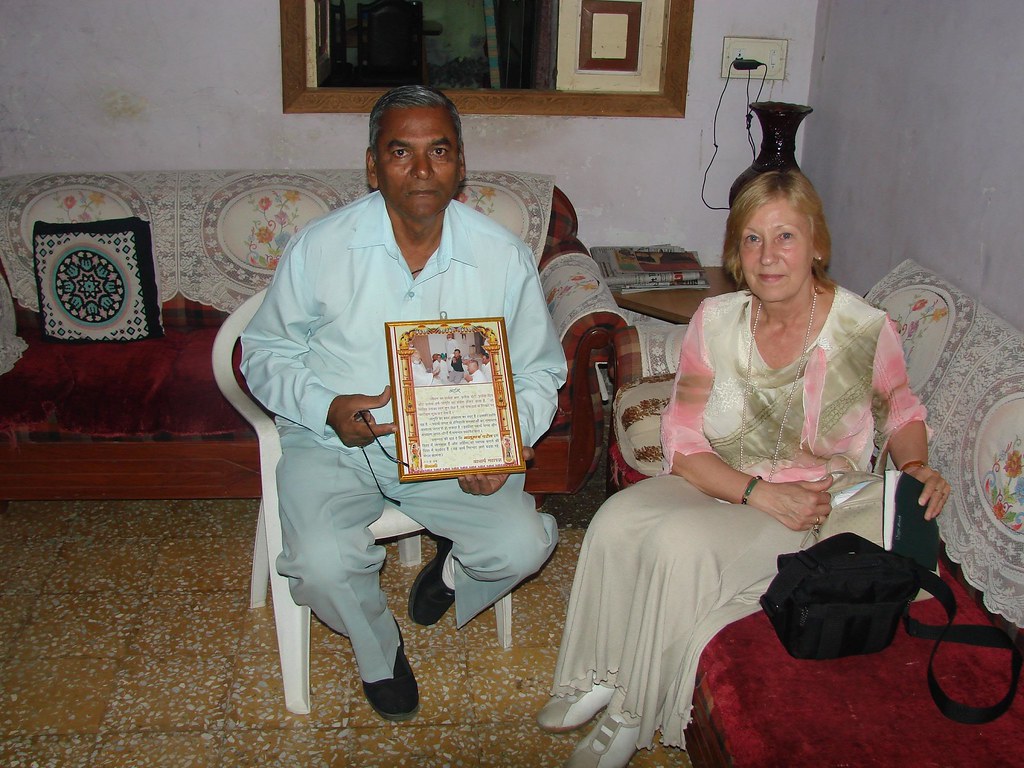 Mr. Balubhai Patel with blessings of H.H. Acharya Mahaprajnaji for his service to the poor & needy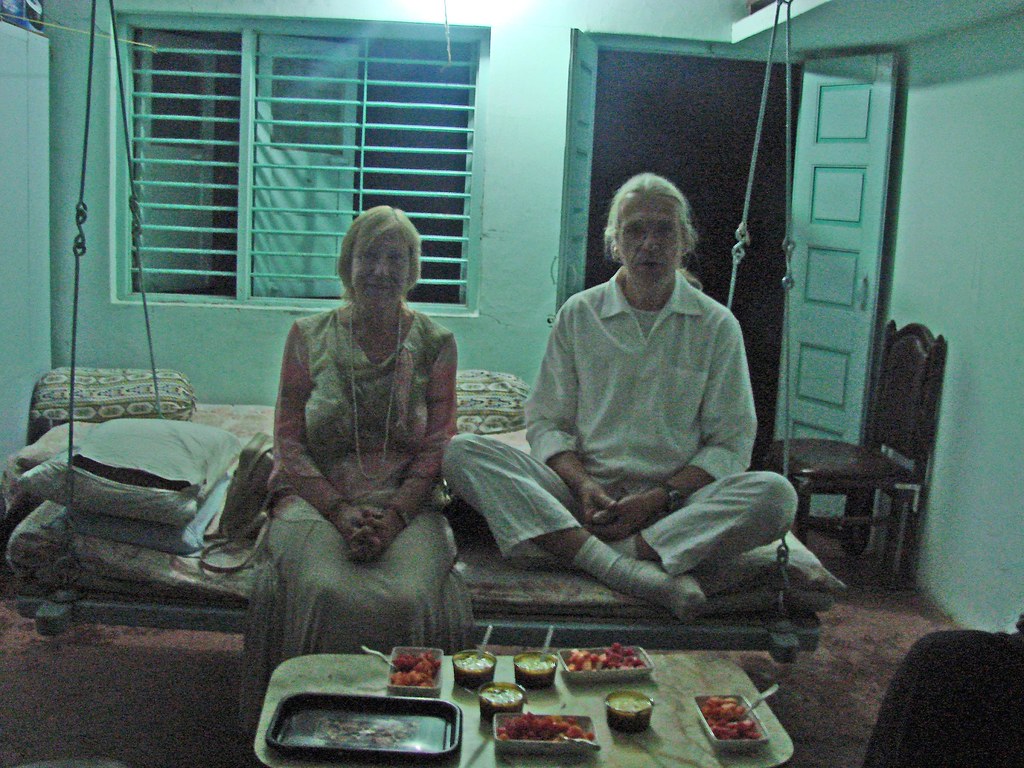 Karuna & Aparigraha after meditation in Mr. Patel's meditation hall on the banks of Tapti river
Back to Terapanth Bhawan, we met Mr. Balubhai M. Patel, who received Acharyashree's blessings for his efforts in supporting health and education of rural people. He took us to his farm outside Surat and asked us to meditate in his meditation hall for some minutes. We did so, and enjoyed the experience. Mr. Patel then told us why the location in his view has something special. He showed us a gate to the garden that was bordered by a wall, approximately 1,80m high. He provided a chair for Karuna (Aparigraha is tall enough to overlook the wall), and we saw Tapti River in a small distance from the house. We remembered the news of summer 2006, indicating inundation of Tapti River, where many people lost their homes. Mr. Patel told us that no drop of water had entered in his house, situated so near to the river.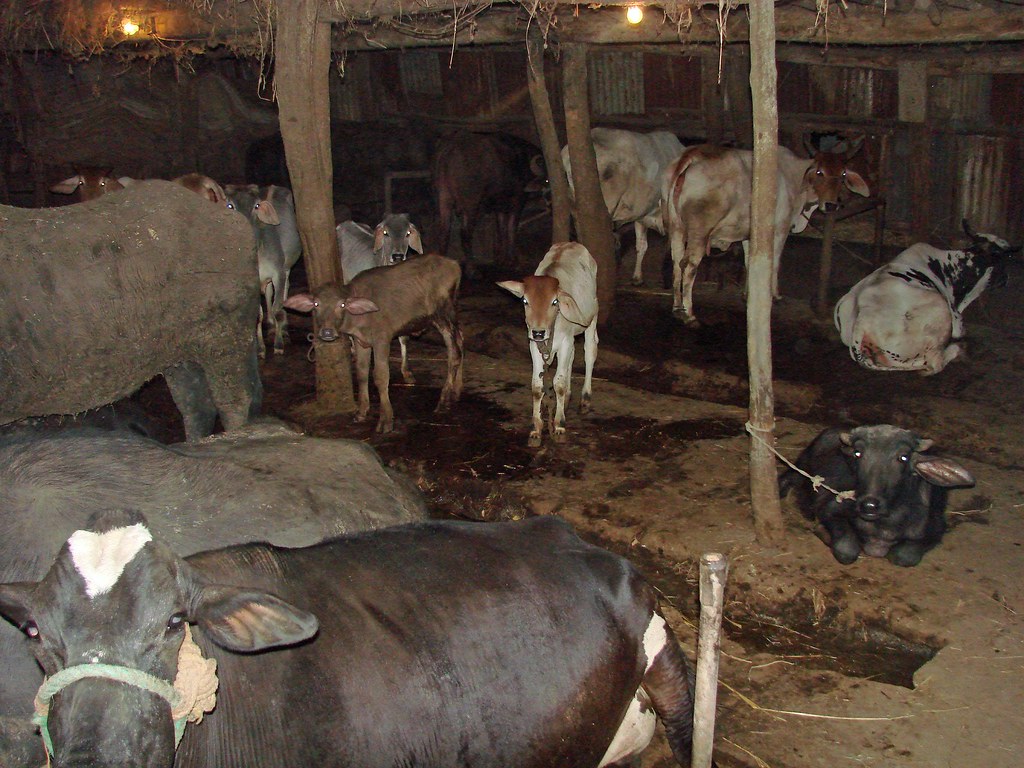 Mr. Patel's cows & calves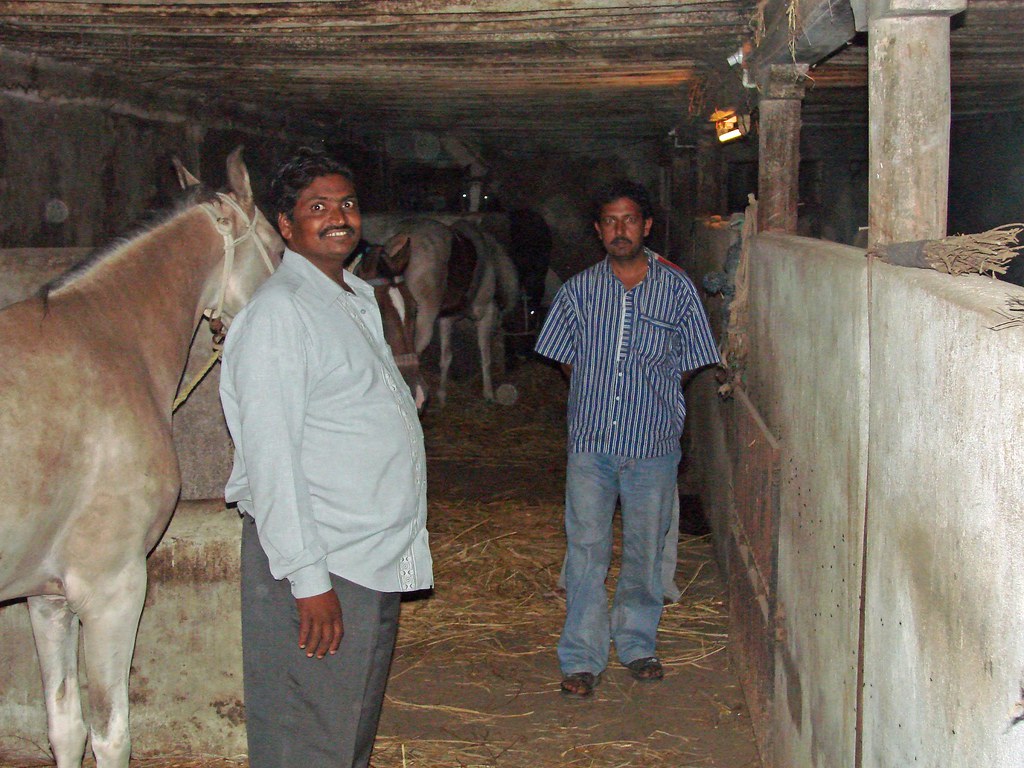 Horse trainers & horses
He then showed his big farm to us and gave more details on his education and health projects. He provides medical support to rural villages, and in his education project, especially rural girls are supported in their education. Mr. Patel not only donates money for this purpose, but also goes to the villages and talks from face to face to the girls' fathers, aiming at convincing them to support their daughters' education. Mr. Patel is very much influenced by Acharya Tulsi's famous saying, "When you educate a man, he goes to earn his livelihood. When you educate a woman, you enable a whole family to work for better future."
Mr. Patel has met many highly intelligent girls in the tribal villages where he had gone for his business of seeds, farming, and animal husbandry. That made him start his education project. He thinks that all worries for the tribe's future can be answered by education of the girls, and the results of alphabetisation, school & professional education Mr. Patel proudly presented to us, are proving his view.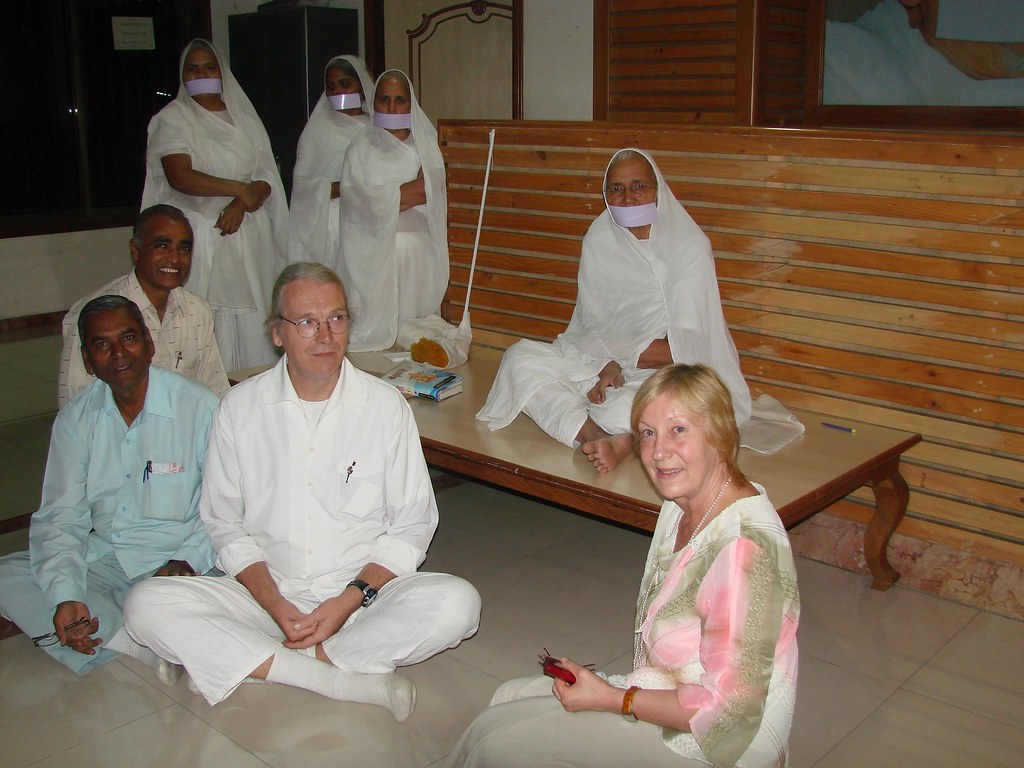 Karuna, Aparigraha, Mr. balubhai Patel & mr. Arjun Medatwal sitting in front of Sadhvi Anandshriji (on table) and Sadhvis Prabalyashaji, Sourabhyashaji, Suyesh Prabhaji.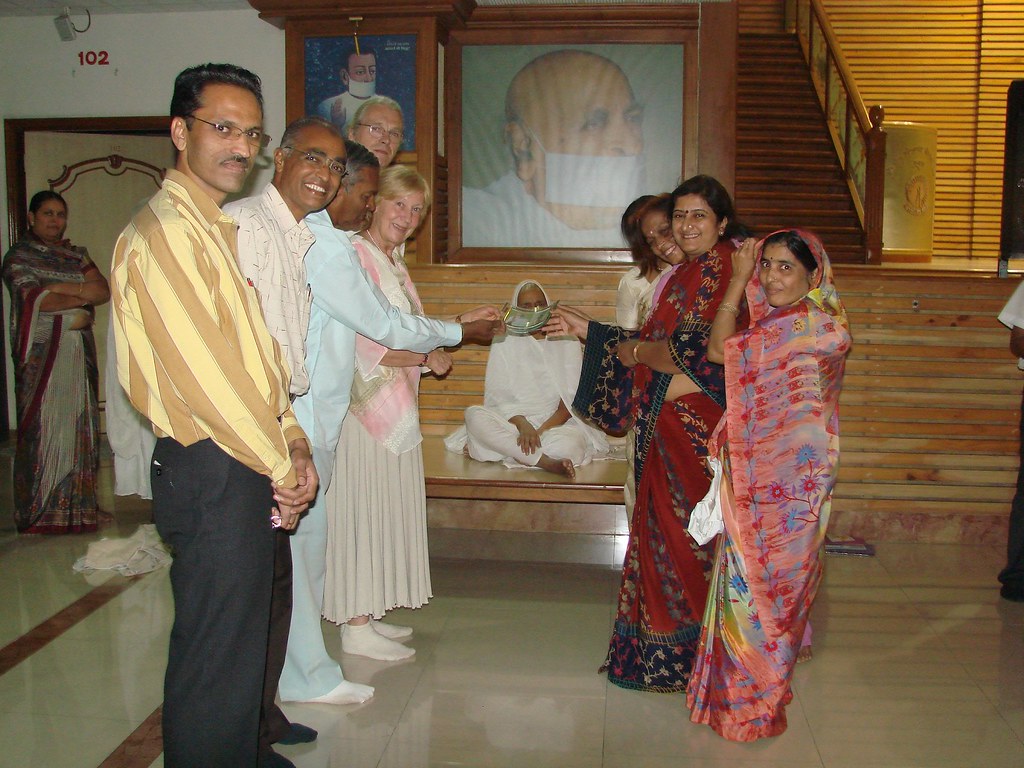 Shris Harish Jain, Arjun Medatwal, Balubhai Patel, Karuna, and ladies showing the beautiful glass gifted to Karuna & Aparigraha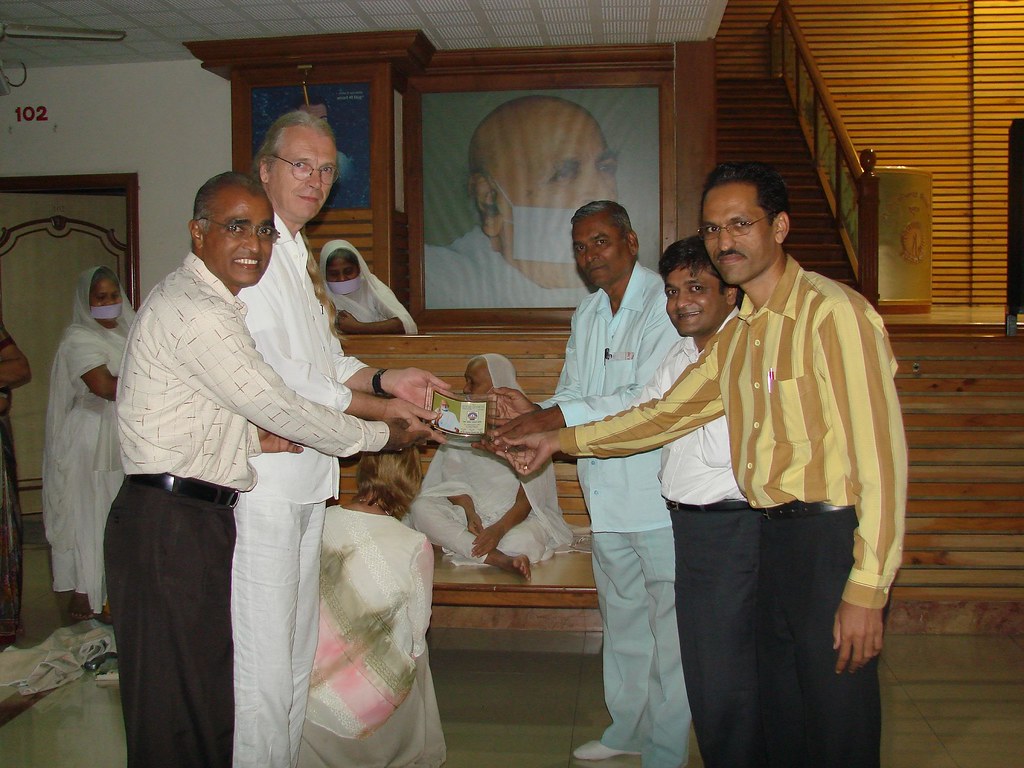 Aparigraha and Shris Arjun Medatwal, Balubhai Patel, Harish Jain & a friend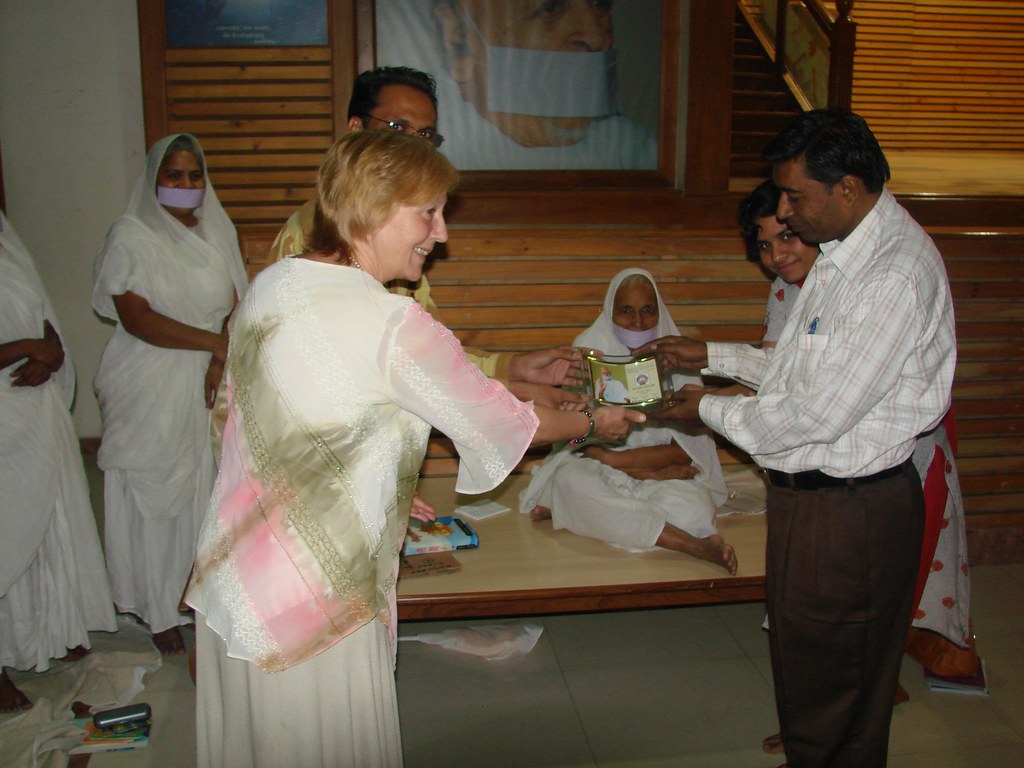 Karuna, Mr. Sushil Bafana from Kolkata, Mahima Bokariya, Shri Harish Jain, showing the beautiful photo in the glass frame
In Terapanth Bhawan, we showed a glimpse of HereNow4U, and thereafter, a surprise waited for us. People had gathered in the presence of Sadhvishrees, and Mr. Ramesh Kothari, president of Surat Terapanth Men's Wing, presented two beautiful glass mementos of H.H. Acharyashree, on which also our names are written, to us. We felt touched, honoured, very happy, and... speechless!
However, this was not yet the end of the day's highlights.