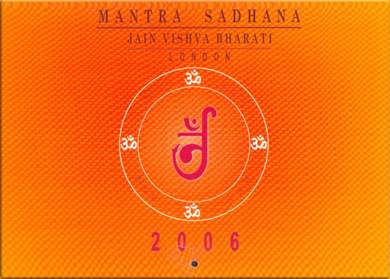 JVB London's Women's Wing has released a Mantra calendar for 2006. The project has been inspired by some precedent workshops of JVB London on Mantras by Samanijis Pratibha & Punya Pragyaji. People found recitation of Mantras helpful to focus attention and to get new inspiration for day-to-day life; another reason was the raising of funds for the JVB London centre.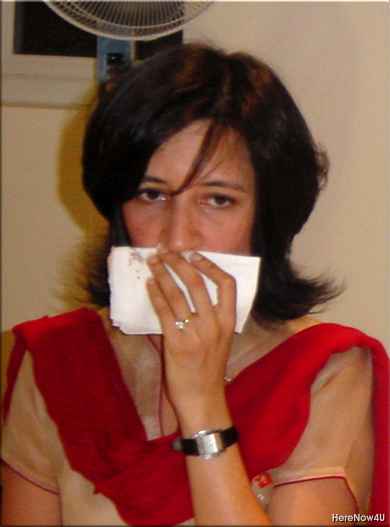 Nina Choraria, chairperson of JVB London's Women's Wing cultural committee, reciting Pratikraman on Paryushan 2005
Nina Choraria from the cultural committee of JVB London's Women's Wing had the idea for the Mantra Calendra. According to her, the use of a calendar would last at least for one year, whereas greeting cards might be thrown away earlier. She hopes that people will keep the calendar for longer, because she did not only compile the Mantras correctly, but their use is also explained due to their subjects, as how often and when recitation is advised. The colours underlying each Mantra are recommended to concentrate on when chanting.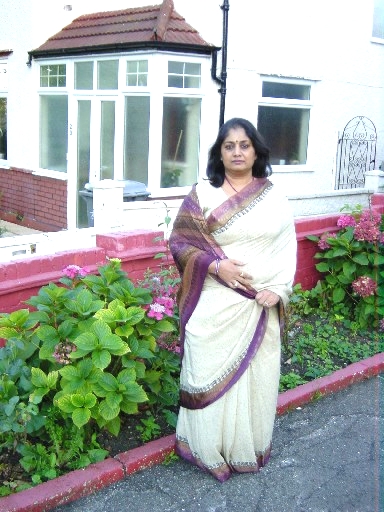 Pushpa Banthia, chairperson of JVB London's Women's Wing, let her office facilities for preparation of the calendar files
When Nina went to India in summer 2005, she took the files to India, where she worked with ther brother on the desing, and both of them prepared it ready for print. Then her brother had supervised the print details, and sent it from India to England. In only two months of concentrated efforts the project was realised!
The original writing has its transscription beneath; Samani Pratibha Pragyaji did the revision of writing & spelling.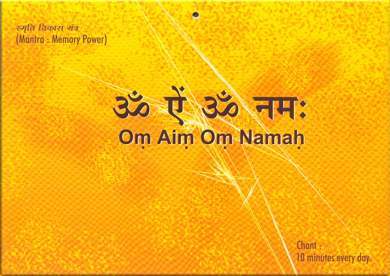 The first Mantra is for memory power, advised colour to concentrate on is bright yellow.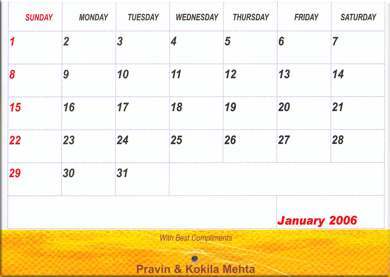 2006 starts on Sunday, hopefully an auspicious sign for the coming year.

introduces the Mantra calendar as follows:
JVB's Women's Wing would like to introduce you to the new JVB mantra calendar for 2006. This colour-printed glossy calendar provides a practical, easy to use guide on reciting mantras that can help you in your daily life. For each month of the year, a mantra is explained, each intended to improve a specific aspect of your physical or mental health, spiritual uplift, including improving memory power, family peace, overcoming insomnia, tension or anxiety. In addition, there is an introduction by Acharya Mahaprajna on proper mantra recitation and the benefits.
The calendar is easy to put up on the wall, and contains enough space for you to mark on birthdays / anniversaries / other reminders, for each day. The perfect present for friends, family and colleagues this Divali... why not send this to your loved ones rather than a Divali card; a gift they can use throughout the year? A wonderful way to support JVB and introduce family and friends to the power of reciting mantras at the same time!
Calendars are available at the JVB Centre. Or, to place your order, contact the JVB Centre: 0208-452-0913
Pushpa Banthia 0208-203-3946
Manju Sethia 0208-371-1669
Nina Choraria 0208 450 4757