The last day of Paryushan, Samvatsari, at JVB London this year fell on Monday, 28th August. It was British Bank Holiday, a fact seen as very auspicious by many people celebrating Paryushan at JVB London, as they try to fast completely the whole day and the following night long up to the next day's sunrise. This means that one stays for about 36 hours without eating, some people do not even take water. On Sunday evening, the last meal was taken, and after evening Pratikraman, people asked each other wether they would hold complete fast. We had also decided to hold complete fast, editor Aparigraha with no water for 36 hours, editor Karuna for 24 hours.
Samanijis Pratibha & Punya Pragya had prepared a special Samvatsari program. They invited people to participate in the first Paushad at JVB London. Paushad at the occasion of Samvatsari was and still is celebrated in many Indian Jain communities, we were told, and many senior citizens were reminded to their last Paushad in India with their now late family members, when they were aged seven or ten. Some of the children in this age now became big-eyed imagining the aged person in front of them in their very age! Some children were prepared to do so by their parents who happily used the opportunity of favorite circumstances - holiday and no work. The participants were aged from 10 to 45, and they had taken some vows also, as mentioned in the Summary Report. Paushad was from 6:00 am Monday (Bank Holiday) to 7:00 am on Tuesday 29th and was finished by having breakfast all together, brought by those members of the community who wanted to express their support, but were not able to participate because of medical reasons.
People could chose any time in these 24 hours to join, morning Paushad, afternoon Paushad, morning and afternoon Paushad, evening and night Paushad or whole 24 hours Paushad. Specially the young enjoyed it very much, being proud of their strength they perhaps had not imagined, but now experienced for sure. The Samanijis had prepared lectures, Mantras, meditation sessions, question and answer sessions during the day. At night, one big assemblee hall became sleeping hall for the men, the other for the women. Sleeping time was from 10:00 pm to 5:30 am with individual variance according to subjective condition.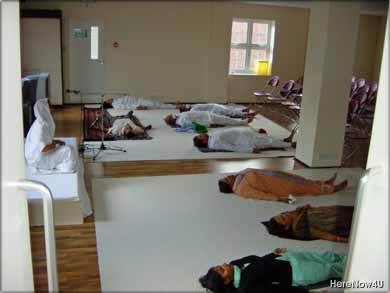 Deep Relaxation in Kayotsarg was given by Samani Punya Pragyaji to stabilise the energy level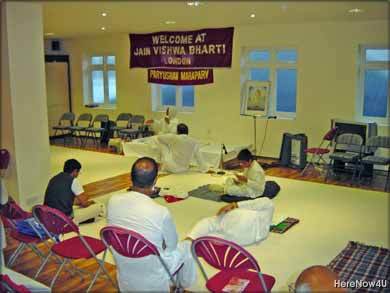 Lecture and spiritual talk in the late afternoon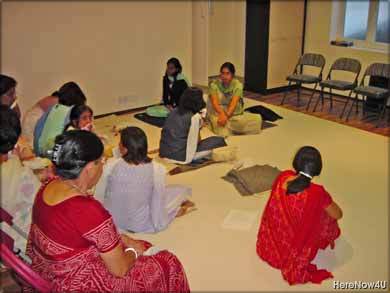 Some people kept Maun for some time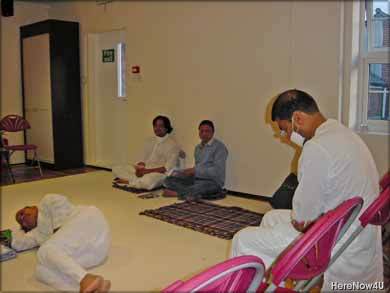 Deep concentration in Meditation and prayers, in the mean time taking rest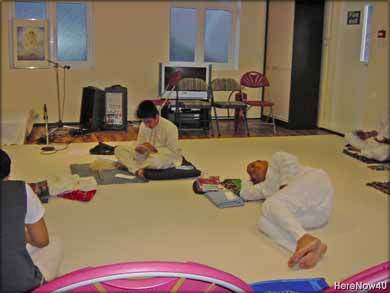 The boy in the middle is reciting prayers and Mantras, he was the youngest participant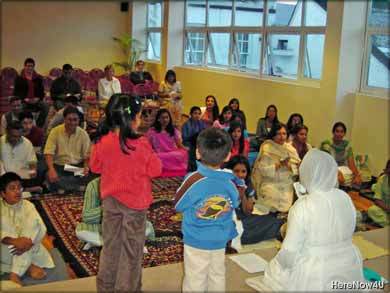 At the evening gathering, these two children recited prayers in front of the audience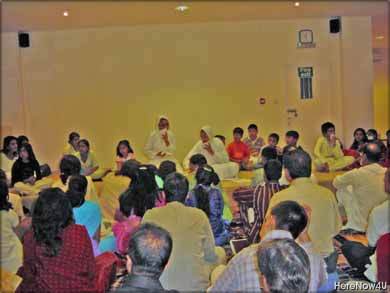 Participants of Paushad and JVB LOndon students on the stage with the Samanijis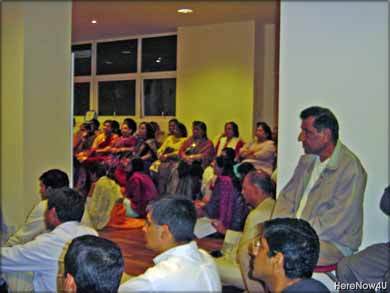 The audience at Samvatsari evening session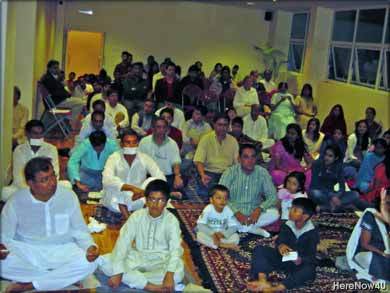 People from all walks of life and ages were present