Maha Sabha is the general assembly and roof organisation of all socially engaged Jain Svetambara Terapanth lay followers. For realisation of special social purposes and aims, however, independent under organisations are founded. This is providing the opportunity to divers members of the Jain community, to collaborate for this aim and to facilitate fundraising administration. The principle is, to create various easy to manage smaller organisations than to give raise to a centrally governed, jungle like Moloch of charity, where donations vanish like in a black hole or are used in a high percentage to maintain the administrative body. Anyhow, the increasing number of such organisations makes them more transparent for those working for them on the local level, but create nearly insurmountable difficulties to get an overview on the whole.
The Terapanth Svetambara Jain Maha Sabha was founded about 1915 under the 8. Acharya Kalugani. Actually, 2006, there are about 400 Sabhas (smaller organisations) affiliated to the Maha Sabha, working at different places of India. Every two years, elections of the officials take place in a big gathering and discussions concerning previous or future projects are held. President and chief trustee of Maha Sabha coordinate all the many activities and give detailed informations on the same. They also install contact to the media when necessary. All of them are dedicating their time out of charge for these activities. Being specialists from different fields, the functionaries have succeeded in configuring a corruption free system of non-governmental organisations (NGOs), charged with duties performed by governmental organisations in the developed countries.
Every year at Maryada Mahotsav, the spiritual head of the community, the Acharya, awards some members of his choice from different occupations for the constant social service they had given. In this gesture, the Acharya recognises the merits lay followers have acquired during a constant (long) period.
We are happy to provide more details by the report, our Kolkatta based correspondent Sushil Kumar Bafana has sent together with photos:
One of the Maha Sabha's activities is the Gyanshala Project. The purpose of Gyanshala is to give good Samskar (base for character building) to the children and to increase their knowledge of Jainism.
Upasak Shreni is another activity. Work of upasak is that during Paryushan, they visit those areas where monks and nuns, Samans, Samanis and Mumukshus cannot reach. Upasaks are trained to guide laypersons of that area for Sadhana.

Acharyashree Mahaprajnaji is proposing names of laypersons serving the Sangh, and Mahasabha takes this opportunity that anyone whom H.H. named gets memento and praise letter (prashasti patra). Therefore, Mahasabha fulfils formalities and gives public honour to those persons proposed by Acharyashree.

Recognition comes in many ways, as some people devote time, some give their knowledge knowledge, some participate and promote activities started by H.H., some are good advisers of Anuvrat Movement, Preksha Meditation, and Jeevan Vigyan, some are doing Tapas.

From one Maryada Mahotsava to the next, a list of persons is prepared. Padamchandji Patawari for example is presently editor of 'Terapanth Times', he was in charge of Gyanshala ten years ago, further he had been president of all India Terapanth Yuvak Parishad, the Terapanth youth organisation, from 1982 to 1988. Therefore, his long association and devotion to do Sangh work was recognised by H.H.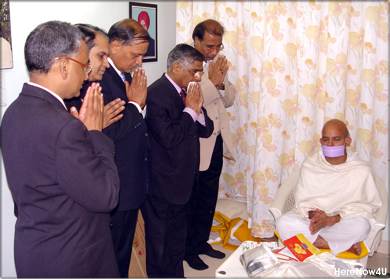 Newly elected Mahasabha president, Rajkaran Sirohia,chief trustee Jaskaran Chopra, immediate past president Surendra Choraria, immediate past chief trustee Ranjeet Kothari and general seceratary Tarun Sethia taking blessing of Yuvacharayashree.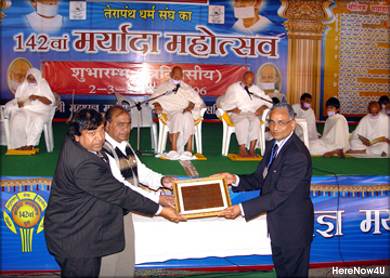 Surat [Gujarat] and Delhi Sabha get jointly best sabha award.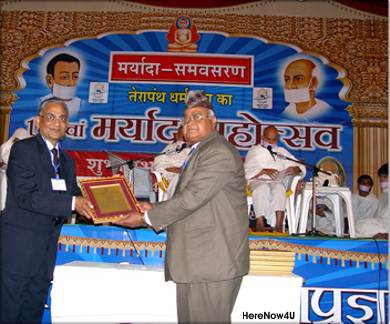 Tolaram Dugar (right) receives memento as H.H. called him shashansevi.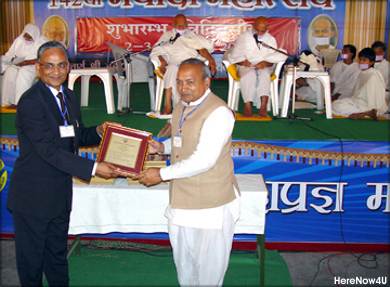 Padamchand Patawari (right) receiving memento from Surendra Choraria (left) as he was called shashansevi by H.H.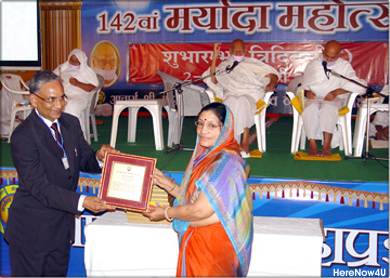 Tara Devi Surana (right) receiving memento as she was called shradha ki partimurti by H.H.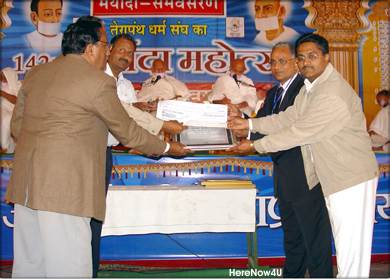 Siliguri sabha, represented here by three functionaries, was declared excellent sabha.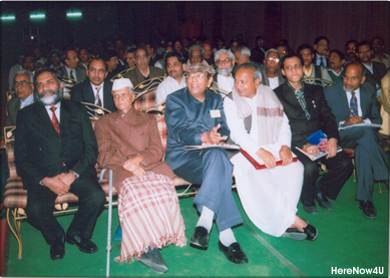 Audience presence on 3rd February 2006 in 92nd annual general meeting of mahasabha.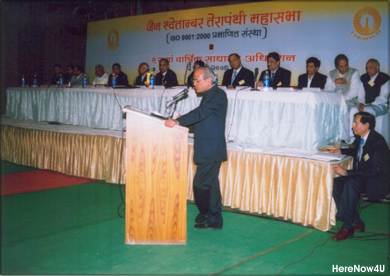 Election officer Dhanraj Baid declaring name of elected post holders and trustees.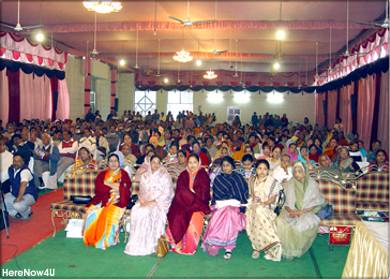 Family members of persons who were honoured by mahasbha after H.H. give some alankaran to them.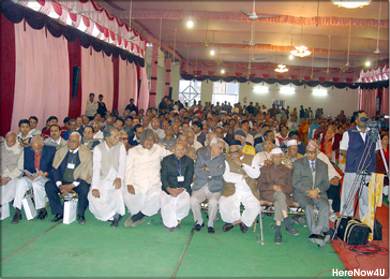 Audience in get-together meet.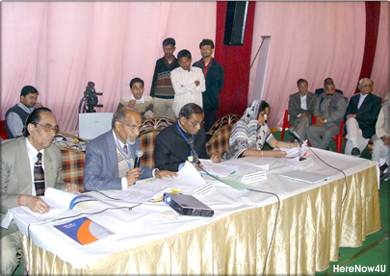 Judges are taking interviews to select the best sabha out of 10 for the sabha award.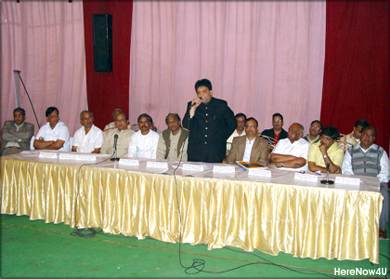 Post holder of sabha giving reply to board of judges.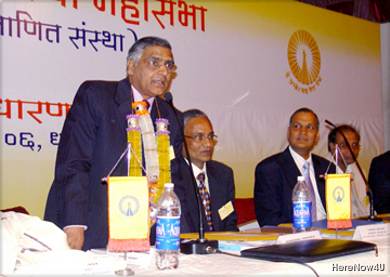 Newly elected president of Mahasabha, Rajkaran Sirohia, delivering his speech.