Lifetime
Born:
09.06.1935, Taranagar, Rajsthan
Passed away:
24.01.2016, Delhi
Address
Adhyatma Sadhna Kendra, Chattarpur Mandir Road, PO.- Mehrauli
110 030 New Delhi, India
Contact
E-Mail:
About
Director of the Adhyatma Sadhna Kendra in Delhi and expert of Preksha Meditation and organiser of health improving camps. He is an expert in promoting a healthy lifestyle and inspires many people by his example to practise amity and to support each other.
---
Bio Data Of Swami Dharmananda
Father's Name: Late Champa Lal Jain

Educational Qualification:
B.Com in 1956 from Calcutta University.

Post Graduate in Science of Living, Preksha Meditation & Yoga, Jain Vishwa Bharati Institute (Deemed University), Rajasthan.
Yoga Experience:
Started learning Yoga in 1955, while as University student, got guidance & training from the following Gurus and Teachers.
His Holiness Anuvrat Anushasta Late Acharya Shri Tulsi.
His Holiness Acharya Shri Mahaprajna.
His Holiness Late Swami Yogeshawarananda of Rishikesh.
His Holiness Swami Naryan Giri of Pandukeshwar (Himalaya).
Sharing Experience: [from the year 1975]
Worked as Director, Tulsi Adhyatma, Nidam, the main Preksha Dhayan Centre at Ladnun (Rajasthan) from 1975 to 1985.
Working as Director, Adhyatma Sadhana Kendra, New Delhi since 1986.
Training Experience:
Organised Preksha Meditation camps all over the Country since 1975 and has trained hundred of people in Preksha Meditation.

Travelled around the world in 1985 visiting Bangkok, Hong Kong, Japan, U.S.A, Canada, U.K., Holland, Belgium and France and again visited Bangkok, Hong Kong and Japan in 1986 to teach Preksha Meditation.

Trained Teachers to impart training in Preksha Meditation since 1978.

Taking regular classes of Preksha Meditation since the year 1975.

Had been the Co-ordinator in the research project to cure heart diseases, Asthma, Diabetes undertaken by All India Institute of Medical Science, New Delhi.

Trained Army personnel and civilians in Preksha Meditation who went to Antartic in the year 1993 and also been to Leh (Himalaya) for the project "Effect of Yoga at the high attitude" by DIPAS in 1995.

Invited to Sweden by the Director of Herbal Institute, Göteborg, Sweden.

Served as Yoga Instructor to Prime Minister Sri Atal Behari Bajpai for 3 months and Vice President Sri Krishan Kant for one year.

Colour Therapy:
Started practicing Colour Therapy since 1975. Trained hundreds of person in Colour Therapy.

.Counseling group discussion, lecturing and teaching as chromotherapist. Written several articles and booklets on Colour Therapy. The only Associate Member of International Association of Colour Therapy of U.K. in India.
---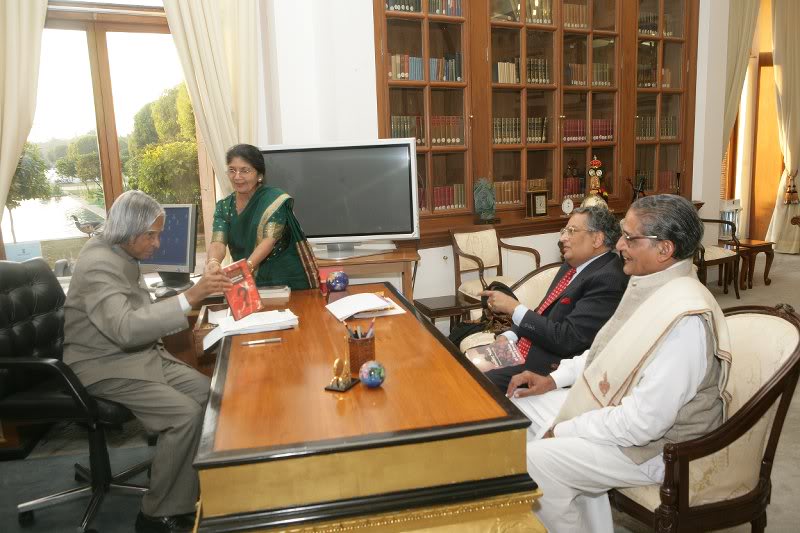 A meeting with the President of India for Dr Prof. Mardia of Leeds University and his wife Pawan was organised by Swami Dharmananda on 3rd January 2007 to present the book written by Dr. Maradia on Jainism.
From right to left Swami Dharmananda, Dr. Mardia, his wife Pawan presenting the book to His Excellency Dr.A.P.J.Abdul Kalam.