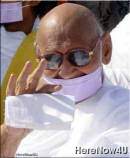 Thursday, November 8, 2007
Physical and mental health are visible externally. But emotion is an internal matter. Many things going on inside us are known to us, but we do not know much about what is at the root of them. The principle of prekshadhyan is to see the soul by the soul. It simply means - have an internal trip and see the goings on there.
We have put a lot of burden on the mind - a lot more than what it can bear. We presume that X is good while Y is bad; one thing is agreeable, another disagreeable. Who is it that presumes these things? It is not the function of the mind, for is functions are confined to remembering, imagining and thinking.
The original source is the soul. Around the soul the first circle is that of the karma sharir (a body made up of the combination of the eight kinds of karma) from where the vibrations of the karma sharir emanate. One of the circles is that of sukshma sharir or tejas shaier (made upon the aura and light radiation). Prekshadhyan has considered at length the difference between the mind and the subtle or activating mind.
Both the Jain and Patanjali Yoga philosophies put a lot of emphasis on psyche, thousands of years ago.
According to the Philosophy of Karma there are two words: audayik bhav and kshayopashamik bhav.
The latter means 'constant struggle', where the former increases self-conceit, anger, simulation and dissimulation, jealousy etc. These two tendencies are always at war with each other.
The world of our mind id manifest while that of our inner feelings is non-manifest. Most of the things first happen in the inner world and then manifest themselves. Our sense organs function externally and so we give importance to external events and disregard the inner happenings.
One who has tried to understand the theatre of inner happenings (hypothalamus, in the language of medical science), is fully knowledgeable about what is happening and where. However, it is not enough to know. What really matters is bringing about a transformation.