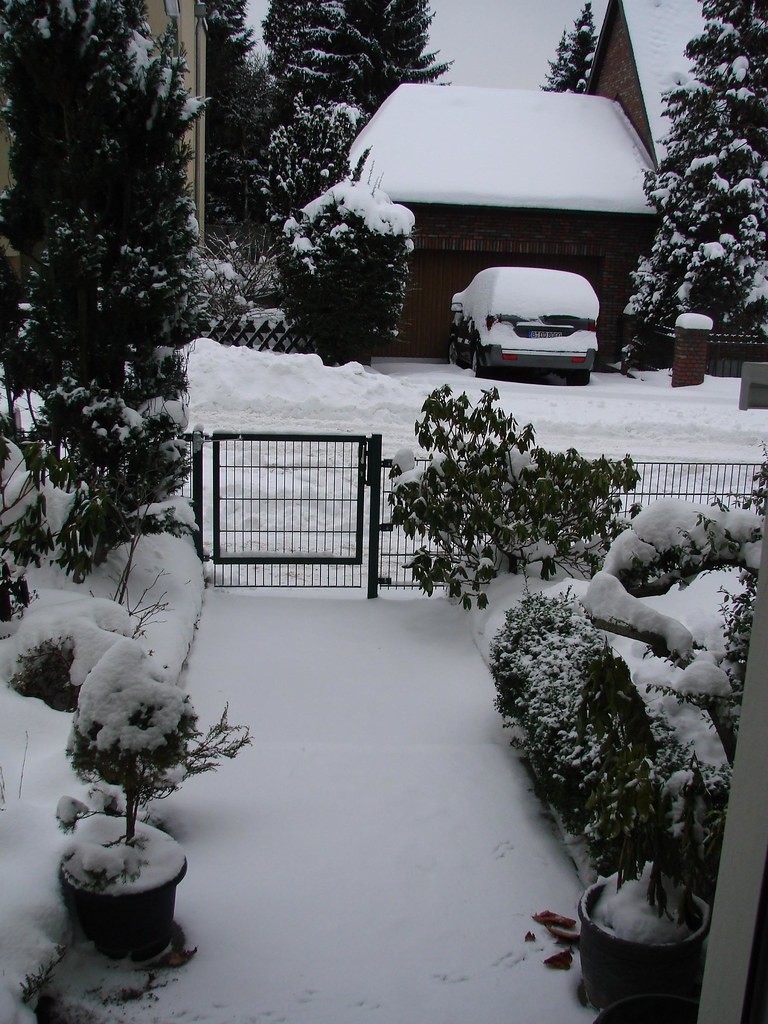 Berlin on January 18, 2010 one day before departure to India.
When the 3 of us landed in Delhi, January 20 2010, 01:30h a.m. felt like the middle of the night, which in fact it was. Our bio-systems took it for late evening, which in fact it was there where we had come from. Berlin winter with masses of snow was behind us, Delhi winter with unusually low temperatures ahead. Friends and relatives got slightly jealous when they knew that we were about to prepare next India trip. "Ah, India, " they used to sigh enthusiastically, "there you will experience warmth and see the sun for at least 10 hours." German winter 2009/2010 was like nearly overall in Europe one of the hard ones, heavy snowfalls with icy temperatures, and with no visible presence of the sun in Berlin since the turn of the year.
Perhaps this was one of the reasons why our long time friend Conrad spontaneously had decided to come with us. He will celebrate his 60 years here in 2010, and since many, many years was longing to visit India. So he decided to come with us in case of vacancy on our flights. There was a vacancy for him, and via London we started on January 19 2010 to Delhi. To travel from Berlin via London to Delhi sounds a bit absurd, as London is in the western, whereas Delhi in the eastern direction from Berlin. As there are no direct intercontinental flights available from Berlin since the fall of the Iron Curtain, only US-American and German airlines offer direct flights to the United States. To Asia there is no such direct connection until present. The new aerodrome BBI still is under construction and is expected to be opened October 30, 2011. But until then passengers from Berlin to Asia have to calculate some more than necessary hours of flight. So via London is an acceptable option in view of costs and accuracy.
In Delhi, the baggage claim area had the familiar smell like ten years ago, although its form of appearance in the meantime had undergone remarkable upgrades to 21st century. India again! The olfactory message conveyed the change of environment to our bio-systems, to Conrad's the opportunity of first-time experiences. The new continent - it was also his first trip to Asia - gave the musician in him an adequate welcome in form of Ragas from the airport's loudspeakers.
After getting a little bit lost in the new look of the airport reception hall we found the way out to the local prepaid taxi company. It resembles to the start of a pilgrim's journey, as they have the lowest tarrifs with the most moderate comfort, without lacking reliability and correctness. So the rather short distance from the airport to the Adhyatma Sadhana Kendra (ASK) is like is a crossover into another world. At the ASK our friend Swami Dharmananda ji still is giving his meditation sessions every early morning about 05:15 am and in the evening about 08:15 pm. Only hesitantly he had agreed not to receive us at the airport because of the rather inconvenient arrival time. Uneventfully we reached our destination, which was veiled with thick fogg, one could not recognise it easily. We were happy to have been there already, the taxi driver doubted any inhabitated location hiding behind the small front door, flanked with some big temples. But door was opened, and we got the keys to our rooms (thanks for the heating, Dharmanandji!) and fell asleep about 03:00 a.m..
Our sleep was suddenly interrupted with a shy knock at the door and the calling to breakfast at Dharmanandji's home. We were very happy to meet him and Nirmalaji in good health in spite of the cold weather. They had asked for warm socks, which we promptly brought. German winter socks really are made for cold weather! Then we talked about the day's schedule. In the morning, we had planned to meet with Dr. Shugan Chand Jain director International School for Jain Studies ISSJS India who was awaited about 10:00 am. So we rushed back to our rooms for another catnap. The same shy knocking at the door as in the morning, some murmuring, we realised that Shugan Ji had arrived and hurried to meet him. Dharmanandji was already preent as he had arranged the meeting. Karuna had met Dr. Jain during her last trip to India in summer 2008 in Jaipur.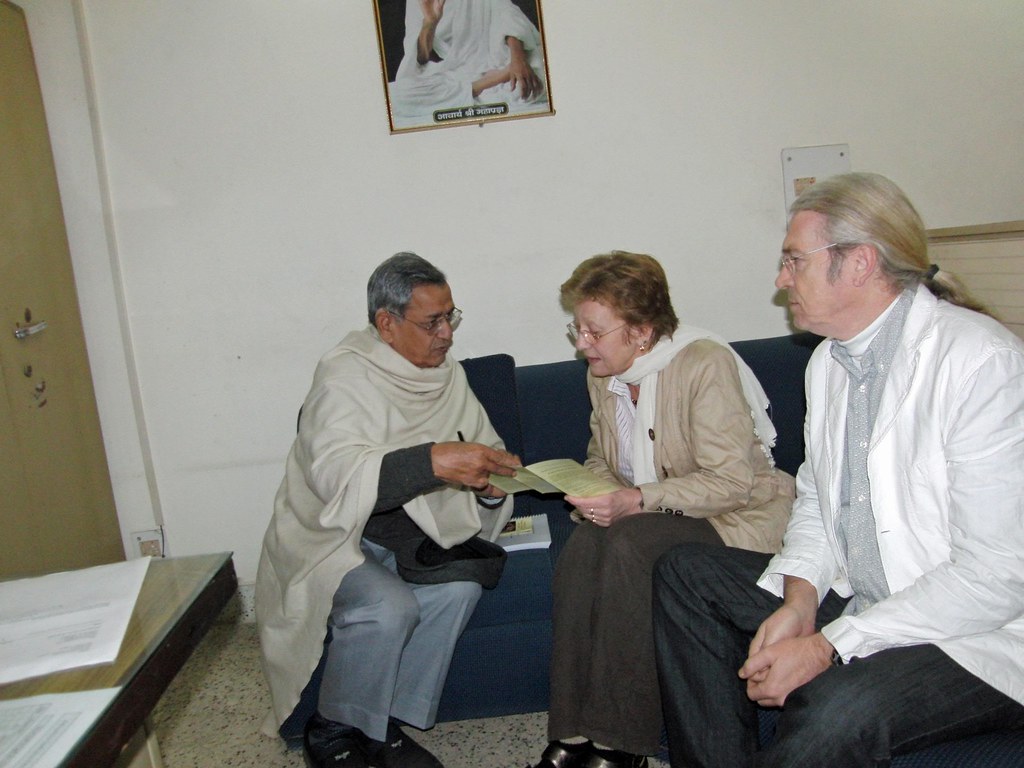 Dr. Shugan Chand Jain, director of International Summer School of Jain Studies (ISSJS) talking at Adhyatma Sadhana Kendra Delhi with HereNow4U editors Carla-Karuna & Aparigraha Cris Jain (Geerdes)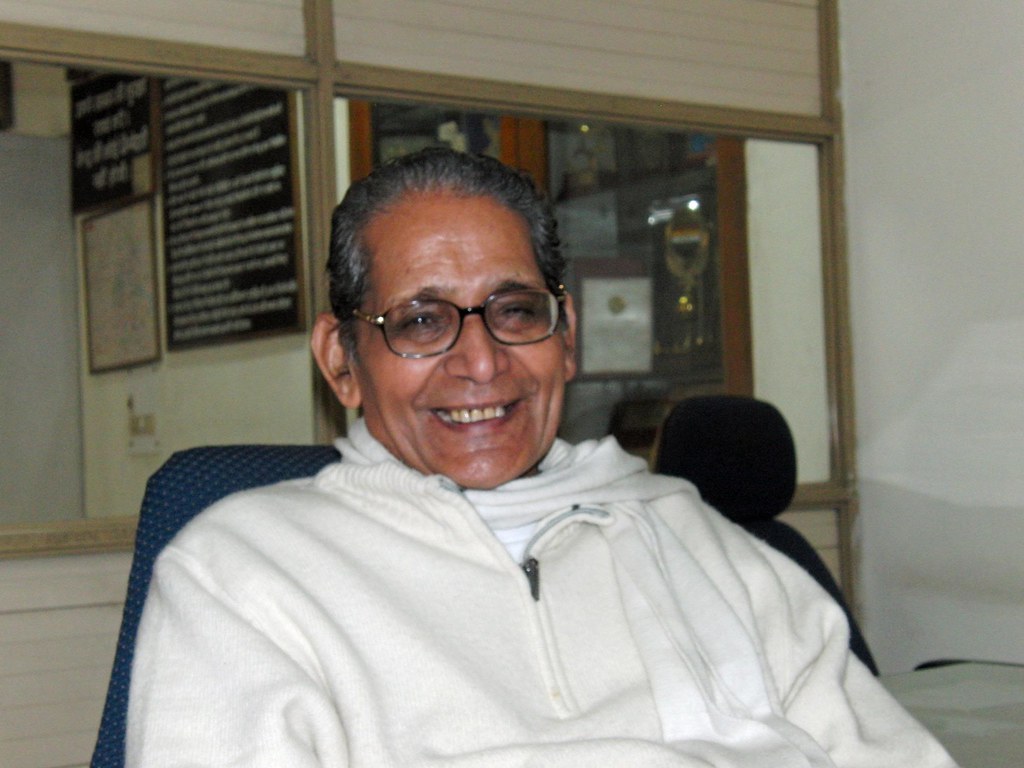 Swami Dharmananda at ASK Delhi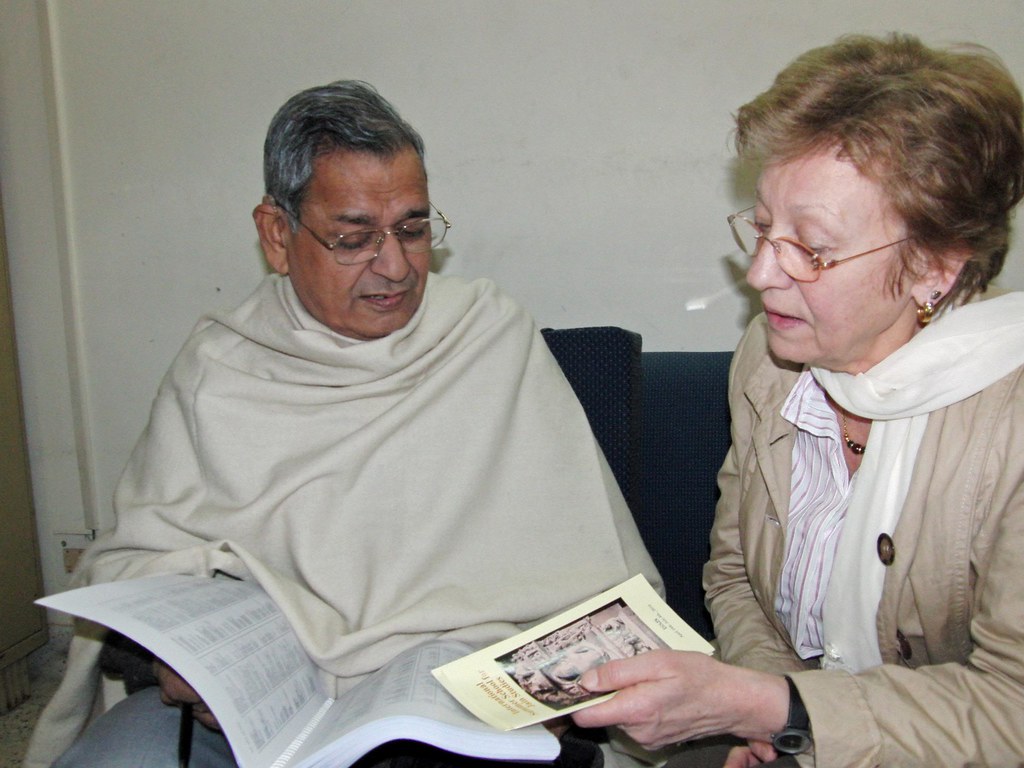 Dr. Shugan Chand Jain, director of International Summer School of Jain Studies (ISSJS) talking at Adhyatma Sadhana Kendra Delhi with HereNow4U editor Carla-Karuna Jain (Geerdes)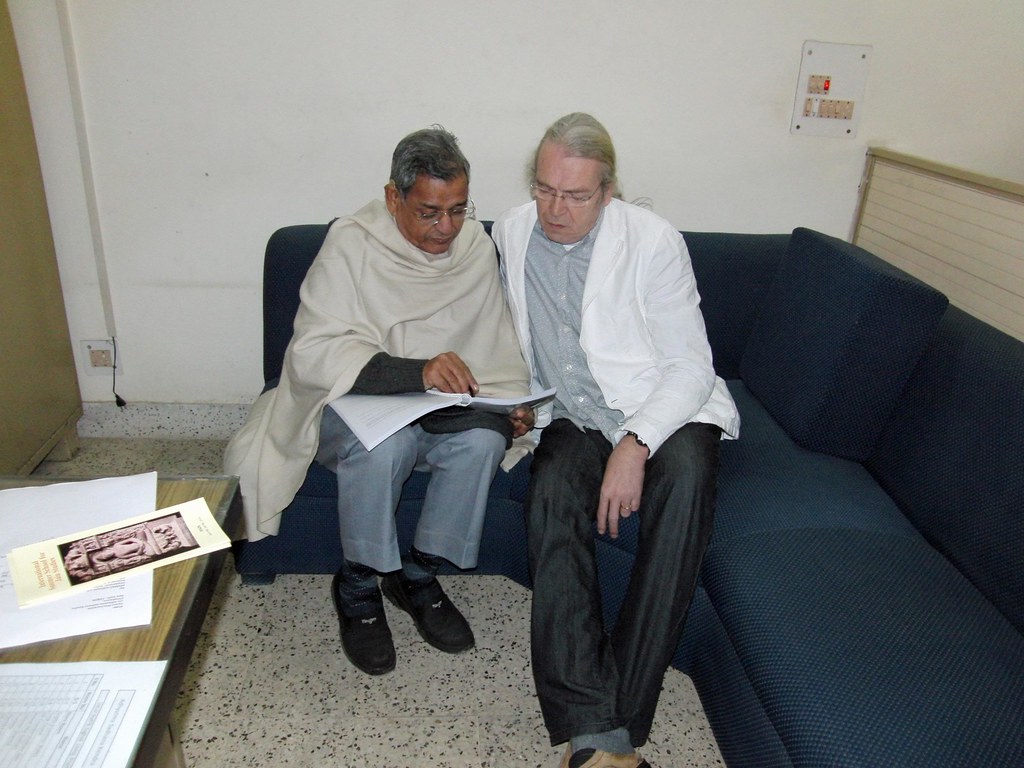 Dr. Shugan Chand Jain, director of International Summer School of Jain Studies (ISSJS) talking at Adhyatma Sadhana Kendra Delhi with HereNow4U editor Aparigraha Cris Jain (Geerdes)
Shugan Ji presented the concept for the 2010 International Summer School in Jain Studies, which is taking place at various locations in India under different focal points as The Arts, Philosophy, Temples, Traditions and Rituals. Two different courses are addressing students according to their qualification level and their knowledge on Jainism. Shugan Ji explained to us that German scholars / students unfortunately until now had not asked for admission. He knows that there are some remarkable academic results in Jain studies in Germany and expressed his hope that in the near future also German scholars / students would participate in this unique form of studies.
Dr. Jain had to rush to another appointment, and our friend Dharmanandji had invited us to participate in a very special occasion he was going to celebrate, a Jain marriage. The young couple was looking very excited, and so did their friends and relatives.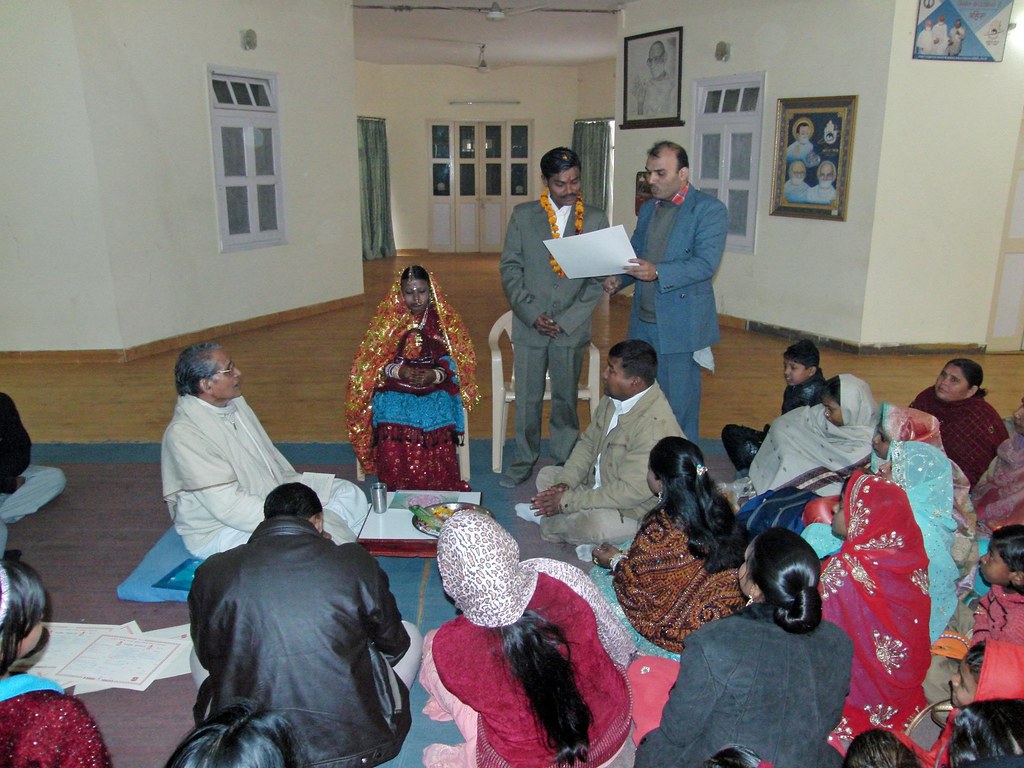 Jain marriage ceremony at ASK Delhi, celebrated by Swami Dharmanandji (sitting l)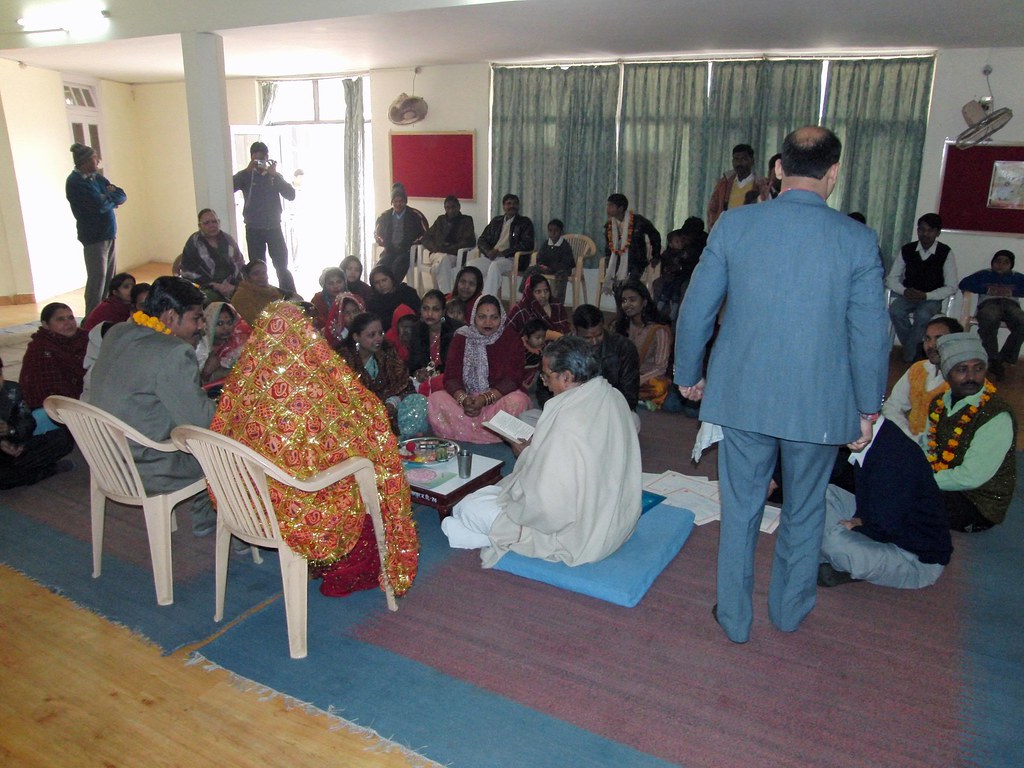 Jain marriage ceremony at ASK Delhi, celebrated by Swami Dharmanandji
The groom was a student of Dharmanandji. The sister of his newly wed wife had put money aside in the last two years for her sister's marriage. She really appreciated what her sister had done for her. Her eyes gleamed with happiness. The sisters had lost their parents some years ago. It was touching when the young wife's friends came and handed their gifts over to her. In this utterly minimalist wedding was a lot of consciousness what a marriage should be, to stand together against the odds of life. Our best wishes were smilingly accepted.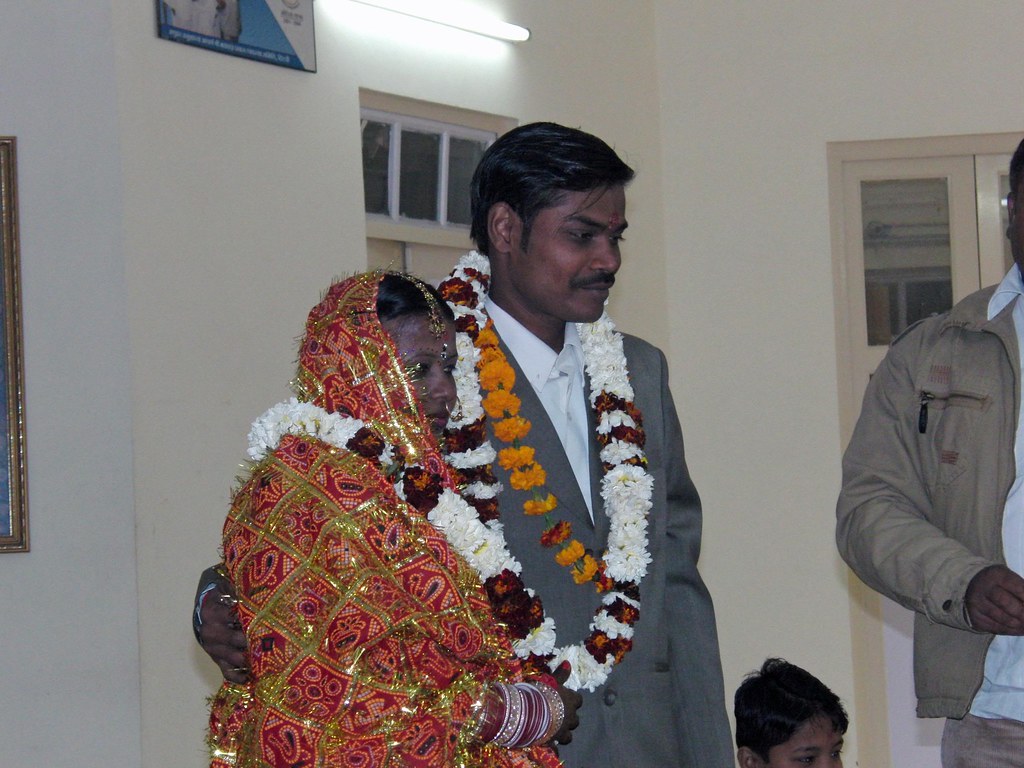 The newly wed couple